GFXBench 3.0 for Windows Phone lets you benchmark to your heart's content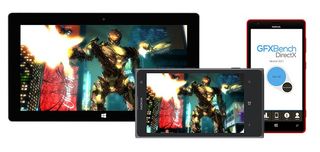 Cross-platform benchmarking utility GFXBench 3.0 has made its much-awaited debut on Windows Phone. The benchmark tool gives you a detailed look at various facets of your device, including the graphics performance, long-term performance stability, render quality and power consumption.
Here's a list at all the utilities available in GFXBench 3.0:
Manhattan test: GPU-intensive DirectX 11 test using advanced API-features for testing the latest high-end mobile devices (Features: multiple render targets for deferred rendering, geometry instancing and transform feedback, etc. Requires feature level 10.0)
Battery and Stability test: Measures the device's battery life and performance stability by logging frames-per-second (FPS) and expected battery running while running sustained game-like animations (the T-Rex scene).
Render quality test: Measures the visual fidelity provided by the device in the high-end gaming-like scene
Fully redesigned, multi-lingual, easy-to-use user interface: device comparison within the application by downloading the complete GFXBench database, extensive system information
Download the benchmarking utility from the link below, and let us know what kind of score your device achieved in the comments below.
Thanks for the tip yahia!
Get the Windows Central Newsletter
All the latest news, reviews, and guides for Windows and Xbox diehards.
Harish Jonnalagadda is a Senior Editor overseeing Asia for Android Central, Windows Central's sister site. When not reviewing phones, he's testing PC hardware, including video cards, motherboards, gaming accessories, and keyboards.
Well according to this test my ICON sucks badly when compared to other phones like iPhone and Galaxy.

Most says this apps results are not accurate although you are using high end phone. Bad apps....

Error for two tests. Lumia 520.

Now gsmarena won't criticize wp don't have any benchmark tool.Thanks developers. Posted via the Windows Central App

I find reviews of gsmarena most neutral...to the points. Not like iverge and iphonearena

I guess devs were waiting for the holiday season to release their apps. I ain't complaining though.

Well, my results don't even reach 5% of the rest of the Android or iPhone devices... I have a Lumia 925.

In all fairness, the 925 uses a 3 year old SoC.

Synchronization error ! Doesn't work

What the heck. Tells me under device info that my HTC 8x only has a 2mp rear camera, 7mp front camera & that there's no nfc in my phone. Also when trying to start a test it claims power saving mode is on when its not & says N/A for all test results. Now when trying to do a test again, the app crashes at the end of the test everytime.

The app is still not quite optimized for windows phone. It runs badly on my lumia 1520

Just realized that my 630 is a piece of crap :( why o why

App sucks. According to the result, my 1520 lost to even the lowend androids and the iphone 4. All the Nokia devices are listed at the bottom of the list. It also tells me that my 1520 doesn't have proximity sensor. My phone doesn't even eligible for the Manhattan test. How ridiculous this piece of rubbish is. I'm rating it 1 star for now.

My lumia 1520 is the best phone I had ever had and now this crap tool is telling me and everybody else that is not true. Wtf

The kinda scores I seeing for my L925 is ridiculous. The information it has about my phone is incorrect. This is a bogas app hating on my phone.

My lumia decided to commit a suicide after discovering that she works exactly 10 TIMES less than iphone 6+.

Wtf this app sucks it shows my l1520 lost to even lowered Android phones

I cant even find the app in the store.

This doesn't make sense. Android and iOS both don't support DirectX. How can the scores be compared to those devices?

It requires 53mb of data sync?

Ok so both my wife's Lumia 1020 and my Lumia 1520 are outclassed by low end droid/apple products? Can't even run the Manhattan test, what a joke, why would you even promote garbage like this?

Yup garbage. Gave my phone a score of 863. I have L1520 and according to this its bottom of the pile lmao.

It says it requires 53 MB of synchronization data or something, so I pressed OK, then it shows an error. Happens every time.

I tried this app out and it doesn't function properly on my Lumia 928 running latest build of 8.1 DP. Crashed during the T-Rex offscreen test. Also caused Glance to stop working, necessitating a two-button reset to get it going again. Not sure why I even messed with this, as benchmarks aren't that important to me if a device funcitons well, which the 928 does.