Ghostery will bring its tracker-busting extension to Microsoft Edge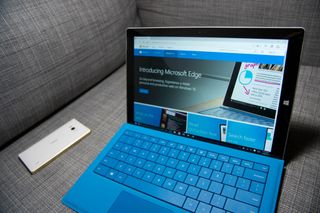 Ghostery, which provides, among other things, browser extensions that help find and block ads and trackers from around the web, has announced its intention to release an extension for Microsoft's Edge web browser. The extension is currently in testing, and there is no timeline for release just yet.
From Ghostery on Twitter:
@ZarlieV Yes! We have it in QA/Beta now. I don't have a release time frame though.@ZarlieV Yes! We have it in QA/Beta now. I don't have a release time frame though.— Ghostery (@Ghostery) May 12, 2016May 12, 2016
Ghostery currently offers extensions for Internet Explorer, Chrome, Firefox, Safari, and Opera. People are able to customize their experiences with Ghostery, controlling what types of items are blocked, such as ads, trackers, and social widgets, and the sites on which those items are blocked.
Thanks to Zarlie for the tip!
Awesome! I really, really can't wait for extensions to arrive with the Windows 10 Anniversary update. Everyday, I get more sick and tired of using the evilly gimped chrome on my Surface Pro 2 ( http://www.dereferer.org/?http2F2Ely%2F1s3TSlH ). Whole bunch of stupidly frustrating road blocks (see the list I linked to) making the use of it as a Tablet browser unbearable, and even as a Laptop browser, it stupidly blocks trackpad gestures. Obviously intentional 'cause no other Win32 application behaves like that on my Surface Pro 2, not even sluggish Firefox, plus as stated in that list, some of the functions were working flawlessly before. Now, it's just totally gimped to the point where you'll be forced to use your 2-in-1/3-in-1 Windows PC like a bastardized chromebook. I only keep it for the sake of it's extensions and I'm 100% set to get rid of it from my Surface Pro 2 once the Windows 10 Anniversary update lands with extensions and more for Edge. Posted from my Surface Pro 2

That was quite the rant, but I have to agree. Chrome is endlessly frustrating, and Firefox is so sluggish. Windows Central Universal Application for Windows 10

~ Windows 10 on L730(10586.318)

This one. -Mach 8 Solutions, LLC a software company.
Http://mach8solutions.com

That is awesome news! First adblock and soon ghostery too :D Posted from the WC app for w10 using lumia 1520

Yes!! Edge starting to become my new fave, after Iron. It's actually maturing nicely on desktop. The mobile one could do with a touch more polish. Thanks to MS for allowing extensions. All these crappy ads missing should see pages load so much quicker!

I'm going to be adding some places to my whitelist though. Windows Central Universal Application for Windows 10

All these 'crappy ads' help fund the webpages you visit, they are there so you don't have to pay to visit them, I hope you'll be turning adblocker off for websites like Windows Central

I use adblockers for sites that flood the page with ads, or frankly just have too many of them, significantly lowering the quality of this page in terms of loadingspeed and more. A site like windowscentral.com is an example of such a site. Don't get me wrong, i love windows central, and other sites like it but they use ads excessively... If these sites would have some sort of premium service removing ads, i would gladly pay for it. Posted from the WC app for w10 using lumia 1520

Perhaps if the sites were not stupid with ads and they where not an attack vector for hackers people would not block them. Just saying the ad industry is the cause for the rise in ad blocking Posted from an Oric-1

WP Central sucks without an ad blocker, big drop in performance

Yeah the app is great.. The website is unusable. If there was no appi wouldn't use WPC. An example of paid (app) vs "free" ad infested website

Just need https everywhere now

This is great news. Ghostery is my preferred browser whenever I am forced to use Android. It's got built in content blocking and is considerably faster than Firefox + Adblock.

This is good news indeed.

Nice! I wonder if µblock Origin is going to be ported. That'd be really nice. I used to use Ghostery until it became "easy-mode" and went to a blocker overview screen by default when opened instead of the on/off switch screen.

just add a gesture for middle click on touch (and don't say replace it with right click, because i need them both) It's a pain in the ass to have to always right click and "open in new tab". two or three finger tap or something!

Simple solution, grab TouchMe Gesture Studio from the Windows Store and set whatever the heck you want out of it's 38 system-wide gestures to middle click.

Didn't know about that at all! Thank you 1000x!

Any news from WebEx? I have to use it occasionally and that requires hopping into the Chromium Machine Sent from my more personal computer

In the logic of many comments on recent news adressing ad blocking in edge and other browsers here on windows central: "Hey, lets not forget that tracking revenues feed children, too."

I would much rather pay for an app that is add free, Windows Central included. As for websites, moderate advertising is fine to keep them free but many sites go way over the top and flood users with ads. This tactic is not acceptable and in this situation ad blockers serve a purpose.
Windows Central Newsletter
Thank you for signing up to Windows Central. You will receive a verification email shortly.
There was a problem. Please refresh the page and try again.