Gibbage Cases, a simple 3D printed case for your HTC 8X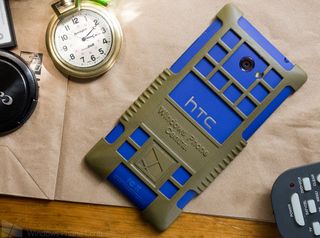 Gibbage Cases has been a roller coaster, grass roots effort by Windows Phone enthusiast Kevin "Gibbage" Miller. Miller was looking for a simple case to protect his HTC 8X with three principles in mind; protection, design and function.
The end result was a unique case that offered a buffer between the 8X and harsh surfaces. The Gibbage Case may not offer much protection from falls but it should protect the soft outer coating of the 8X from scratches and rubbing thin. We received a Windows Phone 8 theme (opens in new tab) version (complete with the Windows Phone Central Logo) of the Gibbage Case. We took it out for a test drive over the past few days and found it to be a nice option for those who prefer a minimalistic approach to their cases.
It's been interesting to watch the development of the Gibbage Case. The case is created by a 3D printer and the first few attempts didn't go to well. The dye used in coloring the plastic leached off the case and stained the coating on the 8X. Then there were quality control issues with the 3D printing service, Shapeways, that just about scrapped the whole project. Miller stopped selling the cases and went back to the drawing board.
With assurances of better quality control from Shapeways, the Gibbage Cases are once again for sale. Instead of offering a color selection, the Gibbage Cases are being sold in white and alumide. The white models are more of a "do it yourself" option that can easily be painted to the color of your choice but actually look really good as is.
The case itself is made of sturdy plastic with just enough flex to accommodate easy placement on the HTC 8X. Each case model has ribbed sides that makes for a nice grippable surface. As far as fit and feel is concerned, the ribbed sides does give the 8X a nice feel and there is really no bulk or weight added to the phone. The case fit snuggly and the buttons, ports and the camera are nicely exposed and easily accessible except for the SIM card tray. You'll have to take the case off to swap out the SIM but that's not an everyday event for most and shouldn't be an issue.
As mentioned, the Gibbage Case won't offer much protection from drops. The case's main area of protection rests with the buffer it creates between the soft coating on the 8X and abrasive surfaces. The case will help reduce wear from pocket carry and scratches from every day. The corners of the case provides a bit of protection for corner drops as well as creating a buffer for the 8X's screen. The case's corners raise the phone just a tad to prevent it from making contact with surfaces when the phone is laid screen down.
While the white case has it's own appeal, painting it allows you to make the case your own. If you want a hot pink spider web case, it's just a spray paint can away. You'll need to prime the case and paint it to your liking.
In painting the review case, I went to the local hobby store and picked up a can of Tester's paint primer and a can of model spray paint. After painting the case with a coat of primer and letting it dry over night, I lightly sprayed the case with the colored paint. It took a few coats to get the case painted just right but in lightly spraying the case, you avoid over-painting that can cause drips or runs in the paint job. I let the paint set over night and once fitted to the HTC 8X, the Gibbage Case fit like a glove. I've had the case on the 8X for several days and haven't experienced any leeching or staining to the phone at all.
All in all, I found the Gibbage Case to be a very nice case for the HTC 8X. It's offers a minimal amount of protection, mainly protection from scratches and rubs that would mar the soft coating on the 8X. The plain white or alumide colors are nice and if you want to customize the case, the white plastic can easily be painted.
Additional Gibbage Case Designs
The developer is looking into similar cases for the Nokia Lumia 920 and Lumia 820. We'll keep you posted on that progress. As far as the HTC 8X is concerned, there are four different stock patterns available for the Gibbage Case that range from $20 to $24. Custom logo inserts are available but at an extra cost. You an find all the ordering information here at the Shapeway website (opens in new tab) and you can stay up to date on any new Gibbage case styles and read up on painting tips here at Gibbage Case's website.
Oh... we just got word that the case prices have been reduced $5 through March 2nd. If you're on the fence about giving these cases a try, now's your time to save a little while taking the plunge.
George is the Reviews Editor at Windows Central, concentrating on Windows 10 PC and Mobile apps. He's been a supporter of the platform since the days of Windows CE and uses his current Windows 10 Mobile phone daily to keep up with life and enjoy a game during down time.
Those shots look like they don't fit tightly.

Don't let the shadows fool you. The case fit snug.

I know you can please everyone, but if your a little bit more spacific, it may help future designs.

I don't think it's ugly at all. It's busy, but better than a silicone sleeve. It looks kinda industrial, maybe he doesn't like that style.

I fully understand that its not for everyone. Thats why I made a few different styles and will make more. I just need feedback to help steer the product into the right direction, but there will never be a design that will be everything to everybody.

I really like the metro style one with the wpc logo, and the spider web one, and I like the idea of custom paint... Any plans to expand the lineup to other devices? (e.g. my Samsung Ativ S)

The white Spider case would be awesome on my black 8X , but damn International Shipping is expensive as hell (19.99 USD)
I guess I'll stick to the case I have .

I will look into using other printing company's based in the EU. Maybe there shipping is more reasonable, but the base price of the case will be higher.

Or better yet, a different shipping method. Make the package so it'll fit into one of those soft envelopes.

I agree. Shipping is killing this. As well, lack of phone options. My HD7 would look great in this.

I just realized its supposed to represent live tiles on the back. Yeah, the case is very unattractive (as well as not useful). Would be embarrassed to show it off.

With 3d printing, I'm not limited to offering just 1 design. Currently there are 4 designs available with more to come! If you have an idea for a better design, let me know. I'm always looking for inspiration! Just head over go my web page and submit an idea, or reply in the Wpc forums.

It doesn't look that bad. Look at the other designs if you don't prefer this one. I think I'm going to get the spider case and paint it red to go with my black HTC 8x. He is doing a good Job with what resources he has available to him.

The grips make the phone a lot more comfortable to hold. Dont just take my word for it, its in the review. "the ribbed sides does give the 8X a nice feel and there is really no bulk or weight added to the phone"

I really admire his efforts and they do look pretty cool and unique.

Sorry, I mean kudos for trying something new and different, but this is nothing more than cosmetic. Looks like it would be really uncomfortable to hold. Not my style, I like to go commando. Hope it does well for you, who knows, you might the next big thing.

Again, the added ribs make the phone MORE comfortable to hold. I went through about 5 different designs before I found the final one. Its in the review. "the ribbed sides does give the 8X a nice feel and there is really no bulk or weight added to the phone"

that is one incredibly ugly case. would be embarrassed to have that on my phone.

I personally don't like the Live Tile design but I really like the spiderweb and the "mesh" looking one. I already have a case but I've had my eye on these for a bit. Keep up the good work gibbage.

Kudos for a brave design. Not to my tastes personally, but there's not any cases out there like it! The sound you can hear btw, is the sound of palms meeting faces in HTC's design studio...

Good work and all but, the first though that came to mind when I saw it was, a hooker's fishnet stockings.

Always great to see new products for our Windows Phones - especially when so much is involved in something like this. I look forward to more designs and I might eventually pick one up here soon.

Nice cases. All I need now is an 8X...

The wpcentral one kind of reminds me of r2d2

Those are very cool cases! Not a fan of the live tile design, but the other designs look awesome! Great job :D

great job on the cases and big props for jumping into this project. the comments "ugly" and all the other non constructive comments tend to come from those who can't color inside the lines.

Deriding negativity with pretenious negativity.... or, you could have just stated the first sentence and put yourself above it all. We both fail now, don't we?

That looks really sweet. I dig that industrial look. Let's make some for the Lumia 920 ;)

The 920 is on the way. With help from the WP Central forum, I was able to pay for a 3D scanner to scan a members phone, and will be working on getting those ready. I expect it to take 2 weeks or so.

If you could design a 920 case that has Semper Paratus cut out, I would buy in a heartbeat.

Consider it done. Anything I can do to help ANYONE in the armed service. =)

I like th design. Will be looking for a 920 when they are available.

Excuse my French but that shit is hideous.

Last I checked, thats not French.

It doesn't seem like a case to me at all. Maybe there should be more material with design shaped holes

Very cool, will keep my eye out for your 920 cases!

One thing everyone needs yo realize, is that my man Gibbs can make these with ANY design you like. The ones displayed are just standard ideas. You want a logo, done. Want your wife's, kid's, mom's image inlayed, engraved, done. What do YOU want?? DONE!!!!!!

The 'ugly' comments are unnecessary, however at the same time I can't see how any 'constructive ideas' could be offered by people who don't like it because the product is that distinct and polarizing.
I would say, part of the problem could be the examples are shown in white and stand out so glaringly against the phone itself.... showing how much it stands-out might be off-putting to some. A black case on a black phone maybe, or color-matched frames to colored phones might be a good comparison.
Good luck with it.
Windows Central Newsletter
Get the best of Windows Central in in your inbox, every day!
Thank you for signing up to Windows Central. You will receive a verification email shortly.
There was a problem. Please refresh the page and try again.