Global Windows device shipments for K-12 schools went up 20% in 2015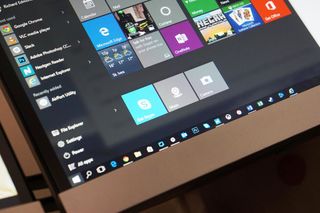 Microsoft is hyping up the success it has seen with shipments of Windows-based devices to K-12 schools. The company cited a recent report from the Futuresource analysis firm which stated that global sales of Windows devices to K-12 schools went up by 20% in 2015.
The company also claimed that shipments of Windows devices last year to K-12 schools were twice as much as those of its nearest competitor. The blog post didn't name names, but we would assumg that the competition comes from Apple's products as well as from Google and the many Android and Chromebook devices.
Microsoft added:
Source: Microsoft
Windows Central Newsletter
Get the best of Windows Central in in your inbox, every day!
Good news!!!
I think it's funny how you see mostly Apple products on tv and stuff, but in real life you see more Windows computers.

Getting back on track. Nice! Promoting W10M 8-bit tile art

Yeah, that's the viral marketing does. And, oh, don't forget about that price tag that Apple gave to all of its devices.

I think you said it right, it is the price thing. The battle for education is between Google(Chromebooks) and Microsoft.

My school has declared that they're going all Chromebook except for the teachers, who all get hybrid Windows laptops from HP (the Elite x2). No more desktops, no more Windows. I'm so glad I'm graduating. I can't stand Chromebooks (sorry for anybody who enjoys them...except you're wrong, you're just wrong).

Chromebooks are just yuck.

And thankfully this is almost a US-only thing. In Europe, someone who has ever seen a Chromebook IRL is extraterrestrial.

Awesome. The GNU/Linux morons I see online all claim that "Only the US uses Windows now, the rest of the world has moved on to free open source Linux blah blah blah..." When I point out that Windows has the same (90%+) marketshare in the Europe as the US they say nothing.

Ask Germany how the all-in-Linux thing worked out.

Oh trust me I love throwing that one in their faces, especially given how cocky they were about it when they first announced the switch.

Chromebooks are worse than garbage

Chromebooks would be fine if all I had to do was browsing. However, after watching my kids try to deal with google docs, I would never consider a chromebook. The word processing program is considerably crappyier than word. Their version of powerpoint is also much worse. It was a struggle using it. After trying to help for a while, I installed office on their computer and their project became much easier to finish. Unfortunetly, some teachers insist on using google docs. I told my kids they are on their own for those projects. Using docs is an excercise in frustration when doing anything more than the basics.

Word Online is decent because I like being able to use it anywhere with OneDrive Windows Central Universal Application for Windows 10; Nokia Lumia 830; Microsoft Lumia 640

My school switched to Ubuntu. It totally sucks. Almost everybody here hates it. I asked them to apply for dreamspark and they said that they wanted to go "open source". Ironically, the IT guys run windows 10 on their machines. SMH

Ubuntu. I am sorry for you sir. Windows Central Universal Application for Windows 10; Nokia Lumia 830; Microsoft Lumia 640

Chromebooks are good for what they're designed for, and that's browsing the Web and not much else. Windows on low end hardware just for browsing the Web is not fun because it requires far more resources because it's more capable. Chrome OS is pretty light so it's good for use in libraries and schools and such. When students have to use heavy programs like Photoshop and stuff like that for yearbooks and heavier tasks then you bring out Windows and Mac OS. They could really save a lot on maintenance and the price of buying new computers if they use Chromebooks instead. It's a good business decision if you ask me. Posted via the Windows Central App for Android

Budget Windows laptops run perfectly fine if you're not doing a bunch of stupid things with them. My three year old Toshiba Satellite that cost under $280 brand new still runs well. Chromebooks seem to run better on the lower end because it's harder to bog them down (because you can't do anything) but I guess that's an advantage in itself. Windows Central Universal Application for Windows 10; Nokia Lumia 830; Microsoft Lumia 640

Anytime you see someone using a computer on TV its always an Apple, they must have complete market saturation

No. That is Apple paying big bucks. Granted they have better luck; when Microsoft does it announcers call it an iPad or they are held upside down in movies.

What exactly are K-12 schools?q

Kindergarten through 12-grade schools.

Ooh! Why do they have to complicate life? Why don't they just say school.

It's how they differentiate between regular school and college which have separate age and income demographics. :-)

Oh ok but there are easier ways like you just said regular school and college. That's just me.

Thing is, most people just say "grade school," at least where I live. At my school, the preschool-2nd grade are in one room, 3rd-6th in another, and 7th-12th in another.

How do they teach multiple grades in one room. Do they all learn the same thing or does each grade have their little corner within the room?

The 7th and 8th graders are in their own classes while the 9th through 12th graders are in their classes. One teacher teaches English class for most of the students at different times.

Which country do you live in?

America, the land of the people who are spied on by the NSA.

Chromebooks no good at all. Still don't know why people buy it.

Should show this to my daughters' school, who just bought a bunch of Chromebooks this year. I've got to fight that battle soon. I don't want my young kids having an ID associated with Google in any way.

I'd definitely voice my opposition if my property taxes were being spent on that garbage, I'd take it to the school board.

Fortunately, my kids schools are all office 365 and Windows. But I have researched grounds for a FERPA lawsuit and am ready to file in case any of them get the chromebook bug.

unfortunately if they have a limited scope of education thats what you will get regardless of the device

Be careful with Chromebooks. Google is known to track students data.

And Windows 10? They are all companies after money Posted via the Windows Central App for Android
Windows Central Newsletter
Thank you for signing up to Windows Central. You will receive a verification email shortly.
There was a problem. Please refresh the page and try again.