gMaps Pro for Windows Phone: Video Overview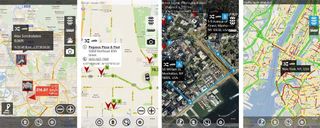 gMaps Pro for Windows Phone was recently re-introduced to the Marketplace. Due to gMaps Pro being re-introduced to the Marketplace, previous versions aren't eligible for future updates. To help those who will need to re-purchase gMaps Pro, the developer offered it as a free app this past Friday. I managed to miss that day but as the app looked so good I parted with my money and made the purchase.
As I have been so impressed I thought the app was worthy of a video demonstration or walk through to give everyone a feel for the app. As you can see there are some great features built into the application and it looks good too. Features include:
Discover places or use local search
See your friends and share location with Google Latitude
Navigation with direction and rerouting
Multilingual. Supports more than 40 Google languages. Fully localized for 8 languages
Layers Weather, Bikes and all other maps
Share map by email/message
The latest update, version 1.23, includes 'street view' which seems to work pretty well.
Although Bing search on Windows Phone does a similar job I much prefer gMaps Pro. There is a free version of gMaps available but it is ad supported, which may not appeal to everyone. The gMaps Pro version is currently running $1.99 and a worthy purchase if you ask us.
You can find the free, ad-supported version of gMaps here (opens in new tab) and the ad-free version of gMaps Pro here (has a trial version) at the Windows Phone Marketplace.
Fantastic app, street view is really bad so far, good start.

Agree with the street view. Let's hope an update sorts that in the future.

I was able to get it for the free price :D I definitely lucked out I panicked thinking I had missed the free promotion but early Saturday afternoon it was still free!!! :D

Lol, yeah it didn't start until late Friday afternoon in the US - you should've seen the rage! :P I had to wait until 4am Saturday in Australia (well I happened to be still awake) and it ran for 24 hours from there.

Yeah, I agree with iggypop120 - street view is bad and......just not very good! But the app rocks other than that! Im going to leave a comment on the developers site - im sure street view is something that can be fixed a some point! :-D

Did you know you can hit reply on a comment to have your comment appear underneath? I've noticed a few people don't do this :P

Pretty decent app I suppose. Not sure why you wouldn't just use the built in Bing maps but I guess Google Latitude is neat feature.

I got it for the Google Latitude stuff, but it won't work if you have 2-step authentication activated in Gmail.
Have even tried with an application specific password.
And it doesn't look like it will be fixed in the near future.
http://gmaps.uservoice.com/forums/113521-wishlist/suggestions/2370337-latitude-and-2-step-authentication

I use it for public transport, traffic, cycle paths and cycle directions... None of those are available on the Bing maps for me in Australia.

This is really nice but not much different from Nokia drive. Still waiting for a map app that allows me to choose a route from my location to a contact from my address book. And it would be nice if I could use search and then have an option to add that place to my contact list

Navigon gives you this feature

Doesn't the new gmaps let you use your contacts? I think I saw such an option. Lemme check. Yup, show route to contact it says in the pull up menu.

I just tried that, and it works with the integrated bing maps just fine. Just tap the adress from your contact, then tap the arrow and youre fine.

Same here. Just got it for free. :-)

Public transport routes still not working for me. This is really a key feature when travelling. Does it work for anyone? Is there an app that can do that efficiently?

Mango transit works well as long as you are in one of the few cities that Bing does mass transit directions. Hopstop also works in more places but doesn't look as nice.

Is there any app that uses data from google maps for it?

I was hoping this app would be way better, but I'm fairly disappointed with it. It's very laggy, and doesn't include proper Google Transit implementation. The Bing Maps app that is built in is far more superior than this, so I'll be sticking with that. I just hope they release transit directions for Canada soon :) And yes, I know the app is free, but that's not a valid excuse. There is also a "PublicTransport" app in the Marketplace that was really well made, BUT it stopped working recently (I'm guessing from Google's end, because the mobile site doesnt even work).

This sucks. Went to Portland this weekend tried it, and it was miserable.

I'll take Local Search over this crap any day

This app is the only way I know of to get biking directions on WP7. Is there any other option?
I thought this was the only option for mass transit too, until I saw that comment about Mango Transit above (I don't have a Nokia, so I can't use Nokia Transit). I'm checking out Mango Transit now. Frankly, it's embarrassing that Bing Maps doesn't have public transit baked in. It might have been painful, but my HP Veer could do that in a pinch.

Apparently it does for US peeps... Possibly Canadians too

So will this app give me voice turn-by-turn directions without tapping the screen like Bing maps does?

Is that the European HTC Radar? I would have loved to have had that color instead of the white one...

I think its fair to say the potential in apps from developers lacks alot and os is behind schedule whatever is built in works great but 8/10 apps are no where near good as IOS

If transit worked properly I would use this app all the time, it s very well done! I'm in China, and when I try to get directions using mass transit, it loads up the mobile browser, but just redirects to google.com.hk. Such a shame, because Bing doesn't yet support southeast China, and the Nokia 900 has not released yet, so I can't use Nokia Transport either.

I insist the arrow must be the compass too
Windows Central Newsletter
Thank you for signing up to Windows Central. You will receive a verification email shortly.
There was a problem. Please refresh the page and try again.