Good for Enterprise™ released for Windows Phone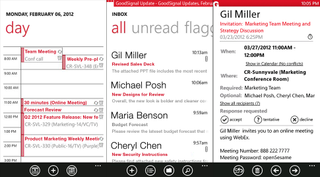 As we reported earlier this morning, Good Technologies was prepping to release their enterprise messaging app for Windows Phone, a big win for those who need security and a strong feature set for their device.
That app has now gone live in the Marketplace ready for download. We must emphasize: you need Good's back-end technology to run this as it is not standalone (think Exchange). From the app description:
"Good for Enterprise™ delivers secure mobile collaboration and device management for Windows Phone devices. With Good for Enterprise, employees securely access corporate email, contacts, and calendar. Good for Enterprise provides a unique, secure container that separates personal from business while respecting employees' privacy – ideal for BYOD devices. Unlike other solutions, only Good for Enterprise prevents data loss by providing security at the application layer (in addition to device security)."
We listed the full feature set earlier and needless to say, it's fairly comprehensive for a v1.0 release and what's more, Good promises more features in coming updates.
As noted in comments on our previous article, the main benefit for Good users is encryption of messaging, sandboxing of data and better security than Windows Phone or Exchange alone can offer (for now). Plus, with clients on the iPhone, iPad and Android it's nice to see Windows Phone on par with the competition.
Pick up Good for Enterprise™ for Windows Phone here in the Marketplace. Thanks, Munsey S., for the tip
Windows Central Newsletter
Get the best of Windows Central in in your inbox, every day!
Daniel Rubino is the Editor-in-chief of Windows Central, head reviewer, podcast co-host, and analyst. He has been covering Microsoft since 2007 when this site was called WMExperts (and later Windows Phone Central). His interests include Windows, laptops, next-gen computing, and for some reason, watches. Before all this tech stuff, he worked on a Ph.D. in linguistics, watched people sleep (for medical purposes!), and ran the projectors at movie theaters because it was fun.
WinPhone 7 couldn't be considered mainstream without this..
this is a big win :)

Looks like IBM is going to support WP with Lotus Notes Traveler: http://www-03.ibm.com/press/us/en/pressrelease/36525.wss

Just downloaded the app here in Chicago. Will check with our tech person tomorrow to make sure my exchange account is good to go for this. Thanks!

really not sure how this can offer better security than Exchange 14 and IRM. With Mango its a match made in heaven.

windows phone doesn't react to the policies set on an exchange server (yet?). so no force of phone lock, and auto turn off, etc.. which i'm actually glad about, because i hate those (my win8 tablet tries to force those on me when i want to add my work mail, as it responds to the policies of the exchange server).
instead, the policies just map to the app. so your phone can have your policies, and the app still the corporate policies (auto lockout, password requirements, etc..).
that i like much more than the approach to apply the policies to the full device.

So wait.. this app on its own won't convince my exchange server to talk to my phone? The server admins need to install a "Good" server component first??

Correct - picture it as a cross-platform BES (Blackberry Enterprise Server).

No. You can use Exchange and WP without Good. However, to use the Good application you need the Good server infrastructure. Talk to your email administrator. There are many ways to set it up, or it might not have been setup at all.

Unfortunately, I can't connect to exchange because my enterprise requires encryption, which wp7 doesn't support natively. I was hoping this would be like Touchdown for Android, which connects to exchange directly. I can pretty much guarantee our exchange admins aren't going to even consider adding a server element to our system. We've got over 60,000 mailboxes, and the vast majority of the users connect just fine with their ios, droid or bes devices so the handful of WP owners quite simply don't matter.

Your exchange admins must be giving you the shaft all around. iOS doesn't support encryption either.

he just has stupid exchange admins. iOS lies when queried about encryption, WP7 tells the truth, but the Isencrypted flag needs to be deprecated. it means nothing with IRM in Exchange 14.

For a while now I have been using just WP and it's native support to exchange. But recently, our IT started to adapt Good as firmwide policy - not sure why. So tomorrow, I'll be in compliance again :)

The reason why is simple. Managability and security.
You can offer Good as an App, and all the sensitive company data is sandboxed.
You can also enforece a PIN, whereas many phone owners dont use a PIN and if the lose their phone 3rd parties now have access to potential sensitive data.
Good means its locked under PIN, and you can nuke the App/Data remotely if they connect the phone up to the net etc.

You can cut off Activesync and OWA and enforce Good only. If your company needs to be compliant with any regulation, this is a very easy way to achieve that compliance.

I can't tell you how many execs have left notebooks, ipads and Blackberrys on trains or in the back of taxis.



One of the few apps I have been impatiently waiting on. Great news!

I honestly don't get why wp7 is not considered as secure for enterprise like iOS. Wp7 should have been the obvious choice for enterprise users bit its not.

At least in our firm, Good is being enforced across all platforms. Well, the big 3 anyways.

WP7 and 7.5 were not designed for enterprise, even by Microsoft's own admission. They took a step backwards from WM in this regard and is why some enterprises still use WM or have ditched MS as a mobile platform altogether. WP8 will reportedly bring back some enterprise functionality.

Just installed, and it's looking, er, good. Does anyone know if there is a way to configure this to work with the native windows phone email client? Would be great to have Good in the background yet be able to use the wp client.

I totally agree. I prefer the native way but no choice for me. I could be wrong, but I don't think it's possible right now.

Does this have a live tile, and if so what does it show?
Thanks

No live tile, just a red square with the word "good" in white text. Does not use the theme color.

Still have human use Lotus/Dominal server?

This UI looks similar to the concept UIs shown in the "Microsoft Future Productivity Vision" video.

I've not used a good enterprise sever before but I was impressed when I visited good.com and saw they have the L900 on the from page rotating along with other platforms. How many sites show only apple??? They deserve five stars for this alone :-D

Enterprises can use MS Direct Push, which they give to Exchange subscribers for free. My company (which is a very large software firm) has been using it for about 3 years. It is essentially the same as the RIM/Blackberry stuff, but, free. It works beautifully, and it ends up enforcing a password and has the remote wipe. We have about 10K employees, so, we aren't a small shop. It was great for employees who do not qualify for company paid phones, to simply setup getting their work email w/o the company incurring extra costs. I am probably a 1%er that actually uses it, but, the IT department was very openminded about setting up Direct Push since it was free. Before they used to have to make some kind of one-time install of a certificate from our internal servers. But, when I switched to a DVP on WP7 about 18 months ago, they said the latest version of Exchange, etc didn't need it and I was just setup automatcially after configuring my Outlook account on the phone. Once it sync'd w/ our Exchange server, a notice came up on the phone telling me the security settings have been changed and required me to enter the password. You do that and you are good to go.
I have wonderful access to the corp. directory now for resolving email IDs and seemless interface w/ the Exchange calendaring. My coworkers w/ iphones and Androids all have to be very careful when accepting meetings on their phone, or proposing new times, etc..many times it doesn't work correctly w/ Exchange and things go haywire. With me, it even has a quick thing to say "i'm running 10 minutes late" from right in the phone app and it sends out a message across Exchange to all the other meeting attendees.
All i know, is i am totally set w/ my WP7 and have been loving my Lumia 900 the past couple weeks.
CW


Have nokia lumia 900. I am able to open emai through Good, but I can't open attachments,ie, pdf,exel. Any suggestions.

The app is mostly unusable on my phone. It takes 10 minutes to download 5 messages. That is if sync even works... There is no notification that I have new mail. Message Threading does not exist, and it causes the built in wp7 outlook client to send duplicates. So hopefully they can at take a good hard look at this. Security is good, but i just went backwards 5 years on functionality in the interface and performance.
Windows Central Newsletter
Thank you for signing up to Windows Central. You will receive a verification email shortly.
There was a problem. Please refresh the page and try again.