Good for Enterprise updated, now supports Windows Phone 8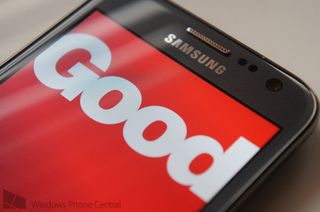 If you're not familiar with what Good is all about, it's an enterprise messaging service. We've had an app available for Windows Phone since last year, but now we're looking at a large update, which bundles Windows Phone 8 support with a list of improvements and new features. Version 1.8 expands on the foundation already available on the store with more functionality for those who take security rather seriously.
A number of reviews have hit out at some of the annoying issues that plague the user experience. So what's new in version 1.8? As well as support for the latest Windows Phone hardware, there's also the following:
Secure access to email, calendar and contacts
Synchronize contacts with native address book
Conference dialer from calendar event
Application remote lock and wipe
Support blocking copy/paste policy
Office and PDF attachment viewing through third party apps(require enabling importing/exporting policy in GMC)
Support Exchange and Domino servers
Support Fast Application Resume
That' quite an improvement and one we believe will address some of the concerns many have had. You can download Good from the Windows Phone Store (works on both Windows Phone 7.x and 8). Thanks, Steve, for the tip!
Windows Central Newsletter
Get the best of Windows Central in your inbox, every day!
Rich Edmonds was formerly a Senior Editor of PC hardware at Windows Central, covering everything related to PC components and NAS. He's been involved in technology for more than a decade and knows a thing or two about the magic inside a PC chassis. You can follow him on Twitter at @RichEdmonds.
Never heard of this. Is it any good?

This is used primarily as a secure email client firm wide where i work, its a fortune 50 company so if this gets implemented its going to be huge! Currently there are a ton of people complaining on Good's intranet site in my firm for the WP8 version. I guess now i will happily ditch my bb9930 and use my L920 for emails :)

Don't you mean Fortune 500 and not Fortune 50? ;)

If pankaj's company is in the top 50 of the Fortune 500, then they do mean Fortune 50.

@scorp508: I meant to give him a friendly poke, so to speak.

Yeah it is a fortune 50...basically a big enough place where MS can sell their WP business since BB is the norm here, people who bring in their own devices (iphone and android) use the Good Mobile app. If MS can focus well then there might be a change where BBs can be replaced by WPs and become the next co olest enterprise mobile solution, but again its upto MS to push it since they already have a ton of products being used here with enterprise licenses.

Doesn't WP devices need this app because they are lacking support elsewhere?? I think that's what someone at the airport told me.

Is this why WP users need apps like this?

This is Great! Any word on a Windows 8/RT app?

Wow! Never realized Good was still around.

I was just on the Good community forums this week, and this was still in beta. Is this the release version? I may need to start a grassroots program at work with all of us WP users to allow us access in addition to the iOS/Android fools. Sounds like a Win8/RT version is coming, but not yet even in beta.

This is the full release, it appears. My firm is relatively small (4K) and they wouldn't allow us acces to the Beta. I just got access and installed Good yesterday on my Lumia 822. So far so (okay). There is always room for improvement, but it does work well. It is certainly better than no e-mail on my phone, which is what I had for 5 months since I ditched my iPhone for WP. No regrets there!

GOOD news for Business that use the Client and have WP8.

Good told me they were working on this, but I didn't know that they would have it ready this soon.. These enterprise apps are crucial for Windowsphone success! WP just can't compete in the enterprise if it does not have the applications that people need for work.. Most people don't want to carry two separate devices, one for work, and one for personal use, so they will choose the device that fulfills all of their needs.. WP better start fulfilling ALL of EVERYBODY'S needs.. Nevertheless, this is progress so im very happy to see Good supporting WP8!

The problem with Good is that it does not integrate with the calender or contacts list on your device. Everything is walled off.
A better solution is using MS Intune which supports iOS and Android as well.

I prefer that behavior. If this merged my content with my emails, calendar and contacts from work then my employer can dictate what I do with my device. This type of implementation means my device remains my device and Good is how I get some access to work in a secure manner.
It's nice to see the Live Tile working with an email count, even in the small version of the tile.
My employer doesn't formally recognize WP8, but I was able to get it configured this morning by requesting access for a WP7.x device.

I've been waiting for this for such a long time...and now it appears we aren't running a high enough server version to support it (or at least that's what I heard when I was exploring using the beta). REALLY hope I can get this soon so I can ditch Android!

The company I work in just ditched Good. Users were furious with lack of features and integration. They were already circumventing Good by autoforwarding mails to Gmail etc. A security nightmare!!
They should have asked someone outside IT department beforehand.
Now they are back to ActiveSync Policies...

the windows app store does not have the latest version of good for enterprise. the i phone has the latest version. why dont the windows support the latest update for windows phone. am extremely upset with windows not providing the latest technology to support the truly good apps.