Good Technology Report – Windows Phone Enterprise Activations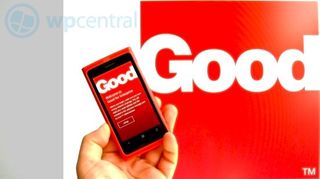 Good Technology has released their annual report detailing the spread of device activations for Q2. Good are well known for being at the forefront of providing technology for IT departments to facilitate users who wish to use their own devices for work, commonly referred to as BYOD, or to allow departments to use technology that's not quite as secure or manageable out of the box. The premise is simple; the software provides a heavily encrypted shell to keep corporate email private and secure. Windows Phone is making its presence known in the workplace according to this report.
The Good Windows Phone client was only debuted in April 2012 but already it's showing as accounting for 1.2% of the overall activations. Bear in mind that the lion's share of activations are currently going to the non-enterprise friendly, but current executive fondle-thing-business toy, the IPad. The iPad is accounting for a whopping 94.5 of all activations.
Good seem upbeat on Windows Phone in the following quote:-
Good go on to mention that whilst the number is currently small they suggest the knock-on effect of Windows 8 might boost that number down the line. Something most of us are expecting, a halo effect of the Metro re-imagining of Microsoft and its key technologies.
Firstly, it's great to see Windows Phone showing some visibility in the Enterprise. Secondly, it's nice to hear that Good also have similar sentiments to ourselves. Windows 8 may prove to be the catalyst for wider adoption of Windows Phone. But if we just look at one statistic, that of the iPad, clocking in at 94.5% of activations it's easy to see the potential for Windows 8 to disrupt that completely. Windows 8 will bring with it enterprise level security and manageability, Windows Phone 8 will also be touting some great corporate desirables. If there is one place Windows Phone should have been a long time ago it was in business. The email client on the phone, combined with easy document viewing and editing should have meant it was a no-brainer.
If indeed Microsoft continues to deliver on its program of re-imagining itself and its core technologies then the overall effect should be a new eco-system and a value proposition that both consumer and business can no longer afford to ignore.
As ever, we want your feedback. Do you think Windows Phone is good in business? Will the iPad survive the Windows 8 tablet onslaught on the enterprise? If you work in an IT shop, would be great to hear your thoughts on Windows Phone. Comment is free.
Source: Good (report)
That's pretty good. WP missed the first quarter and Androd tablets would have got some and WP still got 21% of the non-iPad activations so it is getting a big chunk of smart phone activations even with the iPhone in the mix.

"...executive fondle-thing-business toy, the IPad."

Man, that was funny!

I do work in the IT industry and I can tell you first hand we are desperate for something better than the iPad. I personally believe windows 8 on surface like devices will fill that void. We have so many clients that buy ipads (against our recommendation) then find out they come up short in business. The app they need isn't native on the iPad, or its a stripped down version of the real thing, so at that point we have to set them up with some type of remote access solution such as rdp or logmein. Which to be defeats the purpose of the device. So a windows 8 slate would be great for this role. And yes I also believe that windows 8 on a slate will definitely be a catalyst for windows phone 8 adoption. Not only that, but phone8 supports "superphone" hardware and native code. A lot of the power users, and even standard users complain that windows phone 7 series doesn't support dual core CPU, HD displays, etc. So they stay away from winphone. Well that will no longer be an excuse. Late 2012 and all of next year will be good for Microsoft (and Nokia as well).

im deskside support for a large corp as well, so far they are still using blackberry, but the interesting thing to note is that when my new manager came around and did a 1on1 with me when i said i was developing some stuff for windowsphone on my own, he said he loves windowphone as well and is pushing to get bb replaced with it lol

we won't get win8 for awhile, but if they get windowphone as the main mobile platform it will save us, support guys, so much trouble.... we've got everything microsoft (office/sharepoint/exchange/server...) would be nice to be able to administer the phone without having to fiddle around with a seperate system (bb enterprise server)

WP7 was a joke. WP 7.5, however, beats iPhone for email, Office docs, and SharePoint 2010. If it had released with encryption, VPN support (something that WM had years ago), and SharePoint 2007 support I believe corp adoption would have been much higher. MS told us all that WP was a consumer device. They abandoned the enterprise and only have themselves to blame for their current situation.

in hind sight i actually thought they were pretty smart and cautious in this regard, i mean enterprise would be a much bigger/angrier mob to have to deal with if they told them that wp8 the update that gets u all the enterprise stuff is not coming to their current phones lol (hey, i'm perfectly fine with 7.8, but i can see some managers going bananas over this)

Not positive news unfortunately. Good was first available for WP7 in Q2, so all the devices (not just true new devices) would show as new activations for Good. I was hoping to see 4-5% of total. Oh well, I am happy to have it and be part of the share number!

tbh... the ratio between us and other os has an incredibally large gap, i wouldn't expect that much increase right now, especially when the current phones are still more consumer oriented than anything

I am waiting for my company to go live with Good but it won't be ready till late 3rd quarter. I will drop my iPhone4s Good client the moment it rolls out.

Company i work at actually only allows idevices to use good. Even though good is available and in production they are not allowing android and windows phone devices to join it only ipad and iphone. I think thats also puts a damper on numbers
Windows Central Newsletter
Thank you for signing up to Windows Central. You will receive a verification email shortly.
There was a problem. Please refresh the page and try again.