Take control of your GoPro with Action Camera for Windows Phone 8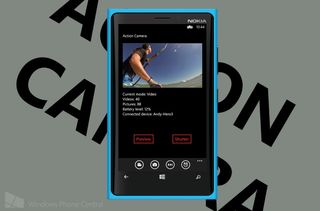 It was back at the beginning of January, CES to be exact, that we first saw the official GoPro app for Windows Phone. It was running on a cool blue Lumia 920 and looked fairly finished. At the time the company said to expect the app in mid-February. It came and went, we then saw it again at Mobile World Congress at a 'partner app' from Nokia. We then learn we'd expect it sometime 'this spring'. That means anytime between March 20th and June 21st, since that's how long spring is. If you're impatient, here's another third party app filling the gap - Action Camera.
Action Camera is a third party app that allows you to take advantage of the fancy features in your Wi-Fi enabled GoPro. Like you'd expect, it will do everything a potential official app would, things like:
Live video preview
Check the remaining battery life
Switch between video and photo modes
Start recording
Adjust the settings on your GoPro
The only difference between this and the future companion app from GoPro is that it's not official and it is available today, for free. The look of the app is fairly barebones, but you're using this app you probably only care that it works. They've also included a burst and timelapse mode. I've seen wedding photographers adding a stationary GoPro or two around to create some unique timelapse footage. It doesn't take much imagination to see how handy it would be to control the settings of hard to reach cameras.
I've been meaning to get a newer GoPro. Anyone with one want to let us know how it works below?
If you find yourself with a Hero2 (with Wi-Fi add-on) or a Wi-Fi enabled Hero3 you'll want to download this app. It's only available for Windows Phone 8 devices. Grab it right here in the Windows Phone Store, use the QR code below, or swipe to the right in our app.
Thanks for the tip WB!
Works great between Lumia 920 and Hero3!
Great app!!

Wish they still do a 7.x app

What about Sony Action Cam? No app for me...?

Does it support direct connection as well as through a network?

Didn't we previously hear that the actual "Go Pro" app will come out in April??

Isn't the NL920 the better action cam...? ;)

Sure! But it wouldn't strap it to the outside of my car. It's way to valuable to lose ;)

Had another "unofficial" app before that one. Saw "Action Camera", installed it and deleted the old one right away.
This app so much feels like the "real thing" that I don't check with GoPro anymore.
It does EVERYTHING it should, the live preview is just what I am used from the iOS device and the handling of WiFi is even better, there is a little text that you have to change your wifi to your camera instead of your hotspot (creating a direct connection between camera and phone). You easily forget that with the iOS app (and reason for most of the bad reviews).
Now I can chug the camera to odd places and be (kinda) sure that the outcome will not be a total waste of time/space...
Here you can see the result: http://www.youtube.com/watch?v=OZND_HRw1bU
Taken with a Hero3 Silver and controlled with a Lumia 620.

Thanks WPCentral for the great article!
The Action Camera app is currently being updated and hidden from the store due to a critical bug introduced with the last update, V1.5.0.0. While the new version introduces a nicer UI for some settings, it has an issue that keeps it from working with Hero 2 and 3 white cameras. Hero 3 silver and black cameras are unaffected. Version 1.5.0.1 has been approved and is in the proccess of propagating through Microsoft's marketplace. If you are affected by the bug, please check back for app updates in Marketplace soon and if you're just browsing for the app in the Marketplace app, it should be back visible world-wide in less than 24h.
Source: I'm the author of the app.
Windows Central Newsletter
Get the best of Windows Central in in your inbox, every day!
Thank you for signing up to Windows Central. You will receive a verification email shortly.
There was a problem. Please refresh the page and try again.