GoToMeeting comes to Windows Phone 8 - create and join online meetings from anywhere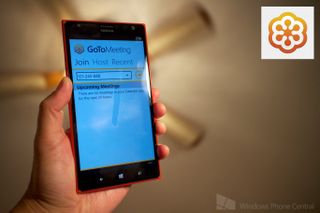 Many companies use GoToMeeting by Citrix for online meetings. People have been able to attend online meetings from anywhere because the software has been available on Mac, PC, iPad, iPhone or Android tablet. Windows Phone users are no longer left out because GoToMeeting has just been released at the Windows Phone Store!
The app lets you join or start a meeting in seconds. You can also view slide presentations, design mockups, spreadsheets, reports – whatever meeting presenters choose to share over the built-in internet audio or phone conference.
To join a GoToMeeting session, enter the Meeting ID provided by the meeting organizer. You don't need to purchase an account to attend GoToMeeting sessions.
Hosting a meeting requires a GoToMeeting account. If you don't have one, try it for free here. Meeting must be scheduled from your desktop, but you can start it from within the application. You also pass presenter controls to anyone in the meeting so they can share content.
Here are the features included in the initial version according to the store listing:
Start a scheduled meeting or launch an instant meeting on the fly.
Join meetings and webinars in seconds by entering the Meeting ID or tapping a link in an email or calendar appointment.
View presentations, mockups and reports – whatever the presenter shares on-screen.
Connect to audio through your Internet connection or dial-in over the phone.
Pinch to zoom meeting content.
Switch to landscape or portrait mode to customize your meeting view.
One notable feature that's missing in this release is Citrix's HDFaces. It's the video conferencing portion of GoToMeeting. That is currently only supported on Mac, PC, and iPad.
GotoMeeting is a free download from the Windows Phone Store. Are you glad that it's now here? Let us know in the comments!
Thanks for the tip, fwaits!
Windows Central Newsletter
Get the best of Windows Central in in your inbox, every day!
December has been good to Windows Phone for sure!

Yeah. Hope it continues into new year.

Seriously! I think we all kind of mocked the "WP is at critical mass" comment. I now regret such mocking.

I think its about time for a poll to see if people agree with that yet or not.

Not "we all".. I believed..

Awesome! Another win for Windows phones.

More and more official apps every day :)


Well crap! I just bought an Android tablet for this app because I am helping a non profit with their webinars. I wanted to have an idea of what people were seeing as an "app experience". May need to see what the return policy is.

Should contact the company first to see what their Windows Phone/Windows plans are first next time.

Dell Venue 8 Pro can access the Gotomeeting desktop website/app. fyi. for about $250. you can download the android emulator and run apps to your heart's content.

Hope and trust for WP becomes stronger everyday..isheeps n fandroids cant ignore this platform..wp 8.1 should end all negative things im hearing since launch..overnight magic never happens in this field..MS history of keep coming back until they succeed is inspirational...

Hope its as good as its sound love windows 8 but Microsoft also needs to help actually push apps some what there needs to be a team that works get updated apps and ask developers to get thier apps on windows cause we need candy crush for example they want a "request" to develop the app on windows phone and kik messenger Microsoft and Nokia need to push these highly used apps to get fixed and updated in wp cause we need apps like Facebook fixed soon and it should be pushed more Microsoft should request google to support WP instead of just giving up and should as kik to fix the app and Facebook to improve the app on WP with missing features from android and IOS! We need a bigger push not only from the windows fans from Microsoft even the third party developers it not only about development support and progress! Apple does everything to get apps and functionality on thier OS and google pushes thier OS with everything they can! Mean while Microsoft is busy...they need to push more though even if they are busy and support the OS with humans to with more announcements I hope they have a live app for those announcements too....

Reset your phone? That should help with the punctuation problem you're having with it. Looks like your periods are grouped and you're missing everything else from the keyboard. I stopped reading when I mentally ran out of breath, but noticed that you're phone is grouping four periods where only three should be at the end of your statement.

I hope Microsoft takes notice. Would love a Live Meeting app.

Live meeting is end of life and replaced with Lync. And yes, Lync is in store and on all platforms.

Oh interesting. My company doesn't use it, just my customers and vendors. Hopefully they'll update to Lync then. Thanks.

There are a lot of companies still using LiveMeeting because Lync requires too much infrastructure for some companies to swallow. I'd certainly appreciate it...even for just RT, but it's not going to happen. And even though my company has been on Lync for a couple of years, we still use LiveMeeting 90% of the time. Plus we're using Lync 2010 and I have the WP app installed, but nothing for meetings. Guessing you need 2013.

Any idea when is kiloo making ss compatible?? Guesses??

Subway Surfers is already available for Windows Phone 8. This was announced earlier this week. http://m.wpcentral.com/subway-surfers-officially-arrives-windows-phone-8

I know but not for 512 MB Windows devices

Cmon man, take it to the forums and stop derailing posts about other apps.

I use GoToMeeting almost daily at my job.

You would need "Enchanter" too for your job.

Windows store app for Surface 2?

This app-rush is seriously disturbing. As a long time WP fanboy, I fear WP has become too mainstream... Time to switch to jolla/tizen/etc :P

You dirty little hipster :p

Wooooooooooooooowwww....thank you Lord Jesus. Been praying for this app for some time now. No need to always be at home for my meetings...awwww I'm glad :)

You're welcome. Greetings, Jesus.

Thank you! Will you attend my birthday party this saturday at 8PM? I had to move it forward, since I have other business when my actual birthday is. It will be crazy! Greetings, Jesus. ps: don't forget to bring presents, I love unpacking presents

I love this app...... This is another app i rate must have on my device alongside the "Enchanter" App

That's a good move the app gap is finally closing up

Climb out of the gap before you can!

I can get some serious use out of this

This is good. I'm tired of Chris Prillo saying even present on your iPad all the time and not mentioning Windows Phone.

I could have used this 2 days ago. Now they need a Windows 8/8.1/RT version. Whatever it was that I installed from them doesn't let you do meetings.

They should update thier website to reflect the WP mobile app.
Windows Central Newsletter
Thank you for signing up to Windows Central. You will receive a verification email shortly.
There was a problem. Please refresh the page and try again.