Govee DreamView G1 Pro Gaming Light review: Not for cheap screens
We're going to need a better monitor.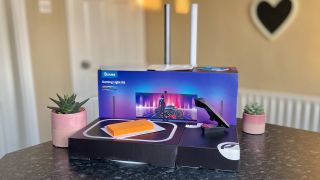 (Image credit: Windows Central)
Immersive backlighting for screens has been around for a while, something even Microsoft dabbled in with their IllumiRoom project for the Kinect sensor. Some of the more expensive TV sets and monitors on the market, such as the Ambiglow range from Philips, have RGB lights built into the back of the unit to enhance the viewing experience with a splash of color. Govee has set out to be a more affordable avenue into immersive lighting, and their range expands today with their DreamView G1 Pro gaming light.
Rather than use a video signal from your console or PC, the DreamView G1 Pro uses a camera mounted to the top of your screen to detect and replicate the colors on display. With 16 million colors beaming around your gaming setup, the Govee kit also features voice control and music sync to turn your room into a mini club rave. The effect certainly looks pretty on the box, but how does it perform in the real world?
DreamView G1 Pro: Price and availability
Govee sells its DreamView G1 Pro through Amazon and the Govee website. Available for $179 MSRP after release on May 9, 2022, as a complete boxed package.
DreamView G1 Pro: What's good
As soon as I connected the Govee kit to power, it sprung into life with a light show reminiscent of a night out in Ibiza. Immediately the light bars and LED strip impressed with their brightness and synchronized movement, with a sort of demo mode activating and pushing colors around in beautiful patterns. It's a clever way of helping you determine whether the bars are in the correct positions, something you can easily swap with the Govee mobile app on iPhone and Android. Should the pattern seem to be moving in the wrong direction, it's easy to switch the bars digitally without unplugging anything.
The app offers extensive control for the kit, with manual section-based color control for the light strip and individual bars. Select from a collection of color "themes" to watch them pulse and move the same way as many other RGB gaming peripherals do. Alternatively, you can stick to a solid color like plain white, deciding on a warm or cool temperature. The warm-white diffused light makes it easy on the eyes even at maximum brightness. I would feel comfortable using the kit instead of any other lights throughout the evenings, an unexpected feature of the lighting kit that I appreciated. It's not all disco lights and dance music.
That's not to say you can't have a party because the music mode pulses along to whatever it can hear with its microphone, and the effect is pretty enjoyable. A high-energy playlist will provide a decent light show if you have guests over, proving the DreamView G1 Pro can offer more than immersive gameplay. Take advantage of the "highlight" mode in the Govee app and enable communication with other Govee-brand sets you already own, and the app becomes the super-easy way to control your whole RGB-lit room.
Overall the RGB lights are bright and beautiful, with huge customization options. The Govee app gives you specific and meticulous control over individual light sections with custom profiles for any particular scenario. Anyone looking to bring some color to their gaming setup will find at least some enjoyment here, even with an awkward setup process and its weak camera demonstrating some annoying problems. Our executive editor Dan Rubino found with his Govee DreamView T1 Pro TV review that the effect is fantastic when paired with a high-end screen like his Samsung TV. Since both my PC monitors were on a budget, I can't say I enjoyed the same experience as Rubino.
DreamView G1 Pro: What's not good
Unfortunately, the Govee DreamView G1 Pro has one of the most frustrating setup processes I've experienced in a while, and the method it uses to detect colors is concerning. The flexible tube for the back of your screen comes packaged with printed templates and a bag full of sticky clips, the kind of stickers that you'll only get one or two good chances to get right. Forget using this kit for more than one screen because once the clips are stuck down, they're a pain to remove. Even when I had them positioned where the template states, the RGB tube popped out of place multiple times, leaving me less excited for a light show and putting extra pennies into the swear jar.
The immersive color detection is done with a wide-angle camera positioned above your monitor and pointed directly at the screen. To calibrate the camera properly, you need to stick eight foam blocks onto your monitor, which is an experience I didn't exactly relish. The foam blocks didn't leave any residue behind as Govee promised, but it feels wrong to place stickers directly onto your panel. I imagine anyone with a state-of-the-art monitor will feel like they're taking an unnecessary risk, and I don't see why it isn't possible to display a full-screen image with squares in the place of the foam blocks instead. It's a strange method of calibrating a camera, and by this point, I felt exasperated by the number of sticky things.
Another unusual feature of the camera in the DreamView G1 Pro is its reliance on an internet connection. You can use the mobile app to control the lights via Bluetooth, but if you want to calibrate the camera and use the kit for its intended purpose, you must allow access to your location and wireless network. So now you have a Wi-Fi camera permanently pointed at your screen, watching everything you do. Naturally, Govee explains that this process is solely for the camera calibration, but it's something that raises eyebrows. Removing the camera when you don't need the immersive lighting might seem like the obvious solution, except that the camera also has sticky pads fixing it in place. Using a camera over something like HDMI pass-through to detect colors feels less enticing if you use your computer for sensitive data.
The primary issue with the camera is that unless you have a panel with a higher viewing angle, something you might find in high-end OLED monitors, the camera sees only a washed-out blur, barely able to discern colors and brightness. This cheaper alternative to expensive methods of immersive lighting requires you to own more expensive equipment in the first place to maximize the benefits. Trying out a few games with distinct separations in color rarely exhibited accurate results, such as the vibrant blue sky in Fallout: New Vegas contrasted against the yellow Mojave desert had the Govee camera interpreting it as bright red.
Naturally, I took steps to try to calibrate the camera with advice from Govee. I adjusted the settings on my monitor, the brightness of the color bars, and turned off all other lights in my room. Moving the sliders around gave reasonably close results for a solid color, but it fails when shifting the hue. At its worst, the Govee DreamView G1 Pro showed red when it couldn't properly detect the correct color. It's jarring and feels like I'm permanently playing something more sinister, like a constant marathon of DOOM Eternal.
No amount of calibration had a satisfactory result for every color, and only a few arrangements gave accurate results. The Govee camera is staring down at the LCD backlights of my screen from such an extreme angle, so it's no surprise it can barely detect contrasts in color. A high-end monitor is paramount to enjoy this kit because there's no way to skimp on low viewing angles without sacrificing color accuracy.
It's a shame because the light bars are completely gorgeous when controlled manually or left to cycle colors. Without the camera, this Govee kit would have scored much higher as a user-controlled RGB set, but its immersive on-screen color response doesn't work effectively enough unless paired with more expensive hardware. The camera connects to the power, so it's the hub for the entire kit, meaning you can't use the light bars without it. It almost defeats the purpose of being an affordable alternative, and the idea of having a camera aimed at my screen all day long is less than ideal.
There's a reason modern webcams have privacy shutters, and it's that consumers don't want to leave anything up to chance. Govee might refrain from using the camera for anything besides calibration, but any internet-connected video device has potential vulnerabilities, so it's not worth the risk for mediocre results. Unless you have a monitor with reliable viewing angles, stick with a manually controlled Govee RGB kit. They manufacture fantastic lighting, but this niche camera hardware isn't so affordable if you already need a more expensive monitor.
DreamView G1 Pro: The competition
The biggest drawback for the Govee DreamView G1 Pro is the subpar camera performance with cheaper monitors, especially when compared to the Govee DreamView T1 Pro TV paired with Dan Rubino's beautiful Samsung panel. Govee has made an impression on me with the quality of their light bars here, the most impressive feature of this kit. The Govee RGBIC LED Strip Lights kits come highly rated by our senior editor Jez Corden too, so Govee certainly knows a thing or two about RGB lighting.
Philips has discontinued their Ambiglow screens, so finding a TV or monitor with the function as standard would be downright difficult. Govee offers plenty of voice-controlled kits like their Flow Plus Light Bars, with a close enough RGB experience without being reactive to what happens on-screen. Alternatively, you can go a long way with some of the best LED strips easily mounted to the back of a monitor or TV, many compatible with smart devices.
DreamView G1 Pro: Should you buy it?
You should buy this if ...
You have a monitor with good vertical viewing angles
You want immersive lighting during gameplay
You shouldn't buy this if ...
Your monitor has weak vertical viewing angles or a glossy screen
You have privacy concerns about internet-connected cameras
For anyone who owns a high-end monitor with strong contrast and good vertical viewing angles, this RGB kit can offer immersive and atmospheric lighting. Anyone with a glossy reflective screen or washed-out views from above will not see the full benefits of the DreamView G1 Pro and should stick with a cheaper, remote-controlled kit.
Govee is a respected giant in the RGB scene, and this DreamView G1 Pro is an admirable attempt to replicate the real-time backlighting offered in the past by its competitors. Unless you have an appropriate monitor to take full advantage of the wide-angle camera, you won't see an accurate representation of the colors on display. Their light bars and strips are top-notch, with most of the range being some of the best RGB available today.
Govee has taken steps to reassure customers that the Wi-Fi connection to the camera is purely for calibration efforts but can't account for malicious intent by outside troublemakers. I can't recommend an internet-connected camera that is constantly pointed at your PC screen, especially when combined with a frustrating setup involving handfuls of sticky pads. You should choose any other kit from the fantastic Govee range unless you have a high-end screen to utilize the DreamView G1 Pro properly.
Get the Windows Central Newsletter
All the latest news, reviews, and guides for Windows and Xbox diehards.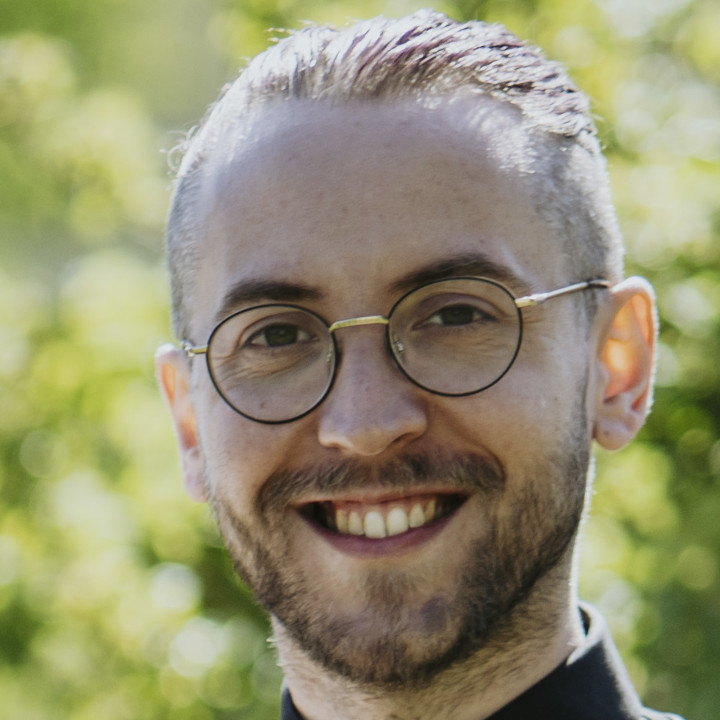 Ben is the channel editor for all things tech-related at Windows Central. That includes PCs, the components inside, and any accessory you can connect to a Windows desktop or Xbox console. Not restricted to one platform, he also has a keen interest in Valve's Steam Deck handheld and the Linux-based operating system inside. Fueling this career with coffee since 2021, you can usually find him behind one screen or another. Find him on Mastodon @trzomb@mastodon.online to ask questions or share opinions.