GPS Voice Navigation updated to improve battery performance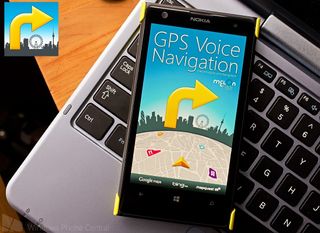 GPS Voice Navigation is one of the more popular navigation apps available for our Windows Phone. While GPS Voice Navigation has its popularity, as we see with other navigation apps, battery consumption can be an issue. It is easy to see these apps suck the life out of a battery making a car charger a necessity when using Windows Phone navigation apps.
An update was recently pushed out for GPS Voice Navigation that hopes to noticeable improve battery performance. The version 7.0 update adds Eco and Background modes that are designed to save up to fifty-percent of your Windows Phone battery life.
The developers did exhaustive testing on the loading of maps, frequency of screen refreshes, display brightness, online data usage and GPS acquisition speeds. The result was the Eco and Background modes that are included in the version 7.0 update.
Activated by the leaf tile in the lower right corner of the main screen, the Eco Mode utilizes a single screen, which displays a battery meter, time and distance left on the route. In Eco Mode, the voice directions are on and no maps or tiles are loaded. You will also be notified of upcoming speed cameras and automatically goes into Lockscreen Mode. That is your Windows Phone will shut down the display as it would otherwise. You will still be able to hear voice commands while the screen is shut down though.
While in Eco Mode, you can activate the Background Mode (Windows Phone 8 only) which will allow GPS Voice Navigation to run in the background. The Background Mode allows you to perform other tasks while you still receive navigation instructions.
So what good is a navigation app that doesn't display maps or tiles? I don't see Eco Mode being very useful for short trips where there isn't a lot of distance between turns. However, for longer trips while you travel the same road for longer distances I can see the battery savings and ability to perform other Windows Phone tasks being a benefit. You will still be alerted when a turn is approaching and can jump back into standard mode to see the map view again.
The new features brought about with the version 7.0 are interesting and should help you better manage your Windows Phone battery life. There is a trial version available for GPS Voice Navigation and it is available for Windows Phone 8 and 7.x devices.
The full version of GPS Voice Navigation is currently running $6.99 and you can find it here in the Windows Phone Store.
George is the Reviews Editor at Windows Central, concentrating on Windows 10 PC and Mobile apps. He's been a supporter of the platform since the days of Windows CE and uses his current Windows 10 Mobile phone daily to keep up with life and enjoy a game during down time.
Great! Now do it for Here+ Drive, it ate a chunk of my battery like it is nothing.

Agreed! I have my 1020 mounted on a CR-200 wireless charger while using Here Drive and the battery still goes down! Loses about 10% battery per hour.

Yes but it does support screen off. You will still get voice directions so it also supports eco mode. In that case it will charge (at least on 925). But it is weird that it drains more than it can charge. Kind of design flaw I'd think.

Wireless Chargers charge slower than a direct plugin.
Which is why I would not get a Wireless charger for the car.
For the house, yes, for the car, no.

True. The CR-200 cuts in and out while using Here Maps. Plug the phone in, and you want have a problem.

What's with the thread hijack? My battery charge goes up when using Here and charging. Next time buy a HTC. There's a hijack for you...

Here already can perform when you off the screen, and put in on background, I use it frequently when travel longer distance.

I have heard of a newfangled device called a car charger. They work great. Two thumbs up for HERE drive+

On my 925 it will still drain just slower! I was shocked to see that but fortunately you can use it with screen off and still get voice navigation and then I do see it charging slowly.

Make sure it is a 2A charger.

Mine drains in HERE+ even while using a 2A charger! Lumia 1020. However, if the screen's turned off, the charge will offset the drain.

Test your cable....some won't do "fast" charge, some will...I use a 2+A charger and a fast charge cable and have no battery drain when using Here or Copilot for 1.5 hours... T

I use it and I'm very happy!
Of course I have the old version has 3D mode, offline maps, night mode ...

Dear Kotsarikos, If you have the old version of the application you need to know that if you reinstall your phone you can no longer download the same version with the offline maps. However if you somehow delete the app what you can do is join our beta testing community where we can send you a free beta version, identical to the live one. To receive our free beta version, just send us a message at betawp@melontech.com with your Windows Live account e-mail. Let us know if you have questions or comments Best, GPS Voice Navigation team / Melon Mobile

Sorry, but will rest of the world get bing services like bing music,bing video,local scout,eat+ drink etc?

Whenever Microsoft acknowledges that there's more then only the good ol US of A, then we might be seeing some localised services. I gave up hope that with Windows Phone 8 that will be the case. Will be the same with Cortana - i'm guessing this will be solely tailored to American language and search results. I bought GPS Voice Nav app some time ago, but it lacks a lot of languages, including Dutch.. Making the app actually useless. I mean, the street pronounciation is awesome, but Dutch streetnames pronounced in English lead to.. Results that are not really helpfull at all in navigation.

Dear Sir, This is Milena from the GPS Voice Navigation team. We are glad you were using our service and just wanted to let you know that the reason we don't offer more than eight languages for the moment is that we are focused on developing important features requested by our users such as offline navigation, toll roads notifications, etc. However if there is someone willing to help us with the translation of additional language we will be more than happy to consider and why not implement it. If you are interested in continuing this discussion please drop me a line at msamarzdhieva@melontech.com Again thank you for your feedback and if you have any questions do not hesitate to contact me Best, Milena GPS Voice Navigation team/Melon Mobile

I hate to say it but I gave up on Here+ Navigation after I couldn't add my own home address to the Here maps (if there's a way to do it, please let me know). As soon as Waze came out for Windows Phone I jumped on it :(. And I just checked on here.com, still no straightforward way to update the map for a residential address... Jesse

Just add it to your favourites and rename Home.

And talk about battery drain with Waze... Here for the win!

No sh*t. I used Waze one night driving home from work, my battery was half-full when I left and 20 minutes later I got the battery critical warning!

Windows Central Newsletter
Get the best of Windows Central in in your inbox, every day!
Thank you for signing up to Windows Central. You will receive a verification email shortly.
There was a problem. Please refresh the page and try again.