Grab a Call of Duty: Advanced Warfare exoskeleton for your Xbox Live avatar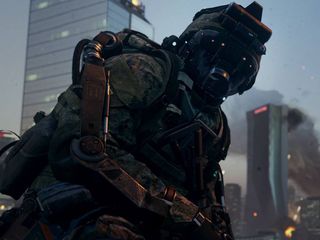 Now that Call of Duty: Advanced Warfare has been released for the Xbox One and Xbox 360, owners of one or both of Microsoft's game consoles can also outfit their Xbox Live avatar with a version of the game's Sentinel Task Force Exoskeleton.
Yes, your puny avatar may have a cool hat or a t-shirt but now Microsoft has provided a link where your 3D doppelganger can be outfitted with the same power suit that's featured in the newly launched near-future first person shooter from Sledgehammer Games and Activision. Sure, your avatar won't suddenly start beating up other avatars, but at least it looks boss.
Have you played Call of Duty: Advanced Warfare yet and if so how does it compare with previous entries in the series? Thanks to Rafael via Twitter for the tip!
Source: Xbox.com (opens in new tab)
Windows Central Newsletter
Get the best of Windows Central in in your inbox, every day!
Like it better than ghosts, which hasn't been good since it launched.

Grabbed yesterday.....too bad they can't be seen on xbox one. Xbox one needs to display our avatars to the fullest....cmon guys

It's by far the best COD since MW2.

Agreed. Though I wish it wouldn't crash after a couple multiplayer matches, constantly.

No crashes for me at all!

Wow, terrible workflow redeeming that on Windows Phone.

Its Windows Central. Not just phone news.

What are you talking about? I was referring to the process of redeeming an Xbox code on Windows Phone.

There is the link, because you dont link to it...: http://www.xbox.com/en-US/xbox-one/consoles/bundles/call-of-duty-advance...

We did in the source link

What's the point of avatars anymore? Xbox one has pretty much removed the need for it

I think they are working on bringing it back properly

Would love to see avatars return.

Well they give us this but don't have the upgrade for it working. WTH!!!

So, far the new COD looks great, game play is a lot better than Ghosts (Didn't like MP that much on Ghosts, but, liked the story mode)...MP is nice, again better than Ghosts, more fun....and for someone who has not played in a while...I'm still fairly good :) Cool, thanks grabbed that...will use it on my Avatar for a bit...

I don't really see much use in avatars. I'm quite happy with a yawning panda gamer picture and hope they add more. But its great for people who still enjoy using Avatars

Got it but I don't own an Xbox and my avatar in WP games is still wearing his three piece suit.

Anyone able to get free upgrade yet? This seems to be the biggest launch issue.

Anyone got their digital download code to work? I got the CoD bundle Sunday midnight and couldn't get my code for game download to work... BUT I did play in store, it's amazing.

I don't know if its related, but maybe its the same issue that's preventing people who purchased digital copy on 360 from getting One version, more or less what I was mentioning above. There was a long thread on this is Xbox forums.

I don't have CoD and live in Sweden and I managed to get it. Thnx.

I redeemed the code but where to download the avatar

Everything is amazing about this game.

Last time I tried to get a phone or was it a surface in my guys hands... It had an error not in Canada. Hope it works.

Fun game so far. Making slow progress through the campaign due to limited time. Better than Ghosts. More weapons and upgrades than Titanfall.
Windows Central Newsletter
Thank you for signing up to Windows Central. You will receive a verification email shortly.
There was a problem. Please refresh the page and try again.