Grids is a beautiful, but limited, Instagram app for Windows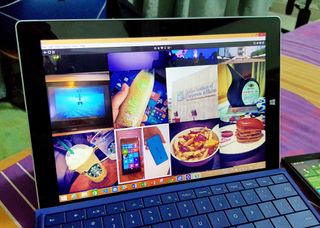 If Instagram on the Web isn't your cup of tea, you might want to check this new app for Windows – Grids. Grids is a Windows app for Instagram – It's not a modern app, but a desktop app, which is an odd choice since more and more Windows developers are moving to Universal apps these days.
Grids allows you to ditch Instagram's Web experience and view your Instagram feed in a sleek and streamlined fashion. The gorgeous, adaptive UI works pretty well on displays of all sizes, and in whatever window size you keep it on. You can like the photos or comment on the same from within the app. The app also pushes your notifications when there are new feed, followers, likes, comments, mentions or requests.
One of the obvious limitation is that you can't upload photos to your Instagram account from the app. That would've made the desktop client pretty awesome, especially for people who own/manage more than one Instagram accounts.
While the basic app is free, a $4.99 upgrade gets you support for multiple accounts and the ability to search for users and hashtags. You can also see photos from nearby or the users tagged in a particular photo. The app allows you to bookmark people, location, hashtag or single photo/video.
While the basic version allows only one layout option (square), you can choose between four different designs - square, brief, vertical, horizontal – to view your Instagram feed. You can also configure the app display with options like background color, grid size, et al.
While Grids is a beautiful app, I find the choice for a desktop app awkward. Of course, that also means that the app is available for Windows XP, Vista, 7, 8, and 10! Also, the basic version is pretty limited, and at $4.99, you'd really have to be convinced to go for the upgrade. Download it from the official site here, and give it a whirl. Let us know how you like it.
Get the Windows Central Newsletter
All the latest news, reviews, and guides for Windows and Xbox diehards.