Groove Music, Movies & TV apps for Windows 10 Mobile to get Continuum bug fix update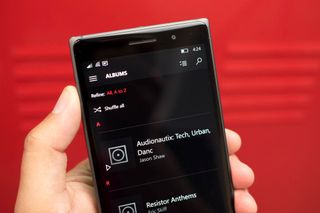 Windows 10 Mobile users should be able to update their Groove Music and Movies & TV apps later today. The new versions are getting a minor, but still important, bug fix update.
According to a Twitter post from Microsoft's Ellen Kilbourne:
Again, the updates should be available to download later today. The new version number for the apps is 3.6.1577.0.
Source: Ellen Kilbourne (Twitter)
Wow. Pushing an update with a single fix. This fix must be very important.

it's an app update not an OS update, not a big deal to release an update to fix a small bug

Windows 10 mobile *users should be able to update their... ;)

Can you shuffle your entire music collection with Groove? Just one of the many features that seem to be missing.... horrible.

You've always been able to do this.

I Think he means without the 100 song limit

I've never seen this limit. I just counted out a hundred songs in my Now Playing queue and barely scratched the surface of the list.

He is not lucky. That is just regular behaviour on the groove app.

Mine stops playing after a while and for example if I start shuffling with "Mamma Mia" only songs that start with M, and maybe L & N would play next.

It's broken. If you start with"Mamma Mia", it will only play select songs beginning with M or N, but no L.

"Hey, Cortana. Play my music."

I see a "play all" but not suffle all

Why not hit play all, then hit shuffle :p

Just tap the shuffle/random toggle on the now playing list/screen.

Ah! Weird you have to do it that way.

Why is it wierd...? You could always hit shuffle for all and then play I suppose. I think you are meaning that it is wierd that there is no "play all randomly" button. Maybe next version? Or Maybe just ask Cortana to "Hey Cortana, shuffle and play all my music"

Groove music is broken, it has been since it launched. Go to your library, select songs and then play it. Turn shuffle on. Groove will only play the alphabet and the next alphabet up of the song you selected, it will not play anything else.

Happens to me too... There was a time where it actually worked, but then it broke again.

On my 950 XL I have a shuffle all button. It plays all in a random order.

Always have in song View 100 sing limit incresed though

I also have all music stored directly on the sd card in my phone... but if I change groove to be "all offline music" it shows nothing! I hate groove.

That woman got my hopes pretty high the other day. -_-

Lot of folks ran into this including me on new Windows Phone 10 Lumina 950 & 950XL. Thrilled patch came so quickly

Same here! I noticed it while giving a demo of continuum to my brother, I was bummed. But glad they're getting a fix out so quickly

So what was the actual issue?

When using the app in continuum, if you had the hamburger menu expanded in either app, you could not select songs/albums/artists/movies/etc. As soon as you hide the hamburger menu, you could make your selection just fine.

So now they are publishing changelogs via Twitter? -_-

No update on 950xl for Groove Music and still no update to .29 for third day

Later today....... Still no update

Slightly off topic but I've just upgraded to Win 10 - how can you see when an app has been updated in the new store? In 8.1 banner notifications could be enabled. Now I can't even see a history?

No such thing on windows 10 store.
#MESS

Who cares as long as its up to date...

Gawd there is some proper spoilt brat attitudes on here... Wonders if they can add a slap with slimey fish feat on the new Win central app.... Not got this update yet but got one for outlook & calendar...

Swiping left to right still doesn't bring up the hamburger menu for me. It was in the changelog for the previous update. Anyone else facing this issue?

No works fine for me, but I haven't gotten the update today yet.

works fine for me but your not missing much, you still have to straight away move your fingers and hand to the top left to select your next option.

I'll be happy once they fix the Groove Music app, on Windows 10 mobile, and I can properly use my Groove Music Pass again.

Cool that this time Microsoft has its priorities sorted out with consumption needs of customers and not just self assumed notion that continuum will only be used for productivity suites like Office and Outlook apps. Good job, Microsoft. You people seem to be learning. Even if slowly.

I still don't really see that continuum with Groove is any use till they allow it to run without timing out after 5 minutes max.

I still can`t search a song in my playlist and play it without changing the **** playlist ... Forn now it will then play only that song or album. WTF ?

windows 10 mobile has nearly everything i want but im still missing gestures. Also my music serach icon is missing from cortana and i dont know how to check a song i hear unless i use shazam, something i used to do with cortana but looks like its now missing. Why are features like music search and gestures, both things that helped make this mobile platform unique missing?. Im terified theyll put the features back in only to take something else away. And when will we be able to discuss apple pay alternative instread of asking where missing features are, it seems to becoming a windows mobile trend.
Windows Central Newsletter
Thank you for signing up to Windows Central. You will receive a verification email shortly.
There was a problem. Please refresh the page and try again.