Microsoft's Groove music may be getting a new, better logo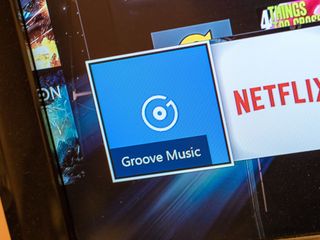 Ever since Groove launched a few weeks ago, some users were not too fond of the new logo. Now, a new Store update may reveal what is coming next: a redesigned emblem for Microsoft's new (old) music service.
Users on Windows Central started noticing the new design within the last day or so, and we have been able to confirm. The new design, which does look much better, is a simple record with a universal play logo on it. It certainly evokes a music app much more clearly than the previous record + G design.
The current Groove app still uses the old (new) logo as well as the apps on Android and iOS, which were recently rebranded. It is like that this new logo will appear with the next app update, so we'll have to wait and see.
For now, you can see what possibly awaits. Let us know if you like the new-new logo or prefer the old design. We clearly on team new-new logo!
Everything you need to know about Groove Music
Thanks, everyone, for the tips!
Windows Central Newsletter
Get the best of Windows Central in in your inbox, every day!
Daniel Rubino is the Editor-in-chief of Windows Central, head reviewer, podcast co-host, and analyst. He has been covering Microsoft since 2007 when this site was called WMExperts (and later Windows Phone Central). His interests include Windows, laptops, next-gen computing, and for some reason, watches. Before all this tech stuff, he worked on a Ph.D. in linguistics, watched people sleep (for medical purposes!), and ran the projectors at movie theaters because it was fun.
New one is better. But Xbox music logo was the best.

I'll agree to that. Headphones are a universal symbol, but even more symbolic is a vinyl record. ;)

I like the vinyl record logo too. It's a classic!

Headphones > new-new > old

I love the "new" PACMAN! :)
/s

...in un-pixelated version!

Shame they didn't go 8-Track. ;)

@pookiewood You think some people are complaining about the name Groove. They would have lost their minds with the 8-track logo. But truth be told most of the readers here wouldn't know what an 8-Track is... or what it even looks like. I might be joking but I do believe there is some truth to my statement.

Yes, the vinyl record is better and more representative of the name, "Groove" Music!

well that is true, just like the name suggest it only has old music, and nothing new for the current generations. don't know that it's a good thing though. As the name suggests: Groove, music for your grandparents

How about a tinfoil phonograph or just a pair of sticks and stones?
Please tell me the difference between a cd, a doughnut and a vinyl record on a flat, non-colored 2D icon.
As for the old groove logo, I didn't associate it with a cd before looking closely. The new one is better, though I prefer the Xbox music logo.

Yeah, this article is completely wrong. If you look at the older builds of Windows 10 you'll notice that what this article calls the "new logo" is in fact the old logo, which they changed in later builds to the G in the shape of a vinyl player. The old logo wrongly implied that the app was for playing CDs

I was about to comment this to.
What's old is now new again!!

Yeah, they should just stick with Headphone logo or Music Note. Its universally known logo and people already know that its a music app first they see it. This replacement though relevant but doesn't represent Groove Music really, it can't play CD at all.

can't play vinyl, either.

All I see is tripped out pac man

Thats EXACTLY what I saw immediately. Packman with a big eye and very small mouth attempting to eat a triangle. I think this logo "bites", big time!

Old logo was more creative, but new logo is more recognizable... though a little bland.

I liked the previous one (G logo) better. The new one looks like Pac-Man...

Yes, and the angle of the Play arrow to the wedge cut out of the record is off. Driving me nuts looking at it!!! LOL

THIS!! That's the first thing I noticed!

Exactly! Really amateurish stuff. I also think it is *terrible* to have released and then backtracked on the branding already. You can't design by committee, you can't great a great logo or branding by a Insider Feedback app upvotes. Just effing COMMIT to your marketing. Jesus. ​ ​ ​

I also noticed that. It's making me crazy! They should just use a G clef....

I think it's meant to be a sorry of shadow

It's depend from where you look..

That's exactly what I thought. I like the old one better.

That's what I thought. Fat Pac-Man eating a pizza slice.

Yep, the old one was way more creative, and more stylized. I don't get all the people who are like, "it's way better now that it looks like a record." WTH else did the old one like like??

Maybe ppl were associating the G logo for a google service, so MS is backtracked to ensure no one confuses it. I liked the G logo, the new one feels generic. The odd thing about the new one, is that it breaks from MS's new line iconography.

I actually find it weird since now it looks like a CD Player app which Groove Music doesn't support at all. I like G logo better. Its more creative and really represent the brand better.

Yeah.. Xbox Music logo was best... And is lot better than Artistic logos in other phones also

Thats not new, that logo was there in the First few weeks of the app

Youre right, I remember seeing that logo before.

Came here to post that. More than a few weeks too, it was there until right before Groove was publicly announced (which was only about a month ago). Would have thought WC writers would have remembered that.

I actually remember being part of the insider feedback asking for this icon back before the rebranding was announced (at which point the design clicked in my mind that it was a G). At this point I like both. Will say i like the solid feel of the former-turned-new icon more (feels more Modern UI/Windows Phone/Microsoft, less Holo UI/Android ICS/Google), but the G icon is rather clever as well so it gets points for that. Still funny that they don't remember this icon. Then again, theyre probably so busy they forget a few things here and there. I've noticed it at points. Little details usually.

And the xbox music name was best, too. Every time i start the app to listen to motorhead or pink floyd, i think: why the f**k "groove music"? Why not "rock music" or "heavy psychedelic dark techno metal music"? Aren't there any more neutral words for music in english?
Last time i heard word groove so often is when played "interstate '76" about 20 years ago. Never liked it.

Mix radio logo is the best.

Yeah I was a big fan of the Mix Radio one too, a lot more memorable than this new one. The "G" version at least had an identity, but neither of them really felt like a "logo"...just some sort of generic icon.

I agree, but seems like we are in the minority. I think groove music is one of the worst names I've heard MS come up with in a while.

The name itself is terrible. I give it a max of one year. They will be changing that name for sure.

The name is perfect. Even my apple fan boy friend said it was a good name as soon as he heard it..

I was thinking whom is it good for. Now I know, thanks for telling.

thank you for proving the point, the name is apprently bad

They assumed the name from the product they acquired. Thus, they didn't come up with it.

No confirmation, and the app is still available so I'm not sure on that.

I like the old one. I like the way it combined the G and the record. But, I don't care too much about logos.

The old, blue, G logo looked much better. I don't like this windows central propaganda trying to tell me this new one is better. Because it's not. Also I'm super sick of this green colour. The blue on Groove was refreshing.

The Xbox music logo reminded me of Androids play music logo

God, how i miss Xbox Music. Everyone can say a lot of things about it, but, when it comes to design, it had a logo and app layout way better than everything they're trying now.

Groovy. Lets hope the app rocks!

Looks like a fat Cyclops Pac man with a chubby off centred chin eating a triangle. Wtf.

Thought the "G" logo was clever, but don't much get the new one. Can't care too much about a logo either way though.

i love the G. it's one of the most creative music app logos.
more importantly though, why does the store listing still say "Groove Music"?
wasn't it supposed to just be "Groove"? :|

Me too. The new one is meaningless. But tbh, the logo means nothing if the app is crap. Which it currently on desktop.

Uhm isn't this the "old" icon of Groove? I have seen it before in Preview Builds.

Exactly my thoughts. This was definitely the old icon.

Definitely it's the older icon. I prefer the icon now.

This was the original groove music logo. It's been around, not sure why WC thinks it's new.

Yes, definitely the old icon of the beta-builds. Nothing new here. I doubt they'll switch back to the old one

Yeah, this icon definitely was in a couple of the preview builds, and I never liked it. I think the "G" icon it currently has looks better.

There's even vector problems in this "fish" logo. What a mess lol.
I like the vinyl needle-groove letter G logo tbh.

Yes, indeed this is the old icon of groove

This is indeed a old logo. I find the new one better since its a brand-ish logo. This 'old' ones represent CD which is ironic since Groove don't support CD features at all. Doesn't make sense. For me the G logo is bett​er since it represents brand better and it makes unique. Zune logo represents....Zune.

This is the logo used when they first removed "Xbox" from the name. When it was just called "Music" for a while. This is not the new Logo for "Groove Music".

Definitely the old logo.
P.S. That triangle is positioned poorly. Do they design these in Paint?

This "new" logo was the logo in technical preview before the G logo. I think they both look terrible. This looks like a bird eating something to me.

The original one at least had a G in it. They should have used the original one with the play triangle in the middle of the G instead of the circle thing.

Agree. Original was more creative.

I also found the current icon simple and clean , similar with the OS

Moreover, the new logo is inaccurate. They obviously tried to kind of draw a shadow for the triangle below but the result looks homebrew.

You are right! It's a shadow... I thought they vectorized awfully.

I got what it looks for me like. It's Pac Man choked with a piece of pizza. Damn, Microsoft, where the hell have you brought all those designers created the Metro UI? Have you fired them or got permanently drunk? What's all the crap coming out from you lately and more important when it stops?

I think they should keep the G thing and slap some headphones on it.

Exactly what I thought...

A record wearing headphones?

A headphones wearing a record.

I liked the G logo better. Don't think the new is better, although it is not bad either.

Just use the headphone logo.

Yep, it was great the way it was.

Yeah. If they want generic but widely recognized logo. Just stick with either Headphone or Musical Note as a logo, everybody knows that it will be a music app. This new CD ​+ Play logo is actually don't represent Groove Music for what it is now. It doesn't support CD playback and features. It's really a joke having that logo when the app doesn't support what it represents. Seriously just stick with G logo, it represents Groove Music as brand, just like Zune, Spotify and other music service. Or for widely recognizable but generic, just use Headphone or Musical Note. Simple!

Yeah....the name and logo was the problem. Clowns. Im sure a logo of Pacman eating pie is going to help sell this lemon.

+5 this!! They need to quit drinking around with names and logos and freaking MAKE THE APP BETTER WITH MORE CAPABILITIES!!!

If there is any consolation...the Android Groove app is more functional than the WM app currently....
http://m.imgur.com/a/I40GP

You can select more than one music to put on playlist? Oh, yeah. No. You have to do this 1 by 1 on Android.

A true comparison.. Felt the same

Like it used to be (Zune). Should have spent resources in making better starting with win8 compatibility - if that was the real problem at all to begin with.

Windows 10 is the biggest Jedi mind trick ever, same old stuff with new logos, and suddenly everyone loves it.

Lolol. But hey, gotta hand it to them. They rebranded their Android app to make it WAY more functional and usable compared to the WM app.

Well they could update this logo http://3.bp.blogspot.com/-WYUwPTcp__M/UQ1ns9XrS6I/AAAAAAAAAD0/55_PU6l6Q-...

I prefer the old one, but that's because I already knew about it and what it does. My roommate did not know it was a music app until I told her. The new logo seems to address that at least.

I honestly don't care for the shape of the logo, I just don't want that ugly blue background as one of my pins on Xbox One.

Agreed. Green is more pleasing. Or pink+orange (with a Zune logo attached).

Yep, it should have a transparent tile option or match your chosen accent color.

So is it Groove or Groove Music? I'm still lost on that. Better on the logo.

Microsoft itself can't seem to be consistent; there's the whole "Groove Music" vs. "Groove music" angle too, then they throw in "music.microsoft.com" and we end up in a grand slam of brand identity crisis.

That's all I see too. PacMan eating a triangle.

Prefer the old one. It fits the thin look in W10. The new one looks like a reverse pacman trying to eat a trivial pursuit pie.

Lol
This new one is actually ​an old one, so this is just like a copy-paste from older builds.


Trivial pursuit with one genre, color and pie piece.

II liked the older G logo better. I don't understand what the wedge thing is supposed to be. However, instead of Microsoft pouring resources into a new logo, they might want to add features like ratings and play lists. Edit, I meant to say auto playlists.

Its a play button over the CD/Disc logo, which doesn't make sense at all!!! Groove Music don't support CD playback and other features related to it. Looks like a bad joke to ​me since it doesn't represent what really is. What's that an app plays CD? Just stick to the G logo or if not, use either headphone and music note. Done!

Yeah, or come up with a better one for Microsoft Edge. That one looks like IE gone wrong. Sometimes you really have to wonder if they have a room full of barrels of paint thinner at Redmond where every once in a while, a clown goes and gets ideas. "Oh yeah, lets make a new browser and make the logo look like the IE logo had diarrhea!"

Prefer a Vodafone ZooZoo named Groove as logo(something like songza symbol for bigger tiles) :D

I don't understand why everyone disliked the first logo. In my opinion it's much better than this new one.

It seems pretty unanimous in the comments that people prefer the G logo better.

Yeah because they see the "new" logo. When all they could see was the old one, in previous articles people would complain and cry about how awful the G logo was when really it was quite creative and unique.

Original Xbox Music logo was better than the G logo. But G-logo is definitely better than this Pacman logo.

Indeed! I'm really irritated who actually voted for hating G logo, and Microsoft to resuse old CD+Play logo that the app doesn't even support. This is similar to Star​t menu syncing removed because somebody vote to remove it?

The logo is the absolute bottom of the list of things I'd like changed, I kind of liked it too!

i prefer the old one , this new logo looks so generic. maybe thats also the reason why they are going for it, for easy recognition from users.

I'm more and more convinced this "new" logo was a placeholder in internal builds and is kinda leaking right now.

Yeah it's the old logo and this is pretty amusingly embarrassing from Wcentral. Slow news day so they have to make it up. Next they'll tell us about the new start menu that came with the first builds as a new feature. "Much improve. So nice."

I don't care as long as they get the buggy Win Mobile 10 app updated to work correctly.

I like the old one better. The old one looks like a record, which are still popular, in addition to being super cool and retro. The new one looks like a CD, which despite being popular, is kinda meh in the style category.

Stick some headphones on the G & you've got a great logo.
This Pacman munching a pizza slice is just rubbish.

What's wrong with how it is now

Very nice. Looks like reversed pac man. Old one was ugly.

ONe looks like a terminator's eye spying on you and ready to kill you. the supposely new one looks like pac man is changing his diet, from spheres to triangles. I hope he stops killing innocent ghosts. anyway, either way, either secret demonic meaning Microsoft is adding on these logos, I don't mind, since I only use the app and don't think about how the logo looks like.

Zune had the coolest logo period. :-D
But does it forget anyone else that the "chip" out of the record isn't even...?

The unevenness is Cringeworthy... Someone said it Its supposed to be a shadow... It make sense since mail App and others have negative space shadows too. But here it looks incredibly rubbish. Pretty sure this ""new"" logo Its actually the old one, a placeholder while they were creating the G vinyl one.

Zune logo looks really iconic! It looks really hip and cool. Too bad, Microsoft forgot everything good about Zune, which was ahead of its time.

The G one looks much better and far more creative. The G logo is obviously for music, I don't think it could be any more clear.

I really like the 'G' in the form of a vinyl record...

Oh no.... Once you realise that the "pacman mouth" area and the "pie" area are not symmetrical....it becomes a nightmare for anyone with OSD

That's because it's using the dumb "triangle shadow" that all the other app icons have. I really like MDL2, but for some reason all the actual app logos threw that out the windows for a much inferior looking icon.

I actually think the triangle shadows are beautiful, but this one in the Pacman is cringeworthy. I'll say it again, this Pacman is an old placeholder, I would bet on it.

All I see is that asymmetrical cut out...I am going to have a nightmare tonight about it. Design oddity for sure.

Like the new one better. But it doesn't look like a G

I actually liked the original Groove logo dammit! It grew on me. Oh well, more people like this then that's good.

It grows on you like Beautiful music.

Huh. I thought the old logo was clever and pretty cool.

I am so glad they are working on this instead of gapless playback, metadata editing, playlist syncing...

I'm sure the designers can't code.. They can barely design lol

Lololol. I always look forward to these articles so I can read these comments. ...but anywho...they can make a decent Android app though... http://m.imgur.com/a/I40GP

I can't believe that android got pivots. SHAMEx3 rings bell.

Yeah, its a shame that Android got pivot while Windows 10 Mobile dumped everything inside the Hamburger menu. I don't like the Android version of Groove but the pivot is one biggest thing that they got it right! Come on Microsoft! Are you torturing your Windows Mobile users? Take a note from your Android app! The navigation is way better than Windows counterpart.

Jeez, the burger menu doesn't even slide in the Windows app. You have to reach to the top corner and tap the icon. :(

Wait, how is that better? Looks like something from the Pixels movie. Looks like some kind of cheese or pie metaphor. The G is better, even if you don't realize it's a G

Off topic, but why does the WC app for windows 8.1 look terrible on Windows 10? the font is off and small.

A better question would be when an update is coming. I know building apps take time but at least progress report would suffice. The current one for phones need major help.

They announced it last year. Lol.

The WC app for phones is terrible. I can't comment on the WP and Android Version at all . Let alone I get errors when I sign in . Hoping for updates on all platforms

I like the old logo. The new one looks generic. It also kinda looks like Pac Man. Posted via the Windows Central App for Android

I think some commenters may be right and this is not the new new logo but the old new one from the preview builds. Either way, I'd rather they use Ninja Cat wearing headphones ;)

Jurassic park theme music during splah screen please.

Microsoft rebranding in record time. The gap spacing on the bottom of the Play symbol looks awkward.

The old logo looked just like a real turntable. GD kids.

Seriously. He got an album out of the new one? To me it looks like random shapes. The old one was a full blown record with a needle that turned it into a G for groove. Makes much more sense and is intuitive!

In my opinion, most other logos will be far better than the current one ;-)

I don't think they will change it eventually.

Please for godsake help me out.My 19 inch desktop monitor with windows 10 is not showing full screen fit. It crops 3inches on both sides of monitor. Please help out to get full screen..

Try changing the resolution: right click on desktop > display settings, scroll down and click 'advanced mode'

While it's a little better, it looks more like a hard drive disc, or a boob lol. Zune icon > Xbox Music icon > this > current Grove icon

Lolololol a boob cannot unsee

Wth the old one was so good!

It looks like a panda pac-man eating a Dorito. I like it.

The old logo was better. The new pizza logo sucks.

No No No No No NO NO NO!!! Groove logo wasn't great but that new one is HORRIBLE. They had that on one of the insider previews and I hated it, it looks so amateurish. God please anything that is Holy do not give us that Microsoft paint level icon.

Yes the new one is horrible.

This is what the logo used to be earlier in the Technical Preview.

Microsoft, quit fooling around with your logos and branding and focus on functionality first. You don't see others doing their rebranding often. It sends a negative notion that there's no conformity.

Agree! Seriously if they have time to remake logo, why not just use that time to polish the UI and add more features! Changing logo won't magically make Groove the best music app evah.

They should probably change the name to Pac-Man Music if they change to that new logo.

The old one was much better. I looked at the new one and si.ply though it was a bunch of random shaped that made no sense. I understand Daniel's take on it and that makes sense, but it isn't immediately scene. I play music for a living and even I didnt see that lol. The original logo makes sense since it is a G which goes for Groove. As well ad the fact that the original one was a record with a needle which made it make even more sense as a music app. People complain about logos too much. This one was actually good to start. :/

I want to believe Daniel was trolling when he wrote the "Pacman eating pancho villa / family pizza slice doesnt fit on medium pizza" is better. I seriusly can't even. Edit: Also looks like a fried fish.

They should get a better name for the app... Or just call it Music since their video app is just called Movies & TV...

Fuck a logo, I want features. Gimme Zune in modern UI and you can keep me a groove music pass customer. I'm so tired of the regression.

They both suck. I mean Pac-Man eating pizza? Bring back the headphones. ​

I dont like the new one, I definitly prefer the old one with the G, however I think they need a better more instantly recognizable icon/logo It has to be something that stand out amongst Play Music and Itunes

Zune is dead, get over it. It's never coming back. The time of Zune has passed, you can't really revive a brand that never caught on. Whatever stigma that was attached to Zune will carry over to the present. It's similar to trying to revamp IE. Sure, IE 11 was great but most people thought that IE sucked because a lot of people said it sucked and told them to get Chrome or Firefox. I think the G is recognizable, it's not a generic pair of headphones nor is it a record with a wedge on it. It is it's on play on a record. ITunes has a music note and google play has something that I don't remember.

Sameer, the name is dead (Zune) but elements of Zune are all over WP 8.1.

its cool that they are working on a logo ... what they really need to do is get it to run correctly on 7 and 8" tablets ,,, it won't layout and adjust correctly on my stream 7 ... it works great on my desktop ... i have my music albums and playlist pinned to the start menu now for super fast access

The "old" G logo looks more like a vinyl record, and is better IMHO.

Not that good.. But still better than the old logo

They could have just modified the Xbox music headphones a little bit, maybe modernized it, gave it a funky look, instead of this pizza, pacman, whatever it looks :p

Old one looked more like a record... New one looks like a fish. Headphones are much more modern and recognizable by just about all or majority generationally. I dont care... Just keep the dark theme available... White is just too bright...

I so hope.so....it is rather bland, needs a little jizz

I actually liekd the "G" ​

Its not new. I saw it several weeks ago... (not better either, imo)

Ppl complain about the wrong thing smh. The old one was good and stood out

New logo makes no sense... But idk really.. The service is great!

Liked the one with the G.

The Zune logo is the best.

They had everything they needed with Zune IMO, I really don't get their decision at dumbing down (again IMO) the artful masterpiece they had many years ago. I loved earning badges, colorful social interaction, and being able to see statistics and more. It was a great community. Now there is a Metro app that only destroys my music's metadata and improperly imports it into the cloud.

Plus it had features I still haven't seen on many players. WI-fi syncing was great. Could just drag and drop something to the Zune program and it would be on my phone. You could actually manage apps, had the ability to get the 10 free downloads. None of them by itself is a killer feature but as a package, it came together brilliantly. Shame they had to do away with it entirely.

Indeed! It was ahead of its time. Almost everything about Zune is great, it was just late in the market and they didn't make the service available on most regions, also they didn't give much marketing about it so its become a waste. If they just persist Zune, at least use the same app but just rebrand it to Xbox Music. It would be still here even now. Its design and features will be still great even today, just needs a bit redesign for Windows 10 theme and make it Universal apps with all features with it. Done! They don't even need feedback about Groove app about features, just look at the Zune and WMP and you know what's missing.

"As well as the app on Android and iOS" Wait... There's a Groove Music app for iOS????

Yup. Though I'm not sure if they renamed it yet? Posted via the Windows Central App for Android

Well I can't find it in the App Store for iOS. There's the Xbox music app for iPhone only, (no iPad version) but no Groove app with either one of these logos.

The Groove Music App is still branded Xbox Music on iTunes App Store... only for iPhone.

It was probably easier to just update the app than go through Apple's submission process, which I am sure the re-branded version is going through.

Better better and better than the old one

The thing I don't get... Xbox Music is a separate, stand alone app on Windows Phone. So why don't we have the old/new logo and the new Grove Music name. They do app updates w/o change logs all the time. They could easily change the name and logo for us on this. Just to keep up appearances even if the app doesn't really change until we get Windows 10 Mobile.... *sigh*

Ok, I'm sorry what service is this now? After so many changes to their name and logo just within the last couple of years I'm completely lost as to what their marketing strategy is. Zune was something I loved and understood. It was artsy, gutsy, and different. From Zune to Music, to Xbox Music, and now Groove and all the major UI and logo re-designs in-between; whatever happened to sitting down and planning out an infrastructure long-term and then sticking with that well-designed principle? Please understand I'm not intending to bash anyone. I'm just left scratching my head as to how they are looking to encourage a fruitful ecosystem. Because I never know when their design or program is going to change next.

It's a steaming service and music player. It's not rocket science.

They have to rebrand every couple of years to disassociate their disappointment of a music app to another... If they actually spent more time building features (and creating a better UX) like they did other other platforms as much as they spent rebranding...and changing logos, then we might have an award winning app. -one can only hope.

They're not actually interested in any of that. That's what you get when you have someone new in charge every 2-3 years and he/she wants to take it in a different direction because the last one was a failure. It ends up being a perennial chicken and egg problem. It's amazing how they haven't figured out that name/logo are built upon...you don't just land one overnight. Look at Spotify. Has a WiFi looking logo and they make it work. Same goes for VLC, they have a bloody pylon. The common theme here is an excellent app or service that's great to use. If you don't have that (and if you don't bother telling people about it), why should anyone care? It's stupid how many times they have been ahead of the game only to blow it. I'm left scratching my head just as you are. Look at the MSN-Bing rebranding. Beggars belief.

I have a slight preference for the new new one over the old new one and either is is better than the old old one. Whew! And while im here what is up with the Windows Central website? Been wonky as hell for days.

I like both the G logo and the Play icons, but I already updated my Media Center Music Tile to match the new G logo, so I'm happy it's staying the same. ;)
That said, I want the logo to be larger and fill-up more of the tile! It looks so small.

Now I want some freebies again that would rock.

I think the new logo you're talking about is just an old typical logo... The current logo is very creative.... If it was up to me, I'd stick with the current logo and might try mixing the current logo with the Xbox music headphone logo... Not sure how it would turn out but worth a try... ;)

I don't know why but that Play icon logo looks strangely familiar. But I can't really put my​ finger on it.. I like the G logo though. It fits with the name. Maybe just modify it so it looks even more like a G and a record spinning. Longer needle, slightly less tilted. I dunno.

They need better services before better logos... #justsaying

Xbox music logo get it back fro groove.

The new one is much batter.

Xbox Music name and logo were perfect as they were.

This isn't any better. Ugly!

Like both logos..still a dumb name

I like the old one better

It's still a terrible logo! Come on... I can do a better one! And I'm definitely not charging too much for it

This is the original logo they had. Not sure if the article implies that or not, not clear to me. But I like the G one more, it just needs to be as big as the other one.

### THE NEW LOGO NEVER SEEMS TO BE A MUSIC APP. NAME IS GOOD. ###

I like the G logo better. Cleverly done.

Changing the logo doesn't improve the app. Once again, Microsoft is ruining their ecosystem because they focus on the wrong things and listen to the wrong people.

Still can't play songs based on its genre. Media Player is still the best. Zune desktop second. These new apps are craps.

Both logos are ugly. There are better logo and icon designers found at www.behance.net

Is there just me who love the Zune Logo?!

Zune was the best. Logo, name, etc.

Even the Zune HD was a better unit than the iPod at the time. Zune was good, shame it failed to catch on with Consumers.

I prefer the old one, but I mean why have a logo using an obsolete form of music playback that no-one uses anymore? Seems counter intuitive.....

Thank goodness that's been sorted out.

OK, so there's a different icon for the trash software and service Microsoft shoves out the door. Call me when they're capable of offering something half as good as Zune again, especially from the desktop software perspective.

Don't bother leaving your number.

Enjoy being a fanboy and a general sucker for things and determining quality by a brand, right than admitting when somehting is legitimatelly good or bad. I'm sure it hurts your ilk for someone to not ride Microsoft's jock over every little thing it does.

It's not exactly a bad app but there are many improvements needed. I'd like the ability to create like Smart Playlists and edit metadata cause Groove sucks at editing metadata on rare music. Gapless playback would be nice for the couple live albums I have but that's not as big of an issue for me. I wish the app had a more colorful interface. The black with accent color is ugly and just looks so dull. I put in feedback for being able to change the picture of the artist cause sometimes it gives you a lower resolution photo. Sadly, there's a lot of stuff that still needs to be added.

They seriously didn't add gapless playback? That's pretty pathetic. I haven't gotten to use W10 yet, but it sounded like it was just Xbox Music with a new name, and that's bad. It's definitely the worst desktop music software I've tried. I listen to a decent amount of music that isn't highly popular, along with compilations from record labels. Xbox Music, upon initial setup, screwed up a bunch of my metadata. There's one band I listen to where it confused it with some female singer by a similar name. I went and switched to MusicBee shortly after they made it so Zune couldn't install on 8.1, for no good reason than to probably attempt to force people onto Xbox Music against their will. It was the best software I found for editing music, which was doubly important when I had to undo the damage Xbox Music did to my local library. Xbox Music offers nothing that's a positive, in my experience. It barely meets the minimum needs for playback, and it can't handle a local library in a competent fashion. It also can't integrate with Last/FM (MusicBee does). It's just got a bare-minimum of features, even after, what, 3 years?

Zune has been installable on 8, 8.1, and 10

Perhaps you misinterpreted my joke. "don't leave your number" because I'm not sure Microsoft is interested in getting a proper solution at all. I agree with you word for word on the idiocy displayed by the music service team. Look up in the section, I've displayed my disappointment a few times. Jesus, easy on the offensive there man.

I like the previous tilted G logo compared to this new one. But then, after a time when the logo becomes automatically identified in my subconscious as Groove, it wouldn't matter at all to me one way or the other.

the old one. maybe it´s simplier, but it´s actually that what makes it so interesting.

How this better? Doesn't follow the thin lines of Windows 10.

C'mon microsoft, really!? Thats another poor attempt for a logo. I was really hoping you guys were going to change the name befor the final release of windows 10

What happened with the g spot logo

They're trying to find it. Some are convinced it doesn't exist.

I see what you did there..

Why isn't the play icon perfectly aligned with the groove in the record?

I love the Windows 10 and Windows 10 Mobile platform overall. But I feel like there is so much inconsistency with the icons and menus. It lacks that uniformed Windows feel like prior versions of Windows.

Zune was best and still is king

I alway sent feedback to them. They should have keep the old logo music with the head phones. This isa total mess, I wonder who design and makes decision in the design department

New -New, but I'm still not convinced at all.

i like the current one more than the new one don't change it

This is completely false. The new new logo was a placeholder logo for groove music in internal MS beta. The "new old" logo is the newest current version.

They should make it a better player;). Cause in front of winamp is wayyyyy behing. No drag and drop? And It takes 3 days to sync my music! Well, i don't use it as much as i kind of not using any of mycroaoft media tools. Winamp, kmplayer, acdsee. This are at least 2 times better for me then what ms has to offer. Sorry guys, but that's the truth.

How much music do you have?

The 3 days mark was just a joke, or a methaphor to the fact that it takes quite some minutes to sync. I let it sync and it got somewhere between 3000 songs after about 4 minutes and i have almost 10.000. So waiting 10 minutes to sync some songs? Not being able to drag drop albums i want, search is quite confusing (in fact the whole player has to many useless space).

The gap between the play icon and the disc icon is not similar on both side
The lower one has more gap than upper one
Bring back the G icon that was loooks cool than this one

I think all native apps could use a logo upgrade. I don't see a common design pattern I think the new groove design would be more in line with the bolder accented msn apps and the film and tv app. BUt then again it feels more out of characeter with the native mail and calender app that has a sharper edges and feels more in line with the wireframe design. And the app feels yet again also out of character with the office apps that seem to choose the middel ground of the familiar bold font design of the msn apps but the sharp edges of the wireframe design. I think the new Groove design should stick with the outer bold circle thickness copied from the maps app design. I think then there would at least be some consitency in the design. Otherwise the new Groove app looks too cartoonish. Ik think the native productivity apps like the voicerecorder, calculator, camera and settings icons could also use a more common denominator with regard to design. The caulator and camera app icons look almost cartoonish compared to the voicerecordera pp. I think the camera and calculator app iconography cann be simplified a bit more. Both app look a bit too detailed somehow and feel a bit out of character to the other apps. Edge is a mix of all combined. I think the alarm app should become a bit more thinner, more the wireframe design. Otherwise it feels a bit out of character with the wifi settings icon live tile. And why too thinner wireframe icons for the settings whilst most other icons for native windows apps are boloder in nature? So many questions! Yes even with iconic design windows 10 official release is still a bit rough around the edges. If they seriously consider changing Groove, they should have a second look at the other icons as well.

I like the record with the G. The play logo looks too bulky.

Christ jesus, put your sources on other stuff microsoft,

The 'G' logo is far better in my opinion. You can tell exactly what it is, when associated with the name of the app and how they relate. It's also more in keeping with the icon design language used throughout the OS.

Isn't this "new" logo the original one before they changed it to the "G"? I've seen this plenty of time on older builds

Why not just have a T-rex with headphones on? Sure, doesn't really make sense but neither does the one for Spotify and that works. I'd rather they actually work on making it a quality platform as opposed to doing these name and logo changes. If anything, it is that hideous Edge logo that needs to be changed. That looks like something they drew without actually looking at it - "oh quick the boss is coming, here scribble on this piece of paper!"

I would prefer the tile be a different colour than a logo change.

Actually, the more I look at both logo's the more I prefer the current one.

Groove music is nice.but should be improved a lot.Effects should be there similar that in windows media player

Nah.. We prefer to hear music unadulterated..

I actually don't like the new one at all.

Aw :( I prefer the old one, I like its sleek and simple look. But the new one is not bad

The app still won't show my streaming collection, playlists or let me get songs from the store without paying for them (I have a pass subscription)... until that's fixed, I couldn't care less about the logo.

I prefer the old one. Looks like a 'G'.

This is much much better than the old logo, really describes what the app is all about, thumbs up for rebranding it

The grammar in that sentence is off. "all your" should be all OF your. Come on microsoft

And what about the name ? One Music and One Video will be much better

I like the old one, as it feels more like a brand mark, rather than pacman sucking a..., well, you know

Doesn't this new logo look like pacman?

Meanwhile music comes through speakers, not icons.

Geez. Do people really have nothung better to do than bother MS with this nonsence when there is still so muvh to fox and so many features to add!!!???

The old G logo lens itself to much to Google, this change is an upgrade!

Didn't they use this new logo before sometime in the preview? It looks familiar to me

Wish they would put in the same amount of enthusiasm into actual application features instead of these useless rebrands...

Old one was better. New logo looks like pacman

Well, this is the second rebranding since killing Zune. Wake me when it regains all those original features.

I think a combination of both would have been perfect. The "old" logo is a bit bland but creative. The "new" logo emits a more recognized look. But lacks creativity. If the universal play symbol was placed to the right instead of the left, it could be used to manipulate the vinyl logo into a "g" thus groove. Creative, recognizable incorporating groove.

Old. Old. Old. Posted via the Windows Central App for Android

The old one was better for a streamimg service, this one is better for a music player. I prefer the old one

I like the original Groove logo, it just needed to be more defined ie bolder and larger... It just looked a little stark on the live tile.. New one is ok though

I liked the G-like wireframe logo better: suits Windows 10 better. But then again, it is too much a matter of taste and actually I couldn't care less about some dumb logo. They'll never please everyone with some design.
I'd rather have them squash the bugs in Groove Music, like popping up the on-screen keyboard when you hit 'search': how am I gonna search on a tablet now that it doesn't? And Live Tiles keep disappearing from my Start screen too...
So far it has been a massive improvement over XBox Music, but they should step up on features and bug-fixing, not wasting time on logo's 'n stuff...

That looks fucking awful. Surely that's an old logo. It looks like a let less thought went into that. Even the border around the play button looks broken. The current one is pretty smart. A G that looks like a record. Simple, fits with MDL2. On the Groove website it looks even nicer with the 'Groove' logotype.

This ain't nothin' but not a G thang.

They're both fine, although I thought the "G" logo was more clever, it was just too small on the square.

I don t like both....The new one is boring, and imprecise.

Nothing with "G", please....Remembers me the Evil company...

Just ditched groove for spotify... Spotify goes for 6.99€ and radio choices are better than groove's choices. I had for years a music pass, now groove pass, but I found that spotify works ok, it's cheaper and radio choices are simply better...

I like the old! But if they move "Play" sign little bit on center of vinyl and make vinyl look more vinyl.

New one looks cheap and crap. Keep the old one please

http://1drv.ms/1gADrin
I made this with Illustrator. I think that new logo would work if microsoft change it look more like vinyl!

Took a look at ur logo, kinda falls in with the rest. Looks sort like an old pac man with wrinkles eating a dorito. Cam you do something with some headphones and find some aspect of the new name to put between the headphones.

Still looks like CD player not a music service, lol.

The old logo looked like vinyl to me, the new one looks like a CD. I like the new logo. I just wish they called it Microsoft Music. The headphones was still the best logo.


Microsoft Music?
Heck NO.

still ugly and doesn't convey a damn thing. classic MS.

Ok with all this rebranding, my question is what is MSFT/Windows Phone offering to counter car connectivity from competitors? All the car telematics systems are offering Apple Carplay, Android Auto and MirrorLink...MSFT, what are you bringing to the table for your loyal Windows Phone users???!!!

How about a new name instead, the logo is the least of the problems .. Groove is a terrible name And why is the logo a Vinyl Record?? Makes no sense .. can I buy vinyl records from 'Groove' nope .. A note, headphones, g clave or what ever would be better.

Liked the old Groove music logo better.

Is it just me, or do people whine about everything? It's a record in the form of a "G". I love that logo! The new one also works as well, just not as styling as Groove.

Meh...maybe "whine" isn't the right word. I guess I'm more easygoing than folks. I personally like it ;)

I agree. However, I did prefer the old symbol because it had a G over the disc (whether vinyl or CD)...

Not a fan of the new one. The shape area of the record doesn't fit to the play arrow. It's off. As a designer that kind of thing just drives me mad. I tried to visualize a reason for it, like a 3D effect or something. I got nothing except that it's off and looks like someone hung a picture crooked. I seriously wish I could work on their logo design team. Who approves this stuff? :/

Ugh... The new one is really ugly...

They need to just add some headphones..

I just want to chime in & say I REALLY miss Zune. I was a hardcore fan & there's not been a thing like it since...

I disagree, it looks like a CD player now.... the logo however really doesn't matter in the grand scheme of things. It matters how the app functions and how well designed it is.

The G logo is much more creative. Who cares if the icon represents an old medium? DJ's still use vinyl. Vinyl is (on some scale) still relevant. Sure the new logo is bolder and stands out more, but its also so much more generic.


The new icon is consistent with the other wireframe icons.

Ok, so it appears as MSFT is growing weak.They seem to be responding to every whimp of the critiquing public. In my opinion,the logo design is small peanuts to how the app works and functions as a premium music app for the platform. I say bravo to MSFT to for taking risk, i am so bored with this "gotta be like Google/ Apple" to compete. I realize that you have to keep pace with your competition, and use some of their ideas to be better, but you don't have to become the competition. As for the current logo, it's creative, fresh, retro and damn good. The "G" is purposely pointed upwards and the logo is reminiscent of an old vinyl record player and the current DJ turntable mixer.

The G logo looks much better and is actually quite clever. This one looks amateur and from the sounds of it, is actually the old original logo.

The beta icon (incorrectly called new here) from months ago is terrible. It's badly centred, looks like Pacman, and the "cut" in the middle of it doesn't even match the play button awkwardly bolted on at the side. Some days I wonder if my joke about Microsoft firing all their good designers after Windows 8.1 was actually right on the money. Or I hope they're not changing it back because of people once again moaning about something "new" and vaguely different to what they had the day previously... The "G" logo is perfectly acceptable, as is the name, they just needed to put even the slightest bit of effort into rebranding rather than simply changing the name and icon. The icon didn't really need changing, headphones worked well as a logo and seemed self explanatory but they seem to be desperately trying to cut any and all ties to Windows 8, no matter how tenuous. Though if people had noticed the icon in Windows 8 it's probably better to give them a new logo to think about exploring. A shame it's pretty much the same app that loads up. I'd love a massive expose style article dating the past five years of Microsoft Music goings on. Delving into why Zune was canned, why a bunch of interns in France built the original Xbox Music apps, what went on once it got moved back in house for Windows 8.1, what the heck went on with the Windows Phone app, who's working on it now etc. Has anyone on the team (now or then) used or even looked any kind of music app or program before? ;) Assuming anyone would be willing to talk... I just hope Microsoft don't stop with this new name/logo. Music is a huge part of a digital ecosystem and they've pretty much stalled for the past four years (even though, ironically, with Zune circa 2010 they were probably in one of the better positions to capitalise on that market).

Keep the old logo and put soundwaves symbol on both sides.

And a new name, I would hope so...

Yuck.. it's as ugly as the old one.. smh Microsoft sigh..

I believe the new-new logo is nice but I don't like the bad triangle shaped shadow on the record under the Play symbol.

Looks like the MATE Desktop logo.

Old one was better. And Xbox music was the best logo.

Who gives a fuck about the name or the logo? How about adding features to i like, um, the app like um i dont know: 1-Ability to buy multiple tracks at once 2-Ability to sort by what i own and what im subscribing too 3-Bring back the heart to mark favorite tracks to purchase later 4-Screensaver while music plays on the phone, this is windows you know!!! Everything else is a mute point until features are actually added and must i remind Joe Fucking Belifore he told us 2 years ago, and I quote, were listening to you and new features are coming soon....really when where? if you call a new feature less crashing and black screens mission accomplished !!

New one looks more like a cd player

The name is fine. I think the earphones are better. My problem is how the program works on 10 mobile. With my music pass I still cannot explore or create playlists. If i want new music I have to go to the store to purchase it. That's why I pay for an annual pass. I know it is beta but come on man, give some love to your music pass fans.

Need to drop a line to Namco or whoever and get this killed sooner rather than later

Does anyone else remember an earlier release that had a logo like the new one, but with the triangle at the 1 o'clock to 3 o'clock position, making the record look like a "G"?

The new one sucks, the old was better and better than the xbox music as well. Looked cleaner

It's not a new logo. I already saw this on previous Insider builds

Give me back some headphones. I don't like the new logo much at all. At least the previous Groove logo had a G in it. This one looks very unpolished and to be honest... like Pac-Man. Can we get the previous headphones icons refreshed a bit with a blue back-drop? I actually think this may be an older iteration of the logo just because they are going back to green again which is symbolic of XBox. Either way around it, I am still gonna use the service, but they need to focus on new adopters.

Change the logo to a profile of any ESP guitar and be done.

Preferred the old one. Was a smart resemblance of a "G". A new name would be welcome though ... told a friend today that I was listening to music on Groove music and he just laughed

I liked the headphones better

Going from a logo with a headphone to one with a vinyl record suits Microsoft and Windows Phone beautifully. Always starting again, from "scratch", leaving you with a vinyl record while you were waiting for what's new after mp3. Totally agree on the post that said we shouldn't waste effort on logo's and names, please give us back all our functionality and finally start ADDING something.

I'd like it to not limit me to 4 devices, or offer an option to pay some additional discounted price to add devices. I'd like it to do a better job at getting album art and information. A family plan where we could pay one price and distribute access like in Office 365 Home, would be nice. Do whatever you want on the logo, but don't spend to many resources on it. You have better things to do.

Not new. seen in preview builds of windows 10. G logo replaced it.

I prefer the previous G just a bad pacman and doesn't align with the 'thin' (read: Android) iconography they seem to be using now.
But I do not think there is any way they changed it because some they didn't like it after the released it. The amount of work it takes to change it everywhere isn't minor and it would have taken a good deal of approval. Far more likely someone sent them a cease and decist for a logo that look too similiar (which they missed when vetting this one).

The G one looks so much better. As a designer, I must say that the new one feels unbalanced, unpolished, not a thoughtful decision. The circle, presented in both versions, creates some central point, a comfortable shape to the eye. The "G" leg coming inside the center gives something to remove any "boredom" and oversimplicity on the circle itself in an elegant way, plus giving us the name/symbol association. The triangle on the new version takes the attention off the center in a bad way: If you try to enclosure both shapes on a rectangle you can see how of center is ths new one. Imagine printing both shapes in 3D, the new one would rotate and fall imediately to the triangle side. It gives a visual weight completely disconnected to the main shape, the circle (pay attention at how unbalanced it looks inside the square tile, with an empty space on the right side). Plus, the concept of a vinyl/CD is STILL there! the rotating media to read data is still present. just inverting the negative/positive space and removing the vinyl needle isn't enough in my opinion. Also, even though is a minor detail, the shadow made by the triangle seems uneven (the top part being thinner than the bottom part). TL;DR - I'm kinda sad this change happenend, it gives a bad impression on how MS treats graphic desing and branding on its products. If it's not the final logo, then don't change it to something worse, leave the old one for a longer time until you figure it out a nice rebranding/redesing/"re-something" (Or keep the old one, is SO much better).

Well when are we gonna get updated features? Still missing 40% of the functionality of the Zune software, which by far is one of the best pieces of Windows software ever built.

The Edge logo is an eyesore.

I prefer the old if the new like that.. Well whatever, just give us many features of Zune, it will be okay.

i dont like the new one, only i can imagine with that is a little bird head or a fish head eating something, or the Pac man. i loved the old headphone.

This is one of the reasons I left the mac community. They were more obsessed with pretty icons rather than the functions of the OS.

Article fail. The "new" one is really the old one.

MS fucks everything up. Should've kept the old name/logo...I don't anyone who was confused about the service. Maybe MS should work on making a better app than worrying about the name?

New logo is ugly and looks like a third party app. Can't they just make up their F%%%%% minds over at MS.

I still like the G logo better, pretty much because it made a G.
The new icon is fine though.

Yeah, I kind of don't want them to change it for that matter! But the new one does look better. Maybe they should make it look better but with the "G" still in it should the name continue to be Groove Music.
Windows Central Newsletter
Thank you for signing up to Windows Central. You will receive a verification email shortly.
There was a problem. Please refresh the page and try again.