Groove Music update brings slew of fixes to Fast ring Windows Insiders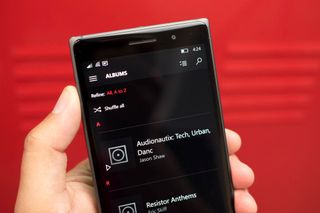 If you're on the Fast Ring of the Insider program for for Windows 10 PC or Mobile, you should have a fresh Groove music update waiting for you to download. This latest update brings a number of bug fixes to the table that should nip some nagging issues in the bud.
Here's a look at what Groove Music version 3.6.2090.0 fixes for Fast Ring users, from Microsoft (opens in new tab):
Fixed five bugs affecting vision-impaired users
Fixed six issues that could result in an app crash
Fixed an issue where the playback bar got stuck while in "repeat one" mode
Fixed an issue that prevented the system media controls from updating when rapidly hitting next
On top of the above fixes, Microsoft notes that users on the latest PC Insider build (14342) should see the following fix as well:
[FIXED]: Playing music in Groove within 2 minutes after logging into your PC will result in 0xc10100ae playback errors. If you wait more than 2 minutes after logging in to play music in Groove Music you will avoid this issue
The update should be available now, so check your Store app for an update or hit up the Windows Store links below. Again, do take note that this update is solely for Windows Insiders on the Fast ring.
Download Groove Music (opens in new tab)
Windows Central Newsletter
Get the best of Windows Central in in your inbox, every day!
Dan Thorp-Lancaster is the former Editor-in-Chief of Windows Central. He began working with Windows Central, Android Central, and iMore as a news writer in 2014 and is obsessed with tech of all sorts. You can follow Dan on Twitter @DthorpL and Instagram @heyitsdtl.
I wonder if this fixes Music Title not updating in Media Controls whenever we select a new track without pressing next. Really messes with my BlueTooth devices :D

That's probably an os issue. I'm annoyed by it too Posted from Windows Central for Windows 10

All I ask is for a "Select All" button....Zune I miss thee....

Update: Still not playing music. Still saying "another app is controlling sound right now".
Could be a system bug not related to the app.
......
Waiting patiently for next build. Damn.
~~~~~~~~~~~~~~~~~~~~~~~~~~~
ARLINGTON, TX LUMIA 1520 WAITING FOR 6.2" SURFACE PHONE

This issue bugs the **** out of me. So bad

MS said that is fixed in the next build. So its a combination of OS and app problem. Work around is to exit Groove and stop all music playing for 30 seconds, then try again. Annoying cuz it will happen again later but that's according to MS engineers in the feedback app

Yes. This!... I noticed that you have to wait at least 30 seconds before it will play again. Good advice. ~~~~~~~~~~~~~~~~~~~~~~~~~~~
ARLINGTON, TX LUMIA 1520 WAITING FOR 6.2" SURFACE PHONE

My work around is to tether my 640 which isn't on the newest build and have it bluetooth to my car.

Best workaround as the only complaining fast ring users are allowed to do is inside the feedback app

Damn! That's the main issue!

Yeah.. We need a system update. ~~~~~~~~~~~~~~~~~~~~~~~~~~~
ARLINGTON, TX LUMIA 1520 WAITING FOR 6.2" SURFACE PHONE

Every time this happens I simply do soft reset :P

All, you have to do is shut the app down, and wait 30 seconds... Try that next time.

Just wait 30 seconds. No need to shut the app down.

Must be rolling out.. Have latest fast insider build but this is not showing as available just yet. Posted from my Lumia 950XL via Windows Central for Windows 10

Same as me Using an awesome Lumia 950 running windows 10

still have to wait like 30 seconds for a song to start, while the app is fully responsive, its like the damn thing is in a "wait 30 seconds to download" dialog or something

I'm on the fast insider (Redstone) builds and still no update showing for me. Groove version still 3.6.2084 Using an awesome Lumia 950 running windows 10

Hoping to see it soon. These recent OS builds have been great except for the crap situation the DRM impact on music pass had. Posted from my Lumia 950XL via Windows Central for Windows 10

I'm still stuck on 3.6.1886.0 didn't ever see the last update and can't see this one either. Still stuck with the 0x8004c029 DRM playback error which means I have not been able to use Groove for getting on for a month now, glad I paid for a subscription..!!

I'm on the same build as you and have the same problem of not seeing the upe. i too he been without Groove for about weeks now. i'm anoyed but I'm trying not to be too mad at MS because I did sign up for the Insider Fast Ring so I guess I should understand the risks. i also have a subscription through December because I purchased an Xbox Music card year subscription for $19 Christmas 2014 and just stacked the new card on top of my subscription that i had at that time.

Yup same here stuck on 1886. Just reset phone to see if would force update but nope!

Sounds like it doesn't fix the song skipping and purchased rights issues. Oh MS......cant wait for you to get it together.

Yeah, that's not fixed.. OS issue most likely.

What's the purchased rights issue? Have you tried uploading those songs to onedrive. I never had these issues, but it might be because when I purchase an album or track, I always upload it immediately. L950

Still no update for me, but Mail And Calendar has an update that doesn´t works! (PC ando Mobile)

Mail is in dire need of many fixes in these fast ring builds. Sort of hard to test it and give feedback if it's in such a bad state that it's not worth using.

Seems like they can't roll out a Groove update correctly.

Wow! I hope it's as good as the brilliant Mail and Calendar update that just wiped out all my email! You go, Microsoft! Keep the apologists busy!

Thought I had the same issue with mail. Mail synced after 1min. All was good

Opt out of getting early builds. MS clearly states early builds can do things like that.

Lets face it, mail is so bad on fast ring that few people would even use it long enough to give useful feedback. It at least needs to be useable before they release it to insiders, otherwise, what's the point?

Been using mail on fast ring on my PC and mobile since the beginning, raerly ever have any issue and never had one that has stopped me using it at all...

This. So sick of people talking as if preview builds should be bug free. I'm actually starting to wonder if this preview program is hurting Mucrosoft's reputation because people just don't get it.

They don't read, that's why...

Still having an issue with radio. play back fails after skipping a song. have to log my account out then log back in. Very annoying

Running latest Redstone and the groove update that was just released

Hopefully they have a new build ready this week.

microsoft need to compete with spotify's 4.99 student deal.

You're trying to save money..
We just would like it working on a RSB. ~~~~~~~~~~~~~~~~~~~~~~~~~~~
ARLINGTON, TX LUMIA 1520 WAITING FOR 6.2" SURFACE PHONE

Until they add an EQ, I will not use Groove on PC.

Go to playback device settings in Windows 10 on PC and set the EQ there or go to Extras on the phone and set the EQ there. Problem solved

Windows has a native equalizer in the sound settings. Your sound card probably has an equalizer as well (Realtek does and it's present in most of the onboard devices). Windows 10 Mobile has an equalizer in extras settings. Why bother with an in-app setting? Sent from my Lumia 830 on Windows 10 Mobile Insider Preview

I'm running 8.1 but it certainly appears WP10 is an on going mess. Unlike MS to release such a buggy beta OS for what now seems to be an eternity in tech terms

Well these comments are all from people on the preview/beta builds so it is expected, things are way better on the official builds.

Not perfect though. Posted via the Windows Central App for Android

Far from perfect. It would really help if they would just publish the old 8.1 Microsoft apps to the store. That way we could just use the old apps until they get these new ones up to par a year from now or however long it's going to take them.

This. MS has gotten into the unforgivable habbit of removing functionality before provideing a replacement.

Re: x I'm tc,
It's true of official production builds too. We are still missing features from ZUNE.

But, 10586 is fine (for the most part)
What we're complaining about is builds 14xxx RSB.. That's not exactly released yet. ~~~~~~~~~~~~~~~~~~~~~~~~~~~
ARLINGTON, TX LUMIA 1520 WAITING FOR 6.2" SURFACE PHONE

Actually, the production build is now very stable even on non-supported phones, eg. Lumia 920.

Erm, if it wasn't buggy it wouldn't be a BETA relrease....!!!!

The buggy hamburger animation is still not fixed and will probably won't be.

I am still wondering that if the apps are truly universal then why we dont have the same features and updates on all the platform simultaniously !!

The article mentioned for PC & Mobile. What other platforms are you hoping for? This is an insider testing matter, so for sure no update for non-insider yet. Insiders test this first before giving it to the mass. Maybe you should read the article on insider builds.

Sometimes they do, sometimes they don't.. As long as mobile keeps up is all I care about. It doesn't have to be simultaneous, although it does look good when it is. ~~~~~~~~~~~~~~~~~~~~~~~~~~~
ARLINGTON, TX LUMIA 1520 WAITING FOR 6.2" SURFACE PHONE

Life is good. Windows Central Universal Application for Windows 10

Limited notification sounds

Whats about coc n clash royal game?

Can't sign in from India.

Because, Groove online service is not available in India and most of the world.

Media controls and music playback still crash when skipping tracks swiftly.

Nice Posted from Windows Central for Windows 10 using my HP Elite X3

I really don't understand why it is so hard to make a properly working music player. I mean, because of the various bugs I have resorted to using MixRadio for my music playing needs. And THAT works without a SINGLE bug! Something that has been out of development for so so long! It just blows my mind that a giant of a software company like Microsoft, can't get a music player right.

Yet they still ignore the issue where music that I bought from them on this Lumia Icon will not play because I no longer have the"Rights!" Also, it will not let me download it from my OneDrive where it's supposed to be safe, because I don't have the Rights! F@#$ you Microsoft! My days of spending money on you are over. The music that I saved to Google in 2010 is still available to me on every device!
Microsoft used to mean quality, now it means fail.

Fixed an issue that prevented the system media controls from updating when rapidly hitting next

Still having this issue :(

Microsoft should lay off all the Groove apps engineers, for they know not what they are doing. It is a shame how a simple app as Groove is taking the engineers a century to get it right Posted from Windows Central App for Lumia 640 XL

Still waiting to be able to use Cortana to play music off of an SD card. Not sure if this is a OS, Cortana or app issue, but I didn't have this problem in 8.1.

Hey it's been a while since I fired up my Lumia 920. Does Groove display album art on the lock screen anymore? One picture at a time -- LG V10

Still it suddenly stops the music....

i have one issue in groove music. when i play any song from my songs list, the title of the song does not sync with the title on the volume bar. another issue is sometimes the album art is not getting displayed on the now playing screen and the quality of album art is really low. I am on official w10m build 10586.318 lumia 640 xl

Still not seeing this update...Using a 950XL on the fast ring...

It's nice to know that I'm not alone here. Still haven't seen a Groove update on the Fast ring on my 950XL.

I hope they scrap this project. Groove isn't even aligned with what I want. The layout and organization of Zune was perfect.

After installing this update my phone randomly switched from headphones to speaker while listening to music. Anyone else?

Groove is permanently blocking, FM Radio has disappeared; should I get an old scratchy radio with me instead of this phone ?

Lumia Icon on Fast Insider and still no update. I also did not receive the first update that was announced a few days ago... I performed the reg hack to get the server to think my icon was a 930 (which worked great) but I also did not get the groove update then either

3.6.2094.0 was just pushed out
Windows Central Newsletter
Thank you for signing up to Windows Central. You will receive a verification email shortly.
There was a problem. Please refresh the page and try again.