GroupMe brings new group design and bug fixes in latest update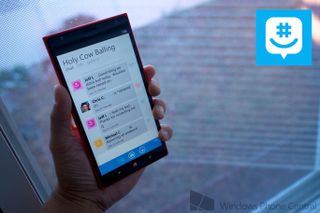 GroupMe, a popular group-messaging app from Microsoft, has just received an update for Windows Phone. In addition to bug fixes and improvements, version 4.7 brings a new group design. It's now easier to explore the photos and videos shared in your groups in the gallery. The group avatars have also been made larger. Read on for the full change log.
What's new in GroupMe 4.7.0:
New group design!
Easily explore the photos and videos shared in your groups in the gallery
Give your groups a strong identity with a new larger group avatar
Clear chat history in groups and direct messages
Other bug fixes and improvements
People love GroupMe because it works on nearly every phone, whether it's Windows Phone, iOS, or Android. It works via SMS too. With GroupMe, it's easy to reach anyone, anytime, anywhere.
GroupMe is absolutely free at the Windows Phone Store. Click the store link to download or scan the QR code from your phone to grab the update.
Is GroupMe your favorite group messaging app or do you prefer something else? Let us know in the comments!
Thanks for the tip, DBZo07!
Finally added the gallery. They still need to make it so you can see more than 4 messages at once.

I really think GroupMe should become the Hangouts or iMessage of Windows Phone. It already has the functionality built in to be a messenger. I think Skype is great but I don't see why they have two really strong messenger apps available, especially when one app (Skype) has still not caught onto the level that iMessage and hangouts has.

Can't wait to get this--one of my most used apps on WP8

Is there gonna be a version of the app for the 512MB RAM devices? We had it back in June-July, but dunno, it somehow disappeared from the store for us.

I have it on a 520. Haven't tried today's update, but it hasn't previously been limited to 1GB.

Okay, I guess my carrier doesn't support it - I'm on Airtel, India. It ain't listed in the carriers supported by GroupMe on their international-availability page.
Thanks anyway, buddy. :)

Ah, strange. I updated the 520 tonight and it worked fine, so it's definitely mot 512MB invcompatible. Sorry it won't work for you!

Never mind. Changed the region to US and it showed up. :D
Guess it ain't available for India yet.

Love this App and I use it everyday with my friends that use iPhones and Android devices. I just wish it supported landscape typing! I have big hands and I always type in landscape when I use regular text messaging.

maybe you should use your fingers instead of your hands next time :P

Or maybe T-mobile should pick up a Lumia 1520 variant so I can get a phone with a big ass screen!

They must find a way to combine Skype and this one.

Not sure if this is new, but you can go to contacts and message someone individually which is cool. But my wife says on her android that automatically made us a group, but on WP it does not. You have to go back to the contact list, and there is no easy way to see they messaged you without a group. Also, the counter on the live tile does not seem to be resetting since I messed with this.

Uninstalled and reinstalled... this works great now, and the individual does now show up as a group. Very cool!

I just wish they'd add the features that are already on iOS & Droid, like the "chip in" feature (which isn't directly available on the web app, either). Someone in one of my groups set one up, and the only way I could access it was by going back to the automated announce message and tapping the link.

Did they add gif support yet?

wish you could delete contacts.

Social apps - communist idea
Windows Central Newsletter
Get the best of Windows Central in in your inbox, every day!
Thank you for signing up to Windows Central. You will receive a verification email shortly.
There was a problem. Please refresh the page and try again.