A quick guide to Guided Workouts on the Microsoft Band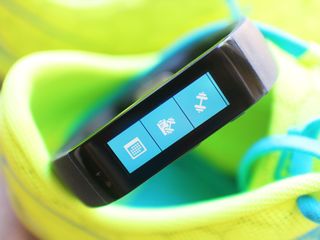 The Microsoft Band is the newest wearable from Redmond. I've been playing with (and loving) the Microsoft Band for nearly a week now. The Band does a lot. It can track your runs with its built-in GPS, monitor your heart rate during workouts, interact with Cortana, show you incoming text messages and more. But one of my favorite features would have to be Guided Workouts. This feature is a nice surprise and has guaranteed a place on my wrist for the Band.
Guided Workouts?
A Guided Workout is exactly what it sounds like. Using the Microsoft Health app on Windows Phone, Android or iPhone you're able to select from a variety of workouts to add to your Band. These workouts vary in goals and come from a variety of sources. You'll find workouts from Microsoft, Gold's Gym, Shape Magazine, Men's Fitness, Muscle & Fitness and Benchmark WODs for those into Crossfit.
Once on added to your wrist, Microsoft Band will guide you through the workout you've selected. How it guides you is simple but effective.
Adding a workout to your Band
You're obviously going to need to select and add a workout to your Band before you can do a workout. Using the Microsoft Health app, go ahead and open up the menu by tapping the hamburger icon in the top left. Then go ahead and select 'Find a Workout'. This is the portal to all things Guided Workout on your Microsoft Band.
Microsoft shows a featured workout, but you can either search or browse for the workout that works for you. Browse by brand, type or just go ahead and view them all.
I've been trying out the program 'Couch to 5K in 14 Days' offered by Microsoft. This Guided Workout gives you a plan that works great if you're interested in getting serious with running. It assumes you don't really run and takes you from the couch to running a comfortable 5K in two weeks. The plan itself blends walking, jogging and running to help you achieve this goal.
Microsoft provides an overview of the Guided Workout when you first click on it, but swipe to the right or left if you want to get the details about the plan. The overview page for a Guided Workout gives you info like the goal, workout duration, body parts worked and difficulty level. While the detail page tells you exactly what you'll be doing and for how long during a workout.
Find the workout you want that meets your goals and just tap the 'download workout to Band' button in the middle of the page when viewing a Guided Workout. This will sync the Guided Workout to your Band.
Doing work with the Band
Doing a Guided Workout with the Microsoft Band is awesome. Just head to the Guided Workout 'app' on your Microsoft Band and double press the action button to start your workout. What happens next varies slightly depending on the workout you've selected, but it's all the same more or less - the Band will guide you through your workout.
Here's what you can expect when doing a cardio-related Guided Workout with Band, in my case the Couch to 5K workout:
Band will tell you to walk for ten minutes as a warmup
Band will then buzz when you're to jog for two minutes
Band will buzz when it's time to run for one minute
Band will buzz when it's time to walk for a minute
Band will guide you through a jog/run/walk cycle four more times
That's it. You just did a quick and dirty 25 minute workout using Band. The final buzz will tell you're that you're now down and show you your calories burned, max heart rate and your average heart rate. You can then go to the Microsoft Health app for a more detailed look at your workout.
The above will vary depending on your workout. I played around with the Guided Workouts offered for the gym, and they seem equally interesting. Band will tell you to do 12 push-ups, rest for a minute and then do another set of push-ups, which is then followed by other exercise related to the given workout. Band just sits on your wrist with its display on giving you pertinent information like time elapsed, current workout or time remaining and current heart rate.
For gym work I'm in the middle of a Stronglifts 5x5 program, which isn't listed in the Guided Workouts provided by Band. For now, I'm content using the Guided Workouts for my running/cardio work, but would love the ability to create your own Guided Workout in a future update.
Anyone else using Guided Workouts on their Microsoft Band? What's been your experience with it so far? I think it shows a lot of potential, and I can't wait to see the workout platform evolve and improve over time.
Check out our Microsoft Band topic page for more on Redmond's wearable.
Get the Windows Central Newsletter
All the latest news, reviews, and guides for Windows and Xbox diehards.