A quick guide to Guided Workouts on the Microsoft Band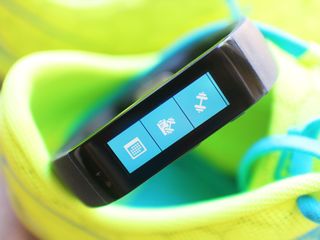 The Microsoft Band is the newest wearable from Redmond. I've been playing with (and loving) the Microsoft Band for nearly a week now. The Band does a lot. It can track your runs with its built-in GPS, monitor your heart rate during workouts, interact with Cortana, show you incoming text messages and more. But one of my favorite features would have to be Guided Workouts. This feature is a nice surprise and has guaranteed a place on my wrist for the Band.
Guided Workouts?
A Guided Workout is exactly what it sounds like. Using the Microsoft Health app on Windows Phone, Android or iPhone you're able to select from a variety of workouts to add to your Band. These workouts vary in goals and come from a variety of sources. You'll find workouts from Microsoft, Gold's Gym, Shape Magazine, Men's Fitness, Muscle & Fitness and Benchmark WODs for those into Crossfit.
Once on added to your wrist, Microsoft Band will guide you through the workout you've selected. How it guides you is simple but effective.
Adding a workout to your Band
You're obviously going to need to select and add a workout to your Band before you can do a workout. Using the Microsoft Health app, go ahead and open up the menu by tapping the hamburger icon in the top left. Then go ahead and select 'Find a Workout'. This is the portal to all things Guided Workout on your Microsoft Band.
Microsoft shows a featured workout, but you can either search or browse for the workout that works for you. Browse by brand, type or just go ahead and view them all.
I've been trying out the program 'Couch to 5K in 14 Days' offered by Microsoft. This Guided Workout gives you a plan that works great if you're interested in getting serious with running. It assumes you don't really run and takes you from the couch to running a comfortable 5K in two weeks. The plan itself blends walking, jogging and running to help you achieve this goal.
Microsoft provides an overview of the Guided Workout when you first click on it, but swipe to the right or left if you want to get the details about the plan. The overview page for a Guided Workout gives you info like the goal, workout duration, body parts worked and difficulty level. While the detail page tells you exactly what you'll be doing and for how long during a workout.
Find the workout you want that meets your goals and just tap the 'download workout to Band' button in the middle of the page when viewing a Guided Workout. This will sync the Guided Workout to your Band.
Doing work with the Band
Doing a Guided Workout with the Microsoft Band is awesome. Just head to the Guided Workout 'app' on your Microsoft Band and double press the action button to start your workout. What happens next varies slightly depending on the workout you've selected, but it's all the same more or less - the Band will guide you through your workout.
Here's what you can expect when doing a cardio-related Guided Workout with Band, in my case the Couch to 5K workout:
Band will tell you to walk for ten minutes as a warmup
Band will then buzz when you're to jog for two minutes
Band will buzz when it's time to run for one minute
Band will buzz when it's time to walk for a minute
Band will guide you through a jog/run/walk cycle four more times
That's it. You just did a quick and dirty 25 minute workout using Band. The final buzz will tell you're that you're now down and show you your calories burned, max heart rate and your average heart rate. You can then go to the Microsoft Health app for a more detailed look at your workout.
The above will vary depending on your workout. I played around with the Guided Workouts offered for the gym, and they seem equally interesting. Band will tell you to do 12 push-ups, rest for a minute and then do another set of push-ups, which is then followed by other exercise related to the given workout. Band just sits on your wrist with its display on giving you pertinent information like time elapsed, current workout or time remaining and current heart rate.
For gym work I'm in the middle of a Stronglifts 5x5 program, which isn't listed in the Guided Workouts provided by Band. For now, I'm content using the Guided Workouts for my running/cardio work, but would love the ability to create your own Guided Workout in a future update.
Anyone else using Guided Workouts on their Microsoft Band? What's been your experience with it so far? I think it shows a lot of potential, and I can't wait to see the workout platform evolve and improve over time.
Check out our Microsoft Band topic page for more on Redmond's wearable.
Windows Central Newsletter
Get the best of Windows Central in in your inbox, every day!
Yo dawg, I heard you like guides. Also, thanks Sam. That was very thorough for a quick guide.

Yo dawg, Guided Workouts are my favorite feature on the Band. So I made a guide for Guided Workouts, so you can guide while you guide? ok i lost it at the end there

Following up on this, any idea if you can create your own guided workout yet?

4 months after your post, the answer is still 'no', which is honestly pathetic.

They just launched the ability to create your own yesterday

Sweet, do you have any links to where this feature is announced/described/explained?

There's one article by neowin that has some screens, but you can see for yourself with their Web dashboard. It's live now, and works with the band 1. I edited a tabata workout to get rid of burpees :)

So glad this is the first comment.

A guide to work out guided workouts.

A lot of the other reviewers seems to say the heart rate monitor is not very accurate when e.g. hiking/running (i.e. when doing excericese where your hands/arms move vigorously; perhaps sweatting also has some role). Any of you WinCentral guys or other readers hear have similar complaints?

I have done several workouts and this has not been the case for me. My guess is that they do not have the band tight enough. It needs to be pretty snug to keep from flopping around while working out. I have had pretty darn accurate readings each time I have used it.

Ok, thanks!. Did you compare with some other device or how do you know it has been accurate?

The cool thing about Microsoft Band is how the clasp is easy to adjust on demand. So you can tighten it for your workout and then loosen it for general wear.

Does it "know" you are doing push ups (for instance) and then know when you are finished with them to give you the next command?

Don't own the band but am pretty sure the answer is: no. :) or, rather: :( I can imagine it would be quite difficult to come up with a sensor structure that would, e.g. in this case, be able to detect that your body is horizontal and moving up and down, despite your hands being stationary. Hmm. Yes, that's what a pushup movement would be like, not be confused with... ;)

So difficult a company named Atlas has already done that. Bang!

Really, for push up? Can you explain how I knows how many push ups you are doing, with the band/watch basically not moving at all?

Actually there is already a company (startup) doing this exact thing. Atlaswearables.com The cool thing is the Band has the 3 axis sensors, I think required, to do just this very tracking. Probably just needs the app and the "horsepower" to make it a reality.

In that case you're pushing the action button to let the Band know you're ready for what's next.

can the band recognise how many reps of an excersise you have done?
i.e. if i'm doing bench presses would the band use the pedometer to count them?

Hahaha what an unreasonable expectation

Not entirely, other products attempt to do just this. Amiigo for instance, they have yet to scale up to mass production though so I have no idea how well it works. They also require clip to be worn on your shoe along with their band.

Not really unreasonable. Check out Atlas fitness band. It does just that.

Not really. The is already a company doing this type of tracking. Atlaswearables.com.

I think it can do this to a certain degree. When I was doing one of the strength training guided workouts. It stated the number of sets would be 3 to 5 per exercise. I was on the fourth or fifth exercise (DB shoulder press). The Band stated set 1 of 4 with 10 reps. I grabbed too much weight initially and only completed 6 reps. The Band then stated during the rest period set 2 of 4 with 10 reps. Again, I grabbed too much weight and completed 6 reps. Here's the interesting part...
The Band then stated set 3 of 3 with 10 reps. I'm not sure if it sensed the number of reps, because you don't input the number of reps, only when you complete your set, but it took the last set away possibly knowing I was not completing what I was supposed to.
Take it for what its worth. Maybe Daniel can ask MS and they can shed some light in this topic.

Tried the guided workouts and love it. It just... Well... Works out just fine

I too want my own guided work outs, I haven't tried them yet but would love to add my own 7 minute and 5 minute workouts I do.

There's a cool workout app in the wp store "#7 WorkOut" ...but I surely would like that band....lucky Sam :)

Hey, I'm doing StrongLifts too! Just wish there was a WP app so I wouldn't have to carry my iPod touch to the gym too.

When I was doing Stronglifts, I used an app called ProGym. Unfortunately, it seems to have been removed from the store now. Still, just search for "stronglifts." There's one by that name which is pretty bare-bones but should work for you.

Wish I could drop the $$ for one of these right now. I'd love to see what CrossFit does to my heart rate. I'd also find out how truly water resistant this thing as because I am a sweat-beast.

For the common WODs in the app for now - it is seriously good. I'm impressed with the recovery time calculation. At the end of KAren it gave me 16 hours to recover. vs. a similar time for 40 mins of weight lifting.

That is awesome. I might try out one of the WODs available this weekend

Guided workouts are great but a couple of things MS needs to add. More than one workout on the band at a time. A way to pause the workout. A way to go back to the workout where you left off if you ended it before finishing. A way to add weight lifted per rep/set. A way to create your own workout. I know this is still a new product and I'm sure these things can/might be added. Still a great product, IMO.

I'm gonna hijack you comment and add one more: 6. Option for GPS on all running exercises.

I have been thinking a bit about a Polar GPS watch with activity tracker. This seems even better since I can do all sorts of workouts. Traditional GPS watch makers like Garmin, Polar, Suunto, etc. needs to up their game now especially the low cost units for casual runners. Now I just wait until it arrive in Denmark :)

Microsoft please sell more. EBay has a bunch selling for 350-400 dollars...

THIS. Im just waiting here forever...

As an European citizen, I hope that watch come in our countries.
Moreover, I hope that the MSFT Band can adapt herself to our life rhythm. I'm a student, I've not the whole time to practice sport.

How come the MSN Health and Fitness App (formerly bing) offers much more workout options than the Microsoft Health App? I assumed it was fully integrated...

At least for now it is not; even worse MS decided to eliminate the ability to track your own custom workout routines from health and fitness therefore at the moment we are out of luck. Such a dumb decision....

Just got off of my bike. Used the GPS to track my ride and heart rate. Wish it could be implemented better with cycling, but since the Band only tracks running, it was amazed at how fast I could "run" 14 miles. lol

With so many sensors on board, I don't think MS wont implement cycling in the future, even Basis and the new Jawbone can do such stuff.

I really hope that they do. I enjoy the Band, but would enjoy it a lot more with cycling support.

I hope Microsoft somehow integrate the workout options in the MSN health, including cardio and yoga.

I've been using it with the Rapid Fat Loss 45 minute program. It works great. Something I'd like to see is voice activated to start the next excersize. It's difficult to hit the start button if you have dumbbells in each hand. I'd also like to see more options like something for dumbell only. You also must watch the videos first if you are not fimilar with a certain excersize. I also used the 30-minute treadmill interval. Basically what I would normally do on the treadmill with a vibrating reminder for each step. Works great.

Take my money just bring it to Canada... Not by an eBay inflation...

This is the greatest smart watch/health device on the market. Absolutely perfect and I've tried them all.

Come on, bring it to the Down Under

I've used the band for crossfit WODs. Pretty fun to get my splits. It doesn't know when you finish kettle bell swings or pull ups for example. You have to press the action button to move to the next movement (Unlike the run training). But I like it - hoping to see some of the predective analytics play out in the future. Foe example MS telling me that I need to pace myself during the 6-8th rep of kettle bell swings to imporve my crossfit times.

Would also be nice to see a feature where you can just use the "Action" button to track rounds (if it is not a named WOD or listed Microsoft Band Workout). During longer un-named workouts I sometimes lose track of my round (ie, Murphy). They probably just need to add a feature to create your own workout. This would be a great feature for crossfitters....

I did Gold's Gym Sun's Out Guns Out workout last night and it was very nice. Kicked my butt, but it made it a lot easier than trying to do it without the Band.

Glad to see couch to 5k is there. I think 14 days is a little fast paced for me, but I'm hoping there are some other 5k programs.

I know you don't need to be close to your phone when running, do you need your phone close to do workouts?

Nope! That's one thing I really like about the band. All my Guided Workouts have been done without carrying my phone! It's just me running with the Band on my wrist. Same for when you're lifting or doing any other Guided Workout.

That's perfect!!! I don't like to take the phone to the gym... XD hope it get to Europe before Xmas xD

Band come to Africa please

Custom workouts would be great but the feature is still pretty cool as is.

I have been using the tabata workouts. Love having it all on my wrist, leting me know when to rest and begin and counting my reps. it is perfect

...I want the "couch to 5k" and it is nowhere to be found on my app. The hell?

Found this - MS Band for $23
http://www.aliexpress.com/snapshot/6380020214.html

Need a little help please. I just got my Band and after my first workout I noticed that the "Ending HR" was blank. Anyone else experience this? Everything else seemed fine just "Ending HR" showed --

Thank you for the article. Can the running guided workouts also use GPS? I don't run inside so it would be nice to have have me distance and path recorded. Thanks!

Needa yoga and boxing workout
Windows Central Newsletter
Thank you for signing up to Windows Central. You will receive a verification email shortly.
There was a problem. Please refresh the page and try again.