H1Z1 Pro League aims to set new standard for esports
While it might not be king of the battle royale genre, the H1Z1 Pro League paints a promising future for esports – and other publishers should take note.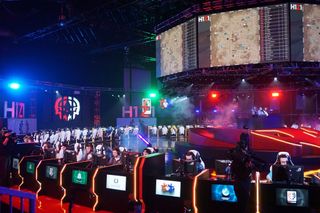 The battle royale genre has dominated gaming for the past year, with an industry-wide interest since its recent surge in popularity. While titans like PlayerUnknown's Battlegrounds (PUBG) and Fortnite continue to rule the space, new competitors are also beginning to scale up with intense, high-stakes shooters. Among these is H1Z1, Daybreak Game Company's battle royale experience first released ahead of the PUBG boom.
H1Z1 has been on the block for some time now, following its initial PC debut as a persistent zombie-themed survival game. Over the years the game has moved away from the initial vision, shifting its focus to a last-man-standing mode with help from PUBG's creator. And after the game's original mode was spun into a new franchise, H1Z1's future lies solely with battle royale.
H1Z1 on PC is still an intense battle royale experience
The current state of H1Z1
As we know it today, H1Z1 isn't in a great position. Daybreak has struggled to maintain a healthy player base over the game's three years in early access, with a reported 90 percent drop in population after the rise of PUBG and Fortnite. And most recently, a shift to a free to play business model was seen in the hopes of maintaining relevancy.
With the PC version now available, investments in H1Z1 have begun to scale elsewhere. Alongside its newly-announced arrival on PlayStation 4, the publisher is betting on an official competitive league to expand its following. Merging two growing spaces in games, battle royale, and esports, the "H1Z1 Pro League" could be the final push to save the title.
It's not just about the game
The main premise of the H1Z1 Pro League is simple: 75 players, divided into 15 teams, battling it out across two matches every week. Aiming to earn the title of global champion, teams receive points based on their performance, which are rallied into a single season total.
What makes the H1Z1 Pro League unique isn't the gameplay, but rather the approach being taken behind the scenes. In a joint venture between Daybreak and league operator Twin Galaxies, the duo plans to deliver the "next step" in maturing competitive gaming. Establishing firmer rules and regulations, the league reworks management closer in line with traditional sports.
The basis of the league puts a focus on the players, shifting the spotlight away from the game. Twin Galaxies hopes to build distinct personalities, backstories, and rivalries. With individual player profiles and team-focused content, it strives to form a deeper connection between viewers and the stars.
Similar investments are being seen off-stage, providing more rights and stability to players. The big draw is a minimum salary of $50,000, with tighter contract standards and rules to ensure fair treatment of the players and teams. The league is also providing the tools for teams to create personality-driven content outside of the main league.
Firmer management is expected to secure stability in the long-term too, through a governance committee to steer the league's future. Tasked with creating, maintain and enforcing rules and regulations, the group is expected to uphold these standards moving forward. Consisting of a commissioner and spokespeople for players, teams, Twin Galaxies and Daybreak, every party can expect equal representation.
This helps alleviate issues facing many esports leagues, where participants find themselves pushed aside by higher powers. It could be a step toward making future leagues more inclusive.
Joining the big leagues
The H1Z1 Pro League has found its home in Las Vegas, with the backing of gambling corporation, Caesars Entertainment. This has helped secure a 50,000 square foot production facility, previously home to feature films, television shows, and other large-scale events. Inside this space lies an otherworldly esports arena, tailor-made for H1Z1's battle royale gameplay.
Last month, I traveled to Las Vegas to see the venue in person. And it's impressive. A huge circular stage is at the venue's heart, lined with 75 gaming stations for each of the league's participants. Booths are equipped with ASUS Republic of Gamers PCs, alongside custom AK Racing chairs, Astro headsets, and other premium gaming accessories. An individual face camera, direct gameplay feed, and heart rate readings are also streamed back to the broadcasting team.
Matches are streamed exclusively to Facebook, with a paid partnership established with the social network. Without availability on gamer-focused networks like Twitch or Mixer, this move has garnered a pushback from fans. However, the event's organizers are hoping to see viewership from an untapped casual market due to the simplicity of battle royale, though these potential long-term benefits would take some time to surface.
As of publication, we're just a few matches into the H1Z1 Pro League, with several months of competition still to come. And while built on some strong values, major flaws in execution currently hold it back. Focusing heavily on gameplay, much of the scale and ambition of the league fails to translate to video. Choppy in-game camera work often depicts scattered teams and gunfire, failing to capture the true pace of playing battle royale. As a viewer, it's hard to decipher what's happening, even with commentators explaining the on-screen action.
If anything comes from the H1Z1 Pro League, we can hope more event organizers, publishers and developers all take note. Despite the game's struggles, some commendable groundwork supports it, while drawing attention for the right reasons. If we see a similar push for stronger regulation across the industry, esports could be further legitimized among the masses. But with H1Z1 continually losing traction, these efforts could go mostly unnoticed as the game further edges towards its demise.
Future of H1Z1 Pro League is uncertain
The H1Z1 Pro League is currently broadcast every Wednesday, on the official H1Z1 Pro League Facebook page. Matches will broadcast until the end of the first split on June 20. After a midseason break, the league is set to continue from October 3 until December 5, closing with a final championship.
To try H1Z1 for yourself, head over to the game's Steam store page, where the free-to-play client is available for download. A PlayStation 4 release is also on the horizon, with its developer "open to exploring" an Xbox One version at a later date.
If you've watched the H1Z1 Pro League, make sure to drop your thoughts in the comments section below.
Disclosure: Travel for the H1Z1 Pro League was provided by Daybreak Game Company.
Get the Windows Central Newsletter
All the latest news, reviews, and guides for Windows and Xbox diehards.
Matt Brown was formerly a Windows Central's Senior Editor, Xbox & PC, at Future. Following over seven years of professional consumer technology and gaming coverage, he's focused on the world of Microsoft's gaming efforts. You can follow him on Twitter @mattjbrown.