MMO survival-shooter H1Z1 is headed to consoles; becomes two seperate games in the process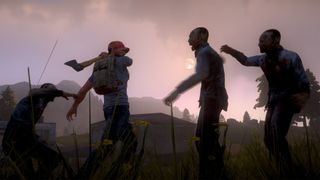 Today it was announced that Daybreak Game Company's (formerly Sony Online Entertainment) highly anticipated survival-shooter H1Z1, will be splitting into two games. H1Z1 now becomes H1Z1: Just Survive and H1Z1: King of the Kill with of the games leaving early access this summer and heading to consoles in the process.
H1Z1 is Sony's former DayZ inspired MMO survival-shooter that released on Steam Early Access last year with plans for it to come to PlayStation 4. However, early last year Sony sold the studio which has left many Xbox One owners hopeful of a potential release on the console. Today, those eager gamers now officially have word from Daybreak that the game will in fact come to the Xbox One, but not in the way they assumed.
Today, the company announced that H1Z1 would split into two separate entities; H1Z1: King of the Kill and H1Z1: Just Survive. H1Z1: King of the Kill will be the first to release on consoles when it exits early access this summer. The game will feature multiplayer matchmaking game modes including their hit, Battle Royale.
Battle Royale pits players (up to 150) against each other on a huge map until there is only one survivor. Players first start off by parachuting onto the map and must immediately begin their search for weapons and supplies while avoiding their opponents.
While this is going on, players must evade bombs that are being deployed from airplanes overhead as well as a poisonous gas that is sweeping through the map and slowly making it smaller. There's also Hardcore Battle Royale, which adds bears and zombies to the map as well as locking players into the first-person view.
As for H1Z1: Just Survive, it focuses on the MMO aspect of the game that has you gathering gear and roaming the map freely while avoiding zombies. As with other MMO survival-shooters, you will consistently run into other players that you can team up with, or they can be the cause your demise. H1Z1: Just Survive will stay in early-access for the foreseeable future and will come to consoles sometime down the line as well.
When launched both games will run for $19.99 each. As for Steam players, if you grab the game before February 16 you will get the both games for the games current price of $19.99. To make things even better H1Z1 is currently participating in Steam's Lunar New Year sale and is currently 25% off.
Are you excited about H1Z1 coming to consoles? How do you feel about the split? Let us know in the comments!
Source: Polygon
Get the Windows Central Newsletter
All the latest news, reviews, and guides for Windows and Xbox diehards.