MMO survival-shooter H1Z1 is headed to consoles; becomes two seperate games in the process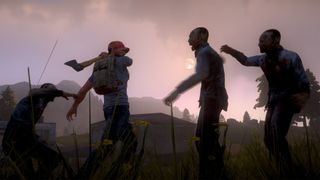 Today it was announced that Daybreak Game Company's (formerly Sony Online Entertainment) highly anticipated survival-shooter H1Z1, will be splitting into two games. H1Z1 now becomes H1Z1: Just Survive and H1Z1: King of the Kill with of the games leaving early access this summer and heading to consoles in the process.
H1Z1 is Sony's former DayZ inspired MMO survival-shooter that released on Steam Early Access last year with plans for it to come to PlayStation 4. However, early last year Sony sold the studio which has left many Xbox One owners hopeful of a potential release on the console. Today, those eager gamers now officially have word from Daybreak that the game will in fact come to the Xbox One, but not in the way they assumed.
Today, the company announced that H1Z1 would split into two separate entities; H1Z1: King of the Kill and H1Z1: Just Survive. H1Z1: King of the Kill will be the first to release on consoles when it exits early access this summer. The game will feature multiplayer matchmaking game modes including their hit, Battle Royale.
Battle Royale pits players (up to 150) against each other on a huge map until there is only one survivor. Players first start off by parachuting onto the map and must immediately begin their search for weapons and supplies while avoiding their opponents.
While this is going on, players must evade bombs that are being deployed from airplanes overhead as well as a poisonous gas that is sweeping through the map and slowly making it smaller. There's also Hardcore Battle Royale, which adds bears and zombies to the map as well as locking players into the first-person view.
As for H1Z1: Just Survive, it focuses on the MMO aspect of the game that has you gathering gear and roaming the map freely while avoiding zombies. As with other MMO survival-shooters, you will consistently run into other players that you can team up with, or they can be the cause your demise. H1Z1: Just Survive will stay in early-access for the foreseeable future and will come to consoles sometime down the line as well.
When launched both games will run for $19.99 each. As for Steam players, if you grab the game before February 16 you will get the both games for the games current price of $19.99. To make things even better H1Z1 is currently participating in Steam's Lunar New Year sale and is currently 25% off.
Are you excited about H1Z1 coming to consoles? How do you feel about the split? Let us know in the comments!
Source: Polygon
I love such zombie games.. Is there any good zombie killing game for mobile(512mb)?

That's like asking if there's any good zombie games for window 95 with a voodoo 3dx

"...window 95 with a voodoo 3dx." Wow blast from the past. LOL good times!

Deus Ex, Delta Force, IGI, my go to games. Ah... Smells like nostalgia.

Zombie Derby, Into The Dead, Zombie Sniper 3D,

Is that the game on steam that goy in a lot of trouble for lying to its customers?

Yeah. Something about the listing being misleading.

Yeah. It was also supposed to be free2play when released. The development has been slow and now they are probably going to turn it into a console game with a PC port like most. The zombie are few and far in-between and they are stupid.

Yeah, wasn't H1Z1 supposed to be out early access by now? Posted via the Windows Central App for Android

Ah, that doesn't sound good. But I've seen so much of H1Z1 when Lirik plays so I will probably get it anyways. I knew DayZ were coming but... This one just seems better. :)

well dayz development is somehow silmilar to the windows 10 mobile development. even melee use in this game is still a pain in the ass

In their defense, Sony Electronic Enertainment got bought out b Daybreak Games, and half the staff was put on another project. The payment was to get early access to the game, which technically you are still doing.

I've put in a tremendous amount of time with my mates on H1Z1. Very accessible for all levels, and great to jump in for a quick match of BR or spend a bit if time in Survival building a base and doing loot runs. Probably the best part is that I don't have much time to play, so the lack of a leveling system and that there is permadeath (as in when you die, you drop everything and start from scratch) is nice. Everyone is on an even playing field whether you've been playing for months or you've just started out. It's a lot of fun!

Pass, Dying Light has all the zombie slaying I need.

Battle Royale sounds awesome!

Rather wait for state of decay sequel.

The screenshot is reminiscent of Alan Wake. This is good.

I think they should replace the bombs in BR with zombies. How challenging would that be? Not only surviving other players but having to worry about zombies as well.

Remember when they said this game would be free to play

Sounds pretty interesting. I like this "King of the Kill" mode. Shooters like COD and Halo need to steal this idea.

Release on the windows store for windows 10 complete with Xbox achievements and I will be happy. :-)
Windows Central Newsletter
Get the best of Windows Central in in your inbox, every day!
Thank you for signing up to Windows Central. You will receive a verification email shortly.
There was a problem. Please refresh the page and try again.