The Halo 5: Forge map editor will need some decent hardware to run well on your PC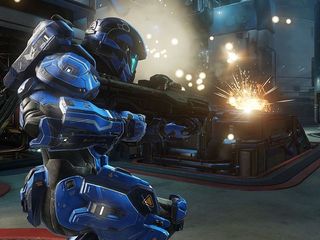 Microsoft has revealed the minimal, recommended and ultra hardware requirements for PC users to run the upcoming Halo 5: Forge map editor and multiplayer shooter game.
The post on the Halo Waypoint site shows that all three levels of PC hardware requirements for Halo 5: Forge will need the Windows 10 Anniversary Update installed, along with DirectX 12 and 40GB of storage space. Here's what else is needed to run the editor:
Minimum
CPU: Intel Core i5 at 2.3 Ghz or AMD equivalent
GPU: NVIDIA GeForce 650 Ti
VRAM: 2GB
RAM: 8GB
Recommended (1080p at 60 frames per second)
CPU: Intel Core i5-3570k at 3.4 Ghz or AMD equivalent
GPU: NVIDIA GeForce 970
VRAM: 4GB
RAM: 12GB
Ultra (4K at 60 frames per second)
CPU: Intel Core i7-4770k at 3.4 Ghz or AMD equivalent
GPU: NVIDIA GeForce 980 Ti
VRAM: 6GB
RAM: 16GB
The Halo 5: Forge editor will be released for free in the Windows Store on September 8, along with a new Halo Windows 10 app that will offer news, videos, tutorials and more on the game's universe.
Windows Central Newsletter
Get the best of Windows Central in in your inbox, every day!
But gtx 970 has only 3.5GB fast clocked memory:D

Wasn't that fixed? I don't really know for sure, I just thought I heard it was solved via an updated driver.

No it's impossible to fix via a simple update as it's hardware not software Posted via the Windows Central App for Android

Here we go again with people spreading false info.. The 3.5 gb of VRAM is used for loading the most important textures but as long as you have decent ram then the other 500mb is used for AA or less important caching. To test this out you can go into GTA and set your setting to be over 4.5GB of VRAM and monitor your usage. You'll notice when It's above 3.5 that your game doesn't take an FPS hit anymore because in the newer drivers they combined the VRAM with shared system ram & paging to make sure it's almost as fast as your VRAM

Woah, then again that's to be expected.

I have Nvidia geforce 830. Is it okay for minimum requirements.

I assume you mean 830M since there was no GTX 8** desktop series? Then I doubt it'll run it well but it should open the application (assuming they've learnt from their mistakes with Quantum Break) even though performance wise it's lower than a 650Ti. I imagine the 940M in the Surface Book is gonna have a tough time running this.

Potato resolution is real

They didn't mention AMD ATI equivalent cards. I have the R9 390x. Would that put it between the mid and top? I already have the 16Gb ram and 4Ghz AMD processor. Sometimes its hard to compare.

They better not locked it down again, If i want to run something on low hardware yet me atleast try.

How low are you talking? The 650ti is quite old now and would have been classed as a budget card at its launch. As long as you have a dedicated card that supports dx12 it should at least start. Sadly.my cards 6 years old now and doesn't support dx12 so I'm out until I build a new rig, which I still want to wait just a bit more

Kind of cute that they think there is an AMD equivalent to a 4770K.

I'm sure glad I built my PC with gaming in mind :)

Oh well, I guess I won't be having any forge fun.

How come this is required if you only want to edit maps? For playing, sure, but is this really needed for only editing.

The editor has to render in real time the map in order for the developers to see what it would appear on Halo 5. All video game editors are basically WYSIWYG editors (What you see is what you get) So the specs seems reasonable for it.

What's the bet it'd be possible to run this on an OS lower than Win10 Anniversary update just like it was possible to run Halo 2 on XP despite it meaning to be Vista only? Though now being tied down to the Windows store it'll probably be harder to find out being locked down.

I get it that Nvidia is the market leader by popularity but why can't they lost AMD card requirements too? Same thing with the processors.

Love these things, People are so excited about Play Anywhere... but, People will learn the hardway, you need a pretty modern gaming PC to play MOST of these... Your 3-4 year old PC wont run it and if it does, it wont run it very well... MS is promoting it like the best thing.... till people find out they need a $1200+ PC to use it...
Windows Central Newsletter
Thank you for signing up to Windows Central. You will receive a verification email shortly.
There was a problem. Please refresh the page and try again.