Halo 5's Xbox One X patch is now live
A few months ago, 343 Industries announced that Halo 5: Guardians was getting an Xbox One X upgrade.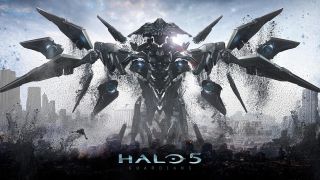 Updated November 2, 2017: The Halo 5 Xbox One X patch is now live.
Since then we haven't really heard much about it. There was no concrete release date for the upgrade. Many hoped that it would launch around the same time as the Xbox One X.
It looks like the day if here sooner than many expected and it's a welcome surprise. The studio just said that the Xbox One X update is coming out this Thursday, November 2, 2017. The update itself should start rolling out around 12 PM ET on that day. While 343 Industries didn't reveal the exact details of the upgrade, they did say that "Halo 5 now looks better than ever with 4K UHD support".
However, that's not all the patch adds to the game. The other major addition has to be the return of Oddball as an official game mode. You can now also host and play low-latency multiplayer matches with the Halo 5: Guardians Local Server application for Windows 10. The update will hopefully breathe new life into the game.
The update balances many of the weapons and modes, but also brings a lot of stability changes. If you haven't played the game — or haven't played it in a while — now seems like a great time to jump in. Halo 5 delivers a great multiplayer experience that span multiple modes, full-featured level building tools, and the most shocking Halo story to date.
Aside from the multiplayer which features a lot of maps and ways to play, The Master Chief saga continues in a four-player co-op experience that spans multiple worlds. A new but familiar force threatens the galaxy and it's up Master Chief and Spartan Locke to uncover the truth.
Keep an eye on WindowsCentral.com/Gaming for all the latest in Xbox and Windows 10 gaming, accessories, news, and reviews!
Windows Central Newsletter
Get the best of Windows Central in in your inbox, every day!
Asher Madan handles gaming news for Windows Central. Before joining Windows Central in 2017, Asher worked for a number of different gaming outlets. He has a background in medical science and is passionate about all forms of entertainment, cooking, and antiquing.
Can't wait to try it. Got yesterday my Samsung KS9000; should look good on it :)

Picked up my 65" ks8000 in the spring in preparation for the one x. Recently calibrated my picture w/ the professional suggested settings. Being on Project Scorpio! 😁

Got my LG OLEDC7 last month now just waiting for my amazon preorder to clear.

B7 over here. Have my preorder from target but they know nothing about which carrier, and can't confirm a day. My luck they'll leave it outside my door and someone in Philly will have a brand new scorpio Xbox for free... 😞

Smh man this sucks. I hope you def. get that sorted out. Sounds like some miscommunication on targets part. I'm calling Amazon as I type.

Great news, but more waiting Halo TMCC

Is Halo 5 now the definitive addition of the game? (There have been so many Halo games, I'm not sure what it what) Is this the multiplayer favourite?

If you talk to most 'fans', they'll probably vote Halo 2 or 3 as the 'high' points, but 5 was very much a step back in the right direction. The Warzone modes in 5 are great if you really like 'Horde Mode' type games.

Pros will prob say halo 5 is the definitive mp experience

I prefer H5's system. What would you do when you see projectiles flying towards you? Walk? Boosters on high-tech-armor is a must...

Thanks guys. Will look it up on the store

Surprised they didn't provide any of the graphical details or screenshots. Excited either way

What kind of a creature is that? Sure looks scary...

Promethean shadow monster. Mind flayer

They're called Guardians and are like the "Galactic Police".

Love H5's system, cannot go bk once you get used to the booster. Projectiles incoming! dodge!
Every game that features high-tech-armor need a pair of boosters (dash button)!

Worst story to date imo... But the multiplayer is amazing!

Yeah it's basically the complete opposite to Halo 4. Halo 4 had an awesome story but a horrible multiplayer.

I really enjoyed the story. I played through twice, first time on heroic difficulty, second time was more casual. I am excited about the 4k high res texture update. I finally have a 4k HDR TV and have the X on pre order. Hopefully Amazon gets my order here on time.

Amazon has yet to provide a shipping update here's hoping soon.

I would call them. That's what I did, and a few days later it updated.

This update is about 15GB. My question will be if this include the 4K assets? I still a have a 1080p TV.

Same question here. Why 14gb on the Xbox one S?

Got the Xbox One X today via Taco Bell, downloading Halo 5, now just need my 4k TV.

Awesome! Congrats and enjoy!

Actually some sites reported yesterday already that the update was coming today :P anyways I'll be trying this out later today, my Xbox one X (Via GS) and my 4K TV are ready waiting.

4k means they could put 4 local players in HD each one in a split monitor...but they never implemented.... it would be my reason to buy it.
Windows Central Newsletter
Thank you for signing up to Windows Central. You will receive a verification email shortly.
There was a problem. Please refresh the page and try again.