Halo 5: Guardians will be free to play on Xbox One from June 29-July 5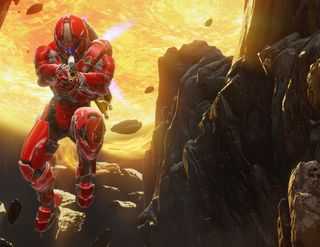 Microsoft will give Xbox One owners with an Xbox Live Gold subscription a chance to play the full version of the sci-fi shooter Halo 5: Guardians for free from June 29 to July 5. The free period is to help celebrate the release of the Warzone Firefight update.
Warzone Firefight, which will add the new gameplay mode, three more maps and other content to Halo 5, will also launch on June 29. Microsoft says (opens in new tab):
Microsoft says more surprises will be revealed in the next several days ahead of Warzone Firefight's release.
Anybody know what date wwe2k16 is/was free to play?

Full game? For free for 5 days? Regret buying this game.

I don't. Been my most played game since it was released. It's even stopped me getting anywhere in Fallout 4.

Hahahaha yeah enjoyed the sp great... In my opinion this is the best halo mp till date f the hipsters

Why? Because it's free to others for a limited time or just because you don't like the game?

I agree. I could have got all the play I needed out of it in five days. Then I could have my £50 back. The campaign was OK and I can't stand the MP as much as I tried to get into it. I'll stick with Gears and COD. Posted via the Windows Central App for Android

how much did the campain take you? that's all I care about

I'll need some free days. Again some money to save, if I play through the whole game in those days. :)

It's 80 GB it would take that long to download it

i have halo 5, i think that it is the biggest game that i have on my xbox, last time i checked it was 70GB, gladly its not just the weekend, 5 days is enough to download and have fun :)

So now everyone can be disappointed at the first bad Halo story in a game.

Haven't even tried the single player if I'm honest....only multiplayer. I want to play the MP more but I've just got back into BF4 ans kind of hooked on it again and waiting for BF1

reminder placed in calendar. let's see if we can complete it in the 7 days provided:) Free is always good:)

Is the multiplayer free or the single player?

I was trying to play ea access games during the time it was free days but couldn't was it even free at the time?

Halo has lost the plot big time since Bungie left the building.
The once premier franchise is today just an also ran.
Windows Central Newsletter
Get the best of Windows Central in in your inbox, every day!
Thank you for signing up to Windows Central. You will receive a verification email shortly.
There was a problem. Please refresh the page and try again.