Watch the replay of our first Halo: the Master Chief Collection Twitch preview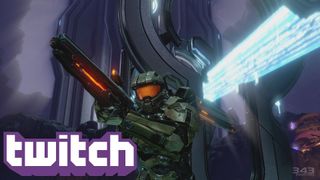 One of the year's biggest exclusive Xbox One games launched this week: Sunset Overdrive. We went all out for it, providing an early review and hosting a multiplayer Twitch stream on launch day. We even have a review of the Sunset Overdrive white Xbox One console coming up on Thursday.
Awesome though Sunset Overdrive is, we still have one major Xbox One exclusive to look forward to in the weeks ahead: Halo: the Master Chief Collection. You can count on Windows Central for plenty of excellent Master Chief Collection coverage, including two Twitch preview events!
Our first Master Chief Collection Twitch stream starts at Twitch.tv/Eastxtwitch tonight at 8pm Central (9pm Eastern/6pm Pacific). Join us for a first glimpse at missions from Halo and Halo 2 running on Xbox One. We're also giving away some great prizes, so this is one stream you won't want to miss!
Update: The Stream is over. Thanks to all the cool people who joined us and congrats to the winners!
Watch live video from EastXTwitch on Twitch
Halo: Combat Evolved
Watch live video from EastXTwitch on Twitch
Halo 2
Tonight's Halo: the Master Chief Collection broadcast
Halo: the Master Chief Collection is a collection of all four Halo games that starred the Master Chief, now remastered for Xbox One. Tonight we'll be looking at two games from the collection, with the other two games featuring in tomorrow's broadcast.
Tonight's event features the following missions (and no others):
Halo: Combat Evolved Anniversary – The Silent Cartographer
Halo 2: Anniversary – Gravemind
Join us for this stream and you can win some tasty prizes. We'll be giving out three codes for $10 of Xbox Live credit as well as a grand prize code for a 3-month Xbox Live Gold subscription.
Halo: the Master Chief Collection – Xbox One – ~65 GB – $59.99 – Amazon Link

(opens in new tab)

– Xbox.com Link

(opens in new tab)
How to view the stream and enter the contest
To enter, just follow me at Twitch.tv/Eastxtwitch and tune in during the stream. You can watch the stream right here in this post, but you need to actually participate in the stream chat to have a chance at winning. We'll deliver codes to the winners via Twitch message (PM) during the stream. No code begging!
What's the best way to experience Twitch? If you don't have a PC, you can get the Xbox One or Xbox 360 Twitch app and watch from the comfort of your couch. Or grab the unofficial app Livegaming for Windows Phone. It has plenty of great features, including the ability to chat along with your fellow viewers. Sadly you'll have to add our channel to your favorites from the Twitch website, outside of the app.
I'll be available for a few minutes before and after the stream if you have any questions or just want to say hi. If you enjoy the stream, I'd love for you to tune in to future streams. For now, we'll do one every weekend, with a few non-contest streams throughout the week.
More streams to come this week and beyond
Don't forget, we'll be streaming Halo 3 and 4 missions from the Master Chief Collection on Thursday, October 30 at the same time: 8pm Central (9pm Eastern/6pm Pacific). There's plenty more fun to be had and prizes to be given out!
This Saturday, we'll also stream an indie Xbox One game called Another World: 20th Anniversary Edition. It might not be as high key as Halo, but smaller games make for great viewing while you chat with your fellow viewers. We'll be giving away Xbox One, Playstation 4, and WiiU codes, and the odds of winning are fantastic.
Join us and see why this classic game is so fondly remembered more than 20 years after its first release!
Another World: 20th Anniversary Edition – Xbox One – 268 MB – $7.99 – Xbox.com Link

(opens in new tab)
Stay tuned for our November Twitch streaming schedule, and don't forget to leave a comment on this and all of our Xbox One gaming stories!
Winners
Extra special thanks to Tyler1701 for moderating the stream and giving out tonight's prizes!
$10 Xbox Live credits:
3 month Xbox Live Gold subscription
Windows Central Newsletter
Get the best of Windows Central in your inbox, every day!
Paul Acevedo is the Games Editor at Windows Central. A lifelong gamer, he has written about videogames for over 15 years and reviewed over 350 games for our site. Follow him on Twitter @PaulRAcevedo. Don't hate. Appreciate!
So I'm gonna get laughed at for this, but I'm torn on if I want to watch it or not. I've never played the anniversary and don't know how cool they look, and want to be able to play for the first time and be like :O, but I want dat Xbox money tho

Already waiting for it xD

You know what's amazing ???

That I'm watching Breaking Bad on a Greek channel 3.10 am?

GRAVEMIND IS THE ONLY HALO 2 MISSION I NEVER PLAYED BEFORE !!!!!!*-*

TL;DR (R stands for remember lol), which missions are these?

Silent catographer was that mission on the island in halo CE . And gravemind was the key mission in which arbi and chief getting caught by gravemind ( never played that one tho ... Fucking PC version crashed at that mission )

ok, thanks. Those aren't too important missions with amazing cinematics, so I'll watch. Thanks.

Yay ...and i got myself banned from Chat :(

What did you do to get banned?

Ehm nothing. I think its my bad Internet oder a twitch glich

Thanks for hosting. It was a good time.