Halo: MCC's success on Steam shows how Halo Infinite can be big on PC
Halo Infinite can be just as successful as Halo: MCC has been on PC, provided it meets important expectations from PC gamers.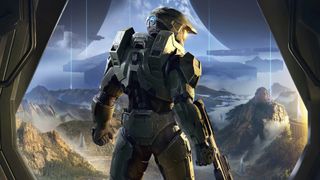 (Image credit: Xbox Game Studios)
Since it launched on PC back in December of last year with Halo: Reach, Halo: The Master Chief Collection (MCC) has been a consistent top seller on Steam around the world (recently, it even topped the sales charts). It shows that players on the platform are very interested in Halo, even despite the fact that currently, the MCC only has Halo: Reach and Halo: Combat Evolved Anniversary available instead of the full suite of titles.
With success surrounding the MCC, Microsoft and 343 Industries are no doubt looking to make sure that Halo Infinite, the franchise's next major title coming later this year, does just as well on the platform, if not better. Here are three great features that 343 Industries can take from the MCC and apply to Halo Infinite's PC version to help encourage that desired success.
Finish the Fight
Halo: The Master Chief Collection
Experience the entirety of Halo history

The Master Chief Collection is a collection of every Halo shooter from the pre-Xbox One era, offering incredible value at an incredible price.
No Xbox Live Gold requirement for multiplayer
Something that the MCC gets right — and something that Halo Infinite can't afford to get wrong — is that it doesn't require players on Steam or the Windows 10 Store to own an Xbox Live account that has a subscription to Xbox Live Gold. While you do need an Xbox Live account to play, this just allows 343 Industries to host multiplayer and merge your in-game stats across both Xbox One and PC, if you choose to own and play the game on both systems.
Ultimately, PC gamers have never had to pay for multiplayer access like console owners have, and if Microsoft tries to force them to do so, things won't go well for Halo Infinite. Thankfully, 343 Industries and Microsoft seems to understand this for the MCC, so we can only hope they use the same system with Halo Infinite.
Extensively customizable settings
Another important thing that Halo Infinite needs to have on PC are extensive settings menus, offering a range of options to choose from. Unlike consoles that have universal specs, PC systems can have a variety of hardware that offers differing degrees of graphics and processing power. Thus, any game that hopes to be successful on PC needs to allow players to tweak graphics settings. The MCC does a decent job of this by allowing you to use three presets: Performance, Normal, and Enhanced. Considering the games in the MCC are roughly a decade old and were never meant to be on the PC platform in the first place, these presets are great. For Halo Infinite, 343 Industries should take it a step further and allow people to change the quality of shadows, textures, anti-aliasing, and more.
Customizable settings doesn't just mean performance tweaking, though. Preference-based options can do a ton to make a game more enjoyable for its playerbase. Things like field-of-view sliders, crosshair adjustments, framerate cap options, and the ability to remap key inputs have all become a staple of PC gaming over the years, and the MCC on PC has delivered on these fronts. When it comes to quality-of-life, it's important that Halo Infinite does as well.
Mod support
Though mod support isn't critical to have, it nevertheless is a great feature and most PC games have benefited from having it. This is very much the case with the MCC, which has been home to a ton of awesome mods for Halo: Reach, with more sure to come for Halo: Combat Evolved and the other Halo games when they release.
Allowing people to make mods for Halo Infinite would do a lot to boost the game's evergreen factor; while the mods themselves won't make 343 Industries any money, they will influence players to keep playing the game even if they get bored of the content in the vanilla experience. This will help keep player numbers healthy, and high player counts will encourage potential newcomers interested in Halo Infinite to pick the game up themselves.
Currently, the MCC allows players to disable anti-cheat (and by extension, matchmaking multiplayer) so that they can use mods for Campaign, Firefight, and Custom Games content. Halo Infinite can take it a step further by making the game compatible with the Steam Workshop, which makes sharing and installing mods a breeze.
Your thoughts
What do you think of these PC gaming-focused features? What are some other things you think Halo Infinite needs to have for long-term success on PC? Let us know.
Halo Infinite is due to release during the Holiday 2020 season on Xbox One, Xbox Series X, and Windows 10 PCs. We highly recommend picking up Halo: The Master Chief Collection, too.
Finish the Fight
Halo: The Master Chief Collection
Experience the entirety of Halo history

The Master Chief Collection is a collection of every Halo shooter from the pre-Xbox One era, offering incredible value at an incredible price.
Get the Windows Central Newsletter
All the latest news, reviews, and guides for Windows and Xbox diehards.
Brendan Lowry is a Windows Central writer and Oakland University graduate with a burning passion for video games, of which he's been an avid fan since childhood. You'll find him doing reviews, editorials, and general coverage on everything Xbox and PC. Follow him on Twitter.