Halo: Outpost Discovery is a touring fan experience for all ages
Discover the Halo Universe in a new way.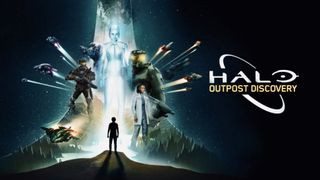 343 Industries is hard at work on Halo Infinite, but that hasn't stopped the team from releasing new Halo experiences for gamers. Recently, the developer partnered with Raw Thrills and PlayMechanix to bring Halo: Fireteam Raven to arcades around the world. Now, it's partnering with Herschend Live – one of the leading attraction and immersive experience creators — for Halo: Outpost Discovery. Herschend Live has worked on similar ventures like the Harlem Globetrotters to Dollywood.
According to Microsoft, Halo: Outpost Discovery is a touring fan experience for all ages, bringing the video game to life like never before. Halo: Outpost Discovery is only a weekend-long event that lets you step into Halo's vast world. Herschend Live will bring themed attractions, interactive encounters, and the latest playable game releases to the event. For more information and tickets, you can check out the official website.
Halo: Outpost Discovery isn't a small event. It features more than 300,000 square feet of activities designed to celebrate the franchise. Unfortunately, it'll only appear in five cities during its first year, which begins in Summer 2019. You can look at the schedule below.
July 5-7 – Orlando
July 19-21 – Philadelphia
August 2-4 – Chicago
August 16-18 – Houston
August 30-September 1 – Anaheim
Are you excited for Halo: Outpost Discovery? Will you participate if you live in any of those areas? Let us know.
Asher Madan handles gaming news for Windows Central. Before joining Windows Central in 2017, Asher worked for a number of different gaming outlets. He has a background in medical science and is passionate about all forms of entertainment, cooking, and antiquing.
So it takes them 12 days just to move it from city to city and it stays in each city three days? Why even bother? Why not create a permanent Halo museum somewhere? This is the dumbest marketing idea I have ever seen, especially in the context of them saying they do this because not everyone can go to E3 or other places. Right, then let's bring it to the players but let's make it limited access and for three days and five cities in the world. That's going to push Halo forward to new heights. What a waste.

BTW it starts at $55. Goes up to $320. This is not fan service.

no go ahead.. u go do that in less and do take it world wide. set up the outpost itself, the studios, all the VR stuff, over 200 gaming booths, museum, food. laser tag arena etc etc. useless complaining is what u did there.

Amen! As a gaming startup, this is a lot of work!!! Trust me. I've been working this sort of thing a long time, but not to its scale... Anyway, purchased my VIP tickets for me and my son already for Chicago. Anyone else???

living in Japan....................................... envy!

what is wrong with you? You say it's limited access yet say they should just have it anchored to one spot?
Moving it to major cities allows more people the opportunity to see it. If this was out in Seattle, I would not be making a special trip to see it. This way you burn one day and not a week to see what it has to offer. I swear gamers are the most entitle jerks on the planet. Grow up, save some money and ask your parent to drive you.

> I swear gamers are the most entitle jerks on the planet
You are not wrong.
Judging from Epic Store and Metro incidents... Now they are moving between cities, I bet when the tour ends, they will find a city (or Universal Studios) to settle.

already scheduled for 3 locations. hoping to bump into 343i Frank.
Windows Central Newsletter
Thank you for signing up to Windows Central. You will receive a verification email shortly.
There was a problem. Please refresh the page and try again.