Halo: Spartan Assault on sale today through the 9th for $1.99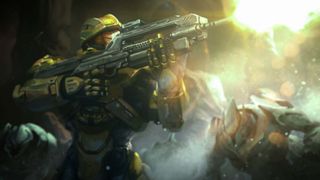 Microsoft's Halo franchise is live and well, having characters further integrated into Windows Phone and Spartan Assault being available on multiple platforms. If you recall last week, we touched on Major Nelsen teasing an upcoming deal covering the popular Halo game for Windows and Windows Phone. That deal is now live and you can pick up Halo: Spartan Assault for just $1.99 on both platforms.
If you haven't yet downloaded the two titles, now's your opportunity at a more affordable price. The deal will last until April 9th. It's a superb saving since both the Halo listings usually go for just shy of $7 each, making it now possible to pick up bout versions for less than what you'd usually pay out for just one.
Hit the links below to begin your journey as Master Chief.
Rich Edmonds is Senior Editor of PC hardware at Windows Central, covering everything related to PC components and NAS. He's been involved in technology for more than a decade and knows a thing or two about the magic inside a PC chassis. You can follow him over on Twitter at @RichEdmonds.
Deal is awesome...but 700mb means gotta format my phone...oh wth...downloading it now...see ya when I reinstall this app

Running on my computer, it seems faster, than on my phone

Well obviously. :P But I use the Xbox one version. It's fun.

I just bought it. Amazing deal

Great idea MS❕
.........................
Anyone notice yesterday that the Bing image of the day looked just like Cortana❔
.......
Go to Bing, and tap back to the previous image... You'll see...

Lol, I did notice that...

And you can't download that pic. Usually the download button will only disabled when there is animation on the picture. I wonder why.

The pink arches over the water? o_O I guess it was a bit circular...

Does this work on the dell venue 8 pro yet? And what about not paying twice/thrice for apps on windows, wp8 and/or Xbox?

I tried it on my DV8P a couple days ago and it worked fine. I only played for a very short time but I didn't notice any issues with the UI like there had been previously. Gameplay was very smooth for the short bit I did play. Not sure when it was fixed but very happy that it was!

It works fine just don't have ur device is portrait,.

Totes buying this for that price. Hopefully it's a little better than Halo Reach and doesn't lose my progress whenever I leave the game.

Yes!!! Been waiting for this.

So are we getting to install games on the sd card? i didnt see anything about it... :( I want to have Dungeon Hunter 4, Asphalt 8 and Halo at the same time =P

http://www.windowsphone.com/en-us/features-8-1
storage sense at the bottom implies apps can be put on SD card, it doesn't say if you can run them from the card though. I'm not sure if its just "move stuff over so you don't have to delete/lose info and redownload later" or not. I don't notice any huge difference in the screenshot on the blog page for 8.1 between that and my wifes 810.

You read my mind. I've always wanted to have asphalt 8, dragon hunter 4, and halo Spartan assault all at the same time.

I got the phone version free with my Lumia 1520. Went to download the windows version, says 1.99 but when I click install, it says $6.99. Guess it means I will have to wait.

I'm running into the same issue in the Windows Store. I tried resetting my tablet and it's still saying $6.99.

Anyone have a fix for this?
I have the same problem on my surface 2.

Yeah just go through with it, I had the same issue today, once I entered my password, I got a prompt that the terms had changed and it then displayed the new $1.99 price.

Gonna grab this later on when I've finished work :)

How much space is require to download.??
I have 2.6gb still saying you have reached your storage limit clear some space.

Bought it last night for $1.99. Wondered if I should have gotten it on my Xbox One or Surface Tab. Time will tell.

Is is worth to buy?
What do you guys prefer, MC4 or HALO?
I've bought MC4 before and it's cool Posted via the WPC App for Android!

At this price considering i got it day one for £5, its defo worth it.

Downloading now! Time for my Lumia 920's battery to die right away.

Sob I bought it full price

Windows Phone 8.1 will allow for one payment for all platforms. Therefore, im not buying this, as I've already bought it on my SRT.

It won't affect old apps like Halo. The unified apps need to be defined as universal apps (which old apps like Halo does not). And even after defined as universal app, it still up to developer whether they want to charge one time or one for each supported platform.

lol..same here as red stripe deal seems forever for this one. I didn't expect it came 2 weeks later

For me, when I view it in the Windows Store on my laptop, the thumbnail/tile say it's $1.99, but when I enter into the actual full app page, the price goes to $6.99. Anyone else having this issue?

Also, if I try to install any other apps I get an error code 0x8007002 and the app doesn't finish installing. Any ideas on how to fix Windows Store on a Windows 8 laptop?

Yep...that's why I'm on here. Sucks. AND YEAH...I'm whining over $5.00!!!

This must be to acquaint people with Cortana the character before she hits phones on 10th.

I paid 15, what a idiot i am. Game is garbage

They should have instead announced that they will add the multyplayer features to the Windows version that already are on the Xbox even though this was a Windows first game. Also for people that bought it once they should have it on both the phone and Windows, and not have to pay twice for the same thing.

Can anyone tell me how much space does it take once installed on a wp device?? Microsoft only says download size, which is 714Mg, but that size is just the download package, and any app or game always takes almost double of space than what it says there. Thanks

Just bought it! Don't know how the game is!! As got my credit for free from Nokia! +1020

Is it discounted on Xbox One too?

No, but X1 version did recently get a price drop to $10

Really really wish they could add more to it, like multiplayer and perhaps some DLCs?

Console versions have multiplayer I think

Can the 2 versions share saves?

All versions share saves.

Yes, but not achievements.

Shut up and take my money...!!!

Xbox One version on sale?

I'm in... In the DL now ;-)

Still showing up in the Windows Store as $6.99. The search result says $1.99, but I click on that and BAM! it says the game is $6.99.

Same issue here on my surface 2

Ok, type WSreset in search. Click it. That should reset the store. You may have to close out the store after then come back.

W8 version is better, the WP8 version is hard to control

paid for my lumia 920.... and i get an error after the splash screens at startup....

Me too im curious as to what this means

I guess I'll buy the W8 version. Paid $7 for it on my 920 and I found it too difficult to see and control. Let's hope this is better.

Downloaded for my Lumia 920, so far great, but I find the shooting control a bit weird.

Downloaded it for my Nokia 1520 and it does not connect! Does anyone else have this problem, it says connection.....sorry something went wrong!! I want my money back lol
Windows Central Newsletter
Get the best of Windows Central in in your inbox, every day!
Thank you for signing up to Windows Central. You will receive a verification email shortly.
There was a problem. Please refresh the page and try again.