Hands on and wires off with the MobiRock Qi-enabled wireless speaker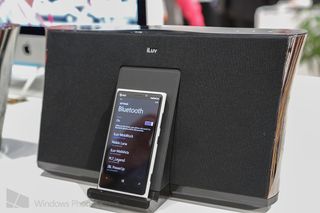 If you have a Lumia 920 or a Verizon branded HTC 8X, you'll want to check out the MobiRock speaker just announced this week at CES 2013. Since it comes equipped with Qi wireless charging, NFC, Bluetooth and more it should appeal to music lovers and anyone who suffers from wirephobia.
You've seen our impressions of the JBL PowerUp speaker a few weeks back, a solic offering that I myself use, but it does have a few quibbles that seem to be addressed by the MobiRock. The biggest complaint we've seen around the web for the JBL PowerUp (besides the price) is the position of the phone when charging. Putting the phone on top of the speaker makes it hard to switch music or interact with the phone while it's charging.
The MobiRock addresses that complaint since the phone goes onto a stand in an upright portrait position. Compared to the JBL speaker, the MobiRock is a lot bigger and has a premium feel. From what we could gather in the noisy halls of CES the MobiRock did have better sound. Here are some highlights of the MobiRock and a video of it.
Play and charge wirelessly
Wireless streaming via Bluetooth
Easy pairing via NFC
Wireless charging pad for Qi-enabled devices
1A USB-A charging port for non-Qi devices
Power/Play/Pause/Track/Volume controls
Aux-in for other devices
Premium and unique design treatments
Now, the biggest question you're asking at this point is price and availability. Unfortunately we were only able to get half an answer from their PR folks. The price is yet to be determined and available in Quarter 2 of 2013. So if you were hoping to get a speaker that packs Qi, NFC, and Bluetooth fairly soon – you might be better off with the JBL speaker.
(I'm just going to apologize in advance for Dan's music being so loud in the video. Dan talks loud, so it is a testament to these speakers what they can do if they over power his voice)
Should have used a Lumia 920 to record the video, haha (kidding). I hope these speakers aren't ridiculously expensive like all the others :/

I don't like the "I" name, but love the look and function. If it sounds great, I will definitely pick one up!!!!

Name aside, it's a kick ass system. I'm going to snag one when it goes on sale.

They want the apple folks to buy it when Apple releases the iPhone 6.

What about Lumia 820? It has same Bluetooth and Wireless charging ability?

Yeah with the wireless charging shells

I bet its cool, but I just really love my cyan powerup speakers. And are these the same quality as iHome (not that it is bad or anything)?

Haven't used iHome so I can't comment to their differences.

Cool. I'm sure we'll see this in the next Droid commercial, while we're still pushing kids corner.

I hope you guys do a full review when this becomes available!
Did you think the sound quality was a lot better than the JBL PowerUp? I just ordered a PowerUp, and now I'm wondering if I should return it and wait for one of these. Then again, I'm not a very patient person, so maybe I'll just end up with both.

You bet your ass we'll do a full review. But of course - not until Q2 of this year.

At first, I was like "semms cool." Then, I was like "it's called 'iLuv?' I'll pass."

I try my best to never buy anything called "iANYTHING," and I get at least mildly irritated whenever I see the naming scheme, both because I don't like Apple and because people are being unoriginal and stealing the naming scheme from Apple (though I hate Apple, I don't think it's OK to steal from them).

Hi I have the jbl power but there is a big issue for me when I connect to this devices using Bluetooth on my Nokia 920, the audio equalizer of the Nokia does not turn on for Bt connections.. So in order to get the best sound quality I have to use the aux cable.. Too bas

Daniel, no wireless charging car mount in sight so far?

This will be mega expensive :(

I love it, but there's no way I'm going to buy one if it's more than £150. Even that is a LOT to spend on a speaker.

Just a heads up everyone: on the company's webiste it says that the price will be $250.
Windows Central Newsletter
Thank you for signing up to Windows Central. You will receive a verification email shortly.
There was a problem. Please refresh the page and try again.