Hands on with the new Sony VAIO Duo 11 running Windows 8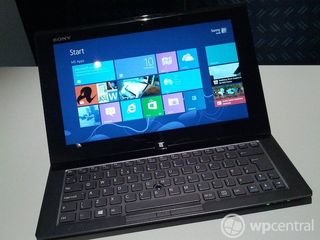 Now I must admit that I'm more of an Apple guy when it comes to computers but after visiting an event held in London today by Sony I'm liking what I see. First up I had the chance to play with the VAIO Duo 11 running Windows 8, which kind of gave me the wow factor. It won't be cheap mind you - Sony told me today this thing will retail in the UK for about £1000 which it a lot of money. However, what you get is kind of cool.
The Sony VAIO Duo 11 is half tablet and half laptop. With its 'Surf Slider' design it switches smoothly between keyboard and tablet modes, a bit like a transformer I suppose! Design wise it's quite a monster. Weighing 1.3KG and measuring 17.85mm thin the Duo packs an 11.6 inch full HD touchscreen which really was quite a joy to use. The keyboard does take a little getting used to but that's the same when using any new piece of hardware.
There are a whole host of ports on either side of the Duo 11 - D-SUB and HDMI outputs, twin USB 3 ports and an SD card reader. And not forgetting the Ethernet port round the back. This is also where the speakers are located which come packing Sony's XLoud technology.
Clearly if you have the VAIO Duo 11 in 'tablet' mode then you get a couple of options for entering text. As you would imagine there is a normal on screen full QWERTY keyboard but in addition you can also use hand writing recognition which after some practice may well come in handy for quick tasks. Unfortunately the VAIO stylus was not present with the model I used so I had to rely on using my finger. It worked okay but it certainly wouldn't be the fastest of productively tools in my opinion.
Overall the VAIO Duo 11 is a great bit of kit but I do wonder if it is worth the hefty price tag. Maybe business users will see the benefit? Only time will tell. If you think it is for you then watch out towards the end of the month when the VAIO Duo 11 should go on sale.
Nice work though Sony - I'm impressed.
Get the Windows Central Newsletter
All the latest news, reviews, and guides for Windows and Xbox diehards.