Hands on with the new Sony VAIO Duo 11 running Windows 8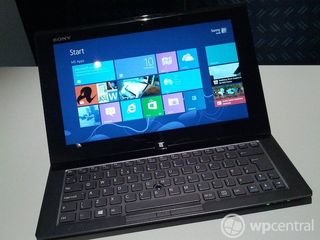 Now I must admit that I'm more of an Apple guy when it comes to computers but after visiting an event held in London today by Sony I'm liking what I see. First up I had the chance to play with the VAIO Duo 11 running Windows 8, which kind of gave me the wow factor. It won't be cheap mind you - Sony told me today this thing will retail in the UK for about £1000 which it a lot of money. However, what you get is kind of cool.
The Sony VAIO Duo 11 is half tablet and half laptop. With its 'Surf Slider' design it switches smoothly between keyboard and tablet modes, a bit like a transformer I suppose! Design wise it's quite a monster. Weighing 1.3KG and measuring 17.85mm thin the Duo packs an 11.6 inch full HD touchscreen which really was quite a joy to use. The keyboard does take a little getting used to but that's the same when using any new piece of hardware.
There are a whole host of ports on either side of the Duo 11 - D-SUB and HDMI outputs, twin USB 3 ports and an SD card reader. And not forgetting the Ethernet port round the back. This is also where the speakers are located which come packing Sony's XLoud technology.
Clearly if you have the VAIO Duo 11 in 'tablet' mode then you get a couple of options for entering text. As you would imagine there is a normal on screen full QWERTY keyboard but in addition you can also use hand writing recognition which after some practice may well come in handy for quick tasks. Unfortunately the VAIO stylus was not present with the model I used so I had to rely on using my finger. It worked okay but it certainly wouldn't be the fastest of productively tools in my opinion.
Overall the VAIO Duo 11 is a great bit of kit but I do wonder if it is worth the hefty price tag. Maybe business users will see the benefit? Only time will tell. If you think it is for you then watch out towards the end of the month when the VAIO Duo 11 should go on sale.
Nice work though Sony - I'm impressed.
Windows Central Newsletter
Get the best of Windows Central in in your inbox, every day!
holy crap sony, I've not seen a chicklet keyboard in like forever!

Chiclet keyboards are everywhere these days

I do not really like that form factor, the ThinkPad Twist is a little more interesting to me right now. But in any case, I will be due for a new computer sometime early next year (current desktop is pushing 7 years) and definitely would love to be able to get a desktop replacement, and something that functions as a tablet as well... we'll see what's available!

Apple sucks like always. Mac apple lion OS so failed all the time. Windows 8 gonna sell very big in market when it launches. Just look how innovative the screen looks. No more boring icons to look at.

Woah, cowboy, we get it. You like Windows 8. We all do around these parts, but try and keep the hate to a minimum.

Definetly agree on the hate part. What i like about this site is how civil most of the conversations are. Though i tend to agree with him on the part that Montain Lion is not that great imo. Just fyi i am writing this on an iMac running Mountain Lion. Leopard was the best OS i have ever used. It was a joy and fast and a breath of fresh air coming from the catasrophe that was Vista. But with any new release since then, Snow Leopard (wich was quite good) over Lion (didn't like it) to Mountain Lion (wtf is my maschine doing all of a sudden) i got a little bit more frustrated with OSX. It's still a nice OS but i think it is moving in the wrong direction whereas Windows 8 is moving in the right one i think. It's like Apple is bringing all the things i don't like about about my iPhone to the Mac.

Long time Apple user here since 80s. Never owned a Windows machine or any Microsoft products before my Lumia 900, but I'm disappointed with Apple merging Mac OS with iOS and I wish they would just drop the "pro" name from all the MacBooks. They stopped being pros when they lost the expresscard slots. And don't get me started on Final Cut Pro X. Anyway, I'm probably not upgrading to a Windows machine anytime soon, but since the Zune, Microsoft keeps impressing me.

What irritates me most is that there no other i3 or i5 hybrid out there for the launch.

I'm not the biggest fan of this formfactor and would rather get Windows 8 tablet with detachable keyboard.

I hope Asus would release their Transformed book this month. Not looking good so far.

Depending how you define hybrid there are several options: Asus Transformer book, Core i7 (still waiting for price + release date) Dell XPS Duo 12, Oct. 26th Fujitsu Stylistic Q702, Core i3/i5 Lenovo Thinkpad Edge Twist, Core i5/i7, Oct. 26th Lenovo Yoga 13, Core i5/i7, Oct. 26th Microsoft Surface Pro, Core i5, Jan. '12 MSI Slider 20 ($799) Samsung Ativ Smart PC Pro Toshiba U920t, Core i5 What I don't like about this model is that viewing angles are limited and keyboard is pretty small.



been using the Dell XPS 12 Duo for a few weeks = Awesome!

Have you guys noticed the Facebook tile?

The W8 preview version i use doesn't have FB app , neither i can find it in the store.


It's not a Facebook app. It's just the IE shortcut which you can pin on your taskbar pinnend to the startscreen, that's all. Now, calm down and breath folks! :)

I'm not impressed to be honest. In fact, I find this thing plain ugly. And for a thousand bucks? C'mon, no way. Asus, Samsung and Microsoft themselves made far better stuff than this. I'm quite a Sony fan when it comes to HiFi and TV's, but this doesn't quite cut it for me.

I agree. I think it looks terrible, clunky, and old.

Like you, I'm cool with Sony when it comes to audio/video. Never been a fan of Sony's VAIO series.

"Clearly if you have the VAIO Duo 11 in 'tablet' mode then you get a couple of options for entering text."
Seems you don't have experience with Windows 8? Or does Sony have some special way? It's not hardware but software that controls this. It's not related to any mode. If you want UI keyboard just touch it. It's a hybrid device in any mode.
Price seems normal to me for those high end specs. You forgot to mention Core i7 CPU which isn't cheap (and note Mac doesn't have touch if you want to compare it to that):
11.6″ 1920×1080
Core i7-3517U/HD4000 CPU
4/8 GB,128/256 GB
USB3.0+USB2,VGA/HDMI,SD/MS
GPS,1080p Webcams
323x226x18 mm
1200 g

Vaio tile bottom left... Crapware anyone?

Knowing Sony yeah, I got a Vaio F Series a couple of years ago full of crapware :|

I had a tabletpc some years ago that had the same sliding/propped keyboard design; it was the best I've ever had. here's why: (1) it's braced and very stable in the up position, so when you touch or even write it doesn't bounce (2) the display is much closer to you when it's in laptop config, which makes the reach shorter (3) requires much less space on cramped airplanes (4) the lack of a wristrest is better for me as my watch is otherwise scratching it up, and given it's so thin who needs a rest anyway.
This is the convertible ultrabook that I covet.

Thanks I was looking for these stats. Pretty high end but the design is too ugly. I really hope that surface is also sold in europe

Way too hefty. I'd rather stick to clovertrail or bobcat powered ones thinner than 10mm and under 800gms. But I wanna see what haswell has in store...

Perhaps when intel moves to 14nm, we'll have some fantastic hybrids. But that's like 2 years away :(

I am looking forward to Sony's ultrabooks, like this one (T13) . http://www.engadget.com/2012/10/10/sony-vaio-t13-touch/

For me it's Surface RT + an ultrabook from one of Sony, Lenovo, Asus or Samsung.

Lenovo Yoga 11.6 for me thank you

Love it. This is the one I've been waiting for.

I can't say I like this form factor - its not bad but...
I have the samsung 700T and that a has bluetooth keyboard thats really nice to type on and a stylus and I just added a bluetotth mouse (should come with a matching one really). Windows 8 rocks on it and the bundled dock solves the scenario shown plus I am carrying a lighter and thinner tablet - that beast looks bulky.
When I am going to a client I can easily take the keyboard and mouse so I just dont see the benefit of having it slide out.

Each to their own i guess.

I prefer the Dell XPS 12 Duo with windows 8
Ive been using that for a good 3 weeks now and it absolutely rocks! 64bit, 4GB ram, core i5 chipset, very nice indeed, and the battery lasts forever
The nicest feature has to be the quick resume, windows 8 is lightening fast at resuming from 'off' and clearly is attacking the instant on and browsing features of phones/tablets
I can highly recommend the dell XPS duo 12
:)

The Sony Store USA states that you have several RAM options like: 6GB (4GB fixed onboard + 2GB removable) DDR3-1600MHz.
1) Does this mean we can replace 2GB with 8Gb having totally 14Gb of RAM by ourselves? 2) Was typing comfortable with fixed viewing angle? This is rather important for continuous work.
Windows Central Newsletter
Thank you for signing up to Windows Central. You will receive a verification email shortly.
There was a problem. Please refresh the page and try again.