Hands-on with the Nokia MD-12 wireless speaker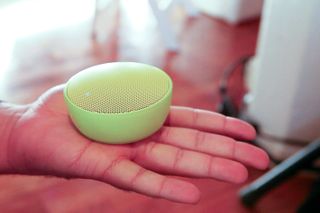 While not as crazy as new phones, Nokia did announce a new wireless Bluetooth speaker. It's cute, it's small, it's the Nokia MD-12. We weren't expecting much from the speaker, but walked away pretty impressive by what it can do. Check our hands-on with the MD-12 below.
The MD-12 connects to your phone wirelessly (or via a 3.5mm jack). You can connect your phone manually by pressing the Bluetooth connect button or you can just tap and pair with the NFC-Bluetooth combo.
While small, the MD-12 does pack a punch. It has a built-in vibrating actuator located on the base. It'll create heavy bass by being placed on heavy surfaces. Sound quality was pretty good from what we could tell, but we were in a crowded environment.
The MD-12 offers 15 hours of music playback. You can get it in yellow, green, orange or white. Look for it in the coming weeks for €39.
Get the Windows Central Newsletter
All the latest news, reviews, and guides for Windows and Xbox diehards.
Bluetooth, can I make calls?

Wireless charging would be nicer.

What do you think this is, jbl play to? ;)

Toib has updated today at version 1.0.1.0

A bit off topic, but Toib, while oddly named, is awesome!

Did they say when I can buy one in the US?

Can two of these be paired for stereo sound as the previous generation of wireless speakers were?

That would be the generation previous to the previous generation. The PlayUp could not be paired.

Yeah I walk away pretty impressive too.

Cute but my $39.00 Jam Bluetooth speaker works awesome!

Will the new Lumias support aptX so Bluetooth speakers can be used for music with any degree of sound quality?

Id also like to know this

Would be nice if you can pair multiple at the same time like the new beats pill xl

I am definitely getting 2 of them!

Compared to the stereo sound i get from my 2 play 360s?

This thing will be on sale for $30 two months after it drops. You know it, I know it, Nokia knows it. $59 is laughable given what's already out there for a lot less.

What about activating equalizer via Bluetooth????

Would love to play some cat sounds and make my cat look for it

Wish you would have had a chance to record it's audio a little bit. This is the thing I would like to try before I buy, especially for $60. Looks cool though.

Stereo if you have 2 ?! ;-)

anyone else know if this will come with a pouch so i can hang it on the side of my backpack?

Is it posible to connet MD-12 to PC? #Bluetooth

Got it. Nice build quality but sound quality just good enough so I'm returning it. Also, the orange version is almost flourescent in color - not what I thought when I ordered based on picture on Nokia's site. You get what you pay for with speakers and this ain't it.