We take a look at 4G LTE on Three UK, comparing speeds against current gen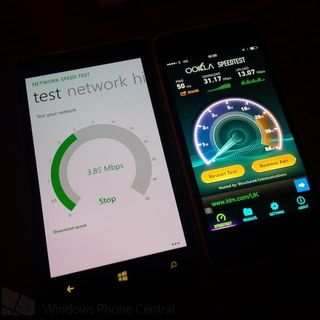 For UK mobile consumers there is just one main network left to join the 4G party and that's Three. As most folk will be aware – EE, Vodafone and O2 have already launched LTE across Great Britain, although EE are clearly leading the way as they had a big head start.
This means that Three have some catching up to do. The network recently rolled out 4G to a select few thousand people for testing, however things are now very close to rolling out across four UK cities (mid February at the latest) - with a total of 50 being covered later in the year. I think I'm right in saying that they expect to have 98% of the population covered by the end of 2015.
I was lucky enough to test out Three's 4G network recently at a special event for a handful of bloggers. As you will see from the above video, the speeds were certainly impressive, although once this thing rolls out to the masses we should see the speeds settle down and be on par with the other 4G carriers, so expect an average download speed of between 12-20mbps - that's still more than adequate for streaming the likes of movies and music.
You'll also see that I put my own Three smartphone (with a 3G SIM) up against the 4G ones and the difference in speeds was pretty huge. If you already own a 4G enabled Windows Phone you won't have to do anything to get the enhanced data speeds. All Three customers with a 4G smartphone will automatically switch over to 4G when in an area with coverage and the best part is that they are sticking to their promise and not increasing prices for the privilege of using 4G - unlike all the other UK networks. This will be the one thing that sets them apart from the competition.
Three already have some great value plans – in particular with 'All You Can Eat' data – something that I've taken advantage of for some time now. You can't really beat it. Sure, here in the UK we are way behind some other countries in terms of LTE, but we're getting there slowly.
Will you be making the switch over to Three for their 4G at no extra cost? Let us know in the comments.
For Three customers you may want to keep an eye on the coverage checker to see when the 4G service is available in your area:
Get the Windows Central Newsletter
All the latest news, reviews, and guides for Windows and Xbox diehards.