We take a look at 4G LTE on Three UK, comparing speeds against current gen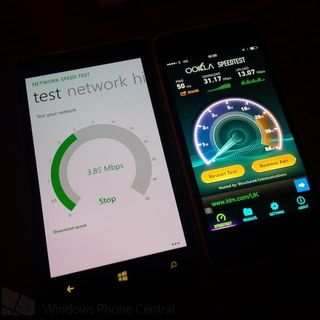 For UK mobile consumers there is just one main network left to join the 4G party and that's Three. As most folk will be aware – EE, Vodafone and O2 have already launched LTE across Great Britain, although EE are clearly leading the way as they had a big head start.
This means that Three have some catching up to do. The network recently rolled out 4G to a select few thousand people for testing, however things are now very close to rolling out across four UK cities (mid February at the latest) - with a total of 50 being covered later in the year. I think I'm right in saying that they expect to have 98% of the population covered by the end of 2015.
I was lucky enough to test out Three's 4G network recently at a special event for a handful of bloggers. As you will see from the above video, the speeds were certainly impressive, although once this thing rolls out to the masses we should see the speeds settle down and be on par with the other 4G carriers, so expect an average download speed of between 12-20mbps - that's still more than adequate for streaming the likes of movies and music.
You'll also see that I put my own Three smartphone (with a 3G SIM) up against the 4G ones and the difference in speeds was pretty huge. If you already own a 4G enabled Windows Phone you won't have to do anything to get the enhanced data speeds. All Three customers with a 4G smartphone will automatically switch over to 4G when in an area with coverage and the best part is that they are sticking to their promise and not increasing prices for the privilege of using 4G - unlike all the other UK networks. This will be the one thing that sets them apart from the competition.
Three already have some great value plans – in particular with 'All You Can Eat' data – something that I've taken advantage of for some time now. You can't really beat it. Sure, here in the UK we are way behind some other countries in terms of LTE, but we're getting there slowly.
Will you be making the switch over to Three for their 4G at no extra cost? Let us know in the comments.
For Three customers you may want to keep an eye on the coverage checker to see when the 4G service is available in your area:
Check out the Three UK coverage checker. (opens in new tab)
Get the Windows Central Newsletter
All the latest news, reviews, and guides for Windows and Xbox diehards.
I've found Network speed test to be highly inaccurate. It told me that I was getting 100 mb/s when every other test said I was getting 15..

I in rural area of india event have a 3g network unless i go to a town though it will come soon.

I've found Speed Checker to be by far the best speed test app available for WP: http://www.windowsphone.com/s?appid=213fa5c6-f2c1-4dbd-b692-3aa8a99d7df6

I thought that speedtest.net has also a good accuracy (available only in brazilian store): http://www.windowsphone.com/pt-br/store/app/speedtest-net/4fcd4de1-050b-...

Available in the uk store also

That's good to know. :-) I use USA store to download a lot of things not available here in Brasil store.

I work for o2 and in current standing we have a government agreement to have lte of98% by the end of 2015, ee's 2600mhz channel for lte is unreliable fickle as to which umts its going to use and in general most people dont experience it, with o2 on 4g/lte you can WiFi direct full feature films in 10 seconds and download on average at launch was 42mb/s alot better for indoor coverage and with multiple channels of 800mhz alot more wide spread and reliable. Be more dog!

I wouldn't trust O2 at all. 3G has been abysmal throughout my contract (whether in cities or elsewhere). More often than not, my phone has switched to an edge network connection (which AFAIK is 2G).
I applaud you for speaking up for your company...just a shame your company is cr*p.
Three on the other hand served me amazing data speeds - even whilst moored on my sailing boat up near Bangor in NW Wales. I could barely even get a data connection on O2 in the same spot!!

Your view is circumstantial. Place. Subscriber load. Channels. Backgaul. So many factors in comparing carriers. In terms of enterprise testing in surrey and London. O2 and 3 top. Tmo/orange/ee next with voda last (used to be best)
customer service, o2 and Vodafone top. Ee no comment, tmobile ok, orange bad. Three no comment. (this is more company than consumer) that's how i would personally grade them.
o2 and voda for work. Three or 02 for home.

Hmmm spinzeroWL -- Me and the family have just travelled from Yorkshire to Holyhead Port, and back again the following week. We didn't have a problem with data connection -- L920, L820 on contract and L720 on pay as you go. Therefore, I suppose it's a matter of location and opinion how good O2 are. However, for me I've never had problem, even in County Donegal, County Galway and County Waterford. Anyone who's been to Ireland, know it's hard to get reception in some places -- especially parts of Donegal. By the way, when phoning customer service do they still put you through to India, then Holland, then the UK, just to sort a simple problem? Or are you on pay as you go?

O2 bought the least amount of 4G spectrum they were legally obliged to. O2 has gone to the dogs in the past few years. Telefonica are up the creek.

Shame that on O2 there isn't even 2G coverage in my large suburb near a large city. I left three once, and will never ever leave again unless the other networks seriously sort themselves out! (Orange are the worst).

Yr 3g speed is quite slow ..here i get around 9mbps .. True nothing can beat all you can eat plan .. :-)

My Swedish 3G is faster than their 4G. :)

Haha, same here in Germany, even though I'm on the slowest provider.

Well given its probably HSPA+, which is some strange mix between 3G and 4G that you have, I don't know if you can call it just 3G. But newer 3G technologies can get up to 42Mbps rated, which is pretty good. I want to say LTE starts out at 50Mbps rating?

True. 20 mbps 3G and 60-80 mbps 4G at Vodafone Portugal :)

You cant just claim their speed is slower going by 1 person in 1 location. Here is a speed test of Three UK's 3G speed at 30Mbps http://www.speedtest.net/my-result/a/699788069

Expecting 12-20mb/s I already get those speeds with Three on HSDPA! 99% of the time my phone is on H! What difference will 4G make?!....

http://www.speedtest.net/wp/6871281.png Test Date: 10/01/2014 12:54:04
Connection Type: Cellular
Server: London
Download: 20.08 Mbps
Upload: 2.38 Mbps
Ping: 98 ms External IP: 188.29.164.107
Internal IP: 10.8.213.135
Location: St Neots

Thanks for the IP addresses

In agreement with this guy, I've seen Three's 4G network in Manchester see speeds in excess of 65Mbps though (outdoors). This is what I get at home, though in Chester I often see speeds in excess of 25Mbps: http://www.speedtest.net/wp/6743840.png 22.66Mbps / 2.04Mbps / 79ms / Liverpool

You realise yours is faster than mine but only faster than 79% of GB and yet mine is faster than 85%

I currently get those speed also on HSPDA+ with ThreeUK.

Watch HD movies already via my tablet with internet sharing via three. What will this bring? Really HSDPA+ is brilliant already

Ping and Upload are the biggest improvements, with occasionaly a chunk of the downlaod improved. Basically with the Ping on 4G, it could completely replace your home interenet.

The Three rollout of 4G will be faster than any other network thanks to the MBNL partnership with EE, essentially the main work needed at each mast is already done by EE, and Three's rollout will be at insane speeds once they launch. Initially the will launch 1800Mhz 4G services (spectrum space that they were given by EE for free to prevent o2 or Vodafone getting ahold of it) just as EE offer now, with 800Mhz services launching in June/July 2014, once government approval has been granted. It's a little bit silly to be testing the 4G service against Three's H+DC network at present, because there is so few people using the service, so little congestion, that it does not provide a realistic idea of the performance of the network under normal operating conditions, you're almost testing it under lab conditions. VoLTE will launch when the 800Mhz spectrum gets turned on, so personally I'll be waiting for that. I've not looked into whether the Lumia 920 will support this however!! I know the iphone 5 will at a hardware level, but not at a software level yet. Hopefully 8.1 will support it, if 8 doesn't already. Three are certainly going to give the competition food for thought though, they already have by far the fastest 3G network, and paid nothing for their 1800Mhz spectrum space, and only the base reserve price for their 800Mhz space to ensure competition for 4G services, given EE have done the majority of the work at the transmitter sites, all this give them headroom to ensure their pricing will remain as it is at present (cheap!!) without charging a premium for 4G, and because they're the smallest of the 4 networks, they'll get away with continuing to offer All You Can Eat data in the future.

I get 60 mb/s on Vodafone Ireland

Biggest gripe for me is not the speed, but rather strength of signal. It seems that no matter which network I choose in London, they all suffer significant black spots, not to mention significant drops in signal quality indoors, and lack of signal in the tube. Does anyone know why signal quality drops so much indoors? I never had this problem in Australia. Is it due to the frequency used? Strength of the signal? Thicker walls?

Can't imagine walls anywhere is thinner than London

LTE800Mhz will see this improve, however it may not be rolled out to cities due to bandwidth constraints. Three at present have the distinct disadvantage of being a UMTS2100Mhz only network (this is the UK's frequency that all 3G services are restricted to) whilst 92 and voda are on GSM900 (o2 have 3G service over 900 as well) and EE are GSM1800Mhz, the lower down the spectrum you go, the less bandwidth available (speed throughput) but the better distance and building penetration performance. Hence cities will likely be restricted to LTE1800Mhz for capacity reasons, LTE800Mhz in non-city area's.

Thanks for the explaination.

So jealous. In Indonesia, my lovely country. Reaching 1mbps is soo greatful. Really, it just about 500kbps all the time. Yeah, when all talking about MBPS, we still in KBPS. But, the H+ is already here.

Well, be grateful. Your country are still ahead of some poor countries in Asia or Africa. They can't even get 2G !! So do use it for good purpose...
But LTE is coming starting this year. BOLTS are offering their services already, even though those are still expensive.That's normal. Look at how much they changed when 3G first came. But it's a good sign.

What are the four cities? London, Manchester, ???

Birmingham (Dudley) and Wolverhampton IIRC?

Three can't be beaten ! Not by price (all you can eat data) Not by roaming (Three like home) And soon not by speed. Long live Three !!!

But in customer service, reliability and coverage expanse, other networks thrash them... Some people prefer to pay for quality. Oh, and I get better speeds than that on Vodafone 4G

Sorry but for the most part the coverage is a myth. My wife is on Voda and the times she has coverage and i don't is rare. In fact in places its the opposite for data

Haha! O2 and EE have the worst customer service by far. And 15mb/s is a regular speed on H+. I don't really get this video though, why didnt he use a speedtest.net app on all phones, its availble on all OS' I've been with every operator now, and I would rate EE as the worst, coverage is good, but the cost is crazy unless your on 3G, and then they limit the speed to 4mb/s. O2 is pointless if you actually want to use the internet, why they have bothered with 4G when their 3G coverage is none existant. Vodafones 3G coverage isnt that great either. But with Three you get super fast 3G anywhere with signal, and now you get 4G included too, and belive it or not, their customer service is actually helpful! Yes its an indian call centre, but that doesnt mean the people are unhelpful.

wtf? Vodafone 3G has 89% coverage where as Three's 3G is at 98% coverage. Same with O2 at 90% coverage. How do the other networks thrash them? You claim is baseless.

Pretty low speed guys.... but it depends where did you test in... We get about 21/10mbps on HSPA+ network with 42/21mbps dual carrier profile and about average 32/10mbps (up to 50/20mbps) on 4G/LTE 75/23mbps profile in T-mobile Slovakia... This means up to 50% of declared maximum speed..

Three have a DC-HSDPA network covering 85% of the population, it seems as though the tests on this were not very reliable though. Conditions, apps used etc. I see 20Mbps+ at home on Three, and I've seen 4G trialists achieve 65Mbps+.

We just have an auction on some 4G frequencies like 800MHz and 2600MHz and Orange got something like 40MHz bandwith on 2600.. They said they would build the maximum LTE network a set the maximum available speed.. Im very curious if they set 150mbps or even 300mbps on download.

As most folk will be aware – EE, Vodafone and O2 have already launched LTE across Great Britain,

Not even close for Vodafone! They currently only 15 towns/cities across the UK with the majority in the midlands - I don't regard that as 'across Great Britain'. Coverage in the Channel Tunnel is going to be really useful :), but 3 have no plans there.

Because Three are are part of MBNL, the work at the transmitters is mainly done for their rollout of 4G by EE already, so you will see Three roll it out at an unprecedented rate, they will have the same 4G coverage 98%, population, outdoors) by the end of 2015.

Vodafone hasn't even reached the OFCOM requirment for 3g yet!

Correction: Vodafone do not charge extra for 4G. In fact they give you double the data allowance for the same price compared to 3G.

are you sure? when I go on to the vodafone site to look at plans I have to select either "RED 4g Ready" or 3g and all the 4g plans are a similar cost to some plans but not to the cheapest plans (i.e. less than £20 a month)

I concur with AndrewKeith. Its a weird way Vodafone advertise their 4G, £5 more than their 3G plans but with double the data allowance. Oh wait, on 3G you can double the allowances for £5 too, so each step is the same. Where it differs is that for the same money on 4G you get Spotify or Sky Sports and an extra 4GB. I have total 8GB 4G data for £32 monthly (retail £42), find me a 3G plan that's similar value.

All very well haveing great data speed but if you dont get a signal as soon as you inside a house its worthless.

Can't wait for this to become in active Manchester

It looks like this guy is at the same events and gets much faster speeds. http://www.youtube.com/watch?v=6XdRxoCM3Nw

Here in Sweden: 40-60 Mbit/s Network: 3

Probably not a good idea to do a speed test in a noisy area as your almost incoherant, maybe try that again when you have some quiet.

I've been with 3 for 8/9 years their data plan has always been spot on even before smartphones.. And I've never had a bill stupidly over the agreed limit and the latest handsets s you cant grumble.. I reeeeally eat as much data to the point my mobile (N8 I loved that phone :'( burned out the circuit. =o] The problem was contacting 3 customer support and explaining my phone needs a repair. Not the most understanding customer support team to be known.. That's when your dilemma starts

EE hasn't disappointed me so far. When I do get connected to 4G I get speeds upto 40/50 Mbps. Too bad It isn't available in my city. But it'll come eventually

I am surprised you guys are getting speeds in excess of 9mbps on hspa+. Here in Mumbai,India my speeds have never crossed 4mbps on Vodafone India(hspa+). :(

Iam using bsnl 3G from india(Kerala) and i get downloading speed over 7 mbps and uploading speed about 1 mbps....i think the fastest 3g in India is from bsnl network....use mtnl network from Mumbai....

HahaMtnl really sucks in Mumbai. Especially voice calls. Always congested. I have to try 7-8 times before you can connect to the other person whom you are calling. Its a nightmare. Vodafone on the other hand has really good coverage here.

K.....but here in Kerala bsnl has very good coverage and good 3g speed

Iam using bsnl 3G from india(Kerala) and i get downloading speed over 7 mbps and uploading speed about 1 mbps....i think the fastest 3g in India is from bsnl network....

I also get over 12mb on 3 HSDPA+ but they did upgrade the network to ultraspeed before 4g rolled out. I am sticking with 3 when my contract is up. For £15 a month sim only can keep my one plan with tethering and free 4g. I bought my Lumia 925 from Littlewoods sim free for £415 so no need for a phone. Best value out there at the moment.

Three's 3G network is amazing as it is, i get 27Mbps at home... Bring on 4G

Been with 3uk for 6 years, eat all.data, 2000 mins, 5000 text and you can roam free in usa. All for £15.

I heared this news and bought one month plan with Three 2 days ago. Result is disappointing. 4G is not immediately available for me. They say it is rolling out to users by phases and I may get it by end of March. Also tested 3G speed in my home area: 6M bps indoor and 10M bps outdoor. Not big difference from my existing O2 3G signal. I am in north London. Tested in Liverpool Street Station in London, and signal is as terrible as O2, only about 1.5M bps outdoor and 0.5M bps indoor. I am cancelling it now until they have 4G for my phone in these areas.

So here's the low down. I've had my iPhone 5 on three for around a year, and frankly it's awesome. I chew through data like a hyena on heat, streaming netflix, spotify, and all sorts with no repercussions. I have always been of the opinion that I shouldn't have to consider my tariff when using my high end phone and I stand by that decision. If the day ever came that I had to not do something for the sake of preserving data, that would be a disaster. It had to be unlimited. I've been picking up 4g in a few areas since around December (I guess I was one of the lucky few thousand) and again, it's been awesome, although I haven't really noticed much difference outside of speedspot, the connection testing app. I rack up around 8Mbps on DC-HSDPA+ which is pretty widespread, and about 14 on LTE. Either is more than enough for 'extreme' quality on spotify, or to max out the retina display with no buffering. Aside from app downloads and the cheeky pleasure of seeing 4g in the corner, there's no difference. However - this is in Edinburgh. Visiting family in London this weekend I've had some surprises. The 4g is widespread, but man is it slow! I had to turn it off and switch back to 3G. Speedspot reckoned 3mbps for 4g, and 8 for 3G. The 4g signal was much weaker, and I think that was to blame, but it felt a bit disappointing. Like I'd been waiting for a puppy and I got a kitten. Nice, but not what I asked for. Regardless, I still think three is the only company worth getting a smartphone on. The concept of using netflix on Vodafone is laughable - do you really think that 4 gig allowance is going to last a season of suits? Numptys. The whole point is to make you blow over your limit, and in turn blow a hole in your wallet. Until such time as EE, Vodafone, or anyone else stop restricting my use of my iPhone, I'll stick to three, and the joy of never ever having to worry about data. As for 4G? For now, I'm going to leave it off and save my battery. Unless I'm on the App Store, I really don't see the point.

Too darn right I will and have!