Hands-on with the Microsoft Band 2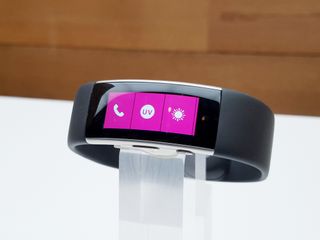 It's now official. Microsoft announced the second version of the Band today at the launch event in New York City. It features a curved display and fixes for the most common complaints about the first version of the Microsoft Band. Watch our hands-on video to learn more about it.
Microsoft Band 2 Details
Swipe to scroll horizontally
| Category | Microsoft Band 2 |
| --- | --- |
| Material | Thermal plastic elastomer silicone vulcanate (TPSiV) |
| Display Size | 32mm x 12.8mm |
| Display Type | Curved AMOLED |
| Resolution | 320x128 pixels |
| Battery | 48 hours |
| Average Charge Time | Full charge in less than 1.5 hours |
| Battery Type | Li-polymer |
| Operating Temperature Ranges | -10°C to 40°C (14°F to 104°F) |
| Maximum Operating Altitude | -300m to +4877m |
| Additional Technology | Haptic vibration motor |
| Connectivity | Bluetooth® 4.0 LE |
Supported mobile devices
Windows Phone 8.1 update or greater
iPhone®5, 5C, 5S, 6, 6 Plus with iOS® 8.1.2 or greater
Android™ 4.4 or later phones with Bluetooth
Sensors
Optical heart rate sensor
3-axis accelerometer
Gyrometer
GPS
Ambient light sensor
Skin temperature sensor
UV sensor
Capacitive sensor
Galvanic skin response
Microphone
Barometer (New!)
Microsoft's Band 2 also took the stage today and this is likely one of my favorite gizmos around. In fact, it is because it's a gizmo - not a phone, not a tablet - that I think makes it interesting. Many of you know I was a big fan of the original Band even I could see plenty of room for improvement. I liked how it was not quite a Fitbit, and neither was it an Apple Watch. Instead, it is in its own category.
The Microsoft Band 2 is exactly what we want from Microsoft. Take a product, get feedback and bring it back with many new fixes and features. Let's take a look at what is new:
Flexible strap with no rigidity
New battery charging mechanism
Curved 320x128 pixel AMOLED display
Gorilla Glass 3
48-hour battery life
Okay, so maybe it's not waterproof, but hey everything above is a significant step in the right direction. The price also jumps to $249, but even Fitbit's Surge is at that price level making the Band within the range of modern fitness devices.
So how is it? I love it. The Band 2 now form fits to your wrist with the curved display and flexible sides. It simply feels way nicer to wear. The materials also feel more premium with higher-grade metal. It's like the perfect combo of metal, rubber and glass.
Speaking of, that display is so much better. Besides being curved, it is also more responsive now to touch and if you have sweaty hands. Yes, the keyboard is still there as well as all the other previous features. In fact, Microsoft has added a barometer for elevation measurements bringing the total number of sensors to eleven.
Everything about the Band 2 looks like a win, especially for those critical of the first generation. Having it available at the end of this month is even sweeter. I'd still like to see more Xbox and social integration, so hopefully Microsoft will continue to build out the software feature set of the Band 2 in the coming months.
Pricing and availability
You can preorder our Microsoft Band 2 now for $249 in the US and £199.99 in the UK with availability on October 30. No word yet on other countries though we have heard this launch will go wider in the coming week. Stay tuned.
Pre-Order the Microsoft Band 2 for $249 (opens in new tab)
We only spent a few minutes with the Microsoft Band 2 today, but we look forward to testing it further, especially on bike rides. What do you think so far of the Microsoft Band 2? Will you be getting one? Let us know in the comments!
Lumia 950
Surface Pro 4
Surface Book
Microsoft Band 2
Daniel Rubino is the Editor-in-chief of Windows Central, head reviewer, podcast co-host, and analyst. He has been here covering Microsoft since 2007 when this site was called WMExperts (and later Windows Phone Central). His interests include Windows, Microsoft Surface, laptops, next-gen computing, and for some reason, watches. Before all this tech stuff, he worked on a Ph.D. in linguistics and ran the projectors at movie theaters, which has done absolutely nothing for his career.
Not water resistant? Sigh.

I mean, they can withstand some water here and there, just not submerged. They're the same at most Fitbits AFAIK.

Will have to find out tomorrow.

The new article by Derek Kessler comparing Apple Watch and MS Band 2 says it is running Microsoft Wearable Architecture.. And I have no idea what that means :-/ not W10 I guess

It might just mean that it's running some version of Win10 IOT

They didn't mention how many apps you can install on Band 2. Do you know if it is more than the paltry 12 apps that Band 1 supported?

How swimmers can use this

It's not for swimmers bro

With your arm wrapped securely in plastic.

Some people have said they want to swim with it...but would the optical style of heart rate sensor work underwater at all anyway?

I'm a bit worried about that. When I work out, I'm drenched in sweat. So much so that it has corroded the screws on my current fitness watch. Waterproofing would help with peace-of-mind. The device it's looks pretty slick, definitely a better design, especially for gen 2. Though I can't justify it yet. Its *getting* there, but so far, even the apple watch seems pretty limited in person. Gotta say, I'm still a bit skeptical about the whole smartwatch idea. That screen size (smartwatch) reminds me of the time I watched a movie on the iPod nano!

http://www.microsoft.com/microsoft-band/en-us/support/safety-guide Microsoft site says it's IP67 waterproof, meaning 30 minutes submerged to 1 meter, still they don't recommend it. Can withstand a lot of water though, according to rating.

I've submerged my Band 1 a few times accidentally and it's been fine, there's a video showing one being submerged for a while too but I think they just don't want people showering/swimming in them as that would need much more robust waterproofing.

It is water resistant, but not water proof.

They state on the website "Microsoft Band meets these standards for dust and water resistance:
IP6X: No ingress of dust. Complete protection against entry of dust.
IPX7: Protection against temporary immersion in water (at depth of 1 meter for 30 minutes)
IP67: Means it meets both dust and water resistance standards above.
IMPORTANT: Microsoft Band has tested to the IPX7 standard. Though it meets this standard in testing, [it] is not intended to be immersed in water and immersion is not covered by the warranty." Translation: Take your 250$ wearable fitness device off. Don't go swimming. Don't go into the tub. Don't swim the Ganges, the Rio Grande, the Colorado, the Nile, or the Rhine and you should be fine.

Fitness band ain't waterproof and no internal storage for portable music. Sigh. Looks likemy urbane smartwatch does fitness better

Actually MS says water resistance. However, you can see some video on YouTube, that shows clearly its waterproof, after being in water for over 30 min, on MS Band 1. MS just playing it safe. I also know people that take shower with Band 1 and NEVER had 1 issue. I don't say you all should do it, but I'm going to, and take my chances as MS prods are NOT overrated garbage toys that CrApple sells. MS is there to back me up:-). LOVE MS and they killed it today, with AWESOME devices AGAIN. .

I got to wear the Band 2 at my local Microsoft Store here in Frisco, TX and I was very impressed with the new design. Very nice screen and flexible band that makes it easier to take on and off. Much more comfortable than my Band 1. Preorder the Band 2 ;)

Also employee says that Microsoft is working on a swimming app and he says the Band 2 is waterproof!

Hold on... Edit: OK you convinced me... ordered all 3 sizes!

How long will the battery last when using the GPS (i.e., a long bike ride)? If I recall, that was a concern with the first version. Overall, it looks like a very nice device.

I'm going to guess at 24 hours. Your phone will probably have a better GPS reading if you don't mind bringing it along for the ride.

Your phone will probably have a better GPS reading if you don't mind bringing it along for the ride.

Not sure if you've ever used the Band before, but its GPS is more accurate than any phone I've ever used to track my outdoor activity.

I have not tried the Band because I have a Charge HR. I think the tracking depends on the phone you have. I'm sure the Band is better than my 920, but the 930 I'm currently using is much faster and more accurate than the 920. I found for my running that it depend on the app too. I used MapMyRun on iOS, but their WP app isn't as accurate. Endomondo for me works much better and drains less of my battery. To each their own.

No idea, but battery life in general seems longer, so...will have to test.

Thanks to both of you. I'm looking forward to the test.

I had no problem with Band v. 1 and longer bike rides. I could record 5h rides but kept the screen mostly off.

Yeah, five hours of GPS tracking sound about right. I have Band 1 and use it to record hikes. The most I ever got was just under six hours. Watch mode was off, and I turned on the screen a few seconds a few times an hour to see the elapsed time.

Thanks for all these hands on. A busy day for you guys. Any news if battery is better or worse? Looks like less battery present than before. Edit: I see 48hrs mentioned now. So I guess that is similar to before.

Nov. 20th for Canada. Hopfully that is when the 950XL is released as well.Very excited.

Still cant pre order in uk. Just says coming soon

You can pre-order on amazon.co.uk :-) I just did it and ships to where I live: Portugal. Ahhh only the large size was avaliable but my Band 1 is size Large so thats all I need :-)

What about the clasp? The clasp failing has been the biggest problem with my Band. Posted via the Windows Central App for Android

Same concept, very new design and materials for the clasp. See it in the video.

Year with mine now no band failing and I adjust or take it off daily at least twice. How did it stop working for you?