Hands-on with the Microsoft Band 2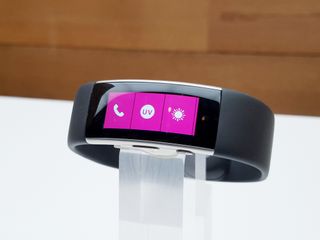 It's now official. Microsoft announced the second version of the Band today at the launch event in New York City. It features a curved display and fixes for the most common complaints about the first version of the Microsoft Band. Watch our hands-on video to learn more about it.
Microsoft Band 2 Details
| Category | Microsoft Band 2 |
| --- | --- |
| Material | Thermal plastic elastomer silicone vulcanate (TPSiV) |
| Display Size | 32mm x 12.8mm |
| Display Type | Curved AMOLED |
| Resolution | 320x128 pixels |
| Battery | 48 hours |
| Average Charge Time | Full charge in less than 1.5 hours |
| Battery Type | Li-polymer |
| Operating Temperature Ranges | -10°C to 40°C (14°F to 104°F) |
| Maximum Operating Altitude | -300m to +4877m |
| Additional Technology | Haptic vibration motor |
| Connectivity | Bluetooth® 4.0 LE |
Supported mobile devices
Windows Phone 8.1 update or greater
iPhone®5, 5C, 5S, 6, 6 Plus with iOS® 8.1.2 or greater
Android™ 4.4 or later phones with Bluetooth
Sensors
Optical heart rate sensor
3-axis accelerometer
Gyrometer
GPS
Ambient light sensor
Skin temperature sensor
UV sensor
Capacitive sensor
Galvanic skin response
Microphone
Barometer (New!)
Microsoft's Band 2 also took the stage today and this is likely one of my favorite gizmos around. In fact, it is because it's a gizmo - not a phone, not a tablet - that I think makes it interesting. Many of you know I was a big fan of the original Band even I could see plenty of room for improvement. I liked how it was not quite a Fitbit, and neither was it an Apple Watch. Instead, it is in its own category.
The Microsoft Band 2 is exactly what we want from Microsoft. Take a product, get feedback and bring it back with many new fixes and features. Let's take a look at what is new:
Flexible strap with no rigidity
New battery charging mechanism
Curved 320x128 pixel AMOLED display
Gorilla Glass 3
48-hour battery life
Okay, so maybe it's not waterproof, but hey everything above is a significant step in the right direction. The price also jumps to $249, but even Fitbit's Surge is at that price level making the Band within the range of modern fitness devices.
So how is it? I love it. The Band 2 now form fits to your wrist with the curved display and flexible sides. It simply feels way nicer to wear. The materials also feel more premium with higher-grade metal. It's like the perfect combo of metal, rubber and glass.
Speaking of, that display is so much better. Besides being curved, it is also more responsive now to touch and if you have sweaty hands. Yes, the keyboard is still there as well as all the other previous features. In fact, Microsoft has added a barometer for elevation measurements bringing the total number of sensors to eleven.
Everything about the Band 2 looks like a win, especially for those critical of the first generation. Having it available at the end of this month is even sweeter. I'd still like to see more Xbox and social integration, so hopefully Microsoft will continue to build out the software feature set of the Band 2 in the coming months.
Pricing and availability
You can preorder our Microsoft Band 2 now for $249 in the US and £199.99 in the UK with availability on October 30. No word yet on other countries though we have heard this launch will go wider in the coming week. Stay tuned.
Pre-Order the Microsoft Band 2 for $249
We only spent a few minutes with the Microsoft Band 2 today, but we look forward to testing it further, especially on bike rides. What do you think so far of the Microsoft Band 2? Will you be getting one? Let us know in the comments!
Lumia 950
Surface Pro 4
Surface Book
Microsoft Band 2
Daniel Rubino is the Executive Editor of Windows Central, head reviewer, podcast co-host, and analyst. He has been covering Microsoft here since 2007, back when this site was called WMExperts (and later Windows Phone Central). His interests include Windows, Microsoft Surface, laptops, next-gen computing, and arguing with people on the internet.
Not water resistant? Sigh.

I mean, they can withstand some water here and there, just not submerged. They're the same at most Fitbits AFAIK.

Will have to find out tomorrow.

The new article by Derek Kessler comparing Apple Watch and MS Band 2 says it is running Microsoft Wearable Architecture.. And I have no idea what that means :-/ not W10 I guess

It might just mean that it's running some version of Win10 IOT

They didn't mention how many apps you can install on Band 2. Do you know if it is more than the paltry 12 apps that Band 1 supported?

How swimmers can use this

It's not for swimmers bro

With your arm wrapped securely in plastic.

Some people have said they want to swim with it...but would the optical style of heart rate sensor work underwater at all anyway?

I'm a bit worried about that. When I work out, I'm drenched in sweat. So much so that it has corroded the screws on my current fitness watch. Waterproofing would help with peace-of-mind. The device it's looks pretty slick, definitely a better design, especially for gen 2. Though I can't justify it yet. Its *getting* there, but so far, even the apple watch seems pretty limited in person. Gotta say, I'm still a bit skeptical about the whole smartwatch idea. That screen size (smartwatch) reminds me of the time I watched a movie on the iPod nano!

http://www.microsoft.com/microsoft-band/en-us/support/safety-guide Microsoft site says it's IP67 waterproof, meaning 30 minutes submerged to 1 meter, still they don't recommend it. Can withstand a lot of water though, according to rating.

I've submerged my Band 1 a few times accidentally and it's been fine, there's a video showing one being submerged for a while too but I think they just don't want people showering/swimming in them as that would need much more robust waterproofing.

It is water resistant, but not water proof.

They state on the website "Microsoft Band meets these standards for dust and water resistance:
IP6X: No ingress of dust. Complete protection against entry of dust.
IPX7: Protection against temporary immersion in water (at depth of 1 meter for 30 minutes)
IP67: Means it meets both dust and water resistance standards above.
IMPORTANT: Microsoft Band has tested to the IPX7 standard. Though it meets this standard in testing, [it] is not intended to be immersed in water and immersion is not covered by the warranty." Translation: Take your 250$ wearable fitness device off. Don't go swimming. Don't go into the tub. Don't swim the Ganges, the Rio Grande, the Colorado, the Nile, or the Rhine and you should be fine.

Fitness band ain't waterproof and no internal storage for portable music. Sigh. Looks likemy urbane smartwatch does fitness better

Actually MS says water resistance. However, you can see some video on YouTube, that shows clearly its waterproof, after being in water for over 30 min, on MS Band 1. MS just playing it safe. I also know people that take shower with Band 1 and NEVER had 1 issue. I don't say you all should do it, but I'm going to, and take my chances as MS prods are NOT overrated garbage toys that CrApple sells. MS is there to back me up:-). LOVE MS and they killed it today, with AWESOME devices AGAIN. .

I got to wear the Band 2 at my local Microsoft Store here in Frisco, TX and I was very impressed with the new design. Very nice screen and flexible band that makes it easier to take on and off. Much more comfortable than my Band 1. Preorder the Band 2 ;)

Also employee says that Microsoft is working on a swimming app and he says the Band 2 is waterproof!

Hold on... Edit: OK you convinced me... ordered all 3 sizes!

How long will the battery last when using the GPS (i.e., a long bike ride)? If I recall, that was a concern with the first version. Overall, it looks like a very nice device.

I'm going to guess at 24 hours. Your phone will probably have a better GPS reading if you don't mind bringing it along for the ride.

Your phone will probably have a better GPS reading if you don't mind bringing it along for the ride.

Not sure if you've ever used the Band before, but its GPS is more accurate than any phone I've ever used to track my outdoor activity.

I have not tried the Band because I have a Charge HR. I think the tracking depends on the phone you have. I'm sure the Band is better than my 920, but the 930 I'm currently using is much faster and more accurate than the 920. I found for my running that it depend on the app too. I used MapMyRun on iOS, but their WP app isn't as accurate. Endomondo for me works much better and drains less of my battery. To each their own.

No idea, but battery life in general seems longer, so...will have to test.

Thanks to both of you. I'm looking forward to the test.

I had no problem with Band v. 1 and longer bike rides. I could record 5h rides but kept the screen mostly off.

Yeah, five hours of GPS tracking sound about right. I have Band 1 and use it to record hikes. The most I ever got was just under six hours. Watch mode was off, and I turned on the screen a few seconds a few times an hour to see the elapsed time.

Thanks for all these hands on. A busy day for you guys. Any news if battery is better or worse? Looks like less battery present than before. Edit: I see 48hrs mentioned now. So I guess that is similar to before.

Nov. 20th for Canada. Hopfully that is when the 950XL is released as well.Very excited.

Still cant pre order in uk. Just says coming soon

You can pre-order on amazon.co.uk :-) I just did it and ships to where I live: Portugal. Ahhh only the large size was avaliable but my Band 1 is size Large so thats all I need :-)

What about the clasp? The clasp failing has been the biggest problem with my Band. Posted via the Windows Central App for Android

Same concept, very new design and materials for the clasp. See it in the video.

Year with mine now no band failing and I adjust or take it off daily at least twice. How did it stop working for you?

My first one lasted just under a year, before the clasp just wouldn't hold anymore and the band would go flying off my wrist. The replacement I got only last a few months before the same thing started happening to it ... and the battery covering started peeling, which never happened to the first one. I ended up going with a Charge HR, but really miss all the features the Band had. Thinking about getting a Band 2, but for $250, I want to be sure this thing is going to stay put.

Been testing the Band 2 for a couple months now and haven't had any problems.

Can't believe they didn't include storage for music when working out. That was the main reason I've been waiting for the 2nd version :(

Can you imagine how badly the battery would drain if the thing was pushing music over bluetooth?

I don't see the attraction of putting music on a wearable, people's phones are normally within bluetooth distance and they have lots more storage and can stream whatever you want to listen to. Play/pause and cortana controlling the music on my phone from the band would be a killer feature but I can't see the point of putting a small sd card into a wearable for music.

Going for an outdoor run with just an Apple Watch and bluetooth headphones is liberating. Trust me if you were an outdoor runner you'd understand.

Do they still need multiple sizes or is that solved with the new thin band? edit: nm, checked out the pre-order page and they still have three sizes

So is it running Windows 10 IoT edition as rummored? I wish MS offered a trade in option for the first gen band. This one looks so much nicer.

my first gen is falling apart and I have Complete, when I replace it I'll try to upgrade as well. They're still selling the old one for now, they might keep both (Band 1 for $130 and Band 2 for $250 makes a good lineup), but I don't mind adding a little moneys to get the new one. I probably wouldn't pay full price for it though

When you try to take your band in let me know what they say. Also have a v1 that doesn't connect well to charge and has the coating on the battery peeling off. Wonder if they will give a credit or something.

I'm hoping I'll be able to exchange it with my Complete and pay $68 and get a v2 + Complete for it. I guess we'll find out in a few weeks.

My favourite device of the whole day, yes I'd like a new Surface Pro 4 or Book but won't be stumping up that amount of cash. Whereas the Band 2 is 'affordable' and an awesome device too.

Any news of a AT&T Lumia Band bundle?

I'm in, looking to replace my 920 and MS Band ;)

Can't wait to try it on. I really like my Band 1, but the fit is not ideal. This looks much better. Boy do I wish they kept that $199 price, though.

Chris, did they get the HR monitor accuracy issues resolved finally in the Band 1?

Wasn't the original band priced at $249 at release?

I was going to pre-order but then I was like I have to see how I like it first. Hate buying stuff without seeing it live or seeing how it feels. At least the screen is compared and hopefully whatever material it is made out of doesn't chip/peek like my Band 1.

So other than the physical changes what would be the reasons for me to dump my current Band for this one?

The physical changes are the big reasons. The UI isn't changing.

Wore one today... totally worth the upgrade from my original band

The physical changes have a purpose, so that would be the main reason. For most, that means comfort and appearance will be improved. Other than that, the addition of a barometer will allow for more accurate elevation tracking. If you golf, you might want to look at the extra golfing features added to the Band 2.

Two hours ago, I was having problems with my Band not updating the guided workouts. Hit up support, and while talking about my band failling apart, he told that there may be an upgrade option for the new Band 2. Although he wasn't sure.

Hey Daniel, any news about onboard storage?

Then how swimmers can use this

If you need something for swimming get a Suunto. :-). Awesome device for Triathlons.

Held off on 1st... Preordered 2nd this afternoon!

The max temp of 40 degrees is a massive deal breaker, looks like I won't get one even if they do come here.

My problem too. How can I used it, when temperature here goes up higher than 40*C inthe summer.

I have the Band 1, and used it in 40+ degree days many times in AZ on the golf course... wouldn't think this is a true limitation, but they are suggesting care... I put on probably 10 rounds in 40+ weather, meaning being out for 3-4.5 hours in the heat, and didn't have any worries...

Kind of wish the straps were changeable, to give users color options. Not a big fan of the metal accents, but they're not too bad. Overall, it's a smidge pricey, but probably worth it. Just wish it kept the $200 price tag to put itself ahead of the FitBit Surge, and I'm hoping there's a trade-in program for the original Band owners, like my sister.

Was hoping for better battery life....4-5 days at least

Battery tech just isn't there. Li-ion tech is practically living history in tech years. I doubt we'll see significantly better battery life until a new type of battery is introduced.

Hmm, weird charging setup. That's going to be an adjustment as I had a really nice way to prop up & charge my band 1. Will have to fiddle.

What's the little dark square on the metal clasp? It looks like a light or UV sensor?

I was wondering the same thing.

It's a UV sensor. You can set up reminders to put on more sunscreen, etc.

Looks like a pretty huge improvement overall - the only concern I really have from watching the hands-on is that the clasp appears to be a pretty big eyesore to be always visible on the top of my wrist. The original Band's clasp has a really tiny footprint (in both dimensions) and looks great, at least from the top.

I'm loath to link to Gizmodo, and I'd give it a 2% chance that my downvoter sees this, but look at this thing! I adore my first-gen Band, and I wear it even to work nearly every day, despite its "Live Strong-esque bandy" appearance (not sure what else to call it). But as for the Band 2, I can't get away with that clasp, with its contrasty-silver accentuating the (significant length of) unused "track," and the finish already wearing off. My top priority for the Band is that it is a formidable fitness tracker--and it excels in that regard. But, despite vast improvements in some aspects over the first Band, the aesthetics of that clasp leaves quite a bit to be desired.

I was waiting for the band 2 for a couple months. Now I see the specs for $250 ($273 after tax), I decided to go to bestbuy and have them pricematch amazon for Band1 at $130. Band 1 is functionally as good as band 2 and the flat screen doesn't bother me at half off. If it wasn't such a deal for band 1, I'd have ordered band 2

I'm liking my V1 band so much I'm tempted to pickup another one at Best Buy at the firesale price. I use mine near daily for my runs and bike rides and it works like a champ. Really a good deal at $130 just to have when/if my old old finally dies.

Agreed V1 works just fine. I forgot about it being on my wrist in about three hours. Posted via the Windows Central App for Android

is the screen bigger than the original Band?

looks to be about the same to me.

Slightly more screen real estate Band 2: 32mm x 12.8mm (320 x 128 pixels) Band 1: 33mm x 11mm (320 x 106 pixels)

Daniel, in your previous posts, you spoke about rumors of Band 2 picking up Windows 10 for IoT to facilitate better integration with other applications. Have you heard anything while talking to reps. Adding an application like Life Alert - that is alerting friends/family if health deteriorates would be a nice feature.

Trying to find out more tomorrow.

W10 IoT will be greate step, so I will wait news from you.

Daniel, Can you find out if they made any improvements to the HR Sensor to improve lock and accuracy of readings. The V1 Band was awful compared to Scorsche and Mio.

Are there any software changes or is it the same underlying software? And if it's the same does that mean Uber and others will come to Band V1? Tempted to get one even though I only got mine at UK launch...not that long ago but I love it, so tempted to go for a newer and better version before the end of the year

Aww sucks I was so hoping for swimming support :(.

Can you please find out if its nickle plated? I have a nickle allergy, while I love my Band, I would totally trade up if possible if the new one doesn't containt nickle based contacts. Currently I can only wear the band for the workouts, extended wear forms a rash like reaction to the nickle in the charging port.... makes my underside of the wrist look really nasty cause it itches and bubbles up... I have to put nail on the metal parts to not get an allergic reaction. Please can you find out! :)

I have had that same thing happen to me! For the life of me I couldn't figure out what it was, and I even just swapped out my original band under the warrenty believing that my band was faulty. :( If the band 2 also has nickel contacts, I will have to switch to a different wearable. If not, maybe I can trade in my band 1 for a credit towards a band 2? (hopefully??)

Looks great and is a big step up from Band 1.. I like how it uses the classic solid icons instead of the new and poorly made wireframe ones in W10. The bending over backwards phone icon is awkward though.

This hands-on was the one I was waiting for. It just entrenches me more that I'm definitely getting a Band 2.0. It looks great and to hear that it feels better on the wrist AND that I may not have to put a screen protector on it is HUGE. The 2 day battery life has never been a problem for me so I can't wait to get this. I wish they would have officially announced a trade-in/buy back for the Band 1.0.

Ordered one, but I hope they have a better API for this version. Had a lot of ideas for apps, but because you could not push from Band to the phone, I could not implement any of them. Hopefully the two way communication is in V2.

My Band 1 is still in great working condition and I really don't mind the the inferior screen and how it fits on my wrist. Band 2 doesn't offer enough to make me want to upgrade right now, so I'll hold off for a good sale or wait for the inevitable Band 3 release in another 12-24 months.

I agree I see almost no reason to shell out the 250 for a curved screen and a barometer. Maybe if there was a significant advancement in the heart rate sensor but no. I'm likely one of only few who doesn't mind the flat screen of band. Here's what I see thus far band 2: no difference besides a few physical alterations and a new sensor plus an uglier clasp. Get rid of the chrome please.

Same here. I've been perfectly happy with the original, but a Lumia 950 + Band2 combo deal would get my money.

Preordered it and can't wait for Nov. MS seems to have fixed all of my serious complaints about the device. I've seen a handfull of Band 2 first-look videos today and this is the first one that mentioned the flexible sides of the band. That fixes one of my biggest complaints about the hardware: the bulky, inflexible sides. I guess that's down to Dan actually caring about the previous device. Great. Now I have to buy yet another spare charge cable with a completely unique jack on it.

How is it compare to the Microsoft Band 1? (specs) because they seem to have similar specs not much difference except for the physical ones

Limited region release? Again? Oh well. More of my money to the competition.

My bro says it's available in Canada eh...

Looks interesting and they seemed to have made it to my liking. I will go try it out whenever they have it at the Microsoft Store.

Bought mine today, it'll be part of my Halloween costume

I have to say, it looks a lot nicer than version 1. If I wasn't already a Fitbit user, I might even be tempted to consider purchasing it. But, if there's one thing about fitness tracking I never expected to be a big deal prior to actually using one, it's the social aspect. Being able to measure yourself up against friends, etc, can be incredibly motivating, and as strange as it sounds, after all this time spent using my Fitbit, I'd almost say it's more important (to me at least) than anything on the technical side. The single biggest obstacle to my health, at least, is simply laziness. Purchasing a Fitbit (or other tracker) was kind of like purchasing a gym membership. Without the social aspect, I suspect it wouldn't be something I'd have kept using to this day. And, while I probably shouldn't complain about aesthetics as a Fitbit user (it kills me at the lack of classy bands available unless you're willing to be a woman and shell out nearly $200 for Tory Burch designer bands), it seems a weird design choice to make the Band 2 best used facing up on the underside of the wrist, while having such an incredibly ugly clasp (which would then be visible on the top of the wrist). I have to imagine the Band 3 will make reducing that huge clasp to be more aesthetically pleasing on top of one's wrist a big priority.

Already pre-ordered mine! The new design is a huge improvement over the first one, and I'm glad they added the elevation sensor.

Just pre-Ordered mine. I used my Band V1 with every run and love it. My old band is actually banged up pretty good but still works like a charm. Excited to see the piece of hardware in person. I kinda wish they would have keep the same charger though, a backup cable would have been cool.

I'm not looking that clasp and surprised other people aren't complaining. Why would you want that on top of your wrist? Posted via the Windows Central App for Android

I agree. I was so in love until I saw the clasp and the thickness on that side w the battery moved there. I think the clasp is ugly. I'm going to buy another Band 1 as backup. It might not be flexible but at least the clasp blends in & is same width as the overall device.

God they're so bad, still have all the problems of the first band.

Are there any photos of the back side of the display? This is a sore point of many of the Band 1 complaints. The metal would corrode and cause physical harm.

http://cdn.ndtv.com/tech/images/microsoft_band_2_back.jpg

I'd get this even though I'm not big on health stuff. Would it fit well a narrow wrist though?

I would guess there will at least be SMALL and LARGE sizes like other fitness bands.

Band 2 Size
MM
Inches Small
143 - 168
5.6 - 6.6 Medium
162 - 188
6.4 - 7.4 Large
180 - 206
7.1 - 8.1

Needs water resistance and portrait display options please!

It is water resistant, but not officially water proof. It is protected against immersion in water at a depth of 1 meter for up to 30 minutes.

I have the first Gen band and encountered a lot of sync problems with iPhone 6, like weather and stock not updating, call notification sometimes not working, and the battery only lasts a day. I don't think i will get the band 2.

Now that the Cortana app is on Android, I wonder if there will be a future update to the app that will allow Cortana to work from the Band 2 for voice interaction?

that's what I'm wondering an will the keyboard work with android an iOS also Posted via the Windows Central App for Android until Microsoft releases a great Flagship beast WindowsPhone

I have what might be an odd or niche question. I am currently interning in the jail system, and whenever I go into the jails I am not able to bring any phones or computing devices with me. Do you think the MS band would count as a computing device? I wear an analog watch currently, which is fine, but if I got this I wouldn't want to have to keep switching between the two.

Yeah that's what i'm going to end up doing. I was hoping that someone here might've had a similar experience and know, but oh well haha. Thanks for the reply though!

The only thing I wish it had was a way to store music and play it via Bluetooth, so you can leave the phone at home when jogging

I am on my fourth band 1 so I hope they have done something about reliability. I suspect the charging connector was the main problem, so I am glad to see that they changed it.

I'm on my 4th band as well and it has been the charging connector going bad after a few months of use. Use it for daily runs, and even with cleaning with Alcohol after every run per Microsoft store tech. same problem. Moving the charging connector away from the skin should fix this problem.

does the little keyboard work on android an iOS now.. an Cortana intergration on iOS an android?? Posted via the Windows Central App for Android until Microsoft releases a great Flagship beast WindowsPhone

So...is everyone ignoring how this one is launching $50 more expensive? Suprised nobody has mentioned that in the comments. EDIT: Just watched the video (read article, read comments, then watched video), and Daniel mentions it in the video.

This new one looks so much better than the first one. Before this, I was undecided on whether to get the first generation band at the lower price or wait for the second generation at full price but now I will definitely wait for the new one later this month.

I guess they could have made a single free size, that would fit all wrists. Some sort of an adjustable mechanism for the straps.

Damn Microsoft, you really want my wife to leave me don't you. Too many things I WANT all released the same time frame lol I can justify the phone, I can justify the surface or the band, but not all three in one sitting.

STILL NOT WATERPROOF!!!! I was so looking forward to buying this band, but if you can't even use it for one of the most beneficial exercises there is, then there's absolutely no point for me. How incredibly dissapointing. Maybe Band 3, or maybe I'll just buy something else. :(

What it really needs is the ability to play music over BT, that way I wouldn't have to bring a 2nd device for that.

I will buy this. They fixed the reason I returned the Band. The fit on my wrist was not good. I like the more flexible strap also. Looks like a winner.

Actually the Microsoft Band IS Water Resistant at level IP67 according to the specs on Microsoft's Band website.

My main question is now the screen is curved, is it thin enough to fit under a shirt? it's much more convenient wearing the Band to work than having to swap it out after I finish work just cuz it wouldnt fit under a shirt, hopefully the curved screen addresses this as I know quite a few people complained about it on the first Band

I am on my 3rd V.1. I like it alot but, unless they offer a trade in, I will not move. It has a lot of nice new features but most of the issues I have continue to exist. I like to use it for commuting on my bike and it is not as accurate as my bike computer or the app on my phone. The primary reason is that it doesn't detect that I have stopped for 2 min waiting for a red light! Water proof is another issue. When it rains, it gets soaked. The first band lasted 3 months and the second 2 months. I am into the second month on the thrid band with good results. The track record is not good. Clearly v1 was a beta release. Every time I went to the MS store to address the issues, there was someone else trading their band in for a new one too. Battery life is an issue. I don't think I should have to take extra measures to defunction the band to make the battery last a day. Two bike rides of 40 min each + time display nearly takes it to 5% battery life. I don't know how many rides I have missed due to batter life issues. Which brings me to another complaint. I can't modify the data over time. If I miss a ride with the band but have the ino on my computer or phone, I should be able to update the Health DB to include the missing info for a more complete log over time. If a ride happened, why not option for averaging the last 5 rides to make up the hole. Otherwise it screws up the entire assessment for the month, year, whatever.

Does the Version 2 have "tilt to view", when you lift it to view like a watch does it turn on to display Date & Time, or do you still have to hit a button to wake up the device? Does it display in portrait mode, widthwise so you can scroll along the length up & down? This would be easier to wear on top of your wrist. If not, what am I getting for the additional $50 (at this point an additional $250); curved gorilla glass? Not sure if there is enough reason to buy this.

Well, there is the "What's new list" and the new sensor listed under sensors. I have a feeling the existing sensors are probably upgraded as well. They mention the touch screen is better too. I get annoyed with mine if my fingers are just slightly moist, so hopefully it fixes that. So, it's more comfortable, some extra data collection, better screen, more reliable... is that worth it for you? i don't know. i mean, that answer will be different for everyone. if you're only looking for those first two things you mentioned, well, i don't know what to tell you. clock mode is probably still there if you want to use that.

Does anyone know if they used any of the same material that covers the two components on opposites sides on the inner band? I think they're either batteries or vibration motors or something. In any case, it has a weird plastic/rubbery coating that slowly wears away just leaving you with the bare metal of the component. I had to get my Band replaced cause a light stopped working in it so I now have a nice looking one again, but I'm afraid to wear it 24/7 like i used to in fears of rubbing away the material. If anyone knows how to stop that or any info on whether this would be an issue on the new one, I'd greatly appreciate it. Thanks.

I'm wondering about this as well as the corrosion issues with the sensors being experienced on the first generation. Does anyone know if they've addressed these issues from the previous version? I'm going to try and turn mine in under warranty before it gets any worse.

Needs to be waterproof, put some storage on for music (4-8 hours), and better battery life so slow people like me can finish a marathon with GPS on. Other than that I am not looking for much. That way I can leave the phone completely at home and just run with this. I would assume audio cues can be added with software from band instead of run keeper but this is getting closer. Not everything needs to have all the apps and features. Let me run/bike even swim and give me relevant data like runkeeper/strava/etc. Let me leave my phone at home for the run. Just need music but to do that better battery is a must.
Windows Central Newsletter
Get the best of Windows Central in in your inbox, every day!
Thank you for signing up to Windows Central. You will receive a verification email shortly.
There was a problem. Please refresh the page and try again.