Hands on with the official Vine app for Windows Phone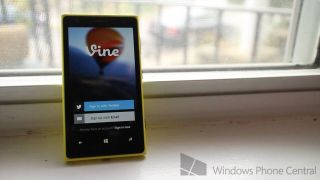 It's finally here. Silently announced back in July and mentioned again at Nokia World, the official Vine app is now available at the Windows Phone store. We've been using third-party apps like 6sec and Viner for a while now, but it feels great to finally have the official app at the store. We go hands-on with the new app to show you how it looks on Windows Phone.
Head past the break to watch our walkthrough video.
Vine lets users create six-second clips, and share them on Twitter, Facebook, or the Vine network itself. It has over 40 million users.
When you first open Vine, it asks you to sign in using Twitter credentials or sign up using an email account. After that, you're brought straight into the timeline. Vine initially shows Editor's Choice Vines until you start following people. Clips play automatically with sound. Tap on a clip to pause. Don't want sounds? Click mute from the three dots on the lower right corner.
There are several ways to interact with Vines. You can click the smiley face button, which is equivalent to the like button on Instagram. There's also commenting and re-Vines. Think of re-Vines as re-tweets on Twitter.
To record Vines, click on the camera icon at the bottom. Tap and hold the screen to record short, looping videos with sound. There are camera tools, like grid and ghost to help you shoot. The ghost feature in the camera is great for those who want to make stop-motion videos. With the ghost function activated, a small "ghost" appears in the last frame of your clip. This lets you perfectly line up your next shot.
Check out the Explore section to watch popular posts, browse channels, or see what's trending. A lot of these Vines are really funny, so don't be surprised spending a lot of time here. Click on the 'Find People' tab to discover which of your friends are already on Vine.
Have a favorite Viner? On Windows Phone, you can pin Vine accounts to your homescreen. You can also pin the recorder for quicker access.
There are a couple of features currently missing on the Windows Phone version that are available on Android and iOS. You can't save any post and come back to it later on. You also can't remove, reorganize or replace any shot within a post before you share it.This is version 1.0, so we're not complaining. Hopefully, we get those missing features in a future update.
Vine is a free download at the Windows Phone store. Check it out and let us know what you think in the comments! We're looking for people to follow, so leave your usernames as well!
Get the Windows Central Newsletter
All the latest news, reviews, and guides for Windows and Xbox diehards.