Hands on with the official Vine app for Windows Phone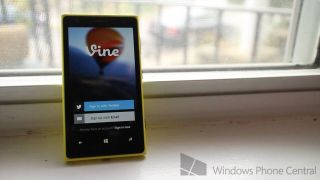 It's finally here. Silently announced back in July and mentioned again at Nokia World, the official Vine app is now available at the Windows Phone store. We've been using third-party apps like 6sec and Viner for a while now, but it feels great to finally have the official app at the store. We go hands-on with the new app to show you how it looks on Windows Phone.
Head past the break to watch our walkthrough video.
Vine lets users create six-second clips, and share them on Twitter, Facebook, or the Vine network itself. It has over 40 million users.
When you first open Vine, it asks you to sign in using Twitter credentials or sign up using an email account. After that, you're brought straight into the timeline. Vine initially shows Editor's Choice Vines until you start following people. Clips play automatically with sound. Tap on a clip to pause. Don't want sounds? Click mute from the three dots on the lower right corner.
There are several ways to interact with Vines. You can click the smiley face button, which is equivalent to the like button on Instagram. There's also commenting and re-Vines. Think of re-Vines as re-tweets on Twitter.
To record Vines, click on the camera icon at the bottom. Tap and hold the screen to record short, looping videos with sound. There are camera tools, like grid and ghost to help you shoot. The ghost feature in the camera is great for those who want to make stop-motion videos. With the ghost function activated, a small "ghost" appears in the last frame of your clip. This lets you perfectly line up your next shot.
Check out the Explore section to watch popular posts, browse channels, or see what's trending. A lot of these Vines are really funny, so don't be surprised spending a lot of time here. Click on the 'Find People' tab to discover which of your friends are already on Vine.
Have a favorite Viner? On Windows Phone, you can pin Vine accounts to your homescreen. You can also pin the recorder for quicker access.
There are a couple of features currently missing on the Windows Phone version that are available on Android and iOS. You can't save any post and come back to it later on. You also can't remove, reorganize or replace any shot within a post before you share it.This is version 1.0, so we're not complaining. Hopefully, we get those missing features in a future update.
Vine is a free download at the Windows Phone store. Check it out and let us know what you think in the comments! We're looking for people to follow, so leave your usernames as well!
Great app. Liking it so far. I just wish I could be better at making viral vines.

You have to have really obvious and childish humour, i guess you're just too sophisticated Sam

It's ok, but pretty laggy in its first version. Hope performance will improve the next months.

Close it and restart the app. I think it has to do with the login screen showing an animation at 15FPS, I notice the same thing in the E! Online app.

It's a pity that every single Vine we create with the official App ends up rendered as a black screen. I'll be waiting for Rudy to replicate the ghost feature and go back to 6sec.

I have not tried to make one yet but that would be a huge issue. I feel that 6SEC runs much more smoothly than the offical.

Same here, there are some problems rendering the clips... Something unforgivable on a video app...

Atlast got a official app

Weird that you don't mention how laggy it is, especially when it's so obvious.

I guess it only lags for some...it doesn't lag for my UK lumia 520!

Which device are you using?

No lag here. The pull up menu isn't as smooth as the OS menus because it's a replica to get those icons there, but the rest of the app is buttery smooth.

Restart the app after logging in...

Still laggy. I go to the categories section and when scrolling up and down it swipes to the right.

Very nice pro looking video from Mark. Good job.

Reminded me a lot of The Verge's video reviews.

I second this! Although I love Daniels video he tends to..lack of better words talk a lot lol. You just cut to the point and show how to use the app. Look forwarding to watching more videos by you!

Quite laggy and buggy on my L920. A few test runs were kind of frustrating. Sometimes I'd record a video and the preview would be all black, I'd need to go forward as if I'm about to post and then press back again to see it. Other times, after posting, the home page would freeze and I would need to exit. Of which, scrolling th homepage is not fun with that lag. The first video keeps playing long after you've scrolled past it too, which doesn't happen on the iOS version I'm sure. But otherwise I like the look. It would also be great if it eventually got the rest of the feature set of the other platforms, but this is the first version, I'll give it time.

Try closing and restarting the app.

Nice job Mark, enjoyed your video of the app. I like the video style.

Its annoying that it stops your music without asking.

Disable AutoPlay is missing.

No, it doesn't exist on Android and iOS. Just 6sec.

Okay, am i the only one seeing Instagram pinned to your homescreen? Is that the official app? DETAILS SAM!!!

Its one of 6tags live tiles! You know the secondary one if you swipe up on homepage of 6tag....we are still waiting for insta...but at least we know its coming, so Whoo! c:

Tip: Pin your 6tag timeline and it shows up as "instagram" on homescreen =)

Finally!!! This will help popularize the windows phone platform!!

Now waiting on official Instagram app.

Then people will take us seriously! I think!

Lets hope so but its funny how official apps such as this and tumblr aren't as good as 3rd party counter parts

Lag fest. Stick with 6sec.

This is a brief overview, can we expect a review on the way soon? I know it's only been out for a few hours, so I'm not expecting one yet.

I don't think this is worth their tiome to review. It is a free app afterall, so if you don't like it, no harm done.

I was more thinking of a comparison to paid third party alternatives, but I see 6sec is free too so probably not as important.

No lag for me at all (Lumia 920, GDR3 preview) but I did two videos today both switching between front and back camera and for a split second it does some weird pixelation thing. Ultimately, it's a 1.0 app and I'd much rather have a 1.0 app with some minor glitches than no app at all.

Twitter / vine : anthemiac
Some funny vines of my youngest on holiday up there. :)

If it's laggy for you, then you have to restart the app. After restarting the app it's fine.

Wish you could disable the live tile. I couldn't figure out how.

so much slow.... i have a fast conecttion but vine its slow-................

Yeah, as @Ticomfreak said, restart the app if it's laggy. It works :)

Will instagram support uploading pre recorded videos?

It does on iOS and android...so I don't see why not.

I've installed it on my Lumia 925, it's fast and smooth, but I don't know how to play the videos? Tapping them etc does nothing? Anyone?

Why do both Vine and 6Sec require access to my contact list? I should be able to prevent this access from occurring when I install the app, even if it disables some features.

How does the official app stack up against 6sec? Anyone want to take this?

Funny how they did not cover that in the article.

Well, I downloaded the app on my Lumia 920 but couldn't log in with my Twitter account. Error message Invalid username or password. I have used the same login credentials on my 6sec and it works, don't know why I am having this error. I however created a new account with my email but I really want to use my Twitter account to log in via the official app, someone help!

The lag I'm getting isn't the apps functionality (scrolling about the place, clicking on things, playing other people's videos are all as smooth as). But it's the recording which is causing lag. Like totally choppy. Tried everything up to and including switching off my phone and back on. Still laggy with the record. Any tips or is it just cos I have the slower 520?

My Initial reaction to the app is excitement for having another app but its only ok.... I guess 6sec has spoiled me with a prettier UX & UI

Good app. About time it came out.

The app runs smooth and without any lag or issues on my Lumia 820. Recordings are fine and smooth too. :)

Is anyone else having autofocus issues when recording a video with the app?

All I need is a YouTube and instagram now for me to happy!

not for nokia lumia 7.8 :c

You guys have the official instagram app installed? I guess that too is available soon?

It's not out yet. "Within the next few weeks" according to Nokia.

Mine is not lagging and the video is actually loading somewhat quicker than on 6sec

Hate to say it, but... 6sec has been uninstalled.

I uninstalled mine too...

Absolutely love it. Never used Vine or even watched any till now. Hooked.

It's a good app. Though a bit lagging but since it's version 1.0 not complaining. Have been using 6sec and love it. Will have to see how future updates to the official app make it better. Follow me on Vine search for @Kishnani_T

Decent app, minus the lack of toast notifications and live tiles.

No support for @tagging, and link to people hub doesn't work, seems to get unknown contacts.

ON MY 1020 when I make a vine it loads fast. The only issue the vine doesn't play. Its an all black screen. If I view the vine in 6sec its shows but voice is offset from video and choppy. NOT uninstalling 6sec..
Windows Central Newsletter
Thank you for signing up to Windows Central. You will receive a verification email shortly.
There was a problem. Please refresh the page and try again.