Hands on with Wordament Snap Attack for Windows Phone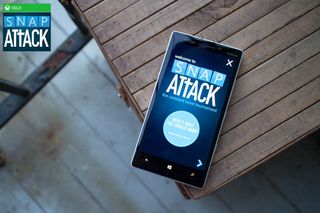 Wordament Snap Attack has just been released and we're already addicted. If you haven't downloaded it yet, this word-building game is available for Windows Phone and Windows tablets or PC's. Players from around the world compete on the same board, using the same clock, making as many Snaps as possible. Don't have time to play it yet? Head past the break to watch our hands-on video and gameplay.
The game runs 24 hours a day and everyone plays the same 2 1/2-minute rounds. The goal is to get the highest score among other online players. You score points by building words (also known as Snaps) with the colored movable tiles that connect to the fixed black tiles on the game board.
Every unique Snap is scored, and you earn points by trying to build as many Snaps as possible. You may reuse your tiles to build many Snaps. You will need to move your tiles around often each round if you want to get high scores.
To help you get higher scores, keep a lookout for the bonus 2x and 3x tiles. Having the letter S is also a good way to extend words that will earn you more points. Another tip is to know some of the two-letter words. You don't lose points with incorrect words, so you can keep trying.
The top right corner displays the amount of time left in a round. Your score and Snap count are at the top left corner. After a round, there's a recap of the board you just played. It shows every Snap you found as well as the top single and multi-Snaps that were possible. Click on any of the snaps to see how they look on the board. The screen then automatically transitions to display a list of other players that participated in that round with you. You can see your rank compared to others.
Proud of your score? Tap on the percentile at the top left corner, and you can share score via email, Facebook, or Twitter. It looks like this:
You can tap on any player's name to highlight and follow them as a frenemy. Frenemies are players you want to pay extra attention to during game results or in the leaderboards.
If you're not currently playing in a round, you can see your overall rank and stats in the main screen. Since Snap Attack is part of Xbox Games, you can also view game achievements. Want to display a flag in the leaderboards? Swipe over to the options and tap Leaderboard flag. If you're from the US, make sure to scroll all the way down to select your State's flag.
Snap Attack is a free download from the Windows Phone Store and the Windows Store (opens in new tab). Ads are shown at the bottom of the screen during gameplay, but they don't get in the way. Check out Snap Attack on your device and let us know what you think in the comments!
A very worthy successor to Wordament. But also more difficult! I started off Wordament in far better shape! :(

One thing I wish both these apps had was an offline game feature. Maybe even just as a practice mode or something. It is frustrating that when I'm on the subway or somewhere the signal is not great I am not able to play at all.

Great idea, hopefully the authors of the game hear you in some way.

But, the puzzles are generated by a server somewhere, right? Seems like a complicated task for a phone.

Maybe. It is probably the case. However, there are other games that have the ability for offline play. I understand it wouldn't be the same experience but still better than nothing.

It could still easily store a load of sample puzzles on the phone. Even if it didn't list all possible words and combinations, at least scoring the words he did do would be better than nothing, and it would just mean storing the board layout and starting letters for each sample. Not much space needed for that, maybe 10KB per puzzle?

Both with Clever Words this is my favourite word-game! Finally they made graphics a bit nicer ;-) I don't know why, but I have to scroll down ranking to see my score. Waiting of course for Polish language :) Going back to play ;p

This game is amazing, although Xbox live doesn't seem to be working on Windows phone 8.1

Is that a cross, or am I just tryna start somthin...

Loving it, but I'm so slow!

I have already unlocked 12 achievements. The best so far I have done is 1060ish. But I see some people hitting 3500+ which seems fishy. I am good at regular Wordament and can easily be in the top 98-99%, hitting top 10 score multiple times, but this... Either I am not getting it or some are already experts in a day.
.
Edit: I take my words back. Just made 3180
.
Edit: I reached 4000. So it IS possible. Came in 3rd :) after playing 3 hours straight.

My highest is 3387 . Nothing fishy

Just got 2089, 12th place. Doubt I'll ever beat that.

Of course you'll beat that Tony. Today was your first day playing it, with practice over time you will only get better. So will everyone else mind you.... so get back to it..

After 1 round I like it much better than wordament. My wife is going to be addicted...

It is buggy though. Especially when displaying results. Not as clean as Wordament.

Is it me or does the demo phone look more like an iPhone than a Windows Phone?

Thanks! Now I'll go have my head examined.

Ohhhhh....I didn't mean the phone in the video. I meant the phone (or outline of one) in the app tutorial.

You are right. WTF!!!! Way to go Microsoft!!!!

even i had the same thoughts when i saw that! :D

And me too. It seems the android and ios version will follow as it happened with original wordament.

Yep.. Since when does Microsoft need ads to recover its costs ?

Wordament and Snap Attack can pull in a lot of dough through ads, since the games are short and screen changes every 23 second between games.

Yes, I accidentally hit an ad once or twice a session. Annoying. I'd pay for no ads in a second.

You loose out on a good game just cos of one unobtrusive ad? Sure there should be a way to pay and remove it, but it's no big deal.

You will miss a good game

Highest is 1587 after a couple games. Its so easy to get the hang of. The discovery of how to play is very well done.

Loving this game, it's beautiful just like the original Wordament game, remember when that was the only game we had on WP7...hahaha

I love it. So far, my best was 9th place with 97%. Better than I ever did with regular Wordament by several spots!

Better keep playing then and get some more Top10s, as more players join the fray it's only going to get harder to make those top positions.

True dat. As happy as I am for Windows Phone's success, and as much as I wish it to continue and accelerate, I *really* miss being in the Top 10 of Wordament, and I know in my heart I'll never get there again, because virtually *every* top ten score in every game is way way higher than my lifetime best. I remember way back in the Early Days of Wordament, when the game's authors thought a player had to be cheating, because he was routinely getting >100 words per game, which they thought was impossible. Now it's routine (though not for me, of course - 72 words in one game is the best that these creaky old fingers have been able to do...) This game is crazy fun, though. I'll just teach myself to ignore the standing, or aim for "top 10%" rather than "top 10," like I do for Wordament now.

Maybe you should be playing Snap Attack more than Wordament then, there seems to me to be a bit more skill involved than simply finding as many words as you can as quickly as you can. Although it's better to find fewer words that are longer than lots of words that are shorter for your score. When I started playing I thought 100 words was impossible, but I manage it now and again and usually make it into the top 10 a couple of times a day. But there's people out there who can get 20 or 30 more words than me sometimes, who i'll never catch. But I keep practising as I know I can still improve and I feel challenged and when I have a good shot I know there's always a chance of being top 3 or even number 1 if one of the real masters isn't playing at that time.

I finally made it into the top 10, applying my early-Wordament strategy of playing early in the morning when there aren't too many good players awake :-) Fun game!

Improvements:
1. Add total no of players on the top left side next to the % like wordament.
2. Splash screen shows wordament. Change it to SnapAttack.

I guess they want to hide just how many people are playing. I expected the number of players in Wordament to shoot up after it was released for iOS and Android, but it never did move up much. So maybe that's why they never added that here.

But then you can't tell how good you performed

It gives you a percentage and a rank. Do the math.

Seems they are reading our comments on store and here as well. They have added total number of players.

I'm really digging this game. My highest was 3rd place. I'm hooked.

I was not good at the original Wordament. This is more of my style.

awesome successor to wordament! :)

@wpcentral: Thanks for this nice run down! We are going to link this off of our Facebook page. The video was well done! Jason / Black Snapper
You vs. the Internet, a Microsoft Studio

thats weird a black snapper shows up in the game under my frenemies section. so what are the chances its you and how is it showing you under my frenemies? i didnt even know i had frenemies.... edit: i didnt add anyone as a frenemy either

It's me. I play as both Black Snapper (Xbox) and Jason.Black.Snapper (Facebook). If you check your Frenemies (from the home Rank & Stats screen, pivot to Frenemies), it's possible you accidentally tapped my name. Thats how you track and untrack frenemies is tapping names in the real-time leaderboards. Thanks for playing our games!

I am better at this than Wordament, but I'm also fairly decent at scrabble, so that could be why. Constant top 10% finishes in this game as opposed to bottom 20% in Wordament.

It's a shame this isn't available for WP7. I was hoping my Lumia 800 would get one last Xbox Live game before the 930 comes to the UK!

My native language is not supported yet. I hope they add more languages soon.

OK, I feel dumb. I played about 4 rounds and only got up to like the 64th percentile. I need to master the multiple snaps techniques. I was pretty much just trying to get as many snaps as possible and not planning on quality/high score plays.

It's an awesome game. I'm hooked. But it's not at all like wordament. I kick ass in wordament, constantly being in the top 2%... but this game is different. More options, more time.

German language not supported yet. Hope they add it soon... :(

The waiting time kills it for me. Same with wordament.

Ranked top 10 4 times out of 9 games I played

Kind of ironic that on those screenshots you took of the game, one of the adds is offering free music via Google Play, isn't it?

Is there no more love for the WP7 community? :(

that's true. it generally happens in that way. older people doesn't get continue be loved.

Wp 7.x is died OS like Symbian

I gave it an hour yesterday, definitely will be going back and loosing many weeks on this... it's a great sequel to Wordament. Not sure I appreciate the flags for US states, it slows down the picker there (even if it's a one off) and just highlights that MS are too US focused. Sure it's a nice touch, but i'm not sure it's wise. And still the share option is too basic. The example given above was "I just scored 802 points and ranked 84% in Wordament Snap Attack. Can you do better? #wordament" - how easy is that to change (if you are sad admittedly). Why not make the share option take a screenshot so it's a) hard to cheat b) more visually strong so people would have more incentive to hit share. I think that should be on Wordament as well. But that is nitpicking, it's a great game, a worthy sequel, well done Wordament team.

Yeah, they have US state flags, yet no EU flag, typical Microsoft stupidity.

I'm lovin' it! 3,220 is my best game score so far!

Make it avaiable on Andriod NOW, this is a demand :p
Windows Central Newsletter
Thank you for signing up to Windows Central. You will receive a verification email shortly.
There was a problem. Please refresh the page and try again.