Wordament Snap Attack comes to Windows Phone and Windows 8 with Xbox Live support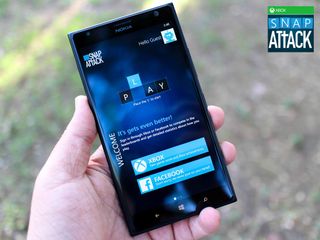 Ready for another game on Windows Phone with support for Xbox Live? Then you're going to be so happy to know that Wordament Snap Attack is now available to download. Not only is it on Windows Phone, but the games can be played on your Surface 2 or any other Windows 8.1 tablet or PC. Wordament Snap Attack comes from the team behind Wordament. Like Wordament, it's a word building game, but with a slight twist. Let's check it out!
Wordament Snap Attack is a new game where you race for two and a half minutes to make as many 'Snaps' as you can. This makes it a pretty fast-paced word game. Snaps are what the combination of words you make while playing Snap Attack. It might remind you a bit of Scrabble as you play, which is awesome because we love all word games. Score points by building words with the colored movable letter tiles.
Here's what you get with Wordament Snap Attack on Windows Phone and Windows 8:
Compete with friends around the globe and across devices!
Sign in with your Microsoft Account or Facebook to track your progress
Earn achievements on Xbox
Fans of puzzle games will definitely want to pick this one up. Wordament Snap Attack is available for free on both platforms and is supported by ads. You can sign in with your Xbox Live Gamertag or by using Facebook. There's an Android and iOS version of the game coming later down the road. In the meantime, fire the game up on your Windows Phone and Windows 8 device!
We'll have hands on video of the game soon. Till then, give it a download and let us know what you think!
Download Wordament Snap Attack from the Windows Phone Store.
Download Wordament Snap Attack from the Windows Store (opens in new tab).
P.S. The links are just rolling out, so give it a bit of time if you don't see them just yet.
Thanks for the Windows Phone link Travis!
Yippiee..Finally its here ! I was just searching for it an hour back and couldn't find it. :P

Me too. Turned off my tablet, so I'll download it tomorrow morning.

Hey just hit me if u wanna play on both systems. KENZIBIT
EDIT: Aawww mehn...love the way and sound of the achievements just poping (110/200G) without even thinking...love this game.

Sam, before the grammar nazis arrive-->Paragraph2,*fast-paced

Can someone please tell me why the game is not available to me on my Windows 8.1 Laptop?

Wordament snack attack? Hmmm..

Ha. I must have been hungry.

Snack Attack is the name of a cooking show that my mom watches on TV.

Well, if it's a "face-paced" game, maybe the goal is to stuff your face with as many snacks as possible in 2 1/2 minutes? ;)

Been playing and loving it on Windows Phone. The size of that Mint ad on Windows 8.1 though... damn. o_O

Looks like there will be much more skill parity than with the original wordament, people might have to ACTUALLY THINK ABOUT WORDS (gasp) instead of just doing some stupid algorithmic pattern.

And yet there is already someone who is consistently at the top of every game...with such a lead over second place in most cases that it leads to suspicion of gaming it in some way

The same professional athletes, etc. keep winning repeatedly, too. I wonder why that is. Fun trivia -- one of the very best Wordament players in the world (as proven on both the leaderboards and in live competitions) is a kid who's like 11 years old. Some peoples' brains are just wired the right way to kick butt at specific things.

Wordament was a bit disappointing for me so it's just a meh... Next

I've played Wordament ever since I got my 520... This looks really cool. Will report when I've taken it for a spin!

Downloading. I like wordament, so I hope this will be fun too.

From the header image: "It's gets even better!" I hope it's as fun as Wordament.

Hope they are adding more languages in the new feature.

Me too. Can't wait to play the portuguese version :D

can't find it on win8.1 store. dl'ed on wp8.1 though

Very good game!!!! Such a Nice app and well made!!! Greetings from spain

I can't get over 9 snaps and around 300pts... NO idea how people are getting 40+ and 4k+ points

Has to be some way for people to "rubik's cube" it like in the original game, no way people are just magically that good that fast. Still fun, but that's disappointing.

Seriously. I don't understand how people are doing that. Not a fun game

Hi Dave -- So like Wordament, there's a skill and a speed component. When people are getting 40+ Snaps, it's not because they are making 40 "single-snaps". Nobody can do that... yet. In our Full rules (in Help & Options), there are some useful tricks to help you get started. One of the most important is what our team refers to as "Gold Mining" -- That's where you place one good 5, 6, or seven letter word. Then, you take your remaining tiles and snap additional two-letter words off of your main word. It results in points, points, points! We will be putting together some tips and tricks videos shortly. Thanks for trying our new game! Jason / Black Snapper
Technical Director, Microsoft Studios

Great, thanks for the explanation. Wordament has been my most played game on my phone by far for 2+ years now.

Likewise, and now with WP8.1 I can see that Wordament by far uses the most of my battery with Battery Saver. Not that I think Wordament is a battery hog, just that it is used by far the most of anything on my phone! And now, oh dear, a sequel. Well that's my life gone.... ...returns 2 hours later after installing it. Managed 19th place on my first shot, thought "oh this is easy" and went downhill from there. Eventually managed a top ten on my 15th shot though; but still feeling "panic, what am I doing, oh a word" but starting to get the hang of it. Definitely seems like a step up in skill from the original, looks like I should throw my phone away or I will totally loose the last semblance of a life I am clinging to at present. Thanks Wordament people...

I got next to nothing in my first game. Then 24 in my second. At least the dictionary seems better on this than on Alphajax. That dictionary has left me reeling too many times.

Got 60 G in first 2 games...yummy

Little typo, Sam: Wordament Snap Attack is *an* new game
---
Already love the original, downloading this now!

Hey Sam is Daniel on a vacation? I assume that he got access to the final build of wp 8.1 and nokia blue firmware update, he must be trying out all those new features!!

He's never on vacation. Just busy with other things for the site ;)

People who do what they love are always on vacation.

I want to play snap attack on my Windows phone 7.x device!

Love this game. Way cooler than what I expected.

Adding to my previous comment: W H O A. It's a brilliant game. That's all. And I gained 60G in my first 3 games. I'm impressed.

I got 7 in my first game and a half, but only one popped up.

Really tough game but so far I've gotten 93% for my best finish

98% here. #5 overall. Gah!!

Just one top 10 finish so far from me (20 shots), another 5 top 20 (grrr), hoping I can work the game out a bit better and get a few more Top10's before there's too many players! Clever and more skillful update on the original, kudus to the Wordament team for thinking this up and implementing it. Hope they can get back to Wordament and add some more features though.

Sounds promising, hope it does not bake the battery like Solitaire.

And it's a universal app! Way to go!

Why aren't the achievements 'Universal'. Now you need to get achievements for Phone and PC seperately, I hoped this would be fixed for Universal games, Wordament has the same problem, and Angry Birds and Cut The Rope etc. are also twice in my list...

Some people are a actually happy with this ;)

Why the stupid games for Xbox live, has Xbox just lost their fun? Out of all the amazing games to come out, a word game is XBL. I'm amazed.

It's not a stupid game. Stupid game is swiping something to help animals LOL

Awesome. Needs german, though, as its hard to play on a foreign language

Only seven letters though... From my German lessons, I would guess they may need double the letters.

And your English is good enough, so crack on. You will probably beat me.

Addictive much? Much better than wordament!

Sam, before the grammar nazis arrive---->Paragraph2,*fast-paced

First on WP8. Xbox Live achievements. I'm happy.

Although it's already appeared in Malaysia store... Can't download it... I think it still not distributed yet here

Time to quit, never going to top this.. which was only possible because of how few players there are right now ;) (Guess the image didn't work, but I had a 10th place finish, which I'm never going to manage again).

Hee hee... me too. Just came 1st!!! with 3841 pts. What a fluke and never gonna be able to beat that. Screenshot it for the kids :-)

Nice. I'm installing it on my 810, will do the same on my 925 in a bit.

Seems faster than the previous version of the game...:P

Can't seem to download it on Win 8.1.1 (in NL). I can see the webbased storepage but it goes to the store index page when i click the link

change your region to Trinidad and Tobago (en-tt) as in the link and the game will be visible.

same here in the u.s.. Seems the link is defaulting to en-tt store front. Anyone know what region en-tt is? EDIT: Apperently country code TT Trinidad and Tobago hmmmm that cant be right? lol

en-tt == Trinidad and Tobago. change to that region and hit the link. the game pops right up

Sorry, this app isn't available in your country or region. mehh, ill wait a bit more

Still not in Windows 8 store.

Is this game a universal windows app?

Glad to see another Xbox game (#SaveXboxWP, baby), but peeved this is coming to iOS and Android. So dumb. This isn't Skype or Office. Microsoft needs to keep these exclusives to help Windows Phone (which has been stagnant for years).

It's kind of disappointing how the tutorial videos depicted iphone and ipad silhouettes. It's like Microsoft has no faith in their own products image.

Yep - spotted that too! Pants, especially as the Wordament team started off on WP!!!

Such an awesomely fun word game, a job very well done! Xbox live baby all the way.
Now let's get going with German language already!

It looks a lot like Wordemic: http://www.wpcentral.com/wordemic-speed-scrabble-online-your-windows-phon

shame on Microsoft....they are providing add with games like wordament and solitaire......

Only person who should be shamed is your tight self..

Hello everyone! After I installed the Win Phone 8.1 preview, my Xbox profile signed out, and when I tried to sign in from the games hub I couldn't, because whenever I tap "Join Xbox or sign in" nothing happen . So, can you please help me?
PS: Lumia 1020
Thanks a lot

So yesterday when the Windows 8 link wasn't directing you to the game in the store I stumbled upon another game that is still not in the store, 'Microsoft Treasure Hunt'. It is just an expansion to the Minesweeper campaign which i really liked. Do we know when this will be released?

This is definitely more challenging than the original Wordament. I'm more excited that it's free and is an xbox live game than I am disappointed that it has ads. You reall don't even notice them.

This is Speed Scrabble, guys. Just so you know how to describe it to people :)
Windows Central Newsletter
Get the best of Windows Central in in your inbox, every day!
Thank you for signing up to Windows Central. You will receive a verification email shortly.
There was a problem. Please refresh the page and try again.