Hands-on with the Prestigio MultiPhone 8400 DUO and 8500 DUO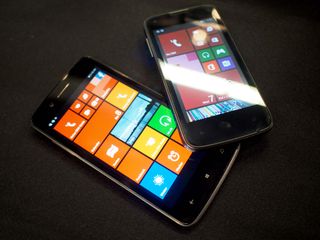 Prestigio, one of the first new manufacturers to join the Windows Phone platform in a while was at IFA 2014 where they were showing off their new MultiPhone 8400 DUO and MultiPhone 8500 DUO Windows Phones. The pair of smartphones are Prestigio's first Windows Phones, and they aim for a low price for emerging markets.
Both phones have a few spec points in common. They're both powered by a 1.2Ghz quad-core Qualcomm Snapdragon 200 processor, have dual SIM slots and HSPA radios (no LTE here), and 2000mAh batteries. Both also run Windows Phone 8.1.
The MultiPhone 8400 DUO is the smaller of the pair, with a 4.0-inch IPS display with a resolution of 480x800. Alongside that Snapdragon 200 processor you'll find 512MB of RAM and 4GB for storage, but no microSD expansion. The rear camera on the 8400 DUO is an 8-megapixel sensor with a measly 0.3-megapixels up front. It measures 10.95mm (0.43 inches) from front to back.
Needless to say, the Prestigio MultiPhone 8400 DUO isn't exactly a powerhouse of a phone. Design-wise it has an all-plastic body with a slick and dark faux-metallic finish that's actually reminiscent of a last-generation Samsung device (if you ignore the big Prestigio logo, that is). A second gray plastic bit trims around the glass over the screen. The 4-inch display has wide bezels on all sides and though bright, had blacks that weren't nearly as black as we would have liked to see. It's not an impressive phone, but what do you expect for €79 (US$110)?
Image 1 of 4
The Prestigio MultiPhone 8500 DUO is the more impressive of the two. It brings a larger and sharper 5-inch display with 720x1280 resolution. Granted, we being spoiled by the high-end wares of HTC, Nokia, and Samsung have come to expect a full 1080p at this display size, we shouldn't expect such at this price point. Thankfully this phone at least has 1GB of RAM, 8GB of storage, and microSD expansion. There's also an 8-megapixel camera here, with 2 megapixels on the front. The 8500 DUO is also thinner, measuring in at 8.3mm (0.32 inches)
Unlike the slick 8400 DUO, the larger 8500 DUO has a slightly-textured curved back case with a hump for the camera and the big chrome Prestigio shield below. This phone also has a gray plastic band around the glass front, though here it's angled in to create an edge that helps make the phone seem a bit thinner. The screen on the 8500 also seems to be of at least slightly higher quality, with more saturated colors and deeper blacks (though not nearly as dark as we'd like).
The bigger and better display of the MultiPhone 8500 DUO in the thinner body, plus a few other improvements over the 8400 DUO also mean an increase in the price. The 8500 DUO will set back prospective customers by €149 (US$210).
Prestigio's first Windows Phone offerings aren't entirely impressive in the hand, but they're not offensive either. They're affordable Windows Phones meant for markets where they could use more affordable smartphones just like these.
Image 1 of 3
Windows Central Newsletter
Get the best of Windows Central in in your inbox, every day!
Derek Kessler is Special Projects Manager for Mobile Nations. He's been writing about tech since 2009, has far more phones than is considered humane, still carries a torch for Palm, and got a Tesla because it was the biggest gadget he could find. You can follow him on Twitter at @derekakessler.
Decent low to mid range offering.

When we talk about recently launched budget phones by less famous OEMs then Xolo Win Q900s would be on top followed by Micromax Canvas W121 and both of these devices have better specs plus they come under $180.

i would love to take a chance on any of these phones, but none are available from amazon uk. it needs to be easier to buy these phones, microsoft should perhaps offer from their store, it certainly wouldnt hurt.

You can get them from prestigioplaza.com - EU webshop.
Shipping is free.

Try to buy here http://www.prestigioplaza.com/catalogue/Multiphones/PSP8500DUOBLACK I I saw offer for UK

Yup many low end phones, where is the high end? The 830 is not a high end. I was at ATT and the told me they have no Windows phone on display and no posters in the store Windows because Microsoft is not putting money in the stores adverts. There we no wp on display at all. Posted via the Windows Phone Central App for Android I am using Andoid phone as of yesterday because my 1020 screen cracked but I want a high end or the HTC one on ATT.

One will be out next month

4GB and no micro SD? Unless this goes for very very little, why would anyone want it over the 530?

From hereon, you have to assume there is microsd. This phone has microsd. All Windows Phones have microsd support except the "big flagship"!

Big flagship which doesn't support it? The biggest flagship out there is the 1520 which supports it. And the most recently released larger phone, the HTC M8 does too.

I missed 8.1 there. I meant 8.1 devices.

Was thinking the same thing. That's barely better than a flip phone.

The 8400 will go for about $40 less than the international 530, so not a bad value. It's mainly for people who don't download any apps and just want a basic smartphone (if that even makes sense lol)

Quad Core and 8MP camera doesn't make sense for a basic smartphone.

It's inaccurate info. Prestigio 8400 duo supports microSD up to 32 gb. I just checked at their official user manual and quick start guide

Or even 630,
A 4gb storage windows phone (Any smart phone for that matter) without sd drive. I think there is a typo somewhere or a huge misunderstanding of some sort.
Unless there is a grand master plan to sabotage windows phone efforts

Nah.. Lumia 530 is better.

Why?
You get smaller screen, no flash, no front camera and it cost 20€ more.

Major props to the author of this article. I read all of it and understood the contents. My article would have been more like, "more crap for the landfill."

Good to see more brands in WP family.

Is this the lowest spec phone that WP8.1 is running on?I wonder how fluid the 8.1 OS is. I'm sure slower but still. Wondering how low they can go before you start hitting that acceptable threshold.

NO SD CARD are they nuts ??

4GB? Why don't they just offer 0 storage with only enough for the OS and only an Sd card. You could really drop the price of the phone.

Is that not what the cheaper one is? Must be nothing left with just 4GB.

What I'm saying is just embed the WP OS right on the Snapdragon chip with enough room for updates and such and just support for SD cards. Nothing else. Buy a phone and a SD card. It comes with OneDrive everything else is on your SD card. Boom cheap Windows Phones.

Not true, it has support for microSD up to 32 Gb, author got it wrong. Just check on their official site

That measly 0.3MP FFC is more than the 530 and 630 have.

Exactly, any FFC is better than no FFC. Lumia 635 user here.

if they had been providing 1 gb ram then good. is microsoft forcing them to make 512 MB Ram phones are even they think 512 ram is enough on WP. well I think 1 gb ram could have attracted some users which blindly opt for Ram.

Not the biggest market though, at this time. This time next year, the low end ones will have 1GB, in my opinion.

From what I remember ram restrictions are based on screen size/resolution so their within the chassis requirements for 1st gen phones. Its not like hspa uses much memory

Wish Apple would make a WP

They overcharge for everything, why would you want them to make a WP?!!

I like the rumored iPhone 6 design and sapphire glass.

Lol man this comment made my day, ha ha ha oh man how? Why?

"I wish Chevy made an F-150."

Might want to leave out terms like "measly" when doing a review that's meant to be positive for the audience, no matter what audience these phones are meant to target...

I don't write anything that's "meant to be positive." I write the truth, and the truth is that a 0.3MP camera is next to worthless.

Still better than Lumia 5**s. At least has something

Better to have no FFC than to pay for the inclusion of a .3 mp camera. Kick the camera and shave another $10-$15 off the price.

You call it measly and (the truth) but where you missed the mark with criticizing the FFC is the fact that at least it does include one. 0.3MP may seem measly to you but a great deal of your reading audience own phones that don't even have a FFC.

Kudos for the honesty. And, I know I am in the minority here, but I have never properly used the front camera on my 920. Turned it on once to see if the dust affected the shot. Don't even know what camera it has in the front. Although, it will beat a 0.3 any day.

Well not exactly. You wrote that 8400 DUO doesn't have the microSD support, and that's not true, it has microsd support for up to 32GB cards ;)

Prestigio 8500 has way better display than Lumia 630 (Colours,Density,Black).

Better front camera than the Lumia 830 lol

Derek, how was the build of the phone? Did they feel sturdy or did it feel like the plastic was going to break? I've never heard of Prestigio prior to their WP devices, so I don't know much about their quality. On a side note: The 8500 actually looks pretty decent.

They didn't feel like they were going to fall apart or something, but they certainly didn't feel like I could chuck them at a wall either.

Get ready for an era of abandoned un updated windows phones. A La Android. You're not going to tell me, that some of these OEMs aren't going to abandon some of these phones. Updates. Its bound to happen. Like huawai.

Other than firmware, os can be updated without rooting. Dev preview

The people buying them probably wont care as much as the fanatical WP fans here do about updates. And they will probably get updated more than you think, lets at least wait for them to stop receiving updtes before we condemn them. And really, why the bias on this site against anything that is not US based? These are NOT meant to be the flagship some so desperately want, they are AFFORDABLE phones! They wont have the best build, cameras or features but they will certainly run the WP OS well. After all, isnt this the stick that's used to beat android around here, that their cheap devices are crap? So why expect any more from cheap WP devices?

I was with Android for some time and have bought one or two cheap Android during my tenure with the OS. Believe me, you don't know the meaning of the word crap until you've tried a cheap Android, at least back then. Maybe it's different now but that's how it was two years ago. On the other hand, I still have to see a cheap WP that performs like crap. But maybe with all these new OEMs, I'll finally get to see one.

Was the .3mp FFC used for the images on this article?

Alas, the lighting in Hall 15.2 of Messe Berlin the night of Showstoppers was incredibly poor.

I am warming to the idea of this low end stuff. Not aimed at me, but there must be a market for them.

I'm sure there is otherwise the 520 would not have been a hit that it was. And we all know Android grew at the back of these cheap (and believe me really crappy) Androids.

Keep bringing OEMs, market share should pick up unless the carriers keep redirecting buyers to apple and google

"Carriers ... redirecting" mainly happens in the U.S. I don't think it happens that often elsewhere in the world. And probably the main reason why growth of WP hardly moves in the U.S. while it's growing ok in other parts of the world.

Windows phone needs low end oems for volume sales only way to increase market share right now.

Hi everybody - I've gone from androids on windows phone and bought a prestigio 8500 with wp 8.1 and encountered a small problem and i need help - my phone does not block the caller list and does not support apps call+sms filter - is there any other program that could be used to block calls (blacklist)

I would imagine that the DUO stands for dual-SIM? Prestigio is usually a good choice if you are in for a dual-sim and also for users with low demands. A good thing for WP. Potential buyers just want a handful apps and an easy UI. This is a great addition for WP.

I think this is the first time that I have had trouble keeping track of all the Windows Phones being announced. Although many of these are low end, it's great to see this many companies contribute hardware. The 8500 doesn't sound too bad. I think 720p is about as low a resolution as I would be willing to go now. It would be great if it came at about $150. I think Blu had a phone coming out with 720p resolution at that price... Something I plan on getting for when I travel aboard.
Windows Central Newsletter
Thank you for signing up to Windows Central. You will receive a verification email shortly.
There was a problem. Please refresh the page and try again.