Microsoft shows off new Windows Phones from Blu, Prestigio and Yezz at Computex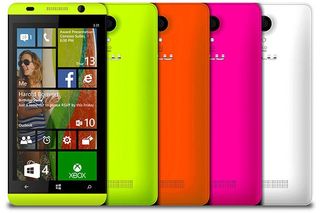 Microsoft today unveiled some new Windows Phones at Computex that newly announced hardware partners have produced, teasing consumers what they'll be able to purchase in the coming months. We've recently looked at some of the manufacturers adapting to the Windows Phone platform, including the likes of Blu and Prestigio, who are likely to offer more affordable smartphones running Microsoft's operating system. Today, we're able to take a glimpse at what we can expect to see.
First up is Blu, who actually teased its first Windows Phone some time ago on Facebook. Microsoft's corporate VP of the OEM division, Nick Parker provided some insight into two new Blu Windows Phones, including a 5-inch device pictured in the above render. While we're looking at more affordable hardware, it's interesting to point out the render shows capacitive keys over an on-screen solution.
The new Windows Phones from Blu will be launching later this year in both the US and Latin America. It's not difficult to see where some of the design influence came from with the colors and distinct looks, but we're excited to see more manufaturers support the platform.
Prestigio is also to debut its first Windows Phone, the MiltiPhone 8500 DUO. Unfortunately, much like the hardware from Blu, there aren't any specifications attached to the provided renders, but we can expect to see a Snapdragon quad-core processor, decent camera and HD display (be it 720p or 1080p).
Lastly, Parker showed off the Billy 4.7 from Yezz, which is actually named after former Microsoft CEO Bill Gates. This device will come with a Snapdragon quad-core processor (as is the norm with Windows Phones), 13.1MP rear shooter, 4.7-inch IPS display (720p) with Gorilla Glass 2. The interesting part about this device is how it's just 7.2mm thick. Expect to see the smartphone soon launched in Europe, Ltin America and the US for $249 (€229).
Yezz will also be releasing a smaller sibling to the Billy 4.7, called the Billy 4.0. This device will feature a 4-inch display, 8MP shooter and a Snapdragon quad-core processor. It'll be a cheaper option at just or just $139 / €129. Both Billy Windows Phones will be sold exclusively through Amazon.
In other news, Microsoft's Parker threw InFocus into the pit of Windows Phone manufactures, showing off other hardware prototypes. It seems manufacturers are warming up to Windows Phone, especially since Microsoft dropped licensing fees. Who's excited for new products?
Windows Central Newsletter
Get the best of Windows Central in your inbox, every day!
Rich Edmonds was formerly a Senior Editor of PC hardware at Windows Central, covering everything related to PC components and NAS. He's been involved in technology for more than a decade and knows a thing or two about the magic inside a PC chassis. You can follow him on Twitter at @RichEdmonds.
The prestigio phone looks like the old Samsung's focus.
They all look nice.

Looks really beautiful!
Reminds me of HTC One but in colours :)

That's exactly what I was thinking!

Yup! Just like the HTC one. I wanna see wht the HTC W8 looks like but this phone by bleu looks great.

I want an 8X with better specs aluminum body and colorful like above or the 8S.

I agree it comes in more colors

My first thought was that Fujitsu-Toshiba WP running Mango.

Love the one from Yezz! But I think I'll grab the Lumia 930.

But look how it works !!! (new android model) https://www.youtube.com/watch?feature=player_detailpage&v=HpYEAWoYRHY

but look how it works (new android model 7600)

Great.. Let us welcome them to WP family.

Windows Phone needs OEM support. This is a great start.

HTC ONE (M8) Windows Phone version is here. LOL! By Blu

Where is info on this? I see rumor stuff, and part of the rumors is that it'll be Verizon exclusive...yuck!

I think he just wanted to point out, that the Blu phone looks a bit like a recent HTC device ;)

It's practically a replica which is shameful.

Nice. Blu (with their Android phones) is really popular in the Caribbean. Hope they can achieve the same success with WP

With a name like the Duo, I bet it's dual sim. I also believe one of the Billy's was previously reported to be dual sim. I'm in the market for an unlocked dual sim phone for travelling for work, so here's hoping as choice is nice.

Doing a bit more digging, it does indeed appear to be dual-sim. The "dual-sim" tag would ideally be added to this article, as it took me about a half-hour to find it, and the fact that it's a dual-sim phone is not mentioned in the article.

The Blu use 8.0 megapixel camera, look at the phone back.

Like the way they show off the transparent tiles to full effect

Who? Facebook? :P They clearly show their true potential on WP

Good point, because most of these carries don't highlight t this. They leave the bland looking screen up.

That is NOT a plus in my book.

Is a good sign!more dev in wp os

These look great! I'll keep weighing my options and keep these in mind. Finally a quad-core phone not 350 and up...

The Blu and Yezz look nice

Those colors are a little... But nice phones over all

Yes! Theyre not terrible looking!
I was worried the influx of new OEMs would mean a duller design and a more anonymous build. Delighted to ser these phoned retain the bold, colourful designs that Windows Phones are renowned for!

Definitely, that's what I was afraid of, but it seems they're loving the Live Tile accents and wish to match the bold colours!

Now wait until Microsoft mobile oy release Nokia exclusive apps for other manufacturers.

Are you implying it's a good thing or not? Can't tell with your comment, but it would be a strong move for Microsoft to better align its platform and bring every OEM up to speed with offerings (especially since these will essentially be through Microsoft anyway).

Uh no. It's not a good thing. Keep Nokia apps with Lumia.

But they're not a separate division now. So they aren't vying for market share. Microsoft want, first and foremost, their operating system to gain ground, and not keep apps locked to a line of hardware devices they own. That would be counter intuitive.

I concur, I think there's a good chance that the non-hardware specific Nokia goodies will be released OS wide just as Microsoft's own are.

Anybody else see a lawsuit over the similarities between the Blu device pic, and the HTC One? Looks really close....

HTC can't attack Blu since they have to go through Microsoft themselves first.

You sure about that? Doesn't sound right. If Blu manufactured the phone and it looks like HTC, who cares about the OS, its the phone design their after...anyone else?

I agree with you Trench Mouth, I see no reason why a lawsuit would need to "go through Microsoft themselves first."

Kinda looks like a BlackBerry Z10 as well...

What is this "blackberry" you speak of?

lol A mythical creature once common however all but extinct now. Let us bow our heads....

I dunno. There's only so much you can do with a rectangle. They all look the same to me.

Those are based on reference designs from Qualcomm so there should be no worries.

Yezz phone and Blu's phone have same start screen on pictures????? Even time is same on them!

Guess their not interactive demo units

Of course it is render but they could use different start screen. That would rise credibility :)
Posted via the WPC App for Android! And I have lumia 920 :)

Microsoft showed them off. Think that's about all the credibility you need :P

Notice how the Blu picture's green tile says Xbox, like the old animated Games tile from WP 8.0. :P

I'm really glad the era or black and white only phones is ending. I missed colors, I remember when deciding a color was bigger deal then which handset to get :D We gotta thank Nokia here, they started pushing bright colors really, before there were occaisonal reds or purples but rarely, not it's normal to see someone with bright yellow phone. I'm sure BLU phone will appeal to younger girls (and slightly older girls, and boys, whoever like pink, really) because of bright pink color, there's very little choice in that color. And it looks like HTC one in front and kinda like Lumia 925 or 1520 in the back. :D I'm sure Nokia would sell way more WPs if they had an affordable handset in pink for kids, even people in first world don't want to spend 500€ for a kids phone, but 100€ off contract would be reasonable. Colors all the way!

Nokia reinvented the colorful phones.

Ah. Come on
You know Apple invented color with the 5c.

That's right they did! They also came up with cool circle cases...

...and so, iCOLOR was theretofore invented and patented by apple. LOL

All hail Apple, they are the font of all creativity in the world and if you dare say otherwise shall litigate you into hell...

Nice to see more OEMs. I wish the phones would release sooner. WP FTW!!!

This! When I came to WP there was LG, Acer, HTC Nokia, Samsung. Chose the Titan. But when I moved to WP8, Nokia was almost all there was and I will stick with it because of the eco system. But it is new customers were need and with lots of choices that is easier. I am also thinking we will soon see more carriers accepting unlocked hand sets soon.

Me too, I had HTC Pure, then HTC Titan 2...bustards at AT&T messed up my online order when I chose pick up in store and financially forced me to give up the Titan (which I wanted to keep for my son as a Wi-Fi device) so I could get the 1520. Still pisses me off. Oh well, at least I got out of the mandatory data plan...funny, everytime I call they notice that, but I tell them I am on the pay as you go plan for data (which doesn't exist). Been doing this for two or three years. lmao

They look quite nice, but it seems none of them have a camera button. I hope at least Nokia Microsoft will keep the camera button.

Yeah, that was the first thing I noticed. I'm hoping the Nokias keep the button, it was my favorite part of my Focus. And when I go back to WP (crap GS3 right now), I want that button back too!

How is it a rip off when HTC has constantly dragged their feet on releasing new Windows phones? They had their chance.

Billy is amazing! That thin phone packed with quad core and WP8.1 will be sexy at that price point!

The more the merrier! Go Windows Phone!

This gives me hope for an exciting Windows Phone device landing on T-Mobile some time in the future.

That's llke a gambler always thinking they're gonna make it big on the next bet, no the NEXT bet. No it's gotta be THIS bet.... maybe later this year... (EDIT: I see you didn't say soon, you just said some time in the future. Clearly you've already gone through the five stages of grief and have arrived at a resigned sense of acceptance.)

They are very good at knocking off Samsung and HTC designs. While using the colour scheme of Nokia. Pirate phones, the best phones around.

That Yezz looks quite Nice To me.

Hmm, I'm really curious about these. I'll probably end up importing one. Doubtful they'll ever reach Sweden since some SPs have excluded even Nokia devices (Telenor, and maybe Three as well).

I guess this is all well see windows phone wise for now as computex isnt geared twords cellphones

This is what WP needs, the more the merrier!

Those colours! Take note Samsung..

Any news from the Indian vendors( Micromax & karbon)?

Good for Microsoft. I don't see any of these becoming popular in Europe but maybe it will help the landscape in the likes of the USA. I'm currently only interested in one OEM and when will I see a WP from it. And that OEM is Sony.

The Dutch are cheap .... so in The Netherlands ....

I was in Amsterdam last week and they were advertising the 925, but the Dutch are far from cheap, €7.50 for Heineken and €100 for 20 minutes is kinda high :P

You're like a spurned lover, so bitter... Nokia's Devices and Services division has been sullied by their dalliance with Microsoft and so now you reject their advances a priori?

I really wanted an Xperia Z Ultra, before I learned that the 2520 was coming out. I wanted FHD, 6" and horsepower, which the 1520 delivers. In this ONE case, carrier exclusivity kept me from changing from WP to Android because AT&T does not carry Sony. Funny how things work out. Of course, its taking forever for WP to push Cyan in order to be really comparable. I really want OTG.

Cool, the more the better :)
I have to say though, that phone looks a lot like an HTC one

Li like the looks of those renders, they resemble the HTC one

Prestigio is such a fun name to say.

The Yezz looks awesome. I hope they will sell it to Asia and the Middle East as well.

Yes, I hope the Yezz Billy 4.7 reaches Asia and that it will have LTE.

I want all of them to see detailed specs. Looks great phones for me.

I want to see the first like of Microsoft phones from their new Nokia division... Not this crap ;)

There's no Nokia division at Microsoft. There's a Microsoft division of smartphones and that's it. Nokia is an independent company and doesn't make smartphones anymore (at least until 2016).
What you want to see is the first Microsoft phone ;)

He wants to see exactly what he said, just the same as I want to see my lottery numbers roll out, doesn't mean it has to come true...sadly

I will bet you that Nokia is not going to return to designing or manufacturing cell phones post 2016.

Did they sell it before the smartphone sector bankrupt ?????

The home button on the prestigio is titch man...

Typo on the 4th paragraph... Miltiphone. They all look interesting and good, but Nokia's still the best, I think.

will I be able to buy Billy 4.7 in India? Is there any chance?

Yeah from Amazon, after you've paid the custom duties once it's detained by the Customs.

well I think eBay will be better!!!

I am still waiting for a high-end dual sim solution to replace my personal Lumia 920 and my work phone. Until then I will be thinking of the 930 or the next one to come. I do hope HTC will not be the only OEM to offer a high-end dual sim phone... I don't want to go back to Android...

Haha! I just posted the same, not many high end phones offer dual SIM! Gets annoying having to carry around 2 phones (one for work, one for personal) .... But then again its nice having 2 Windows phones :D

The BLU ONE lol.. It looks kinda cool though.. The colors pop.

These looks much better than stuff Samsung and HTC come out with. I'm impressed

Beautiful phones. The more, the merrier.

Very interesting.... But what I really want to know is are there any dual SIM high specs phones in the works? A 5inch quad core 925-like designed device with similar camera, a micro SD, dual SIM, gesture controls, on screen Windows keys, wireless charging built in, WOULD BE AWESOME!! ......Please :D

Look at Samsung, duel sim render

Samsung dual SIM "Windows phone" render?? Edit* sorry was in the wpc app and couldn't see it... Looks kinda Samesung-ish... I'll keep my eyes on it though... thanks!

What's with everyone wanting on-screen buttons? Are your referring to the kind some android phones have? If so, I see a few downsides to this, what if your screen freezes or is unresponsive? Screen takes damage from a fall right where the buttons are? Or how about a bug not letting them show up? My personal opinion, I really prefer the capacitive touch buttons on my phone. I've used android, and i hate the on-screen buttons. Are you saying this hinting at a bigger screen? Cheers. :)

That Samsung render has duel sim....see the little one and it says something about line one

Another cool thing about WP is that you can be sure the OS will be fluid on pretty much ANY hardware, no need to worry about 'underpowered' devices that may deliver subpar performance, I mean even the 520 is still very smooth on 8.1! WP is just so light; beginning to really appreciate the effort MS has put into it!

The 52x is smooth on 8.1 in just about every app, but the real flow breaker is resuming/loading screens. Still beats the pants off most similarly priced droids though.

all the yezz billy screen protectors have already gone up on amazon, but the release date is set for sept. Doesn't give much confidence for a June launch, but maybe it's just a placeholder.

I'm not excited at all. Is anyone making high-end devices? Or are we now sitting in the mud with Android? I was really hoping to see the real successor to the Lumia 1020. Instead....more flotsam.

Are you looking to do something special or do you just want bragging rights on specs? If the phone does everything the competition does who cares about specs. It looks to me WP8.1 is a better built OS and requires lower specs to run as designed and expected. What I would like to see is better graphics cores teamed with moderately spec'd processor cores.

Most users do not purchase "high-end devices". That segment belongs to Apple. The middle and low end is for the majority of users and why Android is number one in the world. You must be too young to know that Microsoft has historically always gone after the largest market share.

All these new phones are fine, yes... But... Where are our new flagship phones?

Do you mean the Lumia 930, that is going to be available soon, unless you live in the US for which you the Icon P.S. I am not sure of the info. but I don't think these unlocked phones are going to sell as much the carrier phones

MM flagship Goldfinger around November. We don't have the details on LG's Windows Phone so that may be interesting. It is disappointing that the HTC is not a Windows Phone version of the HTC One (M8).

Uhhhh..... I'll pass. Nokia put out a 5" and take my money

I absolutely agree with you. I hope to god that Goldfinger is more-or-less a five inch aethetically pleasing phone with a SD Card Slot and Glance.

I would have loved to see some RAM figures. That and the display are what matter most to me. But seeing as all these specs are...speculative, I'll wait and see. And then probably do more of the same for the new HTC lol.

Prestigio's phone is dual sim or what? if you look carefully you can see 'Phone 1'. Hmmmm..... Lets see this might mean in house competition between the L630 and that, even though we can expect them to be in different price bands and that that the Prestigio's specs, by far, outmatch the Lumia's. Would you take Nokia's apps and slightly lower specs or the Prestigio and great specifications (expectedly) and the supremely weird name?

I am really interested in the one from Blu. Looks beautiful. Hope it get released soon in brazil :D

What service providers are these for? I'm assuming AT&T and Verizon. Probably no love for Sprint customers, of course. I'd be pleasantly surprised if either the Blu or the Yezz were available for Sprint. I'm also really hoping for some nicer high-end phones. These seem kind of in line with phones that are already out there in the world.

I think what we got last year was it.

What is it about windows phone that you have to have such a large bezel? If this was an android phone, it would be nearly edge to edge. Is there something about WP that requires all that extra space around the screen?

Promising options, and its good to see these guys bumping screen size. I just wish there was info on which lte networks will be supported in the US. Yezz is fantastically priced. Blu is based in my home town.

I'll stay with Nokia for my main but I may get a blu one as a secondary if the screen ends up 1080p for low price tag and they don't put under 1gb ram. They look nice, that yellow is intense.

That and BLU is from Florida so that's local for me.

actually it is Chinese Gionee Elife brand

Except those from Blu (Which are copies of beautiful devices), the other two look like cheap trash from brands famous for cheap materials and bland designs. They will end up in a corner in phone shops in Taiwan, if ever sold over here; they may not sell well in many EU countries either. May have more luck in some other markets. Yezz in particular looks like a remake of some third category Chinese brand selling cheap phones in Asia for peanuts. If HTC makes one in metal with big screen, expandable memory, a LED and proper Chinese input i may head there.

Prestigio is fourth biggest sold mobile phone in Europe.....not in taiwan..... they make phones for average people......

Love that lime green color on the Blu phones. Don't like the Prestigio looks rather plain Yezz looks pretty good

Those phones by Blu look great

This is great news for the Windows Phone platform.

Hmm ...will these phones get periodically release updates whenever it releases or wait for months to be approved by the manufactures.

More WindowsPhone means less android and this is perfect!

Billy 4.7 from Yezz looks good.

I like the one from Yezz. While I'm sure that the devices will be unlocked (if they ever make it to the US), I just hope that they have the LTE radios for Verizon's network. I wouldnt' mind having one as a backup.

These phones better be on every phone service

CHECK FIRST gsm carrier frequencies in those phones !!!! http://en.wikipedia.org/wiki/GSM_frequency_bands Only Nokia (920) works in all frequencies in USA and Europe......