Prestigio's first Windows Phone leaks; it's got some texture to it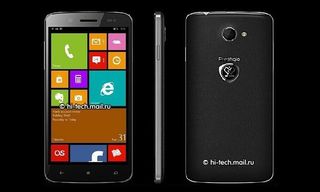 Mobile device manufacturer Prestigio was announced back at Microsoft's Build 2014 event to be pledging support for the platform. The company has yet to unveil a new smartphone running Microsoft's operating system, but already we're starting to see some images and details leak. According to Hi-Tech.ru, the Prestigio PAP5507 is a mid-range Windows Phone with an interesting design.
The PAP5507 (we're sure it will receive a more user-friendly name once available to the general public) will be the first Windows Phone from the veteran Android handset maker. Hi-Tech.ru reports that the MultiPhone device (sitting in the same family as its Android collection) will be powered by a Qualcomm Snapdragon CPU (clocked at 1.2 GHz), have a 1280 x 768 display and come with an 8 mega pixel shooter.
Unfortunately, the shared image isn't of high quality, though it's clear to see capacitive buttons, as well as a front-facing camera and single flash for the rear shooter. The device also looks strikingly thin. Other specifications aren't currently known, so we'll just have to wait and see what will be announced in the future by Prestigio.
Source: Hi-Tech.ru, via: WP7Forum.ru
Windows Central Newsletter
Get the best of Windows Central in in your inbox, every day!
Rich Edmonds was formerly a Senior Editor of PC hardware at Windows Central, covering everything related to PC components and NAS. He's been involved in technology for more than a decade and knows a thing or two about the magic inside a PC chassis. You can follow him on Twitter at @RichEdmonds.
Seems like we all on drugs!

Seems I see what you did there

So many more new WPs leaked, this is good (regardless of specs and details). This is how Android really started its growth =D

It's just too bad Android's growth took off when WP was just a baby of an OS.

Hey just remember that there was a time when the Google Play Store was the Android Market, and the ecosystem was the butt of all jokes... now it's beaten the Apple App Store in app downloads and has more apps than any other mobile ecosystem.

Thats only been happening since they've discouraged their devs from offering sideloaded versions of their apps

It may be beating the App Store in downloads, but the App Store is still number one when it comes to revenue. Developers make much more on iOS than Android.

Ya, with all the new phones coming out this year WP is surely going to see a surge in adoption just out of sheer availability in the 2nd half of the year. 8.1 bridges the feature gap, free WP8.1 licensing will fill the device gap, and the app gap is going to take some time to fix but is getting better every month. 2014/2015 is looking to be blue skies for WP

Exactly.. Well said!... It's all ups⬆⬆ for WP from this point on.
............................
But, I'd just like to "pre complain" about one thing,, because I can see it possibly becoming an issue..
Will these manufacturers please start loading a eye catching default background image on their start screens?... I seriously think having a beautiful BGI on WP8.1 devices will help it's presence on store shelves, and online... They need to use this feature!.... Look at Samsung! I can remember all of Samsung's previous BGI's because they just stick after seeing them everywhere..

Yeah... This is like forcing developers to develop the apps for us... Come on... Micromax and xolo in India... Join the wagon...

They're coming.. Patience,, patience..

I'm waiting for micromax specifically. I managed many of my friends to get a Lumia and there's one who started loving WP so much that he made his whole family get Lumias (I call them Lumia family as of now ) I never imagined he'll be this happy... Anyway but there are still a lot of my friends who are extremely budget conscious. They use Androids worth ₹5000 only and won't get a WP until the price goes down or OEMs like micromax, lava or xolo joins in...
Micromax definitely is a class B company (just my opinion) and no place near Nokia/HTC/Sony/Samsung etc but the potential it has is unimaginable, to boost WP growth in India.

There is one main ingredient missing: having ALL phones available on ALL carriers and banish this carrier exclusivity nonsense which only further cripples Windows Phones' growth. They also need to become more aggressive with their marketing; I'm tired of seeing all these Samsung Galaxy S5 commercials and only setting a once in a blue moon Windows Phone ads. They also need to educate John Q. Public about Windows Phone and offer them an incentive to try it. Until then,I won't hold my breath. I love all things Microsoft, but it angers me setting how slow they are about advancing their product.

Yup. Alas, all of it one year too late for Nokia. :( But, I do rejoice the growth that WP will inevitably see and that will benefit MS Mobile too! :)

I'd have to say yepers as well...

Good looking phone from the back and sides.

Galaxy?..... I like the back.. Looks prestigious❔

odd, it put this in the wrong post. but on another note, the back side is usually nice to look at anyhow;)

This news gave me a Boner then Cured Cancer!

And cured your plague too! XD

Prestige worldwide...wide....wide.

Bring on the new hardware baby!

How is each tile multi-coloured?

A well placed picture... looks really weird when scrolling.

Could be a hint at a "random" theme that's to come... Who knows, maybe a new theme will be exclusive to Prestigio.

Or it could be Android running Nokia X :-o

Yeah, or HTC's new home screen.

LOL! I'm sure it's not that

If i remember microsoft said they would have a refrence design for local manufacturers,whichthey can brand. We can expect something similar from micromax and xolo in india too. Good because lumia 630 had many short comings. Waiting for a india launch... I want my first smartphone.

What did you not like about the 630?

512MB...no capacitative buttons, & does it even have a forward facing camera?

Hes talkin bout the ram an no flash

I see, yeah 1gb and a ff cam should have been included but the
Capacitive buttons do tend to get in the way A Lot even on my 1520 lol so things would be much worse in a smaller form factor like it was on my 920, with that said I'm no sure I could consider that a loss.
In every other area though the 630 impresses, room for a 128gb SD, 8gb on board, SD400, Quad core, Clear Black display, Wifi Hotspot capabilities, 4.5" Display, 5mp F/2.4 rear sensor, its very good looking.
Really not bad considering the three complaints, this is a great option for a DD.

Agreed! The 630 is a capable and nice looking phone! And it's good price also helps - which has the potential to even drop lower in a few months!

Every tile in the image has a diffrnt colour, if theres an app dat can do dat, I'd love to have it on my phone..

Same here. So easier to differentiate

You like your phones like you like your women, flat and boxy, with squared edges?

You Sir deserve a Nobel Price

Its nice, except for that badge with the logo on it.

Nice. The more the merrier

Capacitive buttons.... As in on the screen or built in like we have now? Either way, they are capacitive buttons, so saying that a device had capacitive buttons is unnecessarily vague.

They don't look like on screen. I'd guess that they're actual capacitive buttons under the display.

My point is that the term "capacitive buttons" is too vague. Hardware buttons and soft keys is a more accurate description.

The screenshot they used looks a bit strange though... Store tile is not the windows 8 one and can't figure if the top right tile (pink) is a onedrive logo... Design is pretty nexus like...

It kind of looks cool. I like this. Something different from Samsung crap...first LG and now prestige. I'm hoping for some new Lumia news...icon and 930 ain't cutting it :D

The design is nice. Though from a brand called Prestigio (Portuguese for "prestige") I would prefer something a bit higher end =P

This phone looksmuch better in looks than the LG phone which was shown in the other article

Curved is pretty nice. But I'll stick with the box lookie one ;D

Prestigio is not known for high quality products. Their phones and tablet break easy and are not all that great made(most of them). Another not so great thing about them is that they use MediaTek SoCs. However their products are cheap, come bundled with gifts - case, screen protector and more. Also their waranty is great! Hope they make better WP phones than android.

This year end will be amazing with many windows phone competing android phone

Yeah! We need more soldiers for this competition!

I like the style. Keep the new devices coming!

It is good that Windows Phone gets more OEMs. They need to have a selection of devices, because people want different things. However, if this is going to be any benifit for Windows Phone in the US, carries need to carry them. I was in an AT&T store, was going to show my brother some windows phone. I have a 1520 and he wanted something smaller. I was told that paticular AT&T store did not stock Windows Phones anymore.

Again, no physical camera button = Deal Breaker, I wouldn't buy it. But good to see new Windows Phones coming to market

In vast majority of cases, Android OEMs who also will put out a WP device will have them with no camera buttons. And that will also be true for all low-end Lumias. I think only high-end Lumias will be left with having camera buttons.

I love OLed screens...so I. Think I will get 930 orange one may be

Well i am sure that new OEMs will definitely be advantageous for WP ecosystem! Earlier it was the app gap which Microsoft has reduced to the minimum.. And now they are bringing or introducing new OEMs.. Cool thing Microsoft!

This is not windows phone. Does anyone notice the multicolored tiles and the wp7 marketplace icon?

And the capacitive buttons are all fucky. This is an entry level photoshop job. Like, MS Paint bad.

it looks nice sadly these small OEM's will only make it available on few markets

These are small Android OEMs, whose Android phones are also released only in regional markets where they operate. I don't think they have the scale to produce vast numbers of units nor the infrastructure for worldwide distribution.

I never use the camera app to launch the camera. Here's to hoping for carriers to still include the physical button.

I think the only OEM who will be left producing phones with camera buttons will be Microsoft - and only in their high-end Lumias. It's practically certain that Android OEMs who will also produce WP devices will have no camera buttons in them.

Gonna keep commenting until you guys are gonna implement it.

We (or perhaps I alone) want Disqus

I want a copy of photoshop. Sorry if my comment is too off topic relative to your off topic comment.

That's a pretty nice looking phone!

I recall Joe mentioning them during the WP 8.1 speech. now I can see why I didn't know about this company. I always thought the floodgates would open once MSFT made WP free. But so far it seems OEMs are still taking a wait and see approach.

Good to see more manufacturers coming to WP

Agreed! The more manufacturers, the better! LG, Samsung, HTC, etc...I think this year and next people will take more notice of Windows Phones. Especially with the awesome 8.1 update and Cortana! I just converted my girlfriend from Android to a Nokia 928.... With the OS and camera, she's hooked!

Another oem thats goofed. Really they could only offer 768 res screen thats an oddball res for a 8mp phone

Why is it an oddball res for an 8mp phone?

I'm afraid this is an Android-phone running a WP-skin.

Looks like a solid midrange device. Assuming it has at least one gig of RAM.
Windows Central Newsletter
Thank you for signing up to Windows Central. You will receive a verification email shortly.
There was a problem. Please refresh the page and try again.