Yezz's Billy 4.7 Windows Phone will be thin and cheap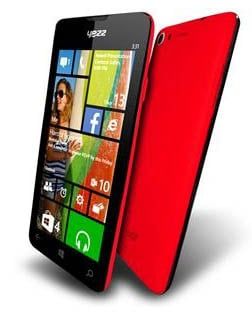 For all the big smartphone players like Apple, Samsung, and Microsoft, there are smaller ones like Blu and Yezz that operate outside the carrier system and sell their phones direct to customers through outlets like Amazon. Mostly they've focused on cheap feature phones and Android devices, but Yezz today announced their first Windows Phone 8.1 devices: the Billy 4.7 and 4.0. And boy are they cheap.
The phones are due out in May on Amazon, and Yezz is laying claim to them being the thinnest Windows Phones yet at just 7.2mm. The Billy 4.7 has a 4.7-inch IPS screen with 1280x720 resolution. Inside the aluminum body you'll find two SIM slots, an unspecified quad-core Qualcomm Snapdragon processor. Radio-wise there's HSPA+, and for the camera you're looking at a 13.1MP shooter.
There's no indication of the size of the battery in the Yezz Billy 4.7, nor do we know how much storage or RAM you'll get (all likely on the skimpy side). You'll note there's also no LTE here. That's how you keep it thin and cheap. But it will come with three interchangeable backs in red, white, and blue.
For calibration of your expectations, Yezz's top-end Android phone — the Andy A6M — has fairly similar specs (with a 6-inch screen, 4GB storage, 512MB RAM, and a 2400mAh battery) and retails for $325 with no contract. It's not a flagship-level Android phone by any stretch, but it's cheap and unlocked.
The Billy 4.7, meanwhile, will be priced at $249/€229 with global availability in late May/early June.
In case a $249 off contract phone wasn't cost-conscious-enough for you, Yezz's Billy 4.0 will be even cheaper. It drops down to a 4-inch display, 8MP camera, and $139/€129 price.
All that said, you'll get what you pay for. There are really affordable Windows Phones available today, like the Nokia Lumia 521. And those phones come with the full backing of a company with history, experience, and full-fledged customer support that a manufacturer like Yezz cannot offer.
But with Microsoft dropping royalty fees for Windows Phone, we wouldn't at all be surprised to see more cheap "off brand" smartphones like these cropping up.
Press release:
YEZZ Introduces the Billy 4.7 Windows Phone
Miami, FL – May 1, 2014 –YEZZ, a leading multi-national mobile device manufacturer, today announced the Billy 4.7 based on Windows Phone 8.1. Wrapped in lightweight aluminum, the dual-SIM device combines modern design, high quality materials and top notch performance. YEZZ is quickly expanding their footprint in the US and Europe by keeping up with the expanding demands in the mobile industry.
"Today we are introducing the world's thinnest mobile device based on Windows Phone 8.1. Our Billy 4.7 features a sleek and sexy design offering people an uncompromised imaging experience at an affordable price," said Luis Sosa, Creator of the YEZZ Billy 4.7. "We are pleased to bring the great developments of Windows 8.1 to our portfolio of freestyle mobile devices."
The ultra-slim Billy 4.7 is fueled by a powerful Snapdragon quad-core processor, delivering more content for apps, games, and mobile browsing. The Billy 4.7 features a 13.1 MP camera, a stunning 4.7-inch IPS screen with OGS technology and 1280x720 HD resolution. Delivering a fast, 4G HSPA+ internet experience capable with HSDPA+ 42.2 Mbps data speed, the Billy 4.7 comes equipped with dual-SIM technology, providing the perfect combination for work, play or travel.
Designed with style-conscious individuals in mind, the lightweight, 7.2mm-slim device offers simplistic beauty with its curved edges, glossy finish and scratch resistant Gorilla® Glass 2. Compatible with all GSM networks, the unlocked Billy 4.7 comes with three interchangeable covers available in red, white and blue.
Aggressively priced at $249 and (euro) 229, the dual-SIM Billy 4.7 is expected to roll out globally late May starting with Europe, LATAM and United States. For the cost-conscious user, YEZZ is also rolling out the Billy 4.0 loaded with a 4-inch OGS screen, 8MP rear camera and 1.3MP front camera, quad core processor, retailing for only $139 and (euro) 129.
The Billy 4.7 and Billy 4.0 will be available in June exclusively at Amazon.com. Visit www.sayyezz.com for additional product information.
About YEZZ
YEZZ is a global manufacturer of strategically designed mobile devices dedicated to empower consumers with the freedom to choose a smartphone or tablet to meet their lifestyle. As the creators of the freestyle mobile philosophy, we offer high-quality, cost efficient, and fashion forward devices that connect consumers' business and entertainment needs with their personal style. Learn more about YEZZ by visiting www.sayyezz.com, facebook.com/FreestyleMobile, instagram.com/yezzmobile# or Twitter @YezzMobile.
Get the Windows Central Newsletter
All the latest news, reviews, and guides for Windows and Xbox diehards.
Derek Kessler is Special Projects Manager for Mobile Nations. He's been writing about tech since 2009, has far more phones than is considered humane, still carries a torch for Palm, and got a Tesla because it was the biggest gadget he could find. You can follow him on Twitter at @derekakessler.
My mother taught me at an early age that "you get what you pay for" and "there's a big difference between 'inexpensive' and 'cheap'."

I agree, but a large part of the success of Android is off of these "cheap" phones.

Very true, they flooded our market and have displaced "dumb" phones. Was quite clever IMO. Hopefully these guys are not too shabby and can do something similar for Windows Phone.

Dammit Rodney, your pictures are great. Posted via Windows Phone Central App

I kind of want to buy one, just to support them, though. I doubt it would become my daily driver, but it is cheap enough that it may become my music player.

I won't say that your mom tought you wrong, she is certainly right. But in today's smartphone world nothing is about "cheap" and everything is about "choice".

Only thing cheap about this phone is the price.. Let's not judge this on the fact that this is a lesser known company. Thin, Aluminium, Quad Core, Dual Sim Windows Phone. This may very well be my next phone. if it has sufficient ram and internal memory then it ticks all the boxes. Shame Nokia hasn't been able to pull this off

Based on their line called Yezz Andy (for Android), it will probably have 4GB of internal storage and a microSD slot capable of 64GB cards. My own perrsonal qualms about it is it's not LTE capable.

Where is this info taken from? I could not find this press release on the web in any place that even remotely resembles an official Yezz source.


Any chance that the "dual-sim" tag can be added to this article? It took me about half an hour to find it on WPCentral, going page by page. :)

Man that phone looks wonky....

It kind of looks cool. What's the benefit of buying a phone like this vs say the 8x/920 or even samsung's mess which are older models yet in a lot of cases have better specs.

I don't want WP to be known for being cheap...

It never hurt Android......

Android has a good reputation...
Now, there's a few MS haters out there, but they are the average consumer...... So, those of us who think Android has a bad rap are also not the average consumer.... Go ask the average consumer who they trust most,, Android, or WP... They will most likely go with Android... That's not having a bad reputation... I don't really care for Android at all, and I love WP, but we have to be honest here....

It's not about reputation...its about being a sheep and not using your mind...people who dont use windows phones and they dont know anything about it but still feel its bad..

True. What matters for them is the sales.

If it boosts sales and consequently, marketshare, I'm all for it.

Like Blu and their other smartphones, it will be inconsequential marketshare at best.

I never heard of Blu. Are their products sold in the USA?

They are, on Amazon. Blu's actually based out of Miami, FL.

Interesting. I never heard of them, but I've never looked for unlocked devices on Amazon.

Every mittle mek a mukle. Meaning every grain of sand helps fill the bag. Posted via the WPC App for Android!

The 920 wasn't cheap. The icon ain't cheap either.

Better to increase marketshare by cheap phones and create a sustainable ecosystem or face death of the entire platform which will lead to extinction of expensive devices too which you love. Besides, Microsoft ensures good performance by mandating minimum specs like minimum Qualcomm processors, 512MB ram, 800x480 screen etc...

Never said inexpensive is bad. Just if it has a brand name and cheap, it will be known better than some smaller company.

A lot of people buy cheap Android phones of small companies because that's what they can afford. Especially in countries where there is no contract with carriers and one has to buy a phone outright. Sales of lesser known brands do help android, nd hopefully will help WP.

These small brands, brands known for cheap devices get you the marketshare. In countries like India and China such brands sell Millions every month and grow the unstoppable Android marketshare. For example a single local brand Micromax sells 50 Million smartphones every year in India which is more than the total worldwide sales of Lumia and there are quite a few such brands in India and China who do such numbers and there support is badly needed if we need Windows Phone to survive and grow, only then can you be assured of platform future and future flagship devices like Lumia 930.

It's way too late for that. The best selling WP is the Lumia 520 and it's only $50-65!

That $50-$60 pricing is for locked phones in USA, Lumia 520/521 are locked to carriers and these yezzz phones are unlocked, carrier-free phones. Lumia 520 costs around $120-$180 unlocked in most of the countries around the World. And these devices are newer and have better specs in almost every department when compared to 520.

They hace better basic specs yes, but quality is another thing altogether, you can feel good sturdy a Lumia 520 is in your hand, now compare that to a few "blu" phones I've seen, their screens are so bad it looks worst than a digital toy watch, but at least the watch would have better viewing angles and sun readability, it's simply not worth the price really even looking so cheap they seem overpriced for what they really offer in my opinion, is better to buy an used, well known brand phone

Is that the on-contract price?

There is no contract with a 520. It's pre-paid with no commitment. But the phone won't work with another carrier until you've paid for a certain amount of service. Clearly most people in the US at least don't care about that restriction, as it's outsold all other WP phones by a large margin.

given that 520 is the most popular windows phone, its already known for being cheap

"My Billy is not working"

"i accidently dropped Billy, and now I can't seem to turn Billy on."

"Let's take a look inside Billy to see what's wrong"

"I tried to screw Billy but my tool was too big to fit the hole"

Welp. That didn't take long.

Well, if they do name a phone Billy... "I booted Billy but Billy just kept crashing. In the end I got so frustrated I threw Billy at the wall."

Billy I.M.H.O. has an Australian flavor written all over it. Go'd on ya! kricky!

Was that last word an attempt to write "crikey"? :-)

"My headphones got stuck in Billy."

Probably named after Bill Gates...IMO

Says a guy named William... Probably named after Bill Gates...IMO

Well they named their Android phone Andy, presumably after Andy Rubin. Likewise Billy is presumably named for Bill Gates.

hahahaha you guys are dumb im busting out laughing cleaning coffee

All their android phones are named Andy A6, Andy A5 etc

Due in March??????????????
............
Maybe May?❔❔

New rule: There are 26 letters in the English alphabet. No month many share the same starting letter as another. April and August; January, June, and July; and March and May are going to have to sort things out. I suggest Eepril, Lune, Kuly, and Tay as the solution. Also means we can drop our abbreviations to one letter. 12 T 2014!

What about the weekdays, that is even worse!

(in Louis CK voice)
"We have a scientist on tv & say ... From now on ... May & March are the same thing now ... You know what, throw in April as well"

Is this a reference to Hocus Pocus?

Wow...how obscure! One of my fav Halloween movies.

Wow. Just wow. Keep em coming.

I wouldn't purchase anything from someone associated with that dude in the picture. He looks like the ultimate car saleman

While the specs won't be anything great we all know that WP8.1 will at least run good on these devices. I like the fact that more OEMs are going to be making phoens with WP on it, that's how we can keep gaining market share.

Never heard of them before. And what's with the smaller device OEMs setting up shop in Miami? In any case, I think unlocked is totes trending and these prices are craze-amaze for the South and Latin America markets.

And why has nobody complained about the RAM yet? Where are whiners today?

What a tacky name for a brand: Yess

"Boy are they cheap" - at $249 and $139? Yet you call the Lumia 521 "affordable"? The regular price for a 520 is $65 and a 521 is $87. And the 520 is regularly discounted to $50. Now that's cheap. Dirt cheap! Always gotta spin it somehow eh?

You cannot compare Lumia 520/521 with these devices, Lumias are locked to carriers and these are unlocked, carrier-free phones. Lumia 520 costs around $120-$180 unlocked in most of the countries around the World. And these devices are newer and have better specs in almost every department when compared to 520.

True, you can't buy a 520/521 and then immediately switch carriers, but it's still contract-free (no obligation to continue paying for services or even sign up at all) which makes it at least somewhat comparable in my opinion. But even if you think it's too apples to oranges in that respect, if you consider the unlocked price of a 520 at $120-180, it's still cheap compared to these Yezz things!

The other reason you can't compare these with the Lumia 52x is that the Lumias support LTE. I guess if the buyer doesn't want to do anything requiring data when outside the range of WiFi, then maybe they won't care. But...

I got the 520 for my mom, neither Lumia 520 nor 521 support LTE, check out the specs at Nokia website or GSMareana etc

I've heard of BLU, but Yezz is news to me

And that brings us to 14 OEMs now! Unfortunately, only half have shown off anything.

I love options. Welcome to WP, Yezz

Sounds like a verse from a Kayne song ... "Yea ... Yezz-us got a Billy .."

Well, don't get me wrong I totally love Nokia, But I don't get its obsession with 800x480 screen resolution and 512Mb RAM. Its a total myth that people don't care about specs and only go with brand name these days. Even if someone don't know single thing about specs will have a geek friend to ask for. And I think thats why Nokia's sales were lower by 30% because low end side competition was too fierce. In other words, inexpensive yet decent speced phones like Moto G stomped them over added local manufacturers. TLDR; If this so called "no-name" company could pack 1280x720 resolution then why not Nokia? And I totally disagree with Derek that this phone is "cheap" but IMO its "inexpensive" just because its coming from a new company.

If you have checked half of the low range phones from the likes of Micromax and others using Android, you will know why they still sell. Price. Period.

'Murica interchangeable back covers.

When will BIG OEMs come to WP, these small unknown ones are so lame

I'd like to try one as a nice backup phone

What good is a quad core processor if it has less than gig of ram? Processing power is significantly less important than ram on WP in my book

Not to mention the specs their phones offer blow compared to one plus one or nexus for similar pricing...

if Microsoft is smart enough to make rooms for those affordable devices in its retail store, WP market share will obviously go up. People saying they don't want the windows ecosystem to be known for cheap devices don't clearly have a sense of business. Microsoft should treat the WP business just like its PC business "Support any windows phone OEM's with their initiatives, and display a range of WP hardware at different price point in physical retail space"

Forget the Microsoft stores. There aren't nearly enough of them to go around. Windows Phone devices need to be in every Walmart, Target, Best Buy, etc. And not just one or two, but at least a couple models of different price points and features sets for every carrier in each store.

I can't find any WP in Walmart, Best Buy, and Costco near me. It's pretty sad.

Apart from the battery life, the Yezz Billy 4.7 is just as bad as my HTC 8S!

I like the design, two SIM for my constant travel. I will easily buy it....

Humm,.... Billy sure look bright, jolly in back red color, Billy is slim, stylish and sexy... With all these awesome looks of Billy, who the heck want Andy. (almosy soud like sex phone operator or ad.)

Hey, maybe now someone will release a WP with a keyboard.

Why would anyone want a physical keyboard?

Never heard about Yezz before but the phone looks pretty cool though! WELCOME TO WP FAMILY!

Get looking WP; but I need LTE!

Yezz!! (Pun intended) WPC App for Android- Lenovo IdeaTab A3000

Without LTE, it's a deal-breaker.

They should come out with the Yezz Sir and YezzMa'am. Oh and the NooOfficer.

I found this link on Amazon and I just wanted to ask if anybody bought one yet? I would like to buy one but not 100% sure yet... any help ? http://www.amazon.com/Yezz-Billy-4-7-Unlocked-Ultra-Slim/dp/B00N47IDNC/r...