Hands-on with the Redfly - CES 2008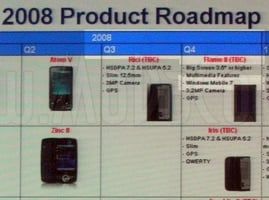 When we wrote about the Redfly mobile companion last week, we said that it was still as flawed by the Foleo in the headline - but that's not really what we meant. It's just flawed in one aspect: price. Other than that, the Redfly looks pretty sweet.
We got a chance to get a hands-on with the Redfly last night and listen up: You're almost surely going to want one. After the break, some details on how it works, our impressions, and of course a small gallery!
What the Redfly does
Unlike the Foleo, they Redfly is a completely inert object when it's not tied to a smartphone. The Redfly is almost literally nothing more than a screen, keyboard, battery, and graphics processor. That's right - no internal memory, no internal processor as you'd typically think of it. It's a dummy terminal for your Windows Mobile phone.
You connect up your Windows Mobile smartphone via USB or Bluetooth. USB is slightly preferred because its faster and also charges up your smartphone. Then Redfly's magic software takes over - it basically turns off all input on your smartphone and then tells Windows Mobile :
…and so on. Instead of using a touchscreen the Redfly gives you a trackpad mouse to move around to mimic the action of tapping the screen.
Specs
The Redfly gives your Windows Mobile smartphone the following:
a 800x480 screen, a full keyboard (with several nice shortcuts to common functions)
a spare USB port to use to read USB Memory sticks (they're mounted directly just like a memory card) or for an external mouse.
VGA out at 800x600 (though it has to "letterbox" it to 800x480)
8 Hours of battery life (the Redfly lasts 8 hours and charges your smartphone to boot)
The Redfly is 1 x 6 x 9 inches and weighs 2 pounds. It has an 80 key QWERTY keyboard that is, tragically, not full size. As you can see in the gallery below, it still might be usable. That would take some time to tell, though. It will work with pretty much any Windows Mobile 5 or 6 Smartphone, Standard or Pro, though they're starting small with compatibility with just a few of the most popular smartphones.
Impressions
The hardware quality is good but not superb - the units on the show floor may have been pre-production (we hope) as a couple rubber grommets fell off our unit as we toyed around with it. The latch is sturdy and it feel great to hold.
It's a bummer about the keyboard not being full sized, but we'll hold off final judgment until we've used it for really real. As for when that will happen, it should be this quarter sometime.
The other bummer is the price - $499. Now, the folks at Celio (who make it) said that it was just the initial price and that it might eventually be released in a less expensive version. This version, like the Foleo, is being targeted directly at hardcore executives.
Other than the above 2 caveats, the Redfly really impressed us. We're absolutely on board with a dummy terminal for our Windows Mobile phone. It's a powerful operating system, there's no reason you couldn't use it as a mini-laptop. Add in the fact that you won't have to muck around with syncing anything ever and the Redfly might be a winner.
…For about $250 less than its initial price. ;)
Also in the gallery below, a little bitty Redfly that lacks the screen and keyboard - it basically allows you to plug your smartphone directly into a projector/monitor, keyboard, and mouse. Definitely not as cool, but a neat idea.
Gallery
Get the Windows Central Newsletter
All the latest news, reviews, and guides for Windows and Xbox diehards.