Hands-on with the Sony VAIO Tap 21 at CES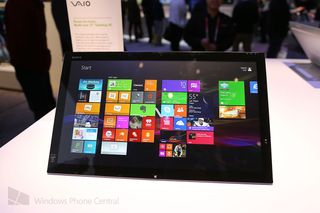 The demise of the desktop has been greatly over exaggerated. We're here live at CES and PC makers have some really great all-in-ones either in market or coming soon. One that we really like was the Sony VAIO Tap 21. Here's our hands-on with the desktop that you can take from room to room.
The VAIO Tap 21 is certainly unique. At first glance it might look like most other all-in-ones already in market, but you'll quickly learn that this has a few tricks up its sleeves. The most unique feature of the VAIO Tap 21 is the built-in battery. You're not going to be taking this down to your local café to work on your screenplay, but it instead Sony hopes you'll move it around the house or office. The VAIO Tap 21 can be adjusted and angled to lay flat on a surface or sit up like a traditional PC.
The display was gorgeous, even though it was just at 1920 x 1080. You'll be able to customize the internals to fit your needs. You can get either an Intel Core i5 or i7 processor, anywhere from 4GB to 16GB of RAM, and storage options of either solid state drives or hybrid hard drives. It only comes in black at the moment. The VAIO Tap 21 starts at $999 and is available online today.
Windows Central Newsletter
Get the best of Windows Central in in your inbox, every day!
I find a 16gb tablet pointless, You're not exactly going to play battlefield on it xD
Edit: Oops Didn't realise it was a PC. Ma bayd

Sure you can. Connect a keyboard and mouse when it is in desktop mode. I just saw your edit - good thing you realized your mistake. :) This is beast!

Pixar wouldn't find a 16gb ram tablet pointless.. Neither would Lucus films, or millions of professional music producers... Games... Lol.. Please.
Edit: saw your edit... But still.

I actually really like this PC I'm excited of this PC and the HP Z1 I'll be buying one of the two this coming spring.. Right now the HP has the edge.

Does the Z1 have a battery? Because this one is a gigantic tablet, in truth.

Beautiful, That is a nice machine.

Does it support vesa mount?

Is the HDMI output I Assume? It would be nice if it was input so it could be used as a second monitor.

It is output, according to Sony's specs. I have a Tap20 and it's awesome.

That foot is an amazing piece of fabrication. The way it stays down even if you pull the screen up. These all in ones rock.

This is pretty cool and something i'd consider buying. I really want a 14" tablet though. I'm sure many sizes will come flooding in before we know it!

I seriously believe that W8 tablets will soon surpass Android tablets, and eventually be more popular than iPads.. The modern interface is the key, and it is the major differentiator.. That is what people are slowly, no quickly, getting used to seeing.. This is becoming the standard... Not sure if that's good for long, long term, but it's gonna happen now that the W8 ball is rolling.. W8 is making WP look sad as far as how fast it's catching on..

Too bad this will never see Europe :(

Somehow I love the xps 18 better than the tap 21 or hp rove. The size is just right at 18 in and so is the weight at 5lbs. Perfect as a desktop and yet nimble nuf for laptop movie viewing.

I would have to agree with you. The XPS 18 is so sleek compared to the Sony or many other options available. Although it does sacrifice ports for sleekness.

Add a stylus to this tablet and you have a Cintiq killer. Seriously now, does anyone know if this has a stylus?

I wish! Consdering Sony have been putting N-Trig digitisers in a lot of their products the pasy year or so it would be a shame if they left it off this one. I'm not sure if there are technical reasons why they can't add digitisers to larger devices (on in Wacom's case, maybe contractual reasons, as you say, these would be instant Cintiq killers for half the price) as Panasonic has implemented some different digitiser tech in their 4K 20" tablet.

That would make this a winner...

I own and recommend its predecessor, the vaio tap 20. Windows 8 shines on machines like that. We let it double as TV, carrying it to our coffee table, connecting a little Blue Ray drive if needed and otherwise watching IPTV. Screen has Viera Colours, making it ideal for photo editing, too.

I also have the VaioT21. Great desktop. I like how is sits lower on my desk than my 2008 iMac did. I don't get the same annoying pain in the neck. Loved the iMac but decided to go all in with Windows after I bought my N920 and Surface 2. BTW, the only thing black about the T21 is the display. It has a nice silver metallic back. One thing about the T21: it's pretty un-upgradeable so make sure you get the processor and memory that'll last you the 3-5 years that you may use the unit.

I immediatley upgraded my Tap 21 to windows 8.1 and now have lost gesture control :(. sony tech support indicates 8.1 does not support gestures as well as windows 8. .. Now heard of 2 others having also lost gesture control with 8.1. Sure hope new 8.1 patch makes a difference on my Tap 21 .. Would take 20 hours to reconfigure back to windows 8

cmon microsoft just give me that 13-15 inch surface 3 with 4k display 8mm thickness and 12h battery
Windows Central Newsletter
Thank you for signing up to Windows Central. You will receive a verification email shortly.
There was a problem. Please refresh the page and try again.