Hands-on with the Sony VAIO Tap 21 at CES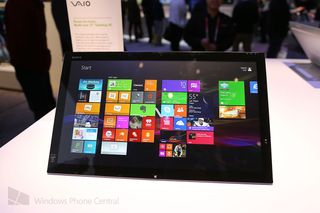 The demise of the desktop has been greatly over exaggerated. We're here live at CES and PC makers have some really great all-in-ones either in market or coming soon. One that we really like was the Sony VAIO Tap 21. Here's our hands-on with the desktop that you can take from room to room.
The VAIO Tap 21 is certainly unique. At first glance it might look like most other all-in-ones already in market, but you'll quickly learn that this has a few tricks up its sleeves. The most unique feature of the VAIO Tap 21 is the built-in battery. You're not going to be taking this down to your local café to work on your screenplay, but it instead Sony hopes you'll move it around the house or office. The VAIO Tap 21 can be adjusted and angled to lay flat on a surface or sit up like a traditional PC.
The display was gorgeous, even though it was just at 1920 x 1080. You'll be able to customize the internals to fit your needs. You can get either an Intel Core i5 or i7 processor, anywhere from 4GB to 16GB of RAM, and storage options of either solid state drives or hybrid hard drives. It only comes in black at the moment. The VAIO Tap 21 starts at $999 and is available online today.
Get the Windows Central Newsletter
All the latest news, reviews, and guides for Windows and Xbox diehards.