Hands-on with the Windows 10 Mobile powered Cherry Mobile Alpha Prime 4
Cherry Mobile came out swinging at Computex by announcing one of the very first, new Windows 10 Mobile devices anywhere in the world. And this is it. Say hello to the Alpha Prime.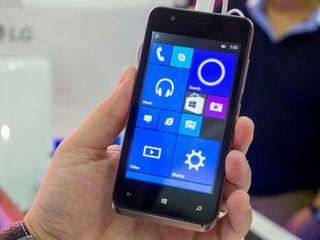 Despite such a name this is no 'flagship' device. And it's going to be location restricted anyway, but come later this year folks in the Philippines will be able to pick one up. So we swung by the Microsoft booth last week in Taipei to check it out.
Recapping on the specs, then. Microsoft's information at the show seemed to be a mix of the 4- and 5-inch models, but as set out in the official release, this is what we're looking at:
Alpha Prime 4 Specs:
Snapdragon 210 (MSM8909)
1.1Ghz Quad Core
4-inch Screen
WCDMA 900/2100
FDD-LTE B1/B3/B5/B7
5mp Main Camera
2mp Front Camera
4gb ROM
512mb RAM
Alpha Prime 5 Specs:
Snapdragon 210 (MSM8909)
1.1Ghz Quad Core
5-inch Screen
WCDMA 900/2100
FDD-LTE B1/B3/B5/B7
8mp Main Camera
2mp Front Camera
8gb ROM
1gb RAM
Image 1 of 2
So, what's it like? Well there's not a lot to talk about on the software front since the show demo model was just running the Windows 10 Mobile Insider Preview, just like many of us already are. There's no sneaky look at any future stuff here. But it's a nice little device for what's presumably not a lot of money. You get capacitive, rather than on-screen buttons, and lots of plastic with a not terrible looking screen for a 4-incher. The one we saw had a gold trim offset against the black front and rear, and for something pretty low spec it looks pretty nice.
Except for that Windows Phone logo on the back. For obvious reasons when this is a Windows 10 Mobile device.
But that's just picking. Microsoft's global partners are continuing to show good support for the platform and as we're moving forwards it seems to show no signs of slowing down.
Windows Central Newsletter
Get the best of Windows Central in in your inbox, every day!
Managing Editor - Tech, Reviews
Richard Devine is a Managing Editor at Windows Central with over a decade of experience. A former Project Manager and long-term tech addict, he joined Mobile Nations in 2011 and has been found on Android Central and iMore as well as Windows Central. Currently, you'll find him steering the site's coverage of all manner of PC hardware and reviews. Find him on Mastodon at mstdn.social/@richdevine
What the hell is wrong with the tiles iconography? Look how over blown are the store and the dialer tiles! Even the battery indicator is not aligned and looks like shit.
Can't believe that those basic things (which were done before) are re-made but with a fu*k added to them!

It's running W10, which is not done yet.

It will be fixed in future updates. It's still in preview. If I recall correctly, the desktop version also had this issue with tiles but that is fixed now

what the hell are you talking about?????? 1st of all its not DONE yet. its the preview ver of Win10 """""NOT"""" the final version. did you hear and listen what the said on the video? 2ndly, Even in this unfinished preview build of Win10, i do not see anything wrong. and it looks ok. have you not been watching and reading ALL the Win10 mobile articles and video's on "WindowsCental"? If you did, you would not made such an ignorant comt here. WC clearly have been on top of Win10 Mobile OS with detail info. I subject you read WC more often about Win10 and Win10 mobile. here is a link to WC's latest Win10 leak: (take a look at click through the photos of latest Win10 build preview). http://www.windowscentral.com/screenshots-unreleased-windows-10-mobile-b... Also i would like for you to explain in detail what you mean by """"re-made but with a fu*k added to them"" means, when its NOT done and NOT a final and Finnish prod yet.

You made a good argument and I agree with you but most probably stopped reading after your first sentence due to sloppy punctuation! Your argument is valid but credibility and reader interest is lost when you proclaim your information source as "WindowsCental"! Then negating a simple edit to fix that blunder added to your exuberant use of six "?" and 9 quotation marks around words already unnecessarily capitalized portrays you as an irate fanboy (much like the person whom you replied to) instead of someone that knows the product well and has a solid opinion backed by facts and personal experience to make his point. Next time just present your opinion with spell check and I can almost assure you your insights will be acknowledged and appreciated to the extent they deserve. I hope you don't take this as an insult as I never inteded for that, my intent was to point out that sloppy punctuation and typos can really change the effect a good opinion or article will have on its reader.

512mb ram?? Another phone that will do damage to ignorant people, like older ones

I heard the reviewer say 1 gig of ram. 1:03 mark. But I see what you mean by damage to the ignorant.

Looks pretty good with the windows phone logo at the back. Would be better if it was just Windows seeing as win 10 is coming.
Not sure that running windows 10 preview is a good idea for a new phone. New customers will only get confused and it is still very rough.

It won't launch on the preview. Plus computex is primarily an industry event. But what else can they demo it on right now?

Oh sorry, I thought it was being launched on the preview

The naming is going to work against it, a little long winded, while their at it they should have it read Microsoft windows phone eight

Cherry, Apple...which fruit is next?

The next fruit is orange :))))

Apple Blackberry Cherry Durian Eggplant Fuji-apple Guava....

Durian
Try it before? Come to Malaysia :)

Cacao. Co..co..combo breaker!

Well there's already an Oppo.. But i guess that's a vegetable to it doesn't count?

You guys know Cherry was around and making kit long before Apple, yes?

Dude, no. Cherry Mobile started in 2008. Also, they aren't the actual designers of their phones. They rebrand chinese designed and manufactured devices. They have some say towards specification, and what they want to achieve for a particular price, but that's about it. Apple, by the way, released the original iPhone in 2007, and have been in the computer industry since the 70's.

ah, a different cherry then. thanks for rhe correction. i was thinking of the cherry famed for keyboards, which predated Apple by quite some margin.

Let's not mention Cherry Mobile and Cherry together. The insult to Cherry the keyboard/peripheral company is just too much haha.

After blackberry.. Here is cherry.. Now waiting for watermelon mobiles

I think it is the first Pre installed win 10 device..

Lazy ass.. They're running W10 mobile preview.

Still want to know if it can record 720p video.

In sure it will. It has a 5MP hardware.

Just check if snapdragon 210 can record 720p. The 200 in some of the cheap models can't record it

Durians anyone? Btw that Alpha 4 should come with 1gb of ram, not 512mb..

So the phone will taste better than out smells?

Hahaha.. That's for sure.

tried 1 in cebu. man! just a teaspoon killed everything i ate before that.

Imo they taste good but I don't really like the smells..

they said that if you ate enough your sweat reeks durian smell for sometime (even after you take a shower).

Will there be " windows 10 mobile device" logo on back of new phones ? Although this " no more windowsphone...just windows 10" deal the windows phone logo would still look cleaner instead of " windows 10 mobile device" as a logo.

Instead, how about just windows logo with only the words "Windows"? Would look much cooler.

Why Windows Central was not interested to find out any latest features that have been added to that phone. Or even didn't tried to check the build version of Windows 10 running in it.... And in video , it was not at all exciting to see , Snapdragon 210 has been used for first time... That was also not highlighted

If there were new things to talk about I'd have talked about them. But as there aren't, why would I bother. You clearly think I just picked this phone up and what I looked at is in the video. Not as if I flew 6000 miles just to see this phone, either. Jeez.

I'm glad you had a good look, but that didn't translate into the video. For example, is the back cover removable? USB and Audio jack on top or bottom (I see them, but mention)? Is the feel cheap or not, etc. I mean, the thing is missing camera button. That should have been highlighted.

Yeah... That's the minimum thing that we hope from Hands on... And cool camera motions by monopod or tripod will look exciting enough to watch.. While the background audio is added separately after video editing..

Don't call it an alpha prime unless it can transform or has higher specs. I wish them well though.

So what's the new excuse for no Lumia flagship announcements? Waiting for Santa Claus?

It's been announced ages ago that there won't be new flagship phones before Windows 10 is released...

I'm still waiting for an Intel or AMD phone that will run the exact same os. Not going to happen though.

Could it possibly be that Microsoft and Intel and their OEM partners are working to release an x3 and x5 powered windows phone? We know x3 works and is shipping. We know x5 works and is shipping. We know x7 is shipping and I bought one that is installed in my Surface 3.

kinda off-toic but related here in the Philippines: A Microsoft Store in one of the malls here in manila is about to open a Microsoft Store. Image:http://i60.tinypic.com/fvek4w.jpg

SM South? Just saw this in Windows Phone Philippines page

Why not send a tip to WC?

Guys, please for the sake of IT Jesus DO NOT USE ROM TO REFER TO ON BOARD STORAGE! Just because someone bastardised its usage ROM specifically stands for READ ONLY MEMORY, it doesn't make sense to refer to on board flash storage as READ ONLY MEMORY.

That bugged me too! Good luck installing anything to ROM.. ;)

Came out swinging lol with this heap of junk, first round k.o

Ohh my god..... What a bad speced phone!!!

What if it cost $49? Is it still under speced?

Prime 5 and Prime 4 has the same body with a bigger screen? Looks good.

I imagine the rrp will be pretty low, they have to be for those specs. Phones looks decent, not sure on durability however.

Holy, that is the complete opposite of flagship XD
But Windows 10 >:)

Windows 10 is probably going to be a gigantic mess. Microsoft has rushed themselves (no surprised) and committed to a launch date they can't possibly hope to meet on such a tight schedule. The software is going to be buggy, unstable, and probably unusable. And of course, It's 100% guaranteed to slow down your computers. After I JUST managed to fix all my drivers and speed my computer up to brand new levels with free software (special thanks to upgradewindows.info) I just refuse to bank on Microsoft not messing up this Windows 10 release..and frankly my computer runs so smoothly now that I don't even need to pick up what they are putting down, if you catch my drift.

When has any Windows release been bug free?

Every windows phone out of lumia is a cripple

Alpha Prime name should reserved for flagship device. Glad that Cherry Mobile will offer Windows 10 Mobile as soon its ready. Since they have still much time, I hope they find a flagship phone to release, especially that supports Continuum.

It must then be called Terra Luna TurboNOS Supreme. A better name for the non-flagship device would be Alpha Sub-prime.. :P

I wish they would just use the Windows Logo period!!! In gold on a white phone. Quit spelling stuff out!!!

Why does all these unknown manufacturers name their phones like is were starring in a Transformers-movie?

Because the target customer is a young male intranced by the Transformers and other special effects movies. The company is simply trying to entice these customers to connect the image of the Transformers to the phone. Do you really think these customers are sophisiticated? Further since their disposible income is fairly low, they have to make a phone they can sell at a profit for under $100.

We have fucked up Daniel Rubino's windows central comment section with crap..keep going people!! Turn it into a circus :P

I'm interested to know the screen type and resolution. But I assume it is similar to Lumia 435. Nevertheless, it's good to know that CM is continuously supporting WP. I used to hate this phone, when it was all Android only. Hahaha

This might be the last of the 4 inchers. R.I.P.

Good looking budget device. If all the budget handsets sell well then these manufacturers may look at making more premium devices. Not necessarily flagship spec but decent mid rangers.

That is one butt ugly, under powered, piece of crap of a phone if ever I've seen one....I instantly feel sorry for the people of the Philippines if that hunk of garbage is all they've got to look forward to on the Windows Phone front. Seriously, Microsoft need to take a good long hard look at that phone and do the exact opposite when it comes to creating a flagship for W10.

Not many people in these poor countries can afford a flagship phone. They might have $150 to spend and would rather spend under $100.

It's alright but I don't like the way it has 512mb.

This just means some of the WP 10 capablities will not be supported by a phone with 512 mb. But the 5" phone does have 1 gb. Not everyone can afford the mid/flgship phones. So the 4" model is cheap. Engage the young kid, get him used to the WP ecosystem and let the kid improve his economic position and then buy a more expense more capable phone. Microsoft is battling Android not Apple. Apple does not want to sell a budget phone. Android OEM have flooded the world with low cost low perfroming smartphones. Microsoft hopes Windows Phone 10 is a superior OS, they apps they will deliver, outlook, office, calendar, task maager etc. may tie these new customers more tightly into the Windows ecosystem. That is Microsoft Strategy they have been implementing for the last several years. We will see how the strategy works over the next 12 months. Hopefully, Windows powered phones will grow to 6% market share and keep adding 3% to 6% of market share each year for the next 3 years to put them at 15% marketshare by summer 2018. That means Apple will be around 20% and android at 65%. If Microsoft captures more than 15% then I view it as a success. We also have to understand that by 2018, Intel should have superior mobile smartphone chips to offer OEMs.

Good to know these things are still in progress

iremember creating my first icloud account which was quite an experience lately ive been having more problems making videos with apple and getting better with microsoft, its kinda like apple doing a microsoft and microsoft doing an apple this windows 10 may not be much now...however its setting the base for developers and software engineers to use windows 10 for the future...~xoxo
Windows Central Newsletter
Thank you for signing up to Windows Central. You will receive a verification email shortly.
There was a problem. Please refresh the page and try again.