HD Photo Viewer updated, adds editing tools and Cinemagraph support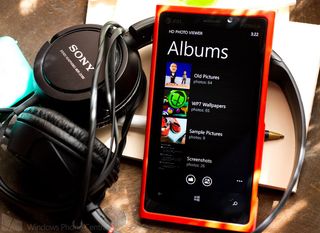 HD Photo Viewer is a Pictures Hub alternative for our Windows Phone 8 devices. The native Windows Phone Pictures Hub reduces image resolution to improve performance and speed when you pan/zoom images. HD Photo Viewer maintains the original resolution giving your photos a sharper look. Especially when you are viewing larger DSLR images from your Windows Phone.
The version 3.0.1 update adds a few basic editing tools to HD Photo Viewer and cinemagraph support for viewing and sharing your animated .gif files. The update also adds the ability to email full resolution photos as attachments.
The basic editing tools includes the ability to rotate, crop and flip your image. Sure... it would be nice to have tolls for exposure, contrast and maybe some effects filters but it's a start.
As far as the file sharing is concerned, you have a few options to choose from. You can attach the photo to an in-house email application or set up the email feature to an existing email account (Hotmail, Google, etc.). Presently, you can only send emails with one attachment. Animated .gif files and full resolution still image files are rather large and there is come concern that allowing more than one attachment will bog down HD Photo Viewer's server or fail all together.
All totaled, the version 3.0.1 update adds to an already nice Windows Phone 8 photography app. If your Windows Phone 8 photos don't just look right in the native Pictures Hub, you may want to give HD Photo Viewer a try to see the difference. There is a trial version available for HD Photo Viewer with the full version running $.99.
You can find HD Photo Viewer here in the (opens in new tab) Windows Phone Store.
Quick note on 512MB RAM devices, HD Photo Viewer will work on these Windows Phones but due to the smaller RAM size large DSLR photos that you may have saved on your Windows Phone may crash the app and larger animated .gif files may experience slow playback.
Windows Central Newsletter
Get the best of Windows Central in your inbox, every day!
George is the Reviews Editor at Windows Central, concentrating on Windows 10 PC and Mobile apps. He's been a supporter of the platform since the days of Windows CE and uses his current Windows 10 Mobile phone daily to keep up with life and enjoy a game during down time.
Love this app! Glad to see wpcentral spreading the word.

+920, speaking of which have to buy it to support the dev

Yeah love this app and best of all the trial version has full functionality and no adds!!! The developer simply ask you to donate if you like the app. Awesome dude

A must have apps for me. I thought I had a un-impressive camera before until someone pointed out this app and mentioned about stock photo album limitations.

Donated right away. Why does the standard hub not support full red display, at least optional?? Switched to this app and enjoy a much better photo viewing experience

Thank you very much lowrider2107. If you have any ideas or suggestions please let me know I will try my best.

Wow I didn't even know that the regular hub doesn't show the pictures in the best resolution, switched right away, but now I still need to use the regular hub for videos .... -_- Why can't I view videos from this app?? Then I could skip the default hub all together...

Thanks, will add video viewer in a future release.
I just learned that third party apps cannot read videos from media library in windows phone 8. Sorry, currently this is impossible to do.

Oh well I hope microsoft will allow you to do this soon, thanks for responding anyway :)

Meh. Not impressed.
Didn't notice a difference in image quality, some pictures I can zoom into - some just barely zooms, very glitch when zooming, some albums don't have folder images... deleted.

Hi Josh
As the name of the app implies, it is meant for HD (high definition) photos, such as those directly from your 5MP or 8MP photo camera. If your image was of low resolution, there won't be any difference.
You can see what others are saying at mynokiablog and elsewhere
If a folder does not have a picture in its root directory, there won't be a album cover, that's intentional.
Anyway, thank you trying my app.

Hey, thanks for developing for WP8!
Yes, my photos are all "HD". As far as the album not having a cover, all of my folders have an assigned picture on my PC and appear that way in my picture hub on my phone as well, but not all of them appears correctly in your app.
The app just wasn't for me I guess, but I appreciate you making it and allowing me to try it out.

As I said, not showing a cover for folders without photo in the root directory was "intentional", not a bug.
May I know what phone are you using? There is another case where you won't see a difference: photo is larger than 2048*2048 and you have 512MB memory. In this case, the app should show an alert and if you click "cancel", rather than let the app to simply crash, I use the same method as the system viewer to display a low resolution thumbnail.

OUCH!!, a bit harsh ?, i suppose there's no pleasing everyone. But i guess constructive criticism can go a long way.

I figure that sharing my experience and opinions could only help. I'm not going to lie about it and its not like I gave the app a bad rating.

Ni worries Josh. It's essentially a free app for those who need it, including myself. Donations are much appreciated for me to pay my developer registration fee, otherwise the app will be removed from the Store., Other than that, I am just a hobbyist.

Hey, I got those same headphones that's in the picture.

Love this app. Video playback would be a great addition.

It seems the "full resolution email" functionality is broken. It is fully functional on my dev phone. Something might have happened during the certification process. I am investigating this now.

Great app but it needs a smooth transition when you flick between pictures.

I have the same headphones

As of the last month, I notice that the app asks me to constantly update about three times a week but yet the version number is the same. I am running the trial version of it on my 920. Does this happen to anyone else?