Hello Friends gets bumped to version 3.0, adds Windows Phone 7.5 support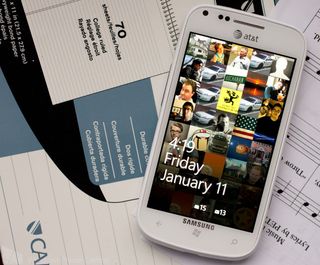 Hello Friends is a really nifty Windows Phone lockscreen app that generates a wallpaper based off your Windows Phone contact photos. While the original release had Hello Friends only compatible with Windows Phone 8 devices, the latest update brings the app to our Windows Phone 7 devices.
Version 3.0 of Hello Friends is now available for the Windows Phone 7 devices and while it won't automatically change your lockscreen wallpaper, it allows you to create the image collage, save it to your Pictures Hub and set it manually as your lockscreen wallpaper as you would any other photo.
At the present, there is only one collage template available for the Windows Phone 7.5 version. You do have the ability to create your collage based on all your contact photos or just a select few. Unfortunately, if you select only a few some photos are replicated to fill the full collage. [Update: Turns out it actually has numerous templates, they're just organized differently from the Windows Phone 8 version. To get to them, head to the filters page straight to the collage. There are four buttons in the app bar, the right and left outer ones let you choose the template.]
Along with Windows Phone 7.5 support, the updated Windows Phone 8 version also adds a few improvements to the app.
Two new templates ("6×10 Friends" is now the template with the highest number of pictures and "9 Accent Mix" contains a box that is colored with the phone accent color)
New preview mode
New template selection window that shows miniatures of all templates
A new live tile
More refresh intervals
Shuffle option when previewing your collage
You also have the customary performance tweaks and bug fixes with the Hello Friends update.
While we would have liked to have seen the templates in the Windows Phone 7.5 version of Hello Friends it's a start. There is a free trial version of Hello Friends available in the Windows Phone Store to let you try things out.
The full version of Hello Friends is currently running $.99 and you can find it here (opens in new tab) at the Windows Phone Store.
George is the Reviews Editor at Windows Central, concentrating on Windows 10 PC and Mobile apps. He's been a supporter of the platform since the days of Windows CE and uses his current Windows 10 Mobile phone daily to keep up with life and enjoy a game during down time.
Can this use 7.8 to change lockscreens?

Hey! You can use the current version for WP 7.8 to set your lock screen manually. As soon as the WP 7.8 software development kit will support the automatic lock screen updates, it will be implemented! :-)

Very cool idea. I wish it randomized the size of each picture almost like the new WP Start Screen.

Great idea! I will pick this idea up for one of the next updates! Thank you!

More like the Zune play now screen...
Dev feedback is great, another purchase coming your way.

Awesome news! Lets hope more templates will come soon! (for the wp7 version) my question: whats the limitation for the trial version? edit: I love it how the developer is reacting to all the ideas! Awesome! That's worth more than $.99... keep it up Mr. Stumpp! :)



Thanks! The trial edition is time limited for two days. :-)

hey,
thanks for the answer :)


I agree. I'll be purchasing as well. Hopefully any updates in the future, or at least some, come to WP7 ;)

I'm planning a lot of updates :-)

Well.. I guess all templates are available to wp 7.x version, aren't they? ._.

Yes they are all available in both version except one (will be included in the next update). I've also prepared some other nice templates coming during the next days.
The Windows Phone 7 version will also get the better preview mode of the WP8 version.

Thank you, Andy! We'll all be waiting for that.
Is that posible to make a double wide live tile for wp 7.8, just like the wp8 version one? Thats would be cool.

Hi Ramon, thanks for your feedback! Of course, this is already planned :-)

Great!! Thank you so much! :D

Andy... I'm not seeing any options for templates in the version I downloaded for Windows Phone 7.5. I go from the Filters page straight to the collage. The Windows Phone 8 has you choosing the templates before the collage is created. What did I miss?

I see what you mean. The WP7 version differs from the WP8 edition in the way how the user is able to choose the template.
WP7: When you get from the filters page straight to the collage you get four buttons in the app bar, the right and left outer ones let you choose the template.
WP8: You have a side-by-side preview mode.
In the next update the WP7 version will get the same side-by-side preview mode. :-)

Dear Mr. Developer, Andy Stumpp
Please release this application in our country, Indonesia! I really, really want to buy your application. FYI, our country already support for operator billing system ;)

Thanks for your feedback! Some of the countries have stricter rules (also Indonesia) and I will do my best to get it in the store for Indonesia, too :-)

What is exactly "stricter rules" do you mean? I'm really curious why most developer won't publish app immediately in my country :(

As a developer you have to care about certain images and content that can lead to rejection by stricter rules :-)

I see. Okay, hope it won't be long! :D

Is it possible to make this, but with Album covers? Like the Zune Desktop Program does when it can't pull an artist background?
This is the only sceenshot I could find:
http://www.bloggerholiker.de/wp-content/uploads/2011/09/zune.png

Thanks for the great idea! I'm planning this for my other app, called My Lockscreen. Currently, it supports your own pictures, but it will also support other sources like album covers.

Will it also be available for wp 7.x users?

Hey Ramon! Yes, the current version for WP7.X is ready to submit :-)

Great App, great Update!!!! I totally love it!!!

Thanks! Glad that you're enjoying it! :-)

See? This is what I like to see. A developer that actually cares about the product he's putting out and the people that use it.
I'll admit I was on the fence on wheter if I should purchase this app or not, but just with you attitude you've convinced me bc now I now it's an app that is not goin to get left behind.
Congrats on the good work, I enjoy it profusely.

Wow, thank you so much! I mean there's clearly nothing better for a developer than getting great responses for an app. It's a very good motivation to push out new features and improvements! Thanks!

Try Amazing Lockscreen... Much better than Hello Friends.. You can use a mix of Contact, Album Art or just either of them individually... it doesn't allow you to select the images... but offers various sizes of the image tiles... only creates a collage... try it...

I spy hipster Sam in there. Find him.
Windows Central Newsletter
Thank you for signing up to Windows Central. You will receive a verification email shortly.
There was a problem. Please refresh the page and try again.