Here are a few more photos of the Lumia 930 in gold, and a possible Lumia 1330 sighting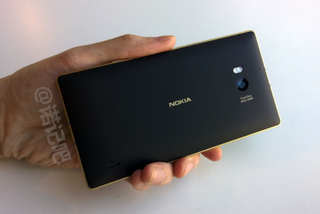 Eager to see how the Lumia 930 looks like in gold? More hands-on photos of the device have emerged on China's Tieba, a popular social network in the country powered by Baidu. The images highlight the golden trim around the sides of the device, as well as the gold plated Nokia logo at the back. The device, along with a golden color variant of the Lumia 830, launched in China yesterday, and will be available globally over the coming months.
The post on Tieba also features a few images of the Lumia 930 next to what is claimed to be a shell of the alleged Lumia 1330 in blue. There's no way of knowing whether the photos are authentic, but they do look identical to the images leaked earlier this month. According to what little we know thus far, the Lumia 1330 will feature a 5.7-inch 720p display, a Snapdragon 400 CPU, 1GB of RAM, a 14MP PureView camera, a 5MP front camera and 32GB of internal storage.
What do you guys think of the Lumia 930 in gold? How about the Lumia 1330?
Source: Tieba
Thanks Abhishek!
Gold and white looks better than gold and black, for me anyway.

Me too! Gold+Black looks classy and sexy!

Just what I was thinking.

The Lumia 940 will sport a 5-inch full HD screen, states IBTimes. The screen will be shielded with Corning Glass 4. The device will be powered by Snapdragon 805 chipset that will be supported by 3 GB of RAM. It will feature a 24 MP PureView rear camera that will be able to record ultra HD video at 60 fps. The front-facing camera of 5 MP will support full HD video shooting. It will be available with three native storage editions such as 32 GB, 64 GB and 128 GB. The first phone to run on the new Windows 10 Mobile OS.

Googled: http://au.ibtimes.com/articles/578582/20150109/microsoft-windows-10-mobi...

http://au.ibtimes.com/articles/578582/20150109/microsoft-windows-10-mobi...

Will buy it ASAP if its got a SD Card slot too..!!

SD card slots are not happening with high end phones...theres no sd card slot in the 930 or the 920 and so on

There's an option for 128GB. I bet you dont need SD card with that.

You lost the bet cause I still need the SD..!! Different folks different preferences/needs..!!

Lols! Whatever. Hope you find SD card of 256 GB.

Yaa..Am making one but it nva fits in any device..Don't know what went wrong....

Need SD card slot because that i didn't bought the 930 from 6 months ago..... Need more storage

As I said in another comments section, that ibtimes article is click-bait, plain and simple. They have no source, it's pure, unsubstantiated speculation to generate page views. Don't fall for it.

That's my first tip got live here

I have 6 thanks so far outta nth tips..!!

The gold Lumia would be killer in India if it was a bit less expensive!

Nice with gold accent color

That's what I was thinking too

Can't wait to check out 1330

1330 will feature a smaller screen and better camera from the 1320... Don't see why to be so excited about that...

I doubt it will have a smaller screen, the whole point of the 1320 was to have a cheap 6" phone.

Yeah, would not make any sense a smaller screen... But hey, even a premium phone without sd doesnt makes any sense, so i can expect anything from microsoft...

1520 = premium phone with SD...

Yeah 5.7 inch is not too small when compared to 6 inch. Isn't it?

Actually, it's a bigger difference than you'd think. When I went from the Note 3 to the 1520, I couldn't believe how much smaller the Note looked and felt.

​Another probable difference: The 1330 will probably be quad-core compared to the dual-core of the 1320.

Yet weaker if it is Indeed using a Snapdragon 400...

It will absolutely be better than the dual core of the 1320, no doubt about that.

smaller but better 5.7inch screen for more ppi, quad core soc, much improved camera.

ML 535 is 5" and ML 1330's backplate was bigger than it..So my friend you are absolutely wrong..!!

Sure. Until they set the price at $499 unlocked, then it becomes a non-started. MS, they're a bunch of idiots these days at least in terms of pricing. They can afford low margins to grow market share. The 830 should have been priced at $300, and they still would EASILY make in excess of $100 per phone, possibly as high as $150.

Where exactly is your source as to how much the phones cost to manufacture and how much money MS would make? I'd love a cheaper phone too but unless you back up those numbers with facts, that is pure conjecture.

Part of his post is conjecture. However, knowing that it costs an OEM an average of $300 to manufacture a flagship device with top-level specs, it's not hard to imagine how much cheaper it could have been/was to manufacture the 830. But, when phones with better specs (like the OnePlus One) are made and sold at cost ($350), it's easy to call BS on Microsoft.

Still not good enough reasoning. What about other costs like importation and taxes? Also, why should MS sell things at cost? Yes, growth is good but you also sabotage future sales of your devices because people will always expect them to be at a certain price point even when the cost to manufacture better devices goes up.

Even if what you're saying is true, Microsoft will continue to get destroyed by other OEMs that are manufacturing better devices at lower cost. You simply can't justify the cost of the Lumia 830. It's advertised as being an "affordable flagship," yet, it is just shy of the costs of devices that are superior to it (hardware-wise). For example, take the LG G3. It easily beats the Lumia 830 spec-wise, while only costing $478! Microsoft can't afford to not sell some devices at cost, if they want to increase marketshare.

They could launch at cost and then increase the price. That would create demand, buzz and market share, and the tail would bring in some profits. Their current model is the opposite, launch the device overpriced and then slowly drop the price because no one is interested. The 830, for example, launched with a recommended pricing of 390€, it now costs less than 300€, and can be found as low as 280€ (the prices include taxes). Just a few months after availability in mid-october. The same happened with 735, going from 290€ to 200€. Likely they are making some profits from them still, but their launch sure was forgotten the moment people saw those prices.

I'm sick of these low-end phones. They've announced like ten of them and haven't even hinted at a *good* phone worth buying yet.

1330 seems to be following the affordable midrange phone Posted via the WPC App for Android!

that elegent of gold mix with black

So the 1330 won't support hey Cortana?

Nope. That's the SD 800 series.

If those end up being the specs of the 1330, its only really a camera upgrade to the 1320 no? On the upside, I'm lead to assume that if this is a yet to be released device, and Win10 is due this year, it all the more confirms for me that Win10 in fact will be lightweight as is Windows Phone 8 and will be fast and efficient. Exciting times :)

​The processor of the 1330 will probably be quad-core compared to the dual-core of the 1320.

Dual core S4 1.7ghz Krait (Cortex a9) > Than quad core SD400 1.2 GHz quadcore krait (Cortex A7)

That is just theoretical. I'm absolutely certain the quad-core 1330 will perform better than the 1320 because it will be optimized to run on quad-core. They said the same thing about the 920 and 830 before it came out but was not born out by real life performance for the same reason that the 830 is optimized to run on quad-core.

Anything bigger than a 930 is, for me, toooo big.

quatrito? nevermind, +930

I think I love orange with alu more.

Have to agree, still loving my orange and aluminum 930. It just exudes style and quality.

Back cover must also be in gold ...!!

Gold back cover is too much! This is classy and well done. One of the few gold phones that actually look good.

I'm just too keen for the 1330!

Could be tempted by 1330 with these specs. only if it has currently unmentioned NFC. No NFC no buy! Simples

It is bound to have NFC, I was surprised the 1320 didn't have NFC. Then again we are talking about MS here... so who knows.

1320 has NO SD?! I didn't know about that. Even the 625 has it. Anyway, I believe the 1330 will have it... Maybe?

The old Lumia 1320 doesn't have NFC, it was left out to reduce handset costs (UK variant at least).

It's beautiful! I wish they produce more of this color.

So basically if the rumor is true, the 1330 wont be any better than my 730? Except for the rear cam and internal storage... :D

If that launches maybe I would buy the 1330 but for now I have plans for 730.

it is not really meant to be better... 1320 wasn't any better than 720 except for 1gb ram.

You must think exactly like this
1520 is big lumia 930
1330 will be big 830

MS sure loves that snapdragon 400 soc lol. Joking aside, guess they have a lot surplus going spare.

Qualcomm must be paying them

Why would Qualcomm pay them? That is like giving supply away for free.... Lol makes zero business sense :p.

Haha its the only explanation I could come up with

Yeah, microsoft is putting snapdragon 400 on every phone, it is okay for lower end phones but for a phone launching in 2015, and to be marketed as mid range + having good camera, it should at least have snapdragon 600, 610 or 615. If they are not available or supported by windows phone, then "shame on Microsoft" that they have made an OS which only supports three processors SD 200, 400, 800. Mid range phones should have snapdragon 600 series, if not then microsoft should opt for higher processors like SD 800 in mid phones, instead of putting low end processors in mid range processors! and fooling people! it hurts to see them doing this and trying to fool people!

Fooling people is making the assumption that they even know or care about what processor is in their phone. If the phone runs most applications it's a non-issue that lets them put out phones for cheaper.

how are they fooling people ? 830 is almost as fast as 1520 in day to day performance, except for some hard gaming. If it works smooth, and the price is any lower because of that, i dont see any fooling ...

I had the 830 for a a week, it's not even close to being as fast as the 1520. Opening apps took at least 50 to 80% longer to open, ex. Try opening the Cracked app on both phones and the gaming was worse on the 830 than my 920, didn't realize how bad till I played Asphalt 8 on the HTC M8 and noticed the Huge difference in graphics. 830 would have been perfect with a 600/800 chip instead of the 400 that they used.

Lumia 830 costs USD450 and has snapdragon 400, i know nokia cameras are very good and better than most of the companies, but putting snapdragon 400 in both lumia 630 and lumia 830, and saying 630 is low end and 830 is mid range doesnt makes sense, i know camera is good, so is premium design in 830 but it ought to have a better processor than lumia 630! similarly they are releasing a phone i.e. 1330 "midrange" phablet in 2015 with snapdragon 400( a processor which is for low end devices). it just looks absurd to say these phones having SD400 as mid range. microsft is saying the phones midrange or low end on the basis of camera only, which i think is not okay. processor should be an important criteria to differentiate the phones between low/mid/high end. when people pay USD450 for lumia 830 they deserve to have snapdragon 600 series processor atleast which is a true midrange processor. then they say that windows phone dont support newer processors, it it again fault of microsoft, so they should at least put SD800 in lumia 830 or 1330! this is what i think! :) :)

Actually Nokia/Microsoft has no true mid range phone! There are some low range phones and some high end phones! The phones which Microsoft market as midrange are actaully low end phones having better cameras. And Microsoft thinks that putting a good camera in a phone magically makes it mid range.

its not about how smooth is windows phone, its about putting the same damn SD400 on each and every phone! :/ mid range phones should have better processors! lumia 830 should have had SD800, lumia 1330 should have SD610/615/800! :)

1030 please. All these damn mid range phone don't make no sense to me. I need an upgrade for my 1020.

I can wait. My contract is up in October, so I want them to release it as close to that time as possible in order to get the most recent hardware and software. However, I'm kind of doubting that there will be a 1030. If they were committed to this line you'd think there would have been a 1025 released in June 2014 containing a quad-core proc.

Gold is so tacky and cheap looking

Diamond is so cheap-looking.

This is horrible...who ever started this bulls**t ?

That's your opinion, which not everyone shares.

I know ..i wasn't saying nobody likes it ..i just said I don't like it

The gold accent colour can be available for other Lumia?

Only for 930/830, you can flash the new ROM from gold-coloured phones to non-gold phones to get golden accent colour.

Gold 1530 would be awesome.... Hope the rumour of using alu rather than polycarb arrives too.

I want to see a Gold Lumia 520!!

Haha if so i want to see a Gold Lumia920.

What happened to the navigation keys on the second photo? I mean, even with it's lights off, it stills visible in mine.

You can turn them off though. Posted via the Windows Central App for Android

Microsoft should have put snapdragon 800 in lumia 1330!

Out of topic: I hope Microsoft allow remote controlled firing of camera buttons in its Lumia Camera or other camera lences. This is the only thing missing in their lead in imaging. Selfie sticks is becoming popular and Android and iOS cameras can be fired remotely. I have not seen this with Windows Phone, or maybe there is existing but I have not seen.


You can use the Nokia Treasure Tag as a remote fire. WC did an article about that a while ago

Now that's a nice looking phone.

Black and Gold awesome combination.

I like that gold accent color!

The rear end too should be in gold....

The Black\Gold 930 is very interesting, Needs that Gold Wrapper Wallpaper Microsoft was using for the holidays though
How many Snapdragon 400s did Microsoft buy?
Did Qualcomm give them a discount on a huge supply?

It looks nice. I'd prefer silver but it looks nice. Though what I like more is the Nokia name in gold on the back. I've to see if I can manage to get a back plate to exchange the back of mine. Posted via the Windows Central App for Android

I'd loved to upgrade my orange 930 to the golden one if there was Microsoft logo on it

Why are these pics always so blurry? Who walks around with a 1 mp (or less) camera anymore?

Why on earth would they downsize the 1330 to a 5,7". Seems weird if its supposed to be a budget phablet...

Why it has Nokia Brand ???It is supposed to be Microsoft !!!

Tangentially off-topic: Here's hoping this naming system for Lumia phones dies a quick death after this crop of the last Nokia-initiated projects. Only those who are daily readers of Windows Central like me) can keep up with it. It's one of the few things iPhone has from a marketing perspective that is far superior to our lumia ecosystem. Even the most uneducated consumer can keep it straight. Also, the Lumia method-- while I'm sure very helpful for computers to keep straight as each number had meaning-- has all of the sexiness of a bar code. Of course, Microsoft is infamous for creating very confusing versioning and naming conventions, so perhaps there is little hope. Or maybe the Surface team steps in and delivers the flagship phone that we are missing and brings with it their naming convention for the Surface line (minus the "RT"). "Surface Phone running Windows 10". Then next year, simply "Surface Phone 2". Have a lower-end model and a midrange model, but make those have a simple letter after the model number ala "iPhone 5c". (Does the "c" stand for "cheapskate" in the iSheep world? ;) ). Anyhow, make that letter stand for something obvious to clearly give an expectation as to what next year's models will be called.

I don't think they should ditch the number-scheme, their line-up is too diverse for naming to make it any clearer, but they should definitely have public nick names for high end phones, and use them in their marketing. Lumia "Memoria" 1030, sounds cool enough for me.

I wish they could release an octacore Lumia with 3GBs of RAM

The new bad ass version of Microsoft Lumia flagship will be called "Lumia one" the will fix the name scheme that confuse the heck out of people with all these big long numbers

The Lumia 940 rumor was originally reported by PhoneArena on 10 November 2014, and was based on an alleged spec sheet from a Nokia supplier:
http://www.phonearena.com/news/Alleged-Microsoft-Lumia-940-specs-leak-Sn...

Fake specs are fake ;) Posted via the Windows Central App for Android

They can make a gold 930, but they somehow can't source a screen that supports glance.

Or that doesn't lift from the frame. Or a phone that doesn't overheat. Or a non purple tinted screen. Or a screen without bleeds. Posted via the Windows Central App for Android

Without twin materials and square shapes have no chance...

The 1330 is extremely underpowered for its size

I want that gold color of the tiles...

Sorry. Not impressed with either. I will stay with my 1520 until it dies, I suppose.

Should have also upgraded the storage to 64 or 128 GB to make it worth buying. Shame that it's not being sold in the Americas.

It seems absurd. The 1.7 GHz dual core SD processor is sure to outdo the SD 400 in many areas of a true smartphone experience. If windows really can't run on the SD 600 series processors, why can't they get a custom SD 400 processor with better clock speed like they did with the 1020 for RAM? If this truly is MS's strategy, it's sure to put away a good lot of customers even though the phones or phablets may run well enough. Else they ought to have stuck with niche processors for niche products like Apple. Not that I like Apple, but MS really needs to sort out its strategy. The 830 would have been a better seller if it had a better processor regardless of a small hike in price. Here's hoping the rumour sources got the processor bit wrong.

I would be interested if this was a brand new Microsoft Lumia. I really don't want to see the nokia name anymore.

Will it support "glance"?

No, give me an AT&T flagship! I think the thing that worries me most with these pictures is that it means that the 930 and 830 aren't likely to get near-future replacements. If they were, it would make more sense to save the gold for the new devices. The 930 is a year-old, and never made it to AT&T, and the 830 was a crippled device from the start, so I was hoping we'd be prepping for the 940 and 840 by now. The 1330 makes sense, I guess, if it means that the 1320 had a decent number of sales. However, pushing it without a 1530 is similarly disappointing. I'm beyond ready for a new phone by about 7 months now, I think.

That 1330 looks pretty chunky. I'm annoyed with how big and bulky windows phones are compared to the competition. Microsoft/ Nokia need to make smaller, thinner, lightweight phones with flagship hardware and camera. Since WP 8 launched, all their flahships have outweighed their competitors in terms of size and weight, including the Icon I'm holding. This is an area they really need to improve on.

Try to bend a 930. Durability > a few mm or mg.

If Microsoft wants to do a cheap next generation 935; all they have to do is take the chassis of the 925 and add the new components inside it. Apple has done it with a lot of success: 4, 4S, 5, 5S, etc... Microsoft can learn from Apple success. You don't need to alway come up with a completely new design each year. Apple uses the same chassis 2 years! And why not do the same as Apple; Microsoft and use the 925 to make it with the 810 SoC and 4GB RAM and 64GB storage? This time sell it "unlocked" like Apple does!

Waiting for 1530, 1030 or even a 940.... Sorry MS.

I dont care what color it is, just bring the 930 to the U.S.!

1320 is better nice 6 inch screen , good for us oldies who have problems with 4 inch iphone 5

No more gold phones, please. Microsoft is not going to increase its marketshare by continually following other company's fads. They need to concentrate on bringing innovative features to the WP10 devices.

Black and gold reminds me of my old Technics receiver. I like it.

Omagaaaaaa. I'm shitting my pants. lol

I sincerely hope that Microsoft could utilize x86 processors to work on WP8.1 or even W10 devices to produce high quality phones at a much smaller price range. Like what Asus Zenfone 2 has done. Anyway, that's just my 2 cents.

x86 phones are only cheap as long as Intel is the underdog, as they are pretty much giving their SoCs away atm.

Still strange that Nokia is on the back. But it looks cool

It aim at the Chinese market; where Nokia has been sell their phones for years! Microsoft mean nothing to the Chineses in terms of smartphones!

Who takes these pics? Stevie Wonder?

Will Microsoft sell it in the U.S. and if they do; will they sell it "Unlocked" with all the U.S. radios inside like the iPhone 6 unlocked or will Microsoft go to Verizon with the Bling edition and do another of their exclusivity agreements to lock it up for another 12 months -----------again?

I am very glad to know about the news of 1330 ... Whatever the peoples' opinion is , I am the biggest fan of windows phone and i am simply dying to get this big super smart phone 1330 in an affordable price .. If 830 was in 350$ price range .. Then i would have purchased it. I feel that Lumia prices have to be reconsidered!
Windows Central Newsletter
Get the best of Windows Central in in your inbox, every day!
Thank you for signing up to Windows Central. You will receive a verification email shortly.
There was a problem. Please refresh the page and try again.