Here is how to report dangerous or malicious apps to the Windows Phone Store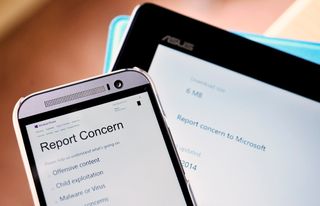 Microsoft, like most companies who run an app store, on occasion has problems with fake or malicious apps. You know, the ones that purport to be official, but charge you money upfront without a trial, something even more egregious for already free services.
I have seen a lot of teeth gnashing over this and lots of "look at THIS example!" posts. Even Microsoft has recently chimed in to say they are going to be doing more. But you play a role too.
The problem is not trivial with automated app store submissions these days as a human rarely looks for compliance. If you want humans involved, say goodbye to your two-hour store publishing times, which developers – and users – love. Using Boolean searches and automation for flagging certain apps may seem easy in principle, but the sheer number of variations make it difficult to implement, especially without causing false-positives to pop up for review, angering legitimate developers.
Still, all of my conjecture is beside the point. The best defense against fake store apps is you, and I do not mean just ignoring them. All too often, people just gripe about these apps but they do not talk about how easy it is to grab Microsoft's attention. If you are not occasionally flagging an app for review, you are like a person not clapping at a concert – you assume others are doing the work.
Well, I am going to show you just how easy it is to report an app.
How to report a dangerous or mischievous app on the PC
On the app page for a Windows Phone app that is clearly fake, scroll down until you see 'Report Concern to Microsoft' on the left-hand side and click
Choose from a pre-sorted list of complaints, including Offensive content, Child exploitation, Malware or Virus, Privacy concerns, Misleading app, Poor performance, Inappropriate developer response to my review
For so-called fraud apps, which pretend to be official, 'Misleading app' should be appropriate
Submit
How to report a dangerous or mischievous app on Windows Phone
In Windows Phone 8.1, swipe left to get to Details page
Scroll down and choose 'Report concern to Microsoft'
Choose from a pre-sorted list of complaints, including Offensive content, Child exploitation, Malware or Virus, Privacy concerns, Misleading app, Poor performance, Inappropriate developer response to my review
For so-called fraud apps, which pretend to be official, 'Misleading app' should be appropriate
Submit
As you can see, Microsoft makes the process simple for reporting fraudulent and misleading apps.
Ideally, users do not have to do anything, as everything in the world that is bad is prevented from publishing to the store, while everything good gets through. However, while Microsoft is indeed working to make things better in that regard, it is not enough for users to just ignore their community duty in reporting apps when they find them. It takes just seconds of your time and who knows you may prevent someone from losing money.
Do you report bad or illegal apps to the Windows Phone Store? If so, how often and if not, why not?
Windows Central Newsletter
Get the best of Windows Central in in your inbox, every day!
Daniel Rubino is the Editor-in-chief of Windows Central, head reviewer, podcast co-host, and analyst. He has been covering Microsoft since 2007 when this site was called WMExperts (and later Windows Phone Central). His interests include Windows, laptops, next-gen computing, and for some reason, watches. Before all this tech stuff, he worked on a Ph.D. in linguistics, watched people sleep (for medical purposes!), and ran the projectors at movie theaters because it was fun.
Will they eliminate the clone games after these reports? I wonder if there will be only one Flappy Bird in the store.

Haha Lol..Anyways done this twice for prank screen app!!

Noooooooo... I can't stand all those android and iphone users saying wp doesn't have that app!!!

Ye got the purpose of it all wrong..Read the article again..

That sorta depends on your definition of clone. For a lot of games, a clone is all we've got.

wonder if i can report IMDB as poor performance

Now we'll lose IMDB app....

It surely is the poorest of all.

Reported imdb for poor performance. Thanks for the idea.

Worst app. Everytime I open it its embarrassing and I just go to the website. And envy my SO's app on her phone. Reporting as well.

It would be nice if WP doesn't permit access to Contacts/Photos without requesting user consent...

Great. Now lets all report Facebook messenger for privacy violation / concerns.

I've deleted the Facebook app - primarily because it is now forcing me to install that messenger thing!! Also, the FB app itself is terrible :). Facebook mobile works much better IMO

Does Facebook also send you notifications to "find friends on facebook..."? (8.1) its super annoying in the action center.

I report fake Chrome and "features" apps disguised as what's app,viber,messenger all the time but nothing happens there sould be a policy to not use another app's name or symbol in your app

there is, and due to this the myTube dev just recently lost his name and has to rebrand...

http://www.reddit.com/r/windowsphone/comments/2gf8l5/mytube_needs_a_new_name_thanks_to_policies_on_the/

Careful. It's one thing to brand your app with another's name or logo. It is another thing entirely to mention that brand in your app's description. Think that doesn't happen? Ask Rudy.

In the beginning they cared if it was a paid app

Let's not decrease the amount of apps in the WP Store... :P

Security is more important than numbers.

Yupp. But avg users doesn't care about OS security. Hence they go for android

Not for the android users we want to conquer :p

The list of reasons to report is far more than just security.

That's why I joined this platform. What's more important quantity or quality?

I'm not sure... But you get neither on Windows Phone :)!!
I still much prefer the platform though!

Can I report Xbox music for crappy performance?

LOL yes you can, but they will never delete the app.

Thanks will keep an eye... Next time

Thanks Daniel... Very informative story. Onya

Nice feature I've never used even though there are quite a few "misleading" apps in the Store.
Do you know if a single complaint leads to a scan of the app or if more than one are needed?

Great question! Unfortunately, I do not know, but it is something I am going to ask Microsoft. TBH, the info may be non-disclosed so that users cannot team up and 'report' a competitor app e.g. it only takes 5 reports! so let's all jump on blah, blah. etc.

Ok, thanks. But that can't happen since someone actually tests the app to see if something's wrong with it, it isn't automatically pulled out of the Store. Or is it?

I reported the SpongeBob app because it contained an episode of an "Adult theme" and Microsoft removed it from the store. I'm not sure if I was the only person to report it but the app was removed fairly quickly after it was reported by me. This was some time last year and the app has since been reinstated, minus the offending episode.

Will make sure to report. Thanks for the story. Fake apps may be different than duplicate apps though. Fake apps won't allow even an iota of functionality, but duplicate apps may do partial work. Best way is to check the developer of the app and check the info on internet of the original developer of the respective app.

I already reported apps a lot of times and NEVER noticed any action from Microsoft.

My guess is it's not a 1x report = take down kind of thing, but requires a certain amount. I really have no idea how it works, though I am digging deeper.

It might also depend on WHAT is being reported... The App hijacked my browser OR the App started dialing pay-per-minute phone numbers and billing me would probably get more serious and swift action than say... I didin't like the App and the developer will not email me back for a refund.

Thanks. It's these small things that really help day to day stuff for WP.

Yeah. I'm loving these little details.I love WPCentral for this reason.

You mean like the Mobile Notions app?

We want official mobile nation app for wp.....

List of apps that I reported for poor performance
1.instagram
2.pinterest
3.twitter
4.expedia
5.PizzaHut
And many other apps that are beta for too long without update and those web wrapper

So you're basically abusing the system. Thanks.

Web apps doesn't count, because MSFT promotes them via appstudio

Wp7 apps still get checked by human beings

That's probably not very time consuming.

I wouldn't say that, even when cyan already released, it still took around 5 days.

I would have reported more IF Microsoft hadn't made the process so annoying. Everytime I want to complain from the phone it takes me to IE, I have to log in to my account and report the app. All from the browser and through a website clearly not optimized for mobile.
Needless to say, often I lose my patience mid-process because it's really not my job to police the Windows Store in the first place. If the process is so cumbersome, I feel less inclined to help.
So if Microsoft were to fix that process, it would help them a great deal more since most people won't be reporting apps from the comfort of their PCs.

I agree, the report process should entirely take place inside the Store app.
And I still don't understand why no Microsoft account or service login page is optimized for mobile devices. Still have to zoom in on my 620.

I clap at concerts AND report apps. Am I awesome or what?

Interesting. I saw the post on another popular forum that seems to have spawned this article.

"two-hour" ?? Rudy's 6cret has been in approval for 36 hours.

Would be nice to have a dedicated forum where u guys tell us about a problem app per week or something and we can all file a complaint about that app... I'm pretty sure they have a queue system in place and apps that have more complaints move up the queue and gets noticed faster and can be removed quicker compared to some other app that only has a couple complaints...

I wish there was an IP violation option. So many times I see something that clearly crosses the line. Not a fan app about something or independent client, they're clearly trying to fool people into thing it's the real game or app.

Did this with Line :) poor performance -_-

Is there any? Whatever I found told me I was an android phone..

Can we report Skype for poor performance ?

Let's all report Istagram for the beta label....

Thanks for the public service announcement, Daniel. I like the concert applause analogy. :-) Good reminder we all have individual and community responsibilities.

So many "games" that are just videos. They are really obvious, but I'm sure some people are buying them.

Fake app (made by Gameloft! :) ) : http://www.windowsphone.com/ro-ro/store/app/mx-player/b7a0ef85-0168-4bce-b15e-617442750daf Also : http://www.windowsphone.com/ro-ro/store/app/opera-mini/1348f223-ed91-4358-9929-0f2e2bce1227

Ohh.. I thought the apps really made by Gameloft. but no its from Gameloft!

Good. I'm sending one in for Amazing Weather HD. That app kills live tiles.

I have never downloaded malicious apps. All the apps i download are basically covered on wpc. Thanks wpc for that! But I can think of few apps for poor perfomance like music app. But I'm not gonna report it as MS has improved it over a last couple updates. Great article btw Dan!

But how can you report massive cloned apps. Specially if they has been submitted by 276 different developer with alphanumeric consecutive patterns names. Something like $5244 USD in developers feed for the same app with consecutive names.
http://www.winphoneplace.com/aplicaciones-clonadas-en-la-windows-phone-s...

The method described above involves going to the apps download page, if I've understood right. But my own response to the many fake Firefox/Google Earth/Opera etc. "apps" from obviously wrong publishers is to steer well clear, not to click on the app.

Hi Daniel, what about the problem of getting redirected to Linkbucks site whenever I did some browsing ? Can I report using this method as well ? It's very annoying....

I do report on fake apps simply because I don't want to be bombarded by crap. I don't want the windows phone and windows modern store to be the next google appstore in which it's all hell breaks loose.

I just wondering what will happen behind the curtain.....how does that process continues. Is the app going to be pulled or reexamined or does the dev getting a mail from ms?
Windows Central Newsletter
Thank you for signing up to Windows Central. You will receive a verification email shortly.
There was a problem. Please refresh the page and try again.