This is what the first Microsoft approved Surface prototype looks like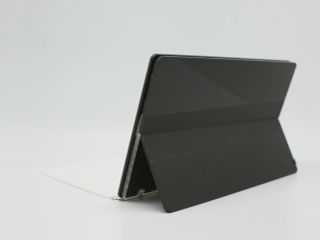 Microsoft has now launched six different Surface tablets, with the latest being the Surface 3. However, many years ago, a team at Microsoft first got the funding to create the initial version of the tablet based on a very early and crude prototype.
At the Microsoft Ignite conference this week Ralf Groene, the Creative Director for the company's Surface team, talked about how they designed the hardware for the tablets. He also showed images of that early prototype that impressed Steven Sinofsky, who back then was the head of the Windows division, enough to approve the funding to take that prototype and turn it into the first Surface device, the Surface RT.
Groene stated that the team worked on many different ideas and prototypes for the Surface, but all of them looked like regular tablets. It was the addition of the kickstand that made the Surface look and work differently. That first approved prototype was created pretty crudely, according to Groene, with electrical tape to hold the kickstand into place and glued magnets on the bottom of the case to show off the idea of the Touch cover.
You can watch Groene's entire Surface design presentation on Microsoft's Channel 9 website.
Get the Windows Central Newsletter
All the latest news, reviews, and guides for Windows and Xbox diehards.
If it brought us the Surface we have today, then I like it.

Nokia 1000 series bought us the Lumias..?? Sure bout that buddy..?

Nope.. It was the Nokia N9..

Naa.
Single type of device didn't.

You mean the death of the N9 right? :P

I would rather be interested to know what the Surface Pro 4 looks like..!!
/$\

tip - like a surface tablet. don't expect a revolution, it's a perfect design.

Until the keyboard magnetically stays shut and triggers he device to low power/standby, then it's not perfect. If they've changed that, then I'm more than happy to be wrong.

While there may not be a magnet to keep it shut, closing the cover triggers the "laptop lid closed" power event which can be configured to change power modes. I believe by default, it puts the device to Sleep.

That's a nice addition...wasn't there for first or second version. One more bit and they'll get me to switch from my Nokia 2520.

Like when they release the model with 4G/LTE support?

It certainly was there. I just did it on my RT now. A magnetic latch would be BOSS though.

hum...wonder where the close sensor is...because the few third party cases we've had on our S1 and S2's never triggered the lid closed event. Either the sensor is in the type-cover, or these third parties didn't know or care to add what seems like simple support. It bothers me that they don't do this for the Lumia phablets too.

My understanding is that there is an accelerometer in the type/touch covers, that's how it also knows to disable the keyboard keys when the cover is flipped past a certain point. I would imagine that the third party cases simply skipped out on that. You might also check in the power settings to see if the lid closed/lid open events were somehow disabled? I wonder if you could come up with a way to even use the camera as a lid closed sensor?

Brownie points for Sinofsky!
+ Deductions for the use of "RT" in the name :P

Well, officially, original Surfaces were "Microsoft Surface" and "Microsoft Surface with Windows 8 Pro". "Surface RT" and "Surface Pro" were pretty much unofficially official - the names got adopted by everyone out there, and Microsoft just went with the flow when RT absolutely failed and Pro actually did well.

Somebody asked me why surface tablets are not slim just like the ipads? I told him it's about productivity and not just an accessory to show off. #ow3nd

We got a fan in there too.

@Aman
You mean:
We got a WP fan from 1995 too :)

Pros have fans and compare to MacBook Airs, which they are slimmer than.
The Surface 3 I believe is as thin or thinner than an iPad, although iPad Air maybe a bit thinner.

Thinner is rarely more ergonomic. All these devices would be better if at a whim a comfortable handle would appear, but disappear when not holding.

And even better build quality..

Ports. Surface has them. iPads don't. It's one of many reasons why Surfaces are more useful.

I would still wish they would build that Courier concept.

Oh man they beauty that was the Courier.

They just had an article on pocketnow about it, go read it!

They should revisit the touch cover concept...

aaaaaaaand then he turned it into a skateboard.

Lol I remember that, pretty funny.

And now almost every single iPad case has copied the Surface kickstand design.

bet the wifi connection is better than in my sp3 ;)


If only the first iteration was the pro 3 with Windows 10...

Actually, the first Surface was a big conference table thing, but still this is interesting.

Oh yeah! The device that was not sold in many parts of the world.

To be fair this wasn't sold anywhere.

Just make it lighter, thats my only request

Only got to know the surfaces with RT two years ago when I joined the windows central community