Halo Infinite's multiplayer progression feels more tedious than it needs to be (but here's how to fix it)
Little changes could make a big difference.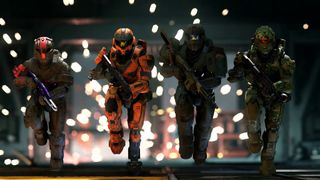 (Image credit: Xbox Game Studios)
Halo Infinite multiplayer is confidently one of the best shooters you can play right now when it comes to overall polish and moment-to-moment gameplay. 343 Industries meticulously reimagined the defining pillars of this franchise's long-running multiplayer legacy in ways that feel simultaneously familiar and fresh. This team set out on a mission to reinvigorate lifelong fans as well as draw in a new generation of players, and in almost every way, it seems they've achieved this goal.
However, a less-than-desirable progression system is one constant cloud looming over the general excitement of the launch. As more and more players dive in, more passionate conversations have sparked surrounding the developer's decisions to seemingly curb progress at every possible corner. While I'm enjoying my time with the game, I can't help but feel that Halo Infinite's multiplayer progression is more tedious than it needs to be.
Communication is key
Before we discuss the current state of Halo Infinite's multiplayer progression, its battle pass, and the latest concerns introduced with the Fracture: Tenrai event, it's critical to remind everyone that 343 Industries is actively listening to fan complaints and has already acted to quickly improve progression where possible. After some overwhelmingly negative feedback following the launch of Halo Infinite multiplayer on Nov. 15, the team rapidly rolled out a series of tweaks and changes to the game's daily and weekly challenges within a few days.
Team members have also stated that more extensive and impactful changes are on the horizon for the battle pass and challenge system. Unfortunately, modifications on this scale will take significantly more time to implement than the ones we saw shortly after the game's release. While the team is currently on a well-deserved break for Thanksgiving, we'll receive further updates in the near future. Despite how you feel about the current state of Halo Infinite's multiplayer or its future, I find 343 Industries' transparent communication with its audience is refreshing.
The current problems
First off, Halo Infinite multiplayer has a serious progression problem. From the tedious slog required to climb the 100 levels of the battle pass to the baffling specific weekly challenges, the complaints regarding the fundamental design of te game's progression seem relatively universal. In fact, many members of the Halo community are echoing the exact same sentiments. Not since the release of Gears 5 have I seen a community so intensely reject the progression system offered by developers.
Even following the addition of smaller XP rewards upon completing matches, Halo Infinite multiplayer doesn't consistently provide a tangible sense of accomplishment. The weekly challenges tied to the battle pass are really your only practical options for gaining levels, and they shoehorn players into engaging with the game in specific ways, especially if you're playing objective-based modes like Capture the Flag. Winning the match means literally nothing compared to killing 10 Spartans with a Shock Rifle or splattering an enemy with a Chopper. While likely designed to encourage folks to experiment within Halo Infinite's sandbox, these weekly challenges aren't the most accessible for novice players still learning the basics of the game.
What if you don't feel like killing 45 enemies with the Plasma Pistol in Halo Infinite but still want to progress? Well, this is where Challenge Swaps and XP Boosts come in. These consumable items allow players to exchange current weekly challenges for random replacements or provide double XP for challenges completed within one hour. In theory, these premium consumables sound like terrific ways to add flexibility and reward to the overall experience. However, they are minimal unless you fork out some hard-earned cash to buy more or torture your digestive system by drinking a bunch of Rockstar Energy Drinks for the redeemable codes.
Hyper-specific weekly challenges and wildly restrictive playlist options are also a recipe for grind-flavored gruel. Let's say you have a seemingly simple challenge like "complete one match of Total Control." In most games, you could merely select the Total Control matchmaking options and queue up for that specific game mode, but not in Halo Infinite. In this multiplayer suite, you're required to jump in the general Big Team Battle pool and hope for the best. It took me 12 Big Team Battles matches before I finally got to play the one game of Total Control I needed. As it currently stands, it's hard not to feel like the restricted playlists and painfully specific challenges are incorporated to push Challenge Swaps.
In the recently introduced Fracture: Tenrai event, all players are given the opportunity to earn free, genuinely excellent samurai-themed armor options that exist outside of the premium battle pass. Unfortunately, the system for unlocking these limited-time cosmetics is dramatically more confusing and drawn-out than it needs to be. Instead of offering a continuous event that allows players to complete unique challenges and earn rewards, Halo Infinite has decided to scatter this event across six separate weeks over the course of the next six months. With a hard cap on how many levels a player can gain in one week, this means you'll need to cycle back five of the six weeks to complete this event. Another restrictive choice transparently designed to maintain engagement through FOMO.
Ahead of Halo Infinite's multiplayer release, I was excited to see how this legacy franchise could innovate the free-to-play model based on features like battle passes that would never expire. Admittedly, it was probably unfair of me to expect Halo to set a new gold standard and completely eliminate the issues many players have with free-to-play monetization, but I don't think it was unfair for anyone to expect better for the game's launch. While Halo Infinite's progression and pricing aren't egregiously worse than most free-to-play games on the market, the biggest disappointment for me is that it isn't much better.
How to fix Halo Infinite's multiplayer progression
So how exactly do 343 Industries successfully translate Halo multiplayer to a free-to-play model while earning enough money to survive and respecting players' time investments? Well, that's probably a million-dollar question companies have been debating for years. I don't have the solution, but in the case of Halo Infinite, there are some direct comparisons to other Xbox first-party titles with better battle passes and progression systems in place we can point to for ways this title can improve.
Currently, Sea of Thieves has the best Xbox first-party battle pass and possibly one of the most rewarding in the industry. From fishing to killing skeletons, every activity you complete in Sea of Thieves earns you progress in the 100 levels of seasonal Renown. This means you can play the game exactly how you prefer and still feel rewarded for your time. In addition to general progression for all the essential activities in Sea of Thieves, there are pages and pages of specific challenges that will boost your Renown even further. There are no weekly level caps or arbitrary restrictions to slow your progress.
Gears 5 has made enormous strides to improve the experience since its launch. After a particularly vocal outcry from the community regarding the lack of a sense of reward, The Coalition established another impressive first-party seasonal progression system. In addition to rotating daily challenges, Gears 5 also introduced a massive assortment of fixed challenges that provide players with boosts to their battle pass as well as exclusive cosmetic items. To improve on this even further, players who missed certain seasonal unlocks could use in-game currency to acquire these items at a later date.
What's especially frustrating about Halo Infinite's multiplayer launch is how it fundamentally ignores what Rare and The Coalition learned on their battle pass journeys. Halo Infinite is Xbox's first massive-scale foray into free-to-play gaming, and not everything translates. However, even relatively small changes have the potential to overhaul the sense of reward in Halo Infinite multiplayer completely.
First and foremost, Halo Infinite needs to incentive performance and teamwork outside of daily and weekly challenges. There should be additional XP rewarded for winning a match as well as being your team's MVP. Providing an extra 50 XP for defeating an enemy team and 100 XP for standing proudly as the best player on your team, for example, seem like simple additions to the formula that would make playing matches and using XP Boosters more valuable. Let's also translate some of the fantastic medals you earn into noticeable progress. If I execute a wicked grapplejack or try-hard 360 no scope, I'd love to see some of those things converted into XP for my progression.
Halo Infinite can also borrow from the established practices of both Sea of Thieves and Gears 5 by introducing a broader list of seasonal challenges. With a glaring limit to players' progress each week, this would dramatically incentivize players to continue playing even after completing their rotating weekly challenges. Bonus activities like the Fractured: Tenrai event are admirable steps in that direction, but with a restrictive four-count limit on active challenges, these supplemental missions only further slow your progress in the conventional 100-level Battle Pass.
The road ahead
What 343 Industries has delivered with Halo Infinite's multiplayer is nothing short of remarkable. Players are constantly sharing exciting clips and discussing memorable moments. Every time I open Twitter, I'm treated to some new physics spectacle in Halo Infinite I didn't even know was possible. Unfortunately, with 343 Industries getting so much of this package right, it becomes increasingly difficult to ignore the few areas of improvement.
This development team has worked incredibly hard to ship a tight, polished multiplayer game in a time where we, quite frankly, expect disastrous multiplayer launches. It's commendable for any studio to come out of the gate with an online game this strong and free of gameplay or network issues. That's why it's disappointing to see some fundamental aspects of the experience fall short.
As I stated above, the team is actively assessing and implementing changes based on the community's feedback. I'm hopeful the correct moves will be made. The controversies and conversations surrounding Halo Infinite's progression system will merely be a thing of the past. However, for now, it continues to be the most glaring problem with one of the best shooters on Xbox. I look forward to hearing how 343 Industries aims to address fan concerns and adjust its progression system in a way that rewards its audience for its dedication and time.
A new era of Halo
(opens in new tab)
Master Chief is back

Halo Infinite is the next chapter in this legendary first-person shooter franchise, and it sees epic multiplayer return alongside another Master Chief adventure. Halo Infinite's multiplayer is better than ever, and gives players a number of ways to personalize their Spartan.
Windows Central Newsletter
Get the best of Windows Central in in your inbox, every day!
Miles Dompier is a Freelance Video Producer for Windows Central, focusing on video content for Windows Central Gaming. In addition to writing or producing news, reviews, and gaming guides, Miles delivers fun, community-focused videos for the Windows Central Gaming YouTube channel. Miles also hosts Xbox Chaturdays every Saturday, which serves as the Windows Central Gaming weekly podcast.
Need to also pull from the Forza accolade system. Could give out experience and/or smaller awards for each accolade you reach. Let's say for kills with the BR give out awards for 5, 10, 15 20, ect. Then once you reach all the accolades for a weapon or task let the players use reset tokens to do them again for exp. and maybe offer a weapon skin, charm, or other items to show how many times you completed a set of accolades. Well hopefully 343 comes up with something that is more awarding without feeling like a grind as the MP overall is very solid.

They need to fix cheaters already as well. It's gone viral as usual..
Can't bloody play anything online in peace..
Back to single-player games again I think.
Thank you Steam sale and RDR2
Windows Central Newsletter
Thank you for signing up to Windows Central. You will receive a verification email shortly.
There was a problem. Please refresh the page and try again.