Halo Infinite's approach to Battle Passes alleviates my free-to-play fears
This unorthodox approach to the Battle Pass is worth noting.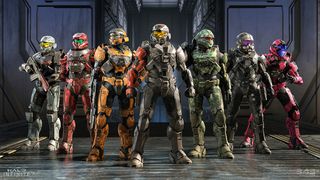 (Image credit: Xbox Game Studios)
When it was initially announced that Halo Infinite's multiplayer suite would be completely free-to-play across console and PC, many players expressed their concerns over what the monetization methods would look like, especially after Halo 5: Guardians' rather aggressive loot box-inspired REQ Pack system.
Thankfully, in an overview video posted earlier today, we got a much better idea of what to expect from our financial investments into Halo Infinite multiplayer. While pricing hasn't officially been confirmed, here's why 343 Industries' progressive approach to Battle Passes alleviates my free-to-play fears.
The current state of the 'Battle Pass'
Almost every major multiplayer game in this day and age, especially in the free-to-play space, features some kind of Battle Pass, where players pay a fee every season for access to more deluxe awards. After the countless fumbles from publishers with loot boxes and in-your-face cosmetic microtransactions, it seems like the community and industry as a whole has quietly agreed to the overall concept of a Battle Pass. Huge titles like Fortnite and Call of Duty: Warzone not only feature these premium progression-based unlock systems, but also charge exorbitant amounts for standalone cosmetic items.
For some players, this isn't inherently an issue as these are always optional customization commodities that don't fundamentally change the gameplay experience. However, I've always felt that standalone cosmetic purchase had the potential to seriously hinder the developer's desire or need to incentive gameplay-driven rewards. This isn't necessarily an issue with every free-to-play title, but with Master Chief in Fortnite for example, you had to pay a whopping $15 to unlock him. So, while I was 100% expecting Halo Infinite to adopt a Battle Pass system of some kind, I couldn't be happier with the way it's looking to be implemented.
How Halo Infinite's approach is different
In the multiplayer overview video hosted on the official Halo YouTube channel (which you can watch above), the team at 343 Industries broke down what players can look forward to from Halo Infinite's maps, modes, customization, and most importantly, its monetization approach in the free-to-play space. This overview confirmed that Halo Infinite will feature paid, premium Battle Passes with seasonal, themed content drops. However, unlike most of this first-person shooter's competition, Halo Infinite's Battle Passes will never expire. The stress and pressure to grind out all these seasonal unlocks in a small window of time isn't something you'll need to worry about in Halo Infinite.
Seemingly inspired by the beloved progression system in Halo: The Master Chief Collection (albeit with a premium twist), you'll also be able to go back and purchase previous Battle Passes to unlock their rewards. This somewhat unorthodox approach respects your time and financial investments in a way many other games-as-a-service titles simply don't.
343 Industries also stressed that the rewards within these Battle Passes can only be unlocked by playing the game. There will be no loot boxes and no premium price tags associated with unlocking any of these items. For me, this is incredible news that reinforces my preference for gameplay-driven rewards.
As it stands, we don't know exactly what the cost of entry will be for these premium Battle Passes or what the players who don't shell out the cash can expect when it comes to in-game unlocks and progression. We also aren't quite sure what the cadence will be when it comes to releasing these themed Battle Passes, but the mission statement from the Halo Infinite team seems to suggest it's learned from its mistakes and genuinely wants to deliver a multiplayer experience that's not only welcoming, but rewarding as well.
I'll be the first to admit that I was legitimately concerned about what a free-to-play Halo game might look like, but the more I hear about 343 Industries' plans for this title, the more my apprehension subsides.
Share your thoughts!
What are your thoughts on Halo Infinite's approach to Battle Passes? Do these new details make you more or less worried about the game's free-to-play monetization strategy? Let us know in the comments below! And if you're looking for something to keep you busy while we wait for Halo Infinite's Holiday 2021 release, be sure to check out our list of the best games on Xbox Game Pass.
Master Chief is back
A bold, new chapter awaits

Halo Infinite is considered the be a spiritual reboot of the beloved first-person shooter franchise. Prepare to fall in love with Halo all over again in Holiday 2021.
Windows Central Newsletter
Get the best of Windows Central in your inbox, every day!
Miles Dompier is a Freelance Video Producer for Windows Central, focusing on video content for Windows Central Gaming. In addition to writing or producing news, reviews, and gaming guides, Miles delivers fun, community-focused videos for the Windows Central Gaming YouTube channel. Miles also hosts Xbox Chaturdays every Saturday, which serves as the Windows Central Gaming weekly podcast.
Really liking the way they are going to do it. Gives the ability to participate at your pace and financial ability. I won't' be able to do them as they release but knowing that I won't miss out on it is nice. I also like that they said you will only be able to unlock the rewards through in-game progression and not the power of your wallet. Makes what you earn more special that way.

I actually like this idea. And if you can clearly see what previous BP's give it then a player jumping in down the track can opt for the pass that provides the cosmetics they are most interested in, which is great.

It would be cool if: XGP Ultimate advantages (if that is what it is called in English) would sometimes include a battle pass for a random season 😀